VietNamNet Bridge - Chinese poor quality garment products have become Vietnamese products for exports, by using fake labels. These products are sold very well.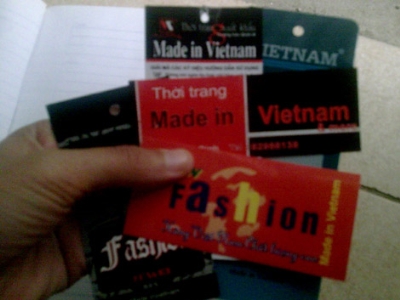 The labels of famous brands are usually sold for VND 400 - VND500/unit at garment accessory stores in Hang Bo Street, Hanoi.
In Hanoi, along the streets of Hang Dau, Chua Boc, Ton Duc Thang, Bach Mai, Ngoc Lam, Hai Ba Trung, etc. have a series of shops selling "Made in Vietnam" garment products, meaning products for exports. These products have labels of famous brands like Zara, Mango, H&M, F21; but their prices are less than half of Zara, Mango, H&M, F21 products selling in luxurious shops or in shopping centers like Parkson and Vincom.
The owner of a "Made in Vietnam" shop on Chua Boc Street said, these clothes are "genuine" of Zara, Mango, H&M, etc. which are produced in Vietnam but are sold much cheaper than similar products on these firms' websites or overseas shops. The reason is that these products have small errors so they are not exported.  
Actually, "Made in Vietnam" products look quite similarly to "genuine" products of Mango, Zara, F21, H & M, etc. The designs are also updated. Even the genuine products do not have diverse designs as faked products. Some designs are mixed between the designs of both Mango and H&M, etc.  
In fact, the "Made in Vietnam" products of famous fashion brands such as Zara, Mango, F21, H & M are high-quality products produced by various Vietnamese garments companies such as Viet Tien, Thang Long and Viet Brothers, based on the order of these firms. Outmoded products or those with technical errors are returned and they are sold in the Vietnamese market.  
However, with a strict production process, local garment firms are not allowed to sell these error products in the market. Moreover, the volume of "error products" in the local market is much higher than the genuine products in showrooms and high-end commercial centers. Is it possible that advanced production lines can produce such numbers of error products?  
Ms. Hoang Linh, from Hang Bong Street, Hanoi, said she bought a sweater at VND250,000 ($13) at a Made in Vietnam garment shop on Hang Dieu Street. The seller explained that this is a product with technical error from Zara so the producer cut the Zara label before selling it to the domestic market. However, a few days later, she found a sweater that is exactly the same in a shop in Nga Tu So market. This shirt is also labeled Zara, but it is "Made in China" and a half cheaper.
"In recent years I've bought clothes for the whole family in Made in Vietnam garment stores because I believe in their good quality. But now more and more stores abuse the customer's favor on Made in Vietnam products to sell faked clothing," Linh complained.  
According to some Made in Vietnam garment shops, part of Made in Vietnam products are Chinese clothing or products that are produced by private garment enterprises. They are then stuck with the labels of famous brands in the. The labels are usually sold for VND 400 - VND500/unit at garment accessory stores in Hang Bo Street, Hanoi. However, these labels are a bit different than the genuine labels.  
Many label manufacturing facilities in Ha Dong and Co Nhue, Hanoi are willing to receive orders of at least 200 labels, pricing merely VND40,000 - 50,000 ($2-2.5)/200 labels. If clients want to print labels of any well-known brand, they only need to give the label producers a sample label, then wait for 5 - 7 days.  
Compiled by Na Son