VietNamNet Bridge – A lot of fish sauce villages have been in distress because they cannot scramble with Chinese businessmen for anchovies, the important materials for making fish sauce products.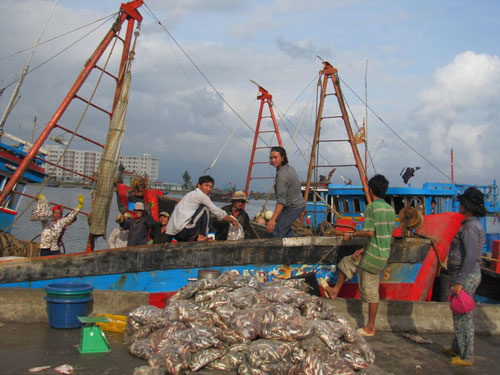 The Phu Quoc Fish Sauce Association, comprising of the members who make fish sauce products with the well known Phu Quoc geographical indication, said that a lot of merchants have been flocking there from the central region, collecting fish materials from farmers for preliminary treatment before exporting to China.

Anchovies fall into Chinese hands
According to Nguyen Thi Tinh, Chair of the Phu Quoc Fish Sauce Association, in order to scramble for fish materials, merchants offer to buy fish at the price which is three times higher than the price at which farmers sell to local fish sauce makers.
The first class anchovy price has increased from 6000 dong per kilo to 18,000 dong. After collecting materials, merchants would carry fish to their local workshops where fish are steamed and then packed for export to China.
Attracted by the attractive high prices, merchants only sell anchovies to the merchants who collect fish for export. A lot of farmers have broken the contracts signed before with local fish sauce makers, even though they have got deposit money from the makers already.
"I think we need to convene a members' meeting to discuss the solutions to the problem. We may have to ask for the intervention from competent agencies," TInh said.
"We cannot accept such high prices, because the products would be too expensive and uncompetitive," she added.
Some Chinese businessmen, under the mask of travelers, have come directly to Binh Thuan province, where they collect anchovies in big quantities.
Nguyen Thi Hinh, who specializes in collecting aquatic products in Mui Ne ward of Phan Thiet City, said she has been mostly selling fish to Chinese businessmen under the mode of COD (cash on delivery).
According to Nguyen Thi Kim Quyen, an official of the Mui Ne ward's authorities, Chinese merchants usually come to see Vietnamese merchants, purchase fish, make payment at once and carry anchovies away.
"No case of Chinese businessmen refusing to pay to Vietnamese farmers has been reported so far. However, we have advised Vietnamese merchants to keep cautious when doing business with Chinese," said an official of the Binh Thuan Industry and Trade Department.
The Son Tinh district in Quang Ngai province these days has also received a lot of Chinese businessmen who come to collect anchovies. Local farmers say Chinese would pay 2000-5000 dong per kilo higher than local fish makers.
"Chinese businessmen usually choose high quality products. However, they sometimes accept lower quality fish if the supply is scarce. Farmers now sell fish to Chinese instead of Vietnamese to enjoy higher prices," said Le Thi Thu, a Vietnamese merchant.
Vietnamese fish sauce markers on tenterhooks
The anchovy price in Da Nang City has increased by two folds over the previous year. Mai Thi Chuoc, who has been making fish sauce for the last 40 years in Lien Chieu district, said anchovy was traded at 7000-10,000 dong per kilo in the first four months of the year, but the price has got double since May, now hovering around 20,000 dong per kilo.
"The anchovy supply is getting short because of the big demand from China," she said.
The fish sauce makers in Tuy An district in Phu Yen province complained that anchovies are getting exhausted because of the overexploitation. If so, the fish sauce industry would suffer heavily.
NLD