VietNamNet Bridge – Thai imports have become popular with Vietnamese consumers. However, Thais would have to compete fiercely with Chinese to cement their firm position in the market.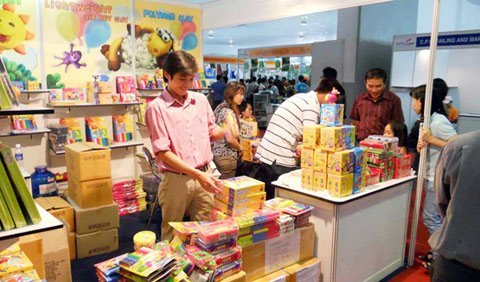 Thai and Chinese goods in the battle
The consumer imports from Thailand have been increasing rapidly since 2011. Thai products have been favored by Vietnamese because they have good designs, reasonable quality and affordable prices to Vietnamese incomes.
Thai products have been going on a very spacious way to enter Vietnam. It is now the right time for Thai manufacturers to conquer the Vietnamese market, when Chinese products have been boycotted. Vietnamese consumers, when regarding to Chinese goods with suspicion, have been welcoming Thai products.
That explains why more and more Thai goods shops have been mushrooming. One of the shops, located on Phao Dai Lang Street, covers an area of 10 square meters only, but this is enough for hundreds of consumer goods items to be displayed, from footwear to china bowls, from clothes to cosmetics.
A lot of Vietnamese consumers have shifted to use Thai goods after they heard about the low quality of Chinese goods. In thoughts of Vietnamese people nowadays, Chinese goods mean low quality and unsafe products.
Thai goods shops have been set up on big streets in commercial hubs in Hanoi, namely Tay Son, Giang Vo, Lang or To Hien Thanh. Despite the current economic crisis, because of which Vietnamese goods have been left unsold, a lot of new Thai goods shops still have been set up.
A small merchant at Kim Bien market said though Thai products are 20-30 percent more expensive than Chinese, they still have been selling well with 90 percent of goods sold are made-in-Thailand products.
Not only consumer goods, heavy industry products sourced from Thailand have also flocked to Vietnam.
The products with well-known brands of Sharp, Philips, Panasonic and Sanyo, made at the manufacturers' factories in Thailand, have been imported in bigger quantities, partially having replaced China-made goods in the Vietnamese market. This can show the attractiveness of Thai products on the domestic market.
Thai goods, in the eyes of Vietnamese consumers, have by far higher quality than Chinese goods, while they are not inferior to Chinese products in terms of designs.
Meanwhile, Thai goods are just a little more expensive than Vietnamese, while they are really more diversified and attractive in designs. Vietnamese goods, though having high quality, but remain monotonous; therefore, they cannot catch the attention from Vietnamese consumers.
Where are Vietnamese goods
The rise of Thai goods in the Vietnamese market shows that reasonable prices and high quality are always the most important factors consumers consider when they look for the products they need.
The boycott by Vietnamese consumers to Chinese goods shows that the low price alone would not win people's hearts. Meanwhile, design ranks the third among the most important characteristics which decide the salability of products.
In principle, Vietnamese products have greater advantages than Thai or Chinese to conquer the domestic market with good knowledge about Vietnamese taste and large distribution networks.
However, there has been no shop specializing in distributing Vietnamese goods.
Analysts have commented that the absence of such shops showed the weakness of manufacturers that they have not paid appropriate attention to the development of distribution networks.
As a result, Vietnamese goods have been hidden behind Chinese goods at shops and groceries. The availability of Chinese and Vietnamese at the same shops has equated Vietnamese goods with low quality Chinese products.
Bao Han