The government's plans to improve the quality of FDI inflows have brought initial results with more foreign investors targeting to set up high-tech projects in the country.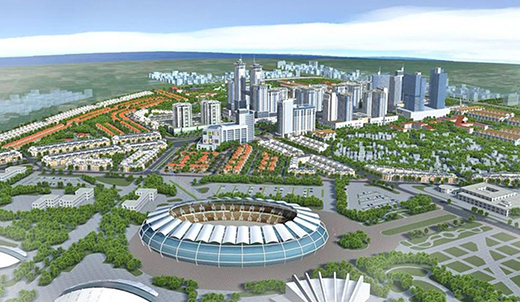 Hoa Lac Hi-Tech Park sets to lure some US$1 billion of investment capital in 2018
During a recent working session with authorities of southern Binh Duong province, Executive Managing Officer of Sharp Corporation Yoshihiro Hashimoto mentioned a plan to build a factory worth nearly US$2 billion to manufacture high-tech camera modules and smart phone screens in the province.  
In the first stage, Sharp plans to spend roughly US$300 million, about US$200 million of which will be for machinery and equipment. The location of the plant is under discussion.
Le Hoai Quoc, head of the Saigon High-Tech Park (SHTP) management board, said many Japanese-invested projects will be licensed in the near future, notably a US$250 million investment in a complex featuring a high-tech hospital and a research and development institute for living science by Japan's Allied Telesis and the US's Quantus Corporation.
The rising investments in high-tech projects have also seen at the Hoa Lac Hi-Tech Park (HHTP) in Hanoi. Japan's Nidec Group in June received the investment certificate for the Nidec Techno Motor Vietnam project in HHTP to develop and produce brushless electric DC motors with the total investment of some US$387 million.
Nidec Group plans to invest in five projects with the total investment of around US$1 billion in HHTP. Nidec Techno Motor Vietnam is the first of these projects to be granted a certificate. These projects will create tens of thousands of jobs and boost export turnover, contributing to the development of the support industry and socioeconomic development of Hanoi capital.
In Vietnam, Nidec is also a key investor in SHTP with five factories totaling US$446 million of registered capital, targeting precision engineering – automation, optical reading heads, magnetic stripe cards, high-precision compact motors and motor spare parts.
Earlier, South Korean Hanwha Techwin Co was also licensed to implement a US$200 million project to produce aircraft engine and gas driven industrial turbine parts and components in HHTP.
Incentive policies
The government has so far issued many preferential policies to attract investors in high-tech projects, especially those operating in the country's three high-tech parks in Ho Chi Minh City, Hanoi and Danang.
In HHTP in Hanoi, for example, investors who implement a new project worth at least VND4 trillion (US$176 million) will enjoy corporate income tax of 10 percent for 30 years, according to a new decree issued in June this year.
Investors will also receive incentives on tax, land rental and land use fees if they develop housing projects for laborers working at HHTP.
Besides this, the Hanoi People's Committee will prioritize the allocation of sufficient land funds for housing projects for the HHTP's workers.
According to Pham Dai Duong, deputy minister of Science and Technology and head of the HHTP's management board, fine-tuned investment incentive policies as well as improved infrastructure facilities and removed land-clearance barriers have helped HHTP to better attract investors. He expected HHTP will lure some US$1 billion of investment capital in 2018.
Investments in Da Nang Hi-Tech Park (DHTP) have also enjoyed many special investment incentives on corporate income tax (CIT), import duty and land rental.
Specifically, investors in DHTP will be exempt from CIT for the first four years and then will enjoy a 50 percent reduction of the payable tax for the next nine years. A CIT rate of 10 percent will be applicable for 15 years and large projects valued at more than VND3 trillion (US$133 million) will even enjoy such 10 percent CIT rate for 30 years.
An exemption from import duty will be applied for investors in DHTP for the first five years for raw materials and accessories that cannot be domestically produced.
Many high-tech projects in DHTP are also eligible for free land rental for the entire term of the investment project, and are required to pay only construction costs, utilities, and other disbursements.
Investments in high-tech projects will continuously receive more preferential treatment in the time ahead when the government continuously plans to give top priority to high-tech industries in the nation's new FDI attraction strategy in the next decade.
Hanoitimes