The Ministry of Natural Resources and Environment will conduct inspections of the Vietnam Environment Administration along with 64 organisations and 10 departments relating to natural resources and the environment during the performance of legal regulations on environmental protection while importing waste as production materials.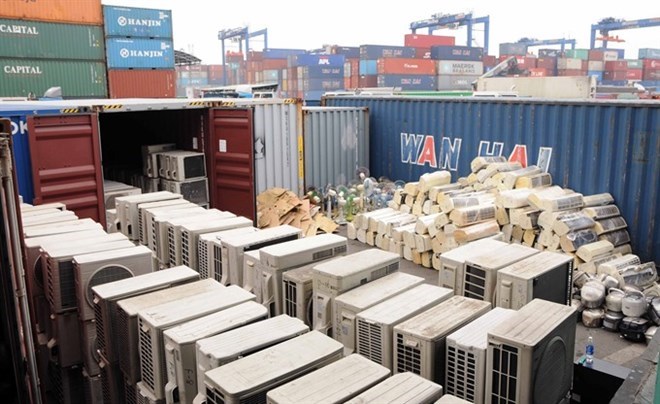 Hundreds of used home electronics banned from import found in containers at Cat Lai Port in HCM City.
Among the 64 inspected organisations, 54 were certified by the ministry as being eligible to import scrap as production materials.  
According to the General Department of Customs, in the first five months of 2018, Vietnam imported more than 2 million tonnes of steel, worth 744 million USD. The highest imports came from Japan with 564,000 tonnes worth 200 million USD.
Speaking at the Government's monthly press conference in August, Prime Minister Nguyen Xuan Phuc demanded that "Vietnam must not become a landfill that will damage people's living conditions and the country's image".
The Government leader ordered customs authorities, the environmental ministry, the transport ministry, and local administrations whose major ports struggle with scrap containers to review their policies and activities, and to "learn their lessons" from having let the situation get out of control in the first place.
Minister of Environment and Natural Resources Tran Hong Ha said the ministry is considering a total ban on the import of scraps. Besides comprehensive inspections and a thorough revamp of scrap import permit mechanisms, heavy fines and revoking business licences are all on the table as possible solutions, he added.
What the country need is a complete reshuffling of recycling companies' operations, which would require these companies to raise their standards and update their technologies with defined roadmaps for transition, he said.
Vietnam would also need to introduce a national waste system to improve the woeful rate of reuse and recycling, which would at least help those in the recycled produce sector obtain sufficient domestic scrap supply, he suggested.–VNA