The shortage of organic foods in the country is both an opportunity and a challenge for growers, a forum on organic agricultural development was told on August 18.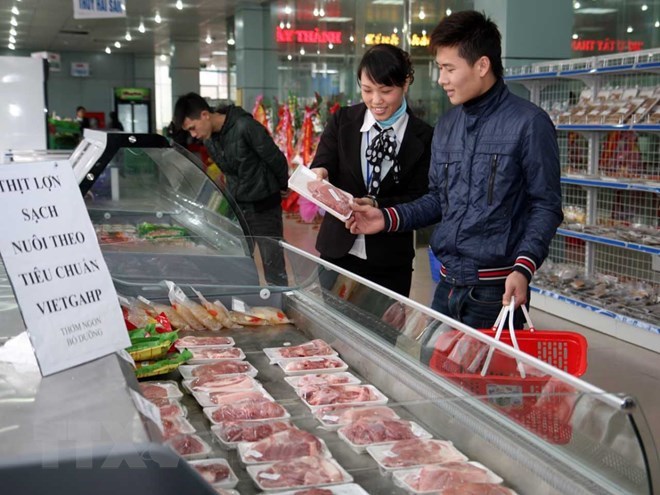 A consumer buys pork at a supermarket
"Solving problems related to brand and distribution" forum in HCM City heard how Vietnam has optimal conditions to produce organic items such as vegetables, fruits, rice, tea and fish.
The increasing demand for organic products means retailers are seeking partnerships and investment opportunities in the organic agricultural sector.
Pham Phuong Thao, the founder of Organica, which grows and sells organic produce, said everyone can see the great demand for organic food, especially among high-income and health-conscious people.
For instance, her company is unable to meet demand, she said.
The short supply also offers foreign producers the opportunity to expand into Vietnam, she said.
"Most Vietnamese customers do not have accurate information and always ask questions about the quality of organic products."
Raising consumers' awareness and providing them with full information are her missions in business and something she would recommend to people entering the business, she said.
She trains her employees to provide information to customers, she said.
Nguyen Lam Vien, general director of Vinamit Joint Stock Company, said new growers should opt for a shop-in-shop model at supermarkets or flea markets to introduce and sell their products.
He cited an example of the "Phien cho Xanh - Tu te" (Green-Nice Market Day) organic produce market held every Saturday and Sunday, where consumers can buy directly from farmers.
"Supermarkets offer great convenience to growers thanks to their existing customers," he said, adding that organic farmers need to understand the demand and supply situation to meet the needs of retailers.
Farmers can focus on just one unique organic product instead of many if they do not have enough resources, he said.
They also could set up online businesses and advertise on social networks like Facebook to save costs, he said.
Thao encouraged young people to enter the organic field but warned they would face challenges, including high investment costs, problems related to customers and getting international quality certification.
Young entrepreneurs should not focus too much on growth figures in the beginning, she said.
"Developing organic products requires a lot of time and so young entrepreneurs need a lot of patience."-VNS