Vietnam's growing retail service revenue and a big number of newly-established enterprises in the sector mirror the uptrend in local purchasing power and retail stores.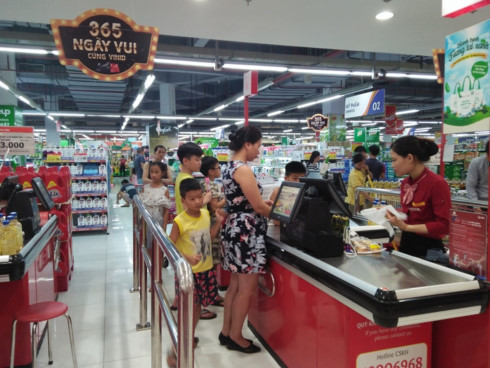 Within a very short period, locals in Xuan Dinh suburban area, about 10 kilometres from Hanoi city centre, witnessed the opening of four VinMart+ stores owned by local giant Vingroup.
"We have a lot more choice for shopping now," local housewife Nguyen Thi Mui told VIR. "I often go to traditional markets to buy goods, but now I can also visit a VinMart+ store near my house."
Mui is just one of thousands of Xuan Dinh residents visiting the stores every day, where they can buy thousands of items. A few months ago, no modern store like VinMart+ could be found in the area.
VinMart+ said that it opens more than 50 new stores every month across the nation. The firm currently has more than 1,000 stores nationwide.
Also in racing to open convenient stores, Vietnamese retailer Saigon Co.op, within single week last month inaugurated five Co.op Food stores in Hanoi, raising the total number of its stores in the city to 233. The first Co.op Food store in Hanoi was opened in last November.
Currently, Saigon Co.op also has nearly 100 supermarkets nationwide.
According to the General Statistics Office (GSO), VinMart+ and Saigon Co.op are not the only firms expanding operations in the wholesale and retail sector, which sits atop the GSO's seven-month list of sectors with the most newly-established enterprises.
Specifically, since the beginning of the year, there were about about 25,700 newly-established wholesale and retail businesses in Vietnam, accounting for 33.9 per cent of the total newly-founded enterprises.
Many major retailers have also decided to expand their operations in the country during the months. Japan's AEON Group has recently commenced the construction of a $180 million mall in the northeastern port city of Haiphong. The 9.3 hectare project is expected to become operational in 2020.
In March 2018, AEON also began construction of its mall in Hanoi's Hadong District, with the total capital of about $90.4 billion. This is the second AEON mall in Hanoi, and the fifth in Vietnam.
Meanwhile Japan's 7-Eleven is said to be planning to open 100 stores in three years and 1,000 stores in the coming decade in Vietnam after entering the market mid-2017.
The Republic of Korea's Lotte Mart was also reported to plan opening 60 stores in Vietnam by 2020, while its compatriot GS25 will also open 2,500 stores in 10 years after launching its first shop in Ho Chi Minh City in late 2017.
According to the Korea Chamber of Business in Vietnam, foreign enterprises are finding ways to approach the Vietnamese retail market via mergers and acquisitions with local firms, such as the ones between Lotte and Bibica, CJ and Cau Tre, F&N and Vinamilk, Masan and Vissan, Vingroup and Ocean Retail, and Central Group and Casino Group.
The GSO also reported that during the first seven months of this year, the huge domestic purchasing power has enabled total revenue from retail sales and services to grow by 11.1 per cent on-year, the highest climb during the period since 2014, to a total of nearly VND2.5 quadrillion ($110.62 billion).
Vietnam also received more than nine million international tourist arrivals in the period, up 25.4 per cent on-year, which also greatly contributed to the rise in total retail service revenue.
According to a recently released survey conducted by Thailand's Kasikornbank in April 2018, Vietnam is forecast to be the fastest-growing convenience market in Asia by 2021, with the growth rate of 37.4 per cent for 2017-2021.
Under the survey, many domestic retailers were found to have a big number of stores, including Vietnam's VinMart+ (1,000), the US' Circle K (264), Japan's FamilyMart (165), Thailand's B's mart (154), and Malaysia's Shop & Go (107).
The survey also stated that the Vietnamese online retail market currently accounts for only 1.3 per cent of the total retail market value. However, it looks promising, with a 22 per cent annual growth rate and its turnover is expected to reach $3.7 billion in 2020.
Currently, Vietnam has a population of 96 million people, with nearly 1,800 convenience stores.
VIR