Fast food giants are still betting big on the Vietnamese market, despite ongoing losses and sluggish performance.
In the red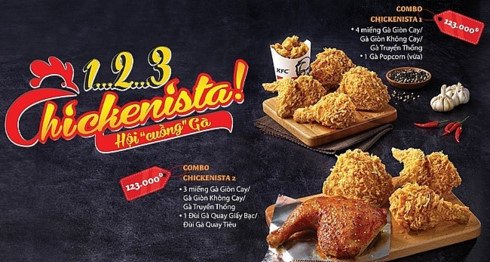 In Vietnam, Lotteria and KFC are considered the leading fast food brands. However, the financial statement of Lotteria showed that the fast food chain recorded after-tax losses were VND118 billion ($5.22 million) and VND135 billion ($6 million) in 2015 and 2016 respectively. By the end of 2016, Lotteria's accumulated losses were more than VND413 billion ($18.27 million), while its charter capital reached only VND433 billion ($19.16 million), as reported by local media.
In the meantime, Lotteria's competitor, KFC also reported losses with a low profit margin at around 15 per cent in 2016. This was even lower in the previous year, at only 10 per cent. As a result, KFC lost VND25 billion ($1.1 million) in 2015 and made a profit of VND15 billion ($664,000) in 2016.
The Fast Food in Vietnam report by Euromonitor International reveals that many international fast food brands in Vietnam have declined in 2017, including Burger King, Popeyes, Subway, and Carl's Jr. Lotteria and KFC, despite maintaining their leading positions in 2017, only recorded very low-value sales growth.
When VIR contacted Vietnam Lotteria Co., Ltd., marketing manager Truong Ham Liem did not deny these above-mentioned losses. He said that Lotteria's market development plan focuses on the expansion of outlets. Lotteria invested heavily into developing and advertising its chain of outlets between 2014 and 2016.
"It is only when Lotteria achieves its intended scale that the company will consider profitability," Liem said, adding that the Vietnamese market is growing rapidly, so Lotteria continues to invest in the market to achieve the company's original goals despite the losses.
"The scale of Vietnam's fast food market has yet to hit the profitable point, so the chain is committed to ongoing investment," Liem said. "In 2017, Lotteria continued to increase the number of its outlets, which will lead to revenue growth and shrinking losses. The fast food chain is expected to generate profits this year."
According to Sean T. Ngo, CEO of VF Franchise Consulting, there are many reasons for ongoing losses among foreign fast food chains, despite having been present in Vietnam for years. It is a combination of increasing competition for both local and foreign companies, high rental costs, and limited supply of affordable premises.
Other reasons include a supply chain that needs significant improvement and depth in terms of the number of qualified suppliers in Vietnam, fast-rising labour costs as evidenced by nearly annual increases in minimum wages throughout the country, and generally lower disposable incomes as compared to many regional neighbours.
"The good news is that many of these areas are improving over the medium to long term," Ngo said.
Indeed, Vietnam's fast food market's size has almost doubled in the last five years, from VND11.84 trillion ($524 million) in 2012 to VND20.22 trillion ($894.7 million) in 2017, at a compound annual growth rate of 11.3 per cent. Moving forward, the market is expected to hit VND24.99 trillion ($1.11 billion) by 2020, according to Euromonitor.
New growth
Over the last 10 years, fast food brands have sprung up across Vietnam. It is very easy to find a fast food store with modern furniture, glass doors, and cool air conditioning. The density of fast food outlets is increasing, not only in the commercial centres and big cities, but also in other provinces. Fast food companies have proactively conducted franchising to open more and more new stores in lucrative sites.
Currently, Lotteria and KFC have the largest number of stores in Vietnam. Lotteria opened in Vietnam in 1998 and leads the fast food industry with 222 stores nationwide now. It had 140 stores by late 2012, which rose to 207 in 2015, meaning Lotteria increased the number of its locations by 150 per cent between 2013 and 2015, and over 20 stores were launched each year.
Meanwhile, KFC, the world's most popular chicken restaurant chain, has been present in Vietnam since 1997, when Vietnamese customers were still unfamiliar with the concept of fast food. KFC suffered losses for seven consecutive years. The increase in the number of stores was very slow, reaching 17 stores after seven years. KFC then adjusted its strategy, and the number of stores rose to 100 in 2011.
During the most exciting phase for fast food, 2012-2015, the number of KFC outlets rose to 140 across 18 cities and provinces. The number remains unchanged now.
Another brand developing well in Vietnam is the Philippines' Jollibee, which has taken part in the Vietnamese market since 1996 and marked the milestone of 100 stores in 2017. Jollibee Food Corporation (JFC) has recently gained a controlling stake in SuperFoods Group, which owns and operates Highlands Coffee and PHO24.
Ernesto Tanmantiong, JFC's president, is upbeat about the outlook in Vietnam. "Vietnam is growing fast and has a young population, and both Jollibee and Highlands Coffee are growing very well. We are very excited about Vietnam, because it will be a large consumer country due to its population, and there is a lot more room to grow," Tanmantiong said.
Meanwhile, McDonald's, which began operations in Vietnam in 2014, has launched only 17 outlets so far. Explaining this modest figure, Nguyen Huy Thinh, CEO of McDonald's Vietnam, told VIR that the McDonald's strategy is to ensure good performance in every outlet.
"The speed of opening will become faster and the target of 100 stores within 10 years is possible," he said, noting that the business results of McDonald's are very positive, with annual growth rates of 30-40 per cent.
According to Euromonitor, Lotteria maintained the leadership position on the market in 2017 with 17.9 per cent of market share, followed by KFC (11.4 per cent), Jollibee (8.3 per cent), and McDonald (1.7 per cent).
Moving forward
Fast food brands are urged to switch their development strategies to reverse the slump. Ngo noted that some fast food chains are already making profits, while others are still struggling and a few have clearly failed and exited the market.
Fast food chains that are open to localisation of menu items and sourcing while maintaining their quality and service standards are more likely to succeed than those that have to import nearly every raw material into the country, thereby facing higher costs.
"Some chains are also realising that smaller footprints are critical to success as they cost less and, if the location is chosen correctly, can generate more returns and thus revenue for the company. KFC and Lotteria are slowly, but surely heading in the right direction and towards better profitability, as branding power and economies of scale become ever more important in an increasingly competitive market," he said.
VIR