Vietnamese shrimp exporters need to improve quality of their products, and update procedures and requirements in the Republic of Korea (RoK) to overcome technical barriers that hinder the shipments, experts have said.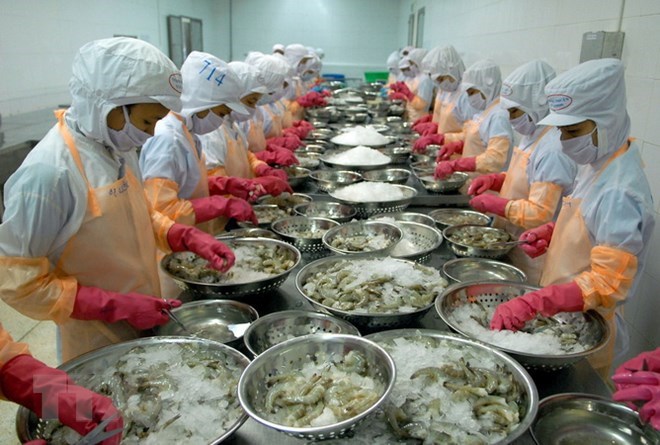 Shrimp processed for export
Although the Vietnam-Korea Free Trade Agreement (VKFTA), which took effect from December 2015, has brought about positive changes in the Vietnamese shrimp exports to the market, the East Asian country's rigid management of food quality poses a new challenge to the Vietnamese product.
From March 2017, steamed shrimps from Vietnam must undergo a compulsory heating mode before achieving a health certificate to enter the Korean market. Many Vietnamese seafood exporters fail to meet the requirement, and even when the products receive additional heating, they may be refused by the importers due to their unsound appearance.
Also, the RoK's demanding requirement will result in the increase in the firms' production costs, which will later make Vietnamese shrimp lose its competitive edge in the market.
To deal with this issue, the National Agro-Forestry-Fisheries Quality Assurance Department, the Vietnam Association of Seafood Exporters and Producers (VASEP), and seafood companies are working to assure the Korean importers that additional heating in a shorter time still ensure food safety and hygiene.
VASEP has said that the RoK is the 12th largest shrimp importer in the world, and Vietnamese shrimp exports to the country have enjoyed robust growth, with export revenue on a constant rise. 
The RoK ranks 5th among shrimp importers of Vietnam, accounting for 11.6 percent of the Southeast Asian country's total shrimp shipments. In the first half of this year, the nation sold 190.4 million USD worth of shrimp products to the RoK, a year-on-year surge of 24 percent.
Thanks to the VKFTA and the ASEAN-Korea free trade agreement, Vietnamese shrimps receive more favourable taxes than those from China, India, Ecuador, and Thailand. Thus, Korea has been billed as a potential market for Vietnamese shrimps in the context that shipments to other major markets are facing tough seas.
Actually, free trade agreements have brought great opportunities for the involved parties involved, particularly preferences in import taxes. However, the importers have elevated technical barriers to protect consumers' health and sustainable development. 
Like the VKFTA, once the EU-Vietnam Free Trade Agreement (EVFTA) comes into force, shrimp exports will experience both opportunities and challenges in the coming time.-VNA