The popularity of mobile e-commerce in Vietnam has seen its strongest yearly growth with the usage of e-payment systems increasing at an estimated rate of 22% per annum.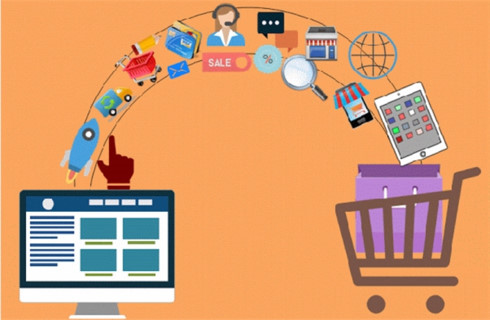 Smart phones have been the medium for 72% of the total hits on e-commerce websites, while 53% of online shopping transactions have been conducted via mobile platforms.
According to Appota's report on Vietnam's mobile application market in the first half of the year, the number of online shoppers in Vietnam is estimated at 35.1 million, generating more than US$2 billion in revenue. That figure is predicted to reach 43.9 million  with revenue surpassing US$4 billion by 2022
The statistics show that the number of people goods purchasers through Facebook, accounted for 67% of online shopping in 2016 and that figure rose to 83% in 2017.
The report indicates that the millennial generation (18-35 age group) has made up 82% of shares of Vietnam's e-commerce market. This is the most important segment for retailers and online service providers. HCM city has the biggest online shopping market with 38%, trailed by Hanoi (17%), Can Tho (3%), Da Nang (3%) and Hai Phong (1%) while the remaining localities hold 39%.
The findings of another report, by iPrice, also show that mobile platforms have contributed a large number of hits of e-commerce websites. Vietnam has the lowest rate of e-commerce website access in South-East Asia but posted the strongest growth over the past year.
Statistics indicate a 26% increase in the number of unique visitors to e-commerce websites using mobile devices. Strong growth after 2016 pointed to a gradual rise in the number of Vietnamese consumers using smart phones for online shopping. This requires retailers and service providers to design e-commerce channels which are smart phone compatible.
In addition, the use of work computers for shopping has increased 12% compared to 2016. Up to 53% of online shoppers use smart phone browsers to purchase goods, while 52% of online shoppers use mobile applications to buy goods.
According to experts, the use of mobile devices is now a common trend among consumers purchasing goods online and there has been a remarkable increase in consumers' dependence on smart devices for their shopping habits.
At the recent Mobile Ecommerce Day 2018, Sapo Web released the statistics of visits to its system of more than 33,000 customer websites, more than 60% of visitors to e-commerce sites are from mobile phones (up 5% over last year) while the remaining proportion arrive from desktop and tablet.
The latest report from iPrice shows that the growth of visitors using smartphones in South East Asia and Vietnam in particular has seen continued growth during the year, accounting for 72% of the total hits on e-commerce websites.
However, the iPrice study shows one downside to the positive growth in the number of hits from mobile phones using mobile shopping apps, the percentage of visitors completing the checkout process on mobile is not as high as with PCs.
The conversion rate from online shop personal computers is much higher than mobile devices, while the average value of online shopping carts also differs between the two devices.
For example, the conversion rate among Vietnam's online shoppers while using computers is 3.6 and the rate for mobile users is only 1.4. The average value of an online shopping cart on PCs is US$26 and US$23 on mobile devices.
The difference in shopping habits between mobile and computer shows that Vietnamese people often search and study products on their phones before completing the purchase of goods on computers.
Many e-commerce websites B2C like Lazada, Tiki, and Sendo have consistently had the highest traffic and posted constant growth.
A representative from Lazada Vietnam said that since the beginning of the year, the number of online shoppers using Lazada's mobile applications has increased 60% and the quantity of orders through their mobile apps accounts for 70% of total orders.
However, the e-commerce industry faces a stumbling block on the path to sustainable development for a lack of consumer trust in the quality of online products. Up to 44% of consumers report being dissatisfied with the quality of goods purchased online. Low consumer confidence remains the biggest hindrance for buyers completing the checkout process. Feelings of security are the key factor in consumer's willingness to buy online.
In addition, businesses are confused about ensuring the standard of design for mobile platforms which meets customer demands and will increase the rate of conversion for shopping.
Mr. Tran Trong Tuyen, CEO of DKT Technology —which has just launched Sapo X, the first multi-channel management and sales platform in Vietnam — said many businesses have lost revenue as they have neglected improvements to their online shopping apps in order to provide customers with new shopping experiences and maximize the mobile conversion.
To accomplish this, businesses need to research consumer behaviour and take advantage of applications and features to optimize the efficiency of advertising and selling goods on the now ubiquitous smartphone.
VOV