The Intellectual Property Agency of Viet Nam, under the Ministry of Science and Technology, has expanded recognition of the Geographical Indication (GI) of Ngoc Linh for ginseng root products grown in 15 communes of Quang Nam and Kon Tum Provinces.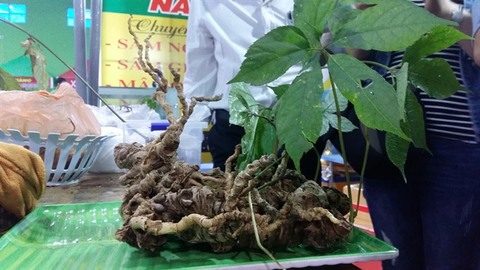 A root of the Ngoc Linh ginseng is displayed at monthly Ngoc Linh Gineng Fair in Nam Tra My district of Quang Nam Province. 
The agency said on August 2 that the ginseng GI, which was given to three districts of Tu Mo Rong, Dak Glei in Kon Tum and Nam Tra My in Quang Nam in 2016, now will be expanded. The expansion will support the mass development of ginseng in the cool natural conditions on mountains reaching 1,400m to 2,600m above sea level in the mountainous communes of the two provinces.
The Ngoc Linh ginseng (Panax vietnamensis, or Vietnamese ginseng) was found on Ngoc Linh Mountain on the border between the Central Highlands province of Kon Tum and central Quang Nam Province in the late 1960s.
By 1979, Quang Nam Province had established the Tra Linh drug materials farm on the mountain, but it suffered from low productivity. Kon Tum Province had also built up a conservation centre for the Ngoc Linh ginseng in 2004.
Chairman of Nam Tra My District Ho Quang Buu said the expansion of the GI for the Ngoc Linh ginseng would help the two provinces develop a strategy and win new investments to promote the Vietnamese ginseng national brand.
A master plan for development of Ngoc Linh ginseng has been created in the two provinces, with an estimated cost of US$429 million, including the development of infrastructure and the production of drugs, essential oils, cosmetics, tonic drinks and capsules from ginseng.
Nam Tra My District alone has developed 27 farms of Ngoc Linh ginseng on a total area of 932ha, growing 800,000 natural ginseng plants and herbs. These farms plan to produce 1,000 tonnes of the ginseng by 2025.
Currently, raw ginseng is sold for VND40 million (US$1,900) per kilo, but the two provinces can only produce pharmaceutical materials and energy drinks due to poor investment in processing technology.
The Vietnamese ginseng was one of eight precious and endangered flora genes covered in Quag Nam Province's conservation programme for 2014-20, including Ba Kich (poor ginseng or codonopsis), pepper, cinnamon, large rattan and white corn.
Nam Tra My District, 100km south of Tam Ky City in Quang Nam Province, has hosted the annual Ngoc Linh Ginseng Festival since 2017, while its monthly ginseng fair is organised in the first three days of a month.
About 26 businesses in Viet Nam have registered to invest $221 million in farming and production of the Ngoc Linh ginseng in Nam Tra My District. — VNS