The ratio of the non-performing loans (NPLs) at commercial banks fell from 3.61 percent at the end of 2013 to 2.18 percent at present, according to Chairman of the Vietnam Asset Management Company (VAMC) Nguyen Tien Dong.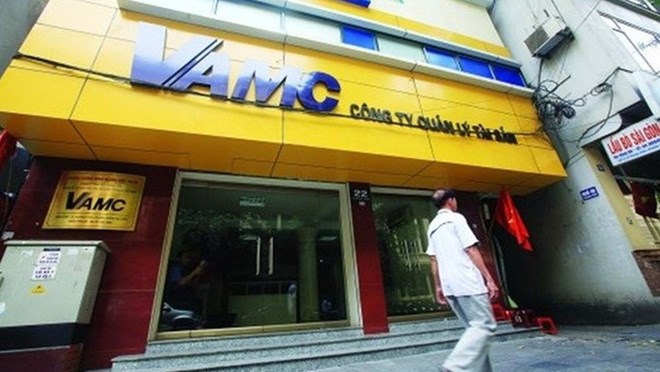 The VAMC handled 310.52 trillion VND (13.35 billion USD) of bad debts as of June 30. (Photo: vneconomy.vn)
The VAMC handled 310.52 trillion VND (13.35 billion USD) of bad debts as of June 30, or over 40 percent of the total processed NPLs. The company also joined hands with credit institutions to recoup nearly 100 trillion VND (4.3 billion USD).
In 2017 alone, the company recovered 30.85 trillion VND (1.33 billion USD), completing 140 percent of the assigned plan thanks to the National Assembly's Decree No.42/2017/QH14 on piloting bad debt settlement at credit institutions. The amount was equal to nearly two thirds of the total recouped debt during 2013-2016.
Besides buying debts from credit institutions by issuing special bonds, the VAMC bought more than 3.1 trillion VND (133.3 million USD) in market mechanism.
Deputy Governor of the State Bank of Vietnam (SBV) Nguyen Kim Anh said that after five years of operation, VAMC completed its assigned task in tackling NPLs in financial organisations, contributing to bringing the banking sector's bad debt ratio to under 3 percent. 
The company has been effectively implementing the project on restructuring credit institutions in coupled with bad debt settlement during 2016-2020, she noted.
Dong said that his company will gradually reduce the issuance of special bonds to purchase bad debts, and move to buy the debts in accordance with market mechanism.
VAMC is building a bad debt data system, which will help form a NPLs market in the future, while serving as a measure to involve both domestic and foreign investors in dealing with bad debts, he added.
The VAMC's chartered capital is currently standing at 2 trillion VND (86 million USD), which is still inadequate to step up NPLs purchase in market mechanism. Thus, the firm is asking the SVB to increase its chartered capital to 5 trillion VND (215 million USD) by the end of this year and 10 trillion VND (430 million USD) as of the end of 2020 so that it has sufficient financial resource to tackle bad debts in an effective and prompt manner.-VNA