Saigon Premier Container Terminal (SPCT) in HCMC has not been able to accommodate large container ships due to sedimentation in the Soai Rap River since June 2017, increasing the likelihood of heavy losses for the investor of the multi-million-dollar terminal.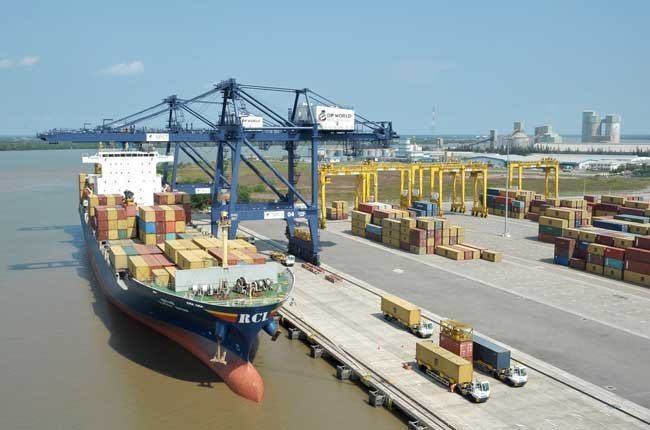 The HCMC government plans to spend VND360 billion (US$15.5 million) dredging the Soai Rap River late this year to make it deep enough for large vessels to travel to ports in the south of the city. 
Located on 40 hectares in the Hiep Phuoc Industrial Park along the Soai Rap River's western shore in the outlying district of Nha Be, SPCT is a US$410 million joint venture of DP World of the United Arab Emirates and Vietnam's Tan Thuan Industrial Promotion Company.
With investment capital of some US$250 million, SPCT's first stage started operations in early 2010, with an annual capacity of 1.5 million twenty-foot equivalent units.
The Soai Rap River, which leads to the Hiep Phuoc Port Complex, including SPCT, has been quite shallow in recent times. Many strips do not even have a depth of 9.5 meters, making it impossible for large vessels to navigate to the container terminal.
Doan Hong Tam, deputy general director of SPCT, told the Saigon Times that the terminal has only been able to serve some small vessels, with total throughput of around 34,000 cars since mid-2017.
He added that the number of cars arriving at the port between January and June this year was equal to a mere 20% of the volume in 2017, putting SPCT in a difficult position.
The HCMC government and the relevant ministries have spent some VND3 trillion (US$129 million) building terminals at the Hiep Phuoc Port Complex, with SPCT being the major port.
Moreover, VND300-400 billion is annually allocated to dredge the river channel, so that vessels of 30,000 tons, as well as container ships with a load capacity of 50,000 tons, can visit the port complex.
In a bid to maintain the operations of the terminal, the SPCT leader urged the municipal government and the relevant ministries to quickly draw up a plan to dredge the waterway.
According to Bui Xuan Cuong, director of the HCMC Transport Department, the local government plans to spend some VND360 billion (US$15.5 million) from its own budget to dredge the river, and work is expected to start in December this year.
SGT