The Dai Dong Tien Corporation, a local plastics manufacturer, has teamed up with Walt Disney to build a leading brand in Vietnam's plastics industry. 
It is the only strategic partner of Walt Disney authorized to use images of beloved Disney characters on home furnishings and to sell them to the public. 
As foreign brands dominate the sector, the move shows that the corporation is paying greater attention to improving its competitive capacity and establishing its position and profile.
Partnerships struck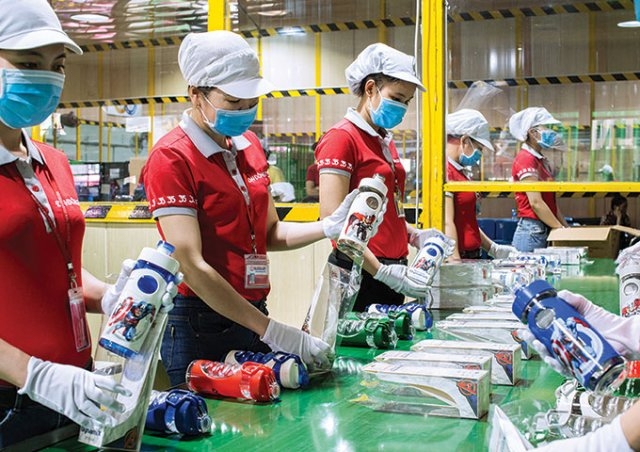 Established in 1983, Dai Dong Tien has significant experience in the production and sale of plastics and packaging products, with a broad distribution network around the country and for export. 
Annual growth in export revenue is rising and has contributed more to total revenue over the last few years. It also focuses on investing in technology and production lines at its two large factories in Ho Chi Minh City's Binh Tan district and the Nhon Trach II - Nhon Phu Industrial Park in nearby Dong Nai province. 
All products meet international standards for children's products. With such advantages it took just six months for it to negotiate the Disney deal. 
Disney's own research confirmed that the popularity of its characters in Vietnam continues to grow, as its TV shows and movies reach a wider audience. It therefore wanted to ensure that Disney products are available for local fans. 
It has seen three-fold growth in the number of local licensees over the last few years and is in active discussions with more potential partners. More ways to work with local brands will be considered, to bring locally relevant products to fans in Vietnam.
"We aim to deliver a mix of international content and locally relevant, rich storytelling to fans, providing them with the best, most relatable Disney experience possible," Mr. Dan Dossa, Vice President and General Manager, DCPI, at the Walt Disney Company Southeast Asia, told VET. 
"Working together with local creatives, we always strive to introduce quality products that are specific to Vietnamese tastes and preferences. To achieve this, we work closely with local designers and licensees, and Dai Dong Tien is a great example of this in Vietnam."
Dai Dong Tien will use images of Disney and Marvel characters (Avengers, Spiderman, Disney princesses, Frozen and standard characters) on their products. 
"We expect this will create a new face for domestic plastic household products," said CEO Mr. Trinh Chi Cuong. "This will help bring new items closer to domestic consumers and assist us in reaching our target of becoming the leading plastics manufacturer in the country." 
As such, growth in revenue is expected to increase 5 per cent this year compared to the $55 million posted in 2017. 
Local shoemaker Biti's, meanwhile, has also shaken hands with Walt Disney Studios, renewing a deal to feature its images on sport shoes that is considered a breakthrough in its marketing strategy. In two years, the company has witnessed outstanding business growth and its products featuring Disney images are among its best-sellers. 
"In terms of branding, the cooperation helped us cement our leading position, with advanced and innovative products and the best services," Mr. Le Tang Gia Phu, Brand Manager at Biti's Kids, told VET. "We are very happy with the cooperation and what we have achieved."
Biti's Hunter, its line of sports shoes, has seen good results from its links with Avengers-Infinity War. One thousand pairs of the latest version were sold within a minute of local online retailer Tiki.vn taking orders. 
"Standing with famous international brands is good news for a Vietnamese brand like us, and it gives Vietnamese consumers more confidence in 'Made-in-Vietnam' products," Mr. Phu said. 
Walt Disney has also worked with another Vietnamese brand, Canifa, in shoes and apparel for adults. Canifa has developed a Mickey Mouse range of apparel that also resonated well with Disney's adult fans, showing that Disney's characters and stories cut across all ages, Mr. Dossa said. 
Expanding images
Dai Dong Tien plans to use Disney images such as Mickey Mouse, Minnie Mouse, Pluto, and Donald Duck on other household items and has also invested in marketing campaigns on Facebook, Google, and local search engine Coc Coc.
Vietnam's maternity and children's market is worth $2.5 billion per annum and the figure is set to double in the near future, according to market research group FTA. 
"The potential is huge and we are seizing the opportunity by launching Disney's collection in the children's segment," Mr. Cuong told VET. 
"This will expand our brand and affirm our leading position in the plastics sector." The company also expects to consolidate trust in Vietnamese products given the dominant position held by foreign brands. 
In the long term, Biti's will continue to expand its cooperation with Disney though was unwilling to release any specific details at this time. Demand in the children's market heads ever-upwards but diversity is now needed. 
Vietnamese companies must therefore provide new and innovative products to meet demand, according to Mr. Phu, focusing not only on product quality but also on marketing campaigns. 
According to Mr. Dossa, Vietnam is an important market for Disney. There is universal awareness of the Disney brand among adults, while its beloved characters are among the Top 10 favorite characters for both kids and young adults. 
"Disney's stories, characters and franchises come to life through consumer products and we are actively looking for more opportunities to invest in local partnerships to provide more relevant ways for our fans to enjoy their favorite Disney stories," said Mr. Dossa. 
"We also have a local presence in the market and are looking to aggressively scale up our team in order to better meet the needs of consumers."
VIR