By registering its business licence in South Korean despite manufacturing goods in China, Mumuso has entered the Vietnamese market, where Japanese and South Korean goods are popular. However, this strategy means the brand faces some risks in accordance with Vietnamese law.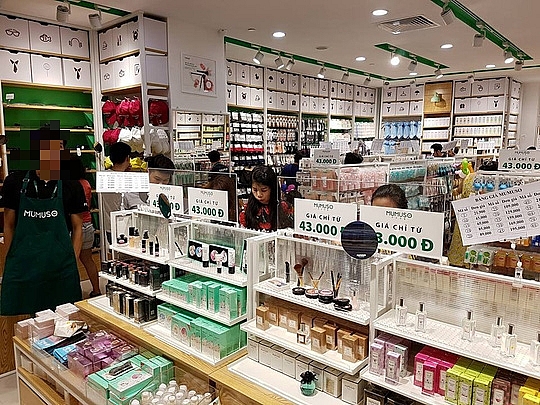 Inside a Mumuso store in Vietnam
The Ministry of Industry and Trade (MoIT) has announced the results of its inspection on Mumuso Vietnam in terms of how the company complied with the laws of Vietnam between early 2016-May 31, 2018. Accordingly, 2,257 out of Mumuso's 2,273 goods are imported from China, with the rest being bought from domestic suppliers.
The inspection also found that MUMUSOKR brand was registered by MUMUSOKR Limited at 601,47 Sejongdaeero 23-Gil, Jongro-Gu, Seoul (South Korea). However, MUMUSOKR Limited has authorised Mumuso Shanghai (China) to use the MUMUSOKR brand all over the world.
According to an MoIT representative, Mumuso has shown signs of violating the law on consumer protection by providing insufficient information related to its products' origins. In addition, the information on its products relates to South Korea, but there are no legal documents to prove they were produced in South Korea.
The Korean Intellectual Property Office cannot confirm the company's business activities in the country.
A commonly used strategy
Taking advantage of Vietnamese people's interest in South Korean and Japanese goods, two years after entering the Vietnamese market Mumuso has 32 stores and over 200,000 loyal customers.
Khanh also said that due to the fierce competition in South Korea, Mumuso's development strategy in the first phase is to focus on business in Vietnam. After gaining a foothold in the domestic market, Mumuso will target entering South Korea.
"Selecting China, known as the 'world's factory' to manufacture goods is a way of saving on production costs," said Nham Phi Khanh, director of Mumuso Vietnam.
Covering up foreign origins in order to do business seems to be an effective way to expand business scale in Vietnam, with domestic goods yet to gain foothold in the market.
One successful example of this strategy being applied is Vascara, a domestic handbag and shoes brand. According to nhipcaudautu.vn, Vascara was established in 2007, at a time when consumers looked down on shoes and handbags made in Vietnam.
However, marketing itself as a "brand specialising in Brazilians shoes and handbags", just two years after its establishment, Vascara's revenue skyrocketed from VND6.8 billion ($299,559) to VND40 billion ($1.76 million). As of April 2018, Vascara has presence in over 40 provinces and cities with 100 stores in operation.
Over 10 years Vascara never revealed where its products were made, until in late 2017, having firmly established its place in the market, the brand confirmed its Vietnamese origins.
Le Canh Bich Hanh, CEO of Vascara said that this was the most effective and least expensive way to promote the brand.
However, this strategy also contains huge risks of losing prestige as the customers dispute the real origins.
Regarding Mumuso, over the past few months many Vietnamese customers report to feeling cheated and have turned their backs on the brand, despite Mumuso's repeated attempts to explain its actions in the mass media.
Once a brand's reputation has been knocked, gaining back the trust of customers can be very tough.
VIR