Hanoi shames over 300 tax defaulters
Hanoi Tax Department has publicly named 331 firms who owning taxes and land rental fees valued at VND2.48trn (USD107m).
12 firms own over VND546bn (USD23.60m) in taxes, of which Lilama Hanoi owns VND111bn and Mecomic JSC owns VND60bn.
16 firms own nearly VND1.30trn (USD56.25m) in land rental fees. Lung Do 5 Development and Investment JSC leads the list with VND342bn, followed by Hoang Ha Construction JSC with VND158bn and CT Vietnam International JSC with VND122bn. Lilama Hanoi also owns VND67bn in land rental fees.
The authorities have applied various measures including withdrawing the fees from the companies' accounts but have still been unable to recover the tax arrears.
Since early 2018, Hanoi Tax Department has publicly named 690 companies that still owe tax arrears. As of now, 198 companies have paid nearly VND47.60bn (USD2m) of the VND1.47trn.
The department has warned the firms to pay their taxes before stricter measures are applied.
Shrimp prices expected to recover in Q3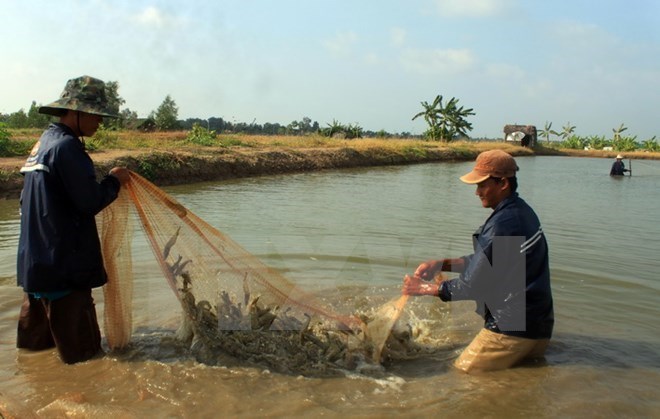 The price of material shrimps is forecast to recover in August and September after suffering drops over the past months, especially in the second quarter of 2018, according to the Vietnam Association of Seafood Exporters and Producers (VASEP).
The VASEP explained that shrimp crops in major suppliers like India, Bangladesh and Thailand have finished, causing a decline in supply sources, while many Vietnamese firms have received big orders for year-end events.
Experts advised that farmers should not hastily sell their immature shrimps, but grow big shrimps for better profit as the shrimp price.
At the same time, shrimp growers should use new technology, while focusing on fostering cooperation towards value chains to improve product quality and reduce costs.
Meanwhile, businesses should concentrate on developing products with higher added value and higher quality to penetrate high-end markets.
Vietnam's shrimp exports started falling from April this year when revenue reached only 257.2 million USD, down 0.4 percent over the same period last year. The sector suffered sharper yea-on-year drop of 5.7 percent in May and even 15 percent in June.
The increase in global shrimp supply sources and the decrease in prices led to a slump in domestic shrimp prices from April. Notably, the price of white-leg shrimp has fallen 20-30 percent and is yet to see signs of recovery.
Many international organisations predicted that shrimp output of major world suppliers will recover, with total production to exceed 3.5 million tonnes in 2018, the highest point in 10 years.
This year, many big shrimp suppliers have also given support policies to boost the sector's growth, resulting in higher production, while demand has decreased.
Tran Van Linh, General Director of Thuan Phuoc seafood and trading company said that the impacts of the increase in USD price compared to other currencies such as Euro, Japanese yen and Korean won has also been a challenge for shrimp exports.
Linh expressed fears that if shrimp prices do not increase in the rest of the year, exporters will suffer a lack of material sources as farmers reduce their shrimp farms.
Despite the downturn in shrimp exports in the second quarter, revenue in the first six months of this year still expanded about 7.6 percent to 1.6 billion USD thanks to growth of more than 20 percent in the first quarter. Particularly, exports of white-leg shrimp grew 18 percent with 1 billion USD in value.
Kien Giang calls for investment in three urgent projects
The southern province of Kien Giang has listed three projects in Phu Quoc island district that are in urgent need of investment in order to call for investors.
One of the projects is a 500-bed hospital accompanied by a convalescence facility on an area of more than 10 ha of land in Bai Truong, Duong To commune.
The second one is a resort and tourism complex on 42 ha of land in Bai Thom eco-tourism site, Bai Thom commune, which is envisioned to serve 1,200-1,600 visitors a day.
The third project is a waste treatment plant capable of processing 150 tonnes of garbage a day, at Duong To commune.
The Chairman of the provincial People's Committee has approved the list and assigned the management board of Phu Quoc economic zone to invite investors and organise biddings in line with the law.  
According to the management board of Phu Quoc economic zone, the island district of Phu Quoc currently has 278 valid investment projects in designated areas. The projects have a total investment capital of more than 361 trillion VND (15.75 billion USD). Thirty four projects have become operational.
Located on the Vienam-Cambodia-Thailand marine economic corridor, Phu Quoc is dubbed the "pearl" island.
The island was named as one of the 10 most beautiful Asian islands to visit in summer by tourism site www.topinspired.com.
Phu Quoc island district targets to serve at least half a million international tourists in 2018, according to local authorities.
Vietcombank named Vietnam's best bank in 2018 by FinanceAsia
The Joint Stock Commercial Bank for Foreign Trade of Vietnam (Vietcombank) has been named the best bank of Vietnam in 2018 by FinanceAsia. 
This is the second consecutive year the bank has received this award from the Hong Kong-based magazine.
The award aims to honour outstanding banks in each country, selected based on criteria such as business strategy, management model with a view of offering its customers services that meet international standards, growth, profitability, high-quality products and services, network development with the increasing number of customers.
Currently, Vietcombank is rated among Vietnamese banks as the best in terms of asset quality and profitability.
In 2017, Vietcombank made a strong impression by becoming the first bank in Vietnam to report pre-tax profit of 11.341 trillion VND (499 million USD). Its bad debts fell to only 1.1 percent, the lowest rate among major credit institutions.
Vietcombank aims to become the first bank in Vietnam, one of the 100 largest in the region, one of the 300 largest banks and financial companies in the world by 2020.
In the past, Vietcombank was also named Vietnam's best bank, best trade finance bank, best FX bank for corporates & financial institution in 2014, and Vietnam's best bank in 2015.
Farmers in central region urged to develop hi-tech agriculture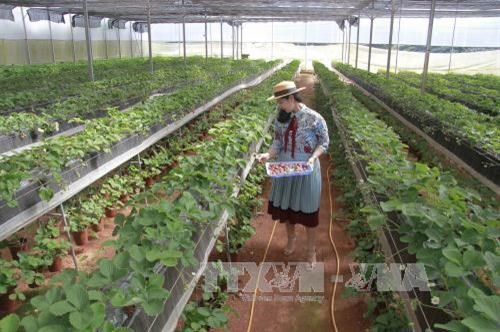 The Ministry of Science and Technology and the Ministry of Agriculture and Rural Development have urged six provinces in the northern central region to utilise land in the corridor of Ho Chi Minh Trail to develop high-tech agriculture.
The provinces are Thanh Hoa, Nghe An, Ha Tinh, Quang Binh, Quang Tri and Thua Thien-Hue, which have a total of nearly 2.1 million hectares of land, the majority of which is bazan red soil along the trail.
According to the Ministry of Science and Technology, the plentiful soil is suitable for the development of agriculture using advanced technology. The vast, hilly land and nutritious red soil are sound conditions for that type of agriculture.
The ministry said high-tech agriculture would be the best way to exploit the rich soil along the trail for fast economic growth of the region.
The ministry has worked to supply advanced farming tools, new seeds and modern farming techniques to potential agricultural investors in the region.
Deputy Minister of Agriculture and Rural Development Le Quoc Doanh said local authorities in the six provinces sharing the trail corridor's land source should work together to plan the type and scale of agriculture as well as farming varieties to attract investors.
He pledged the support of the agriculture ministry in planning and networking with qualified investors as well as seeds and equipment suppliers.
During a recent workshop in Nghe An, local authorities of the provinces agreed to cooperate to make full use of the vast, rich land for agriculture using advanced technology.
However, they suggested a detailed study by the ministries for zoning in the region according to climatic and soil conditions so that they could develop a coalescing plan for the region.
They also wanted consultation of qualified investors and suppliers in the field as well as sought a potential market for their products.
Anh said the ministries would work closely with the provinces' authorities to finalise a proposed master plan to make use of the trail-side land. He believed sound networking among authorities, investors and local farmers gained from the workshop would result in effective practice.
Can Tho steps up economic reform for better global integration
Economic reform, in companion with renewing growth model to improve productivity and competitiveness capacity, is a top priority of the Mekong Delta city of Can Tho to realize the goal of global economic integration and sustainable development.
Thanks to the city's drastic measures, the local business environment has become better, making the locality become a magnet for foreign investors.
In the first six months of the year, the city granted investment licenses to six foreign direct investment (FDI) projects with a total registered capital of 176.7 million USD. It is now home to 75 FDI projects valued at 1.13 billion USD.
However, Vice Chairman of the municipal People's Committee Truong Quang Hoai Nam said that the number of FDI projects is still modest as compared to the country's average level. Meanwhile, many local businesses are not able to join the global value chain due to their small-scales. Also, they do not have sufficient skills to deal with anti-dumping and subsidy lawsuits in foreign markets.
In a working session with the city's steering committee for international integration on July 6, Nam highlighted the necessity of comprehensive administrative reform as part of efforts to create a sound business climate and improve the city's rankings in the Provincial Competitiveness Index (PCI).
The steering committee for international integration should join hands with relevant departments and branches to accelerate external information, helping increase Vietnam's prestige in the international arena, he said, adding that policies must be made transparent while international commitments must be consistently implemented.
Besides expanding cooperation with both domestic and foreign localities, developing infrastructure is a good way attract more investments, he stressed.
Departments, sectors and People's Committees of the city's districts were required to direct disbursement of public capital as well as keep close watch on bad debt and scrutinise restructuring at credit funds. 
Regarding agricultural production, the city will support farmers and agricultural businesses to develop value chain and set up outstanding cooperatives, which will receive preferential loans to stabilise operations and branch out their business.
Particularly, the city will work with Vietnamese trade counselors and representative offices in foreign countries to provide domestic firms with market information and legal procedures for import-export activities. In addition, it is increasing trade promotion in traditional markets while introducing products in the new ones.
Nam said that quality of products and services will decide whether a business can survive or not, thus, enterprises should grasp opportunities to gain substantial profits.
According to Nguyen Minh Toai, Director of the city's Department of Industry and Trade and deputy head of the steering committee for international integration, in the past time, relevant authorities have helped local business get access to information on integration, and free trade agreements so that they can take prompt actions in response reduce risks and improve products' value.
Many businesses have zoned off material areas to manage their products quality, meeting increasing demands of the consumers, he added.
Grab wants to build superapp for Southeast Asia
Grab on July 10 announced GrabPlatform, as part of its open platform strategy to build Southeast Asia's first everyday superapp.
Grab will add more highly used everyday services to the Grab app, together with best-in-class partners, who can use GrabPlatform to integrate their services with Grab, said Anthony Tan, CEO and Co-founder of Grab.
Partners can expand more efficiently across Southeast Asia by leveraging Grab's user base and Southeast Asia's largest distribution channels through GrabPlatform, a suite of application programme interface (API) that enables partners to access components of Grab's technology like logistics and payments.
Grab also announced its latest service, GrabFresh, an on-demand grocery delivery service. Available in the Grab app, GrabFresh is a GrabPlatform partner integration with HappyFresh, Southeast Asia's No. 1 grocery delivery provider.
From this month, Grab expands into the largest category of household expenditure in the region, and takes another step forward to becoming Southeast Asia's everyday superapp.
The vision of Grab as an everyday superapp comes to life in a refreshed Grab app. Customers will have a brand new Grab experience where the Grab app provides not only services but also information, relevant to exactly when you need it. 
Grab's new home screen features single tap access to payments and easy navigation to all everyday services, complemented by a news feed that helps users discover their city with location reviews and useful seasonal information, such as where the nearest mosques are during Ramadan or even the latest football scores at the World Cup.
Anthony Tan said Southeast Asia is set to be the fourth largest economy by 2050. More people are moving into the middle class, technology infrastructure is catching up, and companies must adapt fast to shifting emerging market opportunities. Combining Grab's assets with the specialised expertise of our partners will enable both Grab and our partners to grow most efficiently and quickly to serve more Southeast Asian customers daily.
He told the Vietnam News Agency said Grab will promptly implement new added value services to better meet the increasing demands of its customers via cooperation with major big and prestigious Vietnamese businesses.
The group is expected to implement GrabFood and Fintech offerings, including payments and services, in Vietnam from now till the end of 2018, he said.
HCM City meets Korean firms to tackle customs bottleneck
The Ho Chi Minh City Department of Customs held a dialogue with over 150 businesses from the Republic of Korea (RoK) on July 10 with a view to facilitating customs clearance at local ports of entry.
Director of the Department of Customs Dinh Ngoc Thang said the annual event aimed to identify and address obstacles in the handling of customs clearance procedures at ports of entry, and update firms about new regulations on export-import activities. 
It was also a chance for the department to listen to businesses' proposals on fine-tuning customs mechanisms and policies while enhancing the connectivity between the two sides to build trustworthy relations, he added.
At the dialogue, officials from the Department of Customs updated Korean companies about new regulations on customs management in Vietnam and answered relevant questions.
They pledged to fulfil all trade facilitation commitments, including reducing the time needed for dealing with customs procedures for exports from 108 hours to 70 hours, and for imports from 138 hours to 90 hours.
The HCM City department will also review the list of goods subject to specialised examination to advise the Ministry of Finance and the General Department of Vietnam Customs to cut down the rate of these goods to under 15 percent, thus creating the best possible conditions for enterprises to step up trading activities, they added.
Yoon Yoo Young, Director of the Korea Trade-Investment Promotion Agency (KOTRA) in HCM City, said about 5,600 Korean companies are investing and doing business in Vietnam, contributing to 35 percent of the country's annual export turnover.
Nearly 2,900 of the enterprises have their customs procedures handled in HCM City. Therefore, the Department of Customs' timely realisation and removal of obstacles are important to enhancing the two countries' trade and investment partnerships, he noted.
Korean businesses highly valued the department's achievements in reforming administrative procedures and applying information technology in handling customs procedures. They also called on the department to propose to higher agencies the task of fixing shortcomings in existing policies and legal documents in order to to harmonise management and economic development targets. 
US firms appreciate Vietnam's investment environment
Vietnam's business environment has been improved significantly, especially the competitiveness, said US businesses from the US-ASEAN Business Council (USABC).
During a meeting with Minister, Chairman of the Office of the Government Mai Tien Dung in Hanoi on July 11, the USABC delegation showed the desire to invest or expand investment in Vietnam in animal feed production and distribution, food processing, production of veterinary medicine and plant protection products.
The American enterprises also affirmed their commitment to abiding by the laws of Vietnam, and fully implementing social responsibility and community activities.
Minister Dung said the Vietnamese Government is calling for foreign investment in hi-tech agriculture, and encouraging international enterprises to enhance links with local firms and people in developing the closed value chains. 
While appreciating US investors' investment in various fields in Vietnam, including the agricultural sector, Dung said, the foreign direct investment (FDI) attraction to agriculture plays an important role in boosting the production of agricultural commodities and increasing competitiveness for Vietnamese farm produce.
Vietnam is actively improving its business environment, fine-tuning its institutions and promoting administrative reform as well as enhancing its competitiveness to continue to be an attractive investment destination for both local and foreign business communities, including those from the US, he stressed.
Recently, the Vietnamese Government has issued a number of mechanisms and policies to remove difficulties and obstacles, aiming to lure more domestic and foreign investment in agriculture and rural areas, including amending the Law on Technology Transfer (2017), and issuing Decree 57/2018/ND-CP on mechanisms and policies to attract investment in agricultural and rural development, Dung said.
He revealed that the working group of the Prime Minister will inspect 17 ministries regarding the implementation of directions and tasks assigned by the Government and the Prime Minister related to the specialised inspection of import and export goods and the simplification and reduction of business conditions.
The Vietnamese Government is always willing to listen to opinions of business communities, he stressed.
According to the minister, the Government Office has built a system for receiving and responding to the recommendations of enterprises at http://doanhnghiep.chinhphu.vn on the Government Information Portal, which enables businesses to submit their proposals directly on the system. 
In addition, the Government Office has frequently held meetings with enterprises and business associations to listen to their feedback and suggestions related to the implementation of mechanisms, policies, and administrative procedures.
Michael Michalak, Senior Vice President and Regional Managing Director of USABC, said Vietnam is an attractive investment destination and many US firms have been successfully operated in the country. 
US firms took the occasion to thank the Vietnamese Government and authorities for creating favourable conditions for them to expand production and distribution networks in Vietnam.
RoK footwear firms to increase investment in Vietnam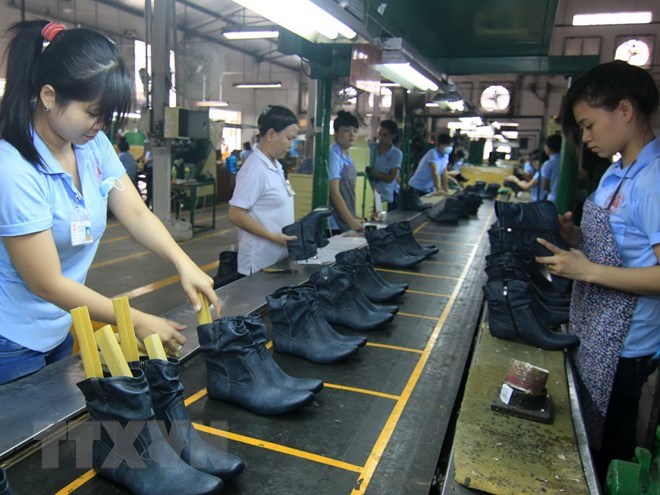 Footwear enterprises from the Republic of Korea (RoK) are operating effectively in Vietnam and their investment flows to the country are expected to increase strongly once the EU-Vietnam Free Trade Agreement (EVFTA) is signed.
According to Lee Young Man, President of the Korean footwear association in Vietnam, more than 100 Korean businesses are operating in the field in Vietnam, with nearly 80 percent of them active in the southern province of Binh Duong.
The Korean footwear association in Vietnam has organised activities to enable businesses to exchange experience in order to increase competitiveness, he said.
At present, the association has 90 members and most of them are performing well. It aims to develop the membership to 120 this year.
According to the Vietnam Leather, Footwear and Handbag Association (LEFASO), Vietnam exported around 14.67 billion USD worth of footwear last year, ranking second in the world.
In the first four months of this year, the industry's exports were worth 4.5 billion USD, and the full-year target is 20 billion USD.
The RoK is the biggest foreign investor in Vietnam with over 6,760 valid projects which have total registered capital of more than 59 billion USD.
Trade between Vietnam and the RoK reached 61.5 billion USD in 2017, up 41 percent year on year, including Vietnam's exports of 14.8 billion USD, a rise of 30 percent over 2016.
Work starts on metal component factory in Vinh Phuc
Construction of a factory manufacturing metal components recently kicked off at the Ba Thien II Industrial Zone in Binh Xuyen district of the northern province of Vinh Phuc.
Covering an area of 40,000sq.m, the TKR Vietnam is being built with an investment worth 8.8 million USD, funded by the TKR Corporation from Japan.
It is set to be inaugurated in the second quarter of 2019. Once operational, it is expected to turn out 6 million products per year and generate jobs for about 2,000 labourers.
Several Japanese firms have poured investment into Vinh Phuc province, creating more career opportunities for young local workers.
As of February 2018, Vinh Phuc was home to 278 projects worth over 4 billion USD invested in by 16 countries and territories. Of these projects, 31 were funded by Japan at a combined value of 816 million USD.
Statistics from the provincial management board for industrial zones show that in the first quarter of the year, licences were granted to nine new foreign direct investment (FDI) projects with a total registered capital of 45.11 million USD, meeting 17 percent of the target for the whole year.
The province also granted licences to two domestic direct investment (DDI) projects with a total registered capital of 85.9 billion VND, an increase of 4.3 times over the same period last year.
Of the new projects, 10 were for electronic spare parts production and the other, for mechanics manufacturing.
So far, the province has had 46 DDI and 200 FDI projects in its industrial zones. 
Lam Dong to set up new 215-ha high-tech agricultural farm

The People's Committee of the Central Highlands province of Lam Dong has approved a plan on the development of a 215ha high-tech agricultural project in Tram Hanh commune, the provincial capital of Da Lat.

The Cau Dat high-tech agricultural farm will include an area of 191.6ha for the production of tea, vegetables, and coffee. The remaining area will be used for the construction of support facilities, such as a showroom for product display.

The project, invested by Cau Dat-Da Lat Tea JSC, aims to apply advanced technologies to produce clean and high-quality agricultural products.

It will promote farm-to-fork production to ensure food safety and improve crop productivity, while also conducting high-tech agricultural studies and serve visitors with agricultural tours.

The province has urged the investor to coordinate with relevant State agencies to complete all investment procedures for the project to proceed on schedule.

Lam Dong is leading the country in high-tech agriculture. It grows crops on nearly 50,000 ha om high-tech agricultural methods. This amounts to 18 percent of the province's land space under production.

According to the provincial Department of Agriculture and Rural Development, the high-quality vegetable production model yields between 400 million VND and 500 million VND (17,400-21,700 USD) per ha each year. Flower production reaps up to 1.2 billion VND (52,200 USD) per ha each year, while tea and coffee yield 250 million VND (10,870 USD) per ha annually. 
Outstanding balance grows 5.8 percent in first half: Social Policies Bank

As of June 30, Vietnam Bank for Social Policies (VBSP) posted its outstanding balance for the first half of the year at the total of more than 181.76 trillion VND (7.9 billion USD), up 5.8 percent compared to the same period last year.

The rate of overdue and charge-off debts made up 0.81 percent of the total outstanding balance.

Meanwhile, the VBSP's outstanding balance for credit programmes assigned by the Prime Minister exceeded 160.83 trillion VND (6.99 billion USD), meeting 67 percent of the yearly plan.

The total credit for social welfare reached 189.105 trillion VND (8.32 billion USD) over the period, an annual increase of 7.8 percent. 

The credit helped nearly 137,000 people secure jobs and almost 10,000 disadvantaged students pursue their study.  It also contributed to the construction of close to 840,000 clean water and sanitation facilities in rural areas, as well as over 14,600 houses for poor families.

The VBSP said it has followed the directions of the Government and State Bank of Vietnam, and worked closely with relevant agencies and sectors to complete its assignment.

Established in 2012, the VBSP is a non-profit bank offering full range of financial services to the poor at preferential terms and subsidised rates.


Japanese firms boost investment in precision mechanics

Japanese businesses have been working with Vietnamese partners in technology transfer and equipment manufacturing, as well as increasing investments in precision mechanics.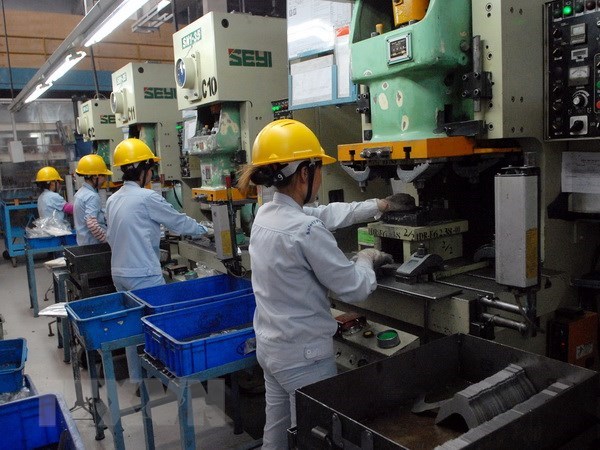 Japanese firms boost investment in precision mechanics (Illustrative image).
Takimoto Koji, chief representative of the Japan External Trade Organisation's (JETRO) HCM City office, said with its stable economic development, Vietnam is recording an increasing inflow of Japanese investment from China.

In September 2017, Nakano Precision began the construction of its factory at the Tan Binh Industrial Park in Ho Chi Minh City. The Japanese company is planning to invest in another branch in Da Nang city.

Earlier this year, Japanese-invested Sanko Metal Vietnam injected some 2 million USD into the second phase of its plant manufacturing sunshade louvers at Nhon Trach 3 Industrial Park. The plant hopes to generate 40 tonnes of metal louvers and 110 tonnes of other metal products per year.

At the International Precision Engineering, Machine Tools and Metalwork Exhibition (MTA) last year, 12 Japanese firms inked contracts with their Vietnamese partners.

According to Koji, 24 Japanese companies participated in this year's edition, 11 of them for the first time.

They brought labour-saving components and equipment; worker protection equipment and materials, such as press load monitoring devices, safety valves, and rust removers that are safe for human contact; and devices and inspection tools that can help increase local content, he said. 

Osamu Hata, manager of the Sales Department at NMC Co Ltd, which supplies rust removal and prevention solutions, said the company is seeking partners for product distribution in Vietnam.

Meanwhile, Seiji Ushiyama of the overseas sales division at Shinko Denshi Co., Ltd, which provides solutions to industries requiring high-accuracy weighing and measurement, said his company wants to find new customers and an agent in the north.

JETRO's latest survey showed that the localisation rate of Vietnamese firms was 33.2 percent in 2017, relatively low compared to China at 68 percent and Thailand at 57.1 percent.

The localisation rate plays an important role in the efficiency of Vietnam's manufacturing sector, Koji noted.

Japan's foreign investment into Vietnam has enjoyed steady growth over the years. In 2017, Japan topped the list of countries and territories investing in Vietnam with 9.11 billion USD, accounting for 25.4 percent of total capital.

In the first six months of this year, Japan also overcame 86 countries and territories to become the largest foreign investor in Vietnam, with 6.47 billion USD, or 31.8 percent of the total registered capital. 
US firm considers USD50m investment in silkworm development
Kraig Biocraft Laboratories met with the authorities of Quang Nam Province on July 4 to discuss silkworm technology.
Kraig Biocraft Laboratories is focused on spider silk and other high-performance polymers. During the meeting, KBL asked Quang Nam authorities to prepare 50 hectares for the trial production of mulberry and crossbred grafted Bombyx Mori with silkworms currently available in Quang Nam.
According to KBL, Bombyx Mori has been given a certified safe by the US Department of Agriculture. It has asked to meet with local agencies in Vietnam and the representative of US Agricultural Inspection Service in Vietnam to discuss importing and crossbreeding trials of the silkworm.
Dinh Van Thu, chairman of Quang Nam Province, said they would create favourable conditions for KBL to work in Vietnam if the silkworm was approved by state agencies.
KBL Director Jon Rice, said that after 16 years of research, they had created a silkworm that can produce threads that are five to ten times stronger and more elastic than steel yarns. It can be used in making bulletproof vests, or in construction, fashion industries as well as raising stem cells for bone regeneration.
KBL has already signed contracts with the US military and received requests from many major customers. According to Rice, combining the high-tech silkworm with the traditional silkworm raising work in Quang Nam will create high-quality silk yarn.
In the first phase, KBL will invest USD50m in 2,000 to 2,500 hectares of land for mulberry and silkworm cultivation.
Taxi associations continue Grab beef
Hanoi, Danang City and HCM City's taxi associations have continued to complain that Grab have affected their businesses.
In the proposal sent to the Ministry of Transport, the three associations representing for the north, the central and the southern regions accused Grab of continuous violations of Vietnamese law. 
According to the associations, GrabShare services have appeared in many localities despite not being licensed. They also claim the merger between Uber and Grab showed signs of violations and there had been an increasing number of Grab cars which had worsened traffic in big cities.
The concept that Grab applications which have been registered by the Ministry of Industry and Trade as an e-commerce platform so Grab can operate nationwide under the ministry's Decision 24 has created unfair competition, pushing taxi firms into difficulties the associations claim.
"We are concerned that Grab will manipulate the domestic taxi market without measures to ensure a fairer competitive environment," the associations noted.
The associations have also asked the Ministry of Transport to remove the regulation that Grabtaxi services can be operated in any locality in the country in instances where Grab has signed co-operation contracts with taxi firms. 
The associations argued that Grab needed to be regulated as a taxi firm as other taxi companies in Vietnam to ensure the fair competition.
Earlier, Grab expressed disappointment with the Ministry of Transport's opposition to Grabtaxi operation expansion proposal.
Vietnam's industrial property forecast to enjoy growth

Vietnam has attracted companies renting industrial property due to low cost as well as strategic location, strong economic growth and development of the middle-class, according to JLL Vietnam.
The industrial property market in Vietnam, including industrial land, ready-built factories, warehouses and other logistics properties, is in the nascent stages of development.   
Given the country's improving market fundamentals, Vietnam stands a good chance of winning the market share as its regional peers shift towards more mature industrial development, according to Trang Le, manager, research and consultancy, JLL Vietnam.
There are several notable advantages that make Vietnam an attractive destination for industrial development.
One of the main reasons is the country's strategic location. Vietnam's advantageous geographical position, with access to the world's major seaborne trade routes, has offered the country huge opportunities to develop its maritime transport, particularly logistics services.
In addition to this, the country's proximity to China makes it a worthy option for manufacturers looking at alternative locations in the South East Asia region because the operating cost in China has been continuously increasing in recent years.
Moreover, Vietnam has gained strong economic growth over the past few years. The key drivers of this growth are urbanisation, foreign direct investment, growth in the manufacturing sector and growth in the middle-income population. These factors have created a spillover effect, driving the country's demand for international transport and logistics services.
As the domestic economy moves from agriculture to manufacturing and services, household income is likely to increase. Vietnam's General Statistics Office has shown that the country is experiencing a "golden population structure", with the average working age ranging from 20 to 50, with a median age of some 30 in 2016. A young population coupled with growth in average income will support purchasing power and help the country remain an attractive destination for both local and foreign investors.
Meanwhile, Vietnam has become more attractive to foreign manufacturers, their associated suppliers and supporting industries, thanks to its existing variety of tax incentives and low labour costs. This in turn will allow further potential growth in the industrial sector, particularly in logistics services.
However, according to Trang, industrial parks and other industrial properties in Vietnam are now competing mainly on location, rather than on standards of infrastructure, buildings and services.
Industrial parks and other industrial properties are sparse and major industries are not gathered for development on a regional basis.
Major occupiers are predominantly from labour-intensive industries, including textiles and garments, food products, wood products and furniture and rubber and plastics products. The contribution of the value-added sector is still insignificant.
Inflation to be curbed below 4%: Deputy PM
There are many tools and the necessary space to control inflation below 4% this year, said Deputy Prime Minister Vuong Dinh Hue at the meeting of the Government's Steering Committee on Price Management held in Hanoi on July 10. 
According to the Deputy PM, the consumer price index (CPI) for June increased by 0.61% over the previous month, mainly attributed to a hike in the price of pork, was not extraordinary.
Moreover, the rise of 0.61% is within the forecast by the Steering Committee on Price Management, the Government official noted.
He affirmed that the CPI increase in June was driven by higher prices of pork and transport services, saying that excluding the short-term factor of pork prices, inflation in June was only 0.27%, the lowest level in many years.
Average CPI in the January-June period went up by 3.29% compared to the same period last year, putting pressure on the target of keeping the average CPI for 2018 below 4% as set by the National Assembly. It will be a big challenge for the Government, Hue noted.
However, the Government will take all necessary measures until the end of this year to restrict average inflation to below 4% to contribute to macro-economic stability, he affirmed.
At the meeting, the Deputy PM also asked the Ministry of Agriculture and Rural Development to put forth directions for the management of pork prices in the remaining months of the year.
It is also advisable to calculate the supply and demand of food and essential goods for the last six months of this year as about 10 typhoons are forecast to hit Vietnam during this period.
Vietnam lacking medium-sized private enterprises

The business results recorded by Vietnam's private sector have not improved to any major extent, Mr. Hoang Quang Phong, Deputy Chairman of the Vietnam Chamber of Commerce and Industry (VCCI), told the "Improving the Development Environment of the Private Economy" forum held on July 10 in Hanoi.
Such enterprises more able to link with supply chains and better enter global market, Hanoi forum hears.
The private sector dominates other sectors in terms of numbers but efficiency has not been significantly enhanced, he went on. Nearly 70 per cent of businesses still earn no profits despite the private sector contributing nearly half of GDP, according to a VCCI survey.
"The private sector has warmed up and has a stronger belief in its future," Mr. Phong told the gathering. "But we also need to drastically improve the business and investment environment and though the role of the private sector has grown in the last few years it isn't enough. The way of ensuring 'private enterprises are not alone' should play a leading role in creating an equal environment, socializing public services, and cutting business costs."
Of the private enterprises in operation, large and medium-sized concerns both account for 2 per cent while the remaining 96 per cent are small and micro enterprises.
"Vietnam's economy is seriously lacking medium-sized enterprises that can become channels that connect to global value chains and directly participate in the global market," Mr. Phong noted. "The private sector must be the main driver of growth, ensuring economic autonomy and effective links between the FDI sector and the domestic business sector." Bridging the gap between Vietnam and the top three economies in ASEAN remains a difficult task.
Administrative costs have doubled, and while administrative procedures have been improved they are still a burden. The cost of doing business in Vietnam is rising quickly and at a rate higher than workplace productivity, which leads to other costs. Links between Vietnamese and foreign-invested enterprises, he added, are yet to be standardized.
16,500 Mazda car sold in Viet Nam in half 2018     
Truong Hai Automobile Joint-Stock company (Thaco) has sold 16,500 Mazda cars in Viet Nam in the first six months of the year, marking it as the second best-selling Japanese car brand in Viet Nam, according to the Viet Nam Automobile Manufacture Association.
Thaco said about 100,000 Mazda cars has been delivered to customers in Viet Nam market since the brand was locally manufactured in 2011.
Thaco, in co-operation with Japan's Mazda Motor Corporation, has introduced 44 showrooms, of which 33 are international standard, nationwide.
Earlier this year, Thaco and Mazda put a new plant for auto exports into operation in the Chu Lai-Truong Hai Industrial Complex in Quang Nam Province, at a total investment of US$380 million.
The new Mazda plant is expected to produce 100,000 Mazda cars per year with a localisation ratio (local made spare parts and accessories) of 44 per cent.
The Japanese car maker is also boosting links with Thaco in the production of spare parts and accessories.
Mazda has introduced several car models in Viet Nam market including the CUV (Crossover Utility Vehicle) CX-5, pick-up BT50, Mazda3, Mazda2 and Mazda 6.
Thaco has invested $400 million in constructing a logistics centre, car production factories, a vocational training college, a seaport, storage facilities and shipping services.
It sold 112,000 trucks, vans and commercial cars for revenue of $2.8 billion in 2017.
The local automobile producer currently manufactures and distributes Korea's Kia model, Japan's Mazda and France's Peugeot and BMW.