Domestic businesses should closely monitor the market situation, prepare to adjust their operations and redefine export markets to avoid negative impacts and capitalise on opportunities from the US-China trade war, officials and experts recommended.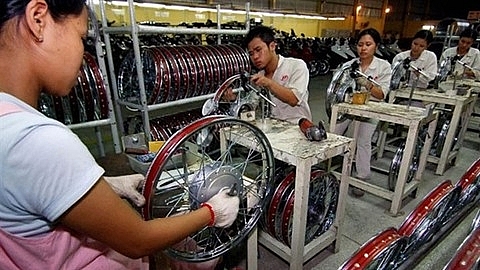 After US tariffs on US$34 billion of Chinese imports took effect on Friday, China's commerce ministry said it was forced to retaliate, meaning $34 billion worth of imported US goods including autos and agricultural products also faced 25 per cent tariffs. 
According to experts, when the trade confrontation between the US and China ramps up, Vietnam will be affected.
Vu Tien Loc, chairman of the Vietnam Chamber of Commerce and Industry, said that at the moment, the direct and immediate impacts on Vietnam's exports will not be much as goods subjected to the tariffs by both the US and China are limited (including Chinese technology products and some US agricultural products such as maize, soybeans and meat, which aren't Vietnam's key export staples).
However, in the long run, it will be difficult to predict the impacts if the war continues to escalate and more tariffs are imposed, Loc said, explaining that being a small economy with the US its largest export market and China its largest import market, Vietnam will surely be affected by the confrontation.
On the other hand, Loc said Vietnamese businesses can take advantage of the opportunity to boost exports of products that the Chinese versions have high tax rates in the US, and vice versa in China.
However, facing difficulties entering the US market, Chinese goods will shift to other markets, including Vietnam. Vietnam, therefore, may suffer a trade deficit with China, Loc said.
Additionally, as exports to the US fall, more Chinese goods will be consumed in the local market, causing difficulties for Viẹt Nam's exports to China. The growth rate of Vietnam's exports to China, which reached 30 per cent in 2017, may be affected.
Echoing Loc, Tran Toan Thang, head of the World Economic Department of the National Centre for Socio-Economic Information and Forecast (NCIF) under the Ministry of Planning and Investment, said the conflict would give Vietnam a good chance to export to the US.
However, on the other hand, if China could not export to the US, it would boost its exports to other countries, including Vietnam, Thang said.
According to Loc, at a broader level, the US-China trade war may cause global trade to change, causing Vietnam's exports to face fiercer competition in both other foreign markets and at home.
Besides, the trade war could also affect investment flow, global supply and demand as well as capital and securities markets, Loc said.
According to PhD Doctor Pham Van Dai, the flow of foreign direct investment (FDI) capital will not abruptly change for the global production chain value. FDI capital and its production chain will move from China to Vietnam as the labour cost in Vietnam is cheaper than in China.
To mitigate the impact, Loc suggested exporters closely monitor the market situation, not only in the US or China but also in other markets. They should prepare to adjust their production, business, supply and markets flexibly.
The firms should also seek other stable and more favourable export markets besides the US and China, especially those Vietnam had signed free trade agreement with.
Economist Pham Chi Lan also suggested that Vietnamese firms expand their partnership to at least three markets to avoid dependence on a particular market.
Such a strategy will help Vietnamese firms survive and exploit new opportunities in the context of a global trade war, she said, suggesting that Vietnamese firms should increase their influence in other markets outside the US and China, such as the EU.
The establishment of the Comprehensive and Progressive Agreement for Trans-Pacific Partnership without the US's participation is a good way to deal with the unpredictable policies of the US and China at the moment, Lan said.
In the domestic market, Loc suggested that local firms co-operate with each other to take actions when necessary. For example, firms can use legitimate trade remedies such as anti-dumping, anti-subsidy or safeguards to fight unfair foreign trade practices.

VNA