The Ministry of Finance has proposed the Government review regulations to tighten control for environmental protection of imports of second-hand products, the Vietnam News Agency reported.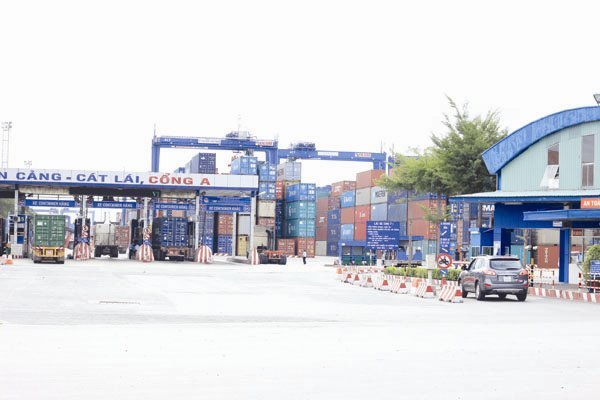 Cat Lai Port in HCMC's District 2 is flooded with thousands of containers storing imported scrap, such as paper and plastics 
The ministry made its proposal in a report to Prime Minister Nguyen Xuan Phuc about solutions to cope with environmental pollution risks and ease serious congestion of goods at seaports.
According to the ministry, the recent import of scrap entails high risks of environmental pollution. Also, such waste could be easily used to hide banned products.
Customs officials have uncovered numerous violations since early 2017 – in which violators have forged import dossiers and seals, have imported scrap which fails to meet entry requirements, and have hidden prohibited commodities underneath waste.
Therefore, the ministry proposed that the Prime Minister ask the Ministry of Natural Resources and Environment to review applications for certificates for environmental protection in scrap imports as production materials, and to notify customs agencies of the list of eligible enterprises.
The Ministry of Natural Resources and Environment should be given permission to amend some documents related to the issuance of such certificates.
The Finance Ministry suggests the Ministries of Transport and Natural Resources-Environment work together to guide port operators in checking the validity of the certificates.
Meanwhile, the Ministry of Industry and Trade should be tasked with making a detailed list of banned, second-hand products.
Nguyen Nang Toan, director of the Logistics Center at Saigon Newport Corporation, earlier said that Vietnam's environment policy is not strict enough, so the country could become the dumping site of the world. Vietnam receives waste and scrap from other countries.
Large volumes of waste being shipped to the country would pollute the environment and require funds from the State budget to treat the waste, and provincial customs bureaus have reviewed suspicious containers to promptly control and isolate them, according to Nguyen Xuan Sang, director of the Vietnam Maritime Administration.
The General Department of Vietnam Customs has also asked its local customs agencies to expand checks on shipments declared as used iron, steel, plastic and paper, with codes that differ from those of products eligible for import.
The department has further required strict sanctions against waste importers caught flouting environmental protection regulations.
Thanh Nien newspaper earlier reported that Cat Lai Port in District 2 was flooded with 8,000 containers storing scrap, such as paper and plastics. One-third of these containers have remained at the port for three months.
This has caused serious congestion at the port, hindering the operations of the port, shipping companies and those trading in the import-export sector.
The reason for the congestion is China's ban on the import of plastic scrap from Japan, the European Union, and the United States, who are now sending scrap to Southeast Asian countries, including Vietnam.
SGT