Vietnam's consumer price index (CPI) in June expanded by 0.61 percent over May, the highest pace over the past six years, the General Statistics Office (GSO) announced on June 29.
The number represented increases of 4.67 percent year-on-year and 2.22 percent against December 2017, the office said. 
With the figure, the index in the first six months of this year rose 3.29 percent over the same period last year. 
The first-half CPI hike was driven by higher prices of medical services, which climbed up 25.68 percent in line with the Health Ministry's Circular 02/2017/TT-BYT dated March 15, 2017, head of the GSO's Price Statistics Department Do Thi Ngoc explained. 
Besides, higher tuitions fees, the increase of regional minimum wage, plus higher prices of food, public transport services, and oil and gas products  also contributed to the CPI rise. 
According to the GSO, June's basic inflation (CPI exclusive of foodstuff, fresh food, energy, health care and education services) rose 0.1 percent over the previous month and 1.37 percent year-on-year. The number in the first six months also increased by 1.35 percent against the correspondent time last year. 
Ngoc said ministries and agencies have actively implemented the Government's Resolution No. 01/NQ-CP dated January 1, 2018 on major tasks and solutions to materialise the socio-economic development plan and state budget estimate in 2018, aiming to keep the CPI growth in 2018 below 4 percent. 
The industry sector has joined hands with relevant agencies to instruct businesses to reserve goods and stabilise the market during the Lunar New Year, helping prevent unexpected price hike on the holiday. 
The Finance Ministry has also stepped up market inspections. Meanwhile, the State Bank of Vietnam has managed the monetary policy, consistently pursuing the goal of maintaining macro-economic stability.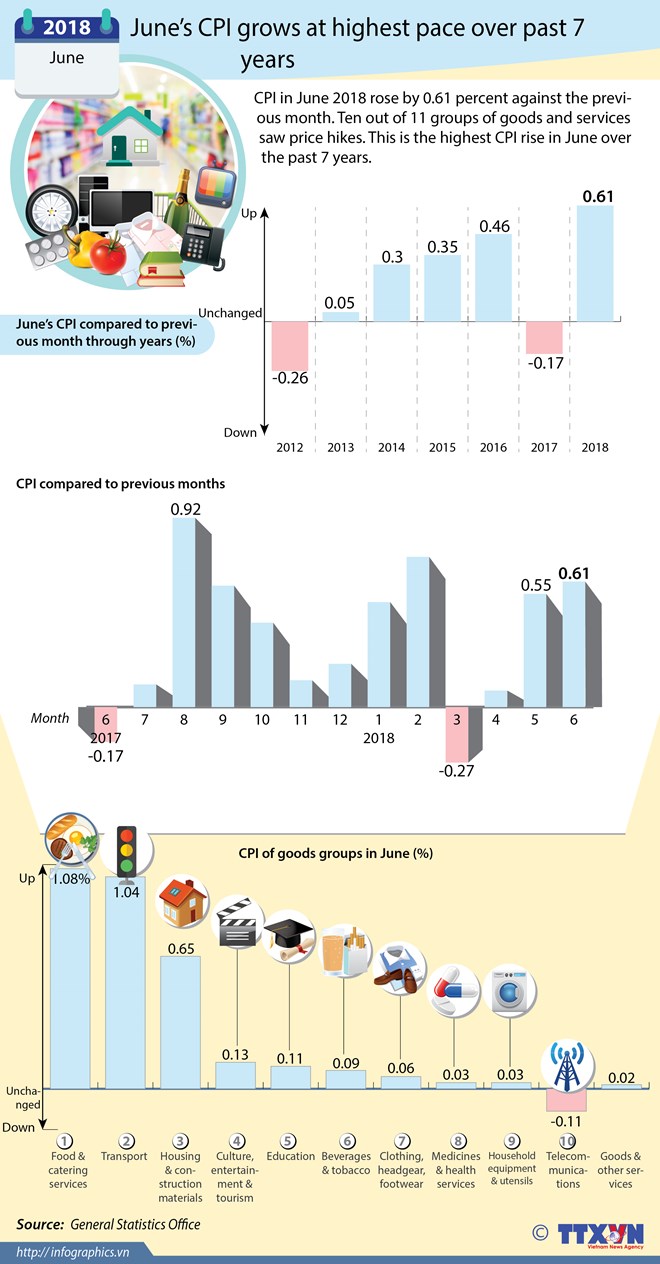 VNA