The US Department of Agriculture (USDA) is working hard with a view to early recognizing Vietnam's regulatory system on catfish management to be equivalent to that of the US, said first Deputy Secretary of USDA Stephen Censky.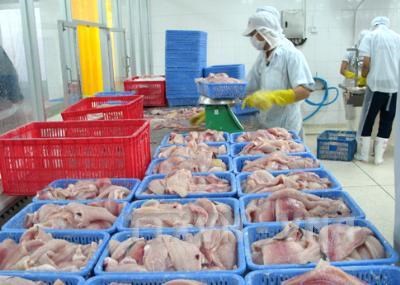 Processing catfish in the My Tho industrial park in Tien Giang province
Censky affirmed this at a meeting on June 26 with Vietnamese Deputy Prime Minister Vuong Dinh Hue, who is on an official visit to the US from June 25-27. 
For his part, the Vietnamese Government leader stressed that Vietnam considers the United States an important trading partner. 
He proposed that the USDA sign a framework agreement on agriculture cooperation with Vietnam's Ministry of Agriculture and Rural Development (MARD), and asked the US agency to be flexible in the process of equivalence assessment and facilitate Vietnam's catfish export to the US.
The two countries should enhance joint work in smart agriculture, development of low-emission agriculture production models and models for adapting to and mitigating climate change in highly vulnerable areas such as the Red River and Mekong Deltas of Vietnam, Hue stressed. 
He urged the US side to accelerate the import of mango of Vietnam and consider importing other fruits, firstly pomelo. 
Censky thanked the Vietnamese leader for his efforts to promoting agricultural cooperation between the two countries, saying that the US would begin importing star apple and is completing final procedures for importing mango from Vietnam. 
The USDA will work with the MARD to discuss measures to implement Deputy PM Hue's proposals, especially the import of pomelo in the coming time, he said. 
He also asked Vietnam to consider importing US fruits such as blueberries and other citrus fruits.-VNA