More and more Russian agricultural products are finding their way into the Vietnamese market, according to the Russian Export Centre in Vietnam.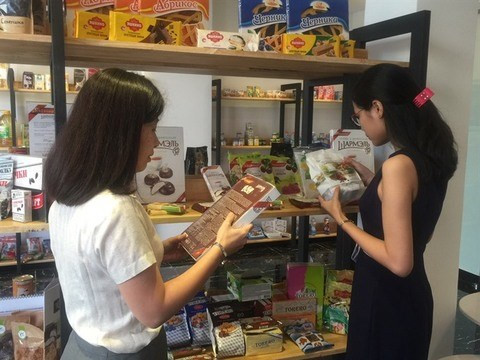 Sunflower oil, pine nuts, walnuts, cereals and other products from the country are on display and sold at Russian showrooms and through other distribution channels.
Many well-known Russian brands such as Magnit, Bimuka, Paritet, Kuban Wine, Fanagoria Wine, Igristye Wine, Makfa and Aston are sold here.
Russia has the largest area under sunflower cultivation in the world, and has for a long time been the biggest sunflower seed and by-products producer.
It is also a large producer of cereals such as wheat, buckwheat and oats.
According to Russian firms, most Russian products do not have preservatives, making them healthy but reducing their shelf life to six to nine months.
The centre will work to enable more famous Russian confectionery, chocolate, canned and other processed products to reach Vietnamese consumers, Robert Kurilo, its chief representative, said.
Trade between Vietnam and Russia has expanded significantly in the last two years, seeing a rise of 29% last year to US$5.2 billion.
Vietnam's main exports to Russia include mobile phones, garments, computers, machine parts and farm produce.
It imports mainly consist of confectionery, milk powder, cereals, raw materials for animal feed, alcohol, cooking oil, and waste from wheat, barley and sunflower seeds that are made into pellets, organic fertilisers and cosmetics.
Canned beef stew, dried plums, crushed apples and sweetened condensed milk are set to be added to the import list soon.
VNA