Many Vietnamese companies now actively define their business strategies as being linked to environmental protection and community contributions.
2018 is an important year for leading Vietnamese pharmaceutical company Traphaco in materializing its sustainable development strategy in the 2017-2020 period. Its business growth needs to be attached to environmental protection and corporate social responsibility (CSR) activities, both of which have been the foundation if its success since establishment in 1972. Its Green Plan project has been one of the company's most notable practices, launched in 2009 with the goal of producing materials made from herbs as well as helping local farmers eradicate hunger and reduce poverty. 
After ten years of research and development (R&D) and implementation, Traphaco possesses nearly 36,000 ha of medicinal plants with ten precious herbs that meet GACP (Good Agricultural and Collection Practices) WHO standards. Its land holding covers 28 cities and provinces and creates stable employment for local farmers. The reason why the company pursued the project is that pharmaceutical and medicinal plant production in Vietnam is 70-90 per cent dependent upon foreign inputs, and the company decided to be a pioneer in greater localization. Inputs for its pharmaceutical products are now 93 per cent locally-grown. Other Vietnamese pharmaceutical companies have followed suit and together contribute to the sustainable development of traditional Vietnamese medicine and society. 
Traphaco spends 1-3 per cent of total revenue on its CSR activities each year. "The story of Traphaco is typical of how a Vietnamese enterprise can build its business model towards sustainable development, even matching the efforts of multinational corporations," said Professor Nguyen Huu Ninh, an internationally-recognized environmental researcher.
Notable practices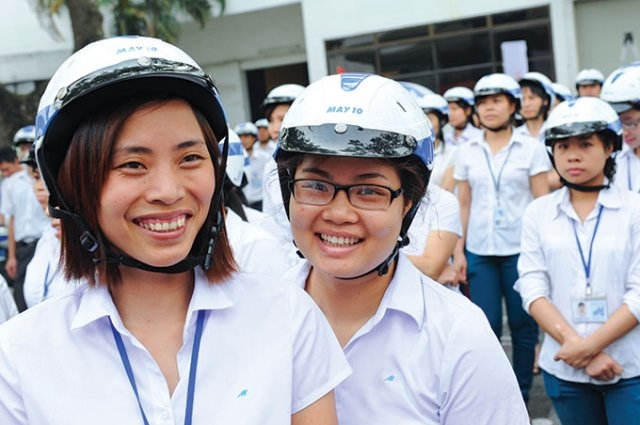 Creating value for the community and the poor are also goals of other Vietnamese companies. At Biti's, two fields where the Vietnamese shoemaker seeks to bring value to the community are support for the poor in remote areas to provide better and more sustainable lives, and educating children about Vietnamese culture.
"In terms of business strategy, we commit to pursuing sustainable development in implementing our mission of 'Taking care of Vietnamese feet', through providing high-quality and durable footwear and communicating better living and educational messages," Ms. Vuu Le Quyen, Deputy General Director at Biti's, told VET.
CSR activities have been conducted by staff at each division of the company, she added, and are not just for society but also for its own employees. "Each company is a community and needs its own strategies for implementing CSR activities," she said. "We view CSR as key to ensuring our sustainable development and promoting harmony between the company and society." 
The Mobile World Investment JSC (MWG), the largest mobile chain retailer in Vietnam, believes its biggest contribution to society lies in helping its more than 39,000 employees have a better life. "The core values our employees pursue at the company can be applied in their life and relations," Mr. Dang Thanh Phong, MWG's PR Manager, told VET. The company has determined that creating a comfortable workplace for employees is important for its development. 
TPBank, meanwhile, has focused its CSR activities in recent years on developing a sustainable and transparent bank. "With the goal of becoming a digital bank, we have promoted the application of modern technology into our operational activities, which help increase productivity and security," said CEO Mr. Nguyen Hung. "We are constantly improving our modern, professional, and friendly workplace environment and taking care of employees' lives both materially and spiritually."
Besides its Green Plan project, Traphaco has also materialized its sustainability commitment by internal annual action programs, which require the firmness of leaders and unity and determination between management and each employee. "Under a program we launched this year with the message of 'Strengthening Control - Realizing Targets', each division at the company will submit its own projects with breakthroughs and solutions for improving existing activities," said Marketing Manager Ms. Dao Thuy Ha. "We also have awards to encourage innovation throughout the company that contributes to future development." The company's budget for the awards is some 8-9 per cent of annual after-tax profits. 
Benefits come with challenges

TPBank's business results from implementing sound CSR activities have been outstanding. Assets stood at VND12.4 trillion ($544.6 million) at end-2017, charter capital VND5.8 trillion ($254.7 million), and pre-tax profit VND1.2 trillion ($52.7 million). "CSR efforts improve financial matters, reduce operational costs, increase our prestige, manage risks, and resolve crises better," Mr. Hung said. "It also boosts our commitment to our workers and relationships with the government, State agencies, and the community. CSR also helps increase the value of our brand and can help increase revenue and attract more partners, investors, and talented employees."
CSR activities have become more common and of greater concern to more local enterprises and this is good news, according to Ms. Quyen. CSR now has a direct effect on commitments on product quality. Nearly 90 per cent of businesses surveyed in February by Vietnam Report said that corporate reputation is a driving force in enterprises carrying out CSR activities. In other words, social responsibility is a gateway for businesses to attract consumers and the community as a whole.
Well-executed CSR activities not only help businesses succeed but also aid them in addressing strategic business and social issues. Some enterprises in the Vietnam Report survey, however, said that implementing CSR in Vietnam comes with certain challenges. The survey revealed that the primary challenge is perceptions of CSR as being mere sponsorship activities. Mr. Phong said that many people confuse CSR with philanthropy, believing it to be raising money for the less fortunate, building houses of charity, or similar deeds. 
Sustainability of community projects is Biti's greatest challenge. Its projects have been handed over to local authorities to bring the greatest benefit to the target community, Ms. Quyen explained. "This requires that enterprises and partners have rigorous project implementation and management processes, and at the same time have consensus and coordination from local authorities to ensure the legality of the project," she said.
In the course of project implementation there must also be persons responsible for handling and correcting any problems. Ms. Quyen pointed out that the cost of key human resources being directly involved in implementing a project is a controversial matter, as they are considered volunteers. "The professionalism and sustainability of a project can be impacted by a lack of key personnel and expertise to monitor and evaluate projects on a regular basis," she said.
Furthermore, the government also plays an important role in CSR activities conducted by enterprises. A problem in implementing CSR around the country, the Vietnam Report survey found, is the absence of government incentives.
VN Economic Times