Vietnam now has a golden population structure and a fast growing middle class – potential buyers of private cars, which is forecast to boost domestic car sales by about 22 percent annually from now to 2025.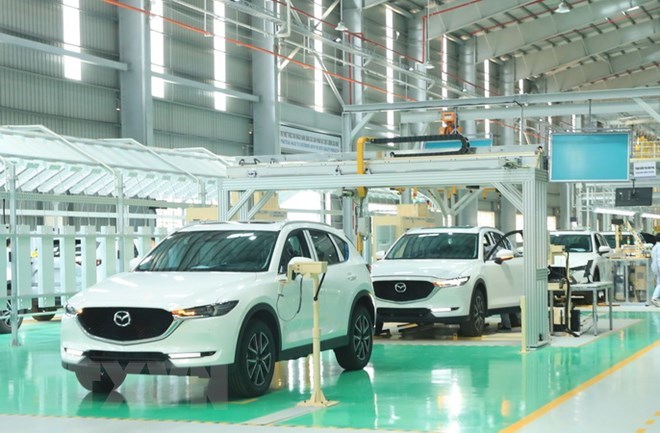 The Thaco Mazda factory of Truong Hai Automobile Co. Ltd
The auto market of Vietnam boasts huge development potential from now to 2025, said Le Huy Khoi, who is in charge of the market research and forecast division of the Industrial Policy and Strategy Institute (IPSI).
According to Khoi, the domestic auto manufacturing industry will grow by about 18.5 percent annually between 2018 and 2025 and 13.8 percent between 2025 and 2035, raising the car output to nearly 531,600 units by 2025 and 1.76 million units in 2035.
With the growing middle class, car sales are set to respectively rise by 22.6 percent each year from now to 2025 and 18.5 percent in the following years.
Meanwhile, local demand is forecast at about 500,000 – 600,000 units by 2020, Khoi said, adding that an automobilization trend will appear when per capita income surpasses 3,000 USD. The car market could reach 750,000 – 800,000 units by 2025 and 1.7 – 1.85 million units by 2035.
He noted those forecasts were based on the population scale, average per capita income and the average number of cars per 1,000 people.
Accordingly, Vietnam's population was estimated at over 96 million at the end of 2017. This figure is expected to rise to 98.2 million by 2020, 101.1 million by 2025 and 107.8 million by 2035.
Per capita GDP in the country was 53.5 million VND (2,385 USD) in 2017, which will increase 6.8 percent annually to 7,780 USD by 2035. More than half of Vietnam's population will enter the global middle class by 2035 with average daily spending of at least 15 USD.
Statistics of London-based BMI Research show that Vietnam has the lowest car ownership rate in the region, with only 4 – 5 percent of the families owning cars.
The country is emerging as the world's most potential auto market when its car ownership is just about 23 units per 1,000 people, compared to 204 units in Thailand and at least 400 units in developed countries, especially the US (790 units per 1,000 people).
The ASEAN Auto Purchase Index of Financial Times also indicated an a increase in the number of Vietnamese intending to buy cars over the last five years — gradually gaining on those in Indonesia, Thailand and Malaysia.
The average proportion of urban consumers who intended to buy a car in Vietnam increased from 11 percent in 2013 to 15 percent in 2016 and 2017. This is lower than the average of 25 percent in ASEAN's urban areas, but it's still the biggest rise among the five ASEAN countries of Indonesia, Malaysia, the Philippines, Thailand and Vietnam.
Do Huu Hao, Chairman of the Vietnam Society of Automotive Engineers, said although the import tariff on completely built up cars was reduced to zero percent, some Vietnamese businesses like Truong Hai Automobile Co. Ltd (THACO), Thanh Cong Group, and Vingroup still plan to expand car assembly and production activities, which shows the considerable potential of the auto market.
The projects of these firms aim to raise the rate of domestically made components in their cars to 40 percent or higher to serve not only the domestic market but also export Vietnamese automobiles to other ASEAN countries in the near future, he noted.-VNA