A new governmental decree increasing the discount cap for sales promotions in certain situations has received favourable feedback from the business community, despite the remaining restrictions on promotions.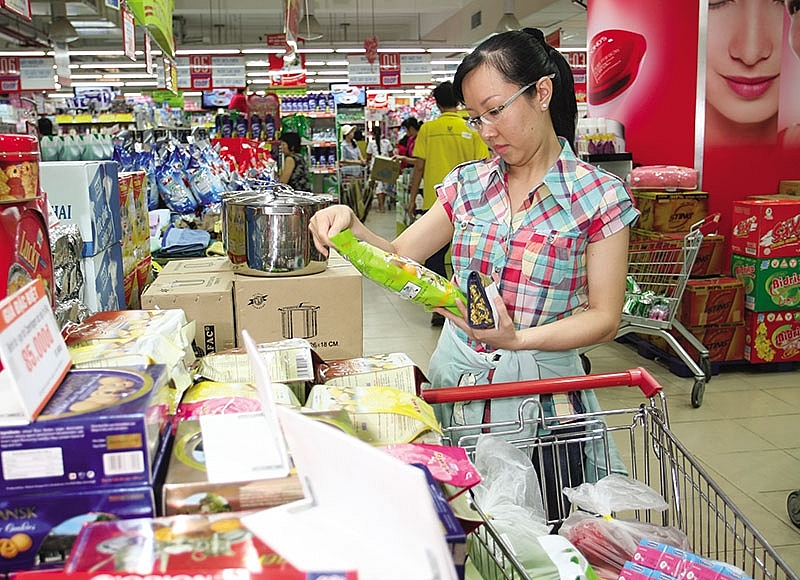 Businesses may offer discounts of up to 100 per cent in promotional sales programmes under certain circumstances
Last week, Nguyen Thi Huyen, marketing manager of Japanese paint maker Yamato Paint Co., Ltd. in the northern province of Hung Yen, was tasked by her boss with designing the promotional sales programmes for the third and fourth quarters of the year.
Unlike in the year's first half, Huyen's company is expected to offer a sales promotion programme with more gifts to lure customers until the year's end, when trade promotion programmes are often approved by the prime minister.
"Normally, at the year's end, all enterprises want to sell off their products to recoup investment capital. From the second quarter on, we, like all other firms, will be able to offer more discounts to customers at a maximum rate of 100 per cent, instead of under the existing 50 per cent cap, which has been valid for about 10 years," Huyen told VIR.
On May 22, the government issued Decree No.81/2018/ND-CP on trade promotion activities. The decree is scheduled to take effect on July 15, 2018 and replace the government's Decree No.37/2006/ND-CP dated April 04, 2006, detailing the Commercial Law regarding trade promotion activities.
Decree No.81 introduces new regulations relating to promotion activities. Notably, under Article 6's Clause 4, there is a new maximum rate for promotion activities in mass/concentrated promotion programmes. In case of mass promotion programmes, the maximum value of goods and services used for promotion and maximum discount rate for promoted goods and services can be 100 per cent of the value of such promoted goods and services.
Previously, under Decree No.37, the maximum rate of the value of goods and services used for promotion and the maximum discount rate in all circumstances were only 50 per cent.
However, under Decree No.81, the 100-per-cent promotional rate must be part of promotional programmes with specific durations such as happy hours, big sale days, monthly or seasonal sales, or special trade promotion programmes that require the prime minister's approval.
"Decree No.81 in general and the rise of sales promotion value to 100 per cent – despite being applicable only in certain cases – will surely excite enterprises, as they will no longer be restrained in promotion by a cap of 50 per cent, even though they have money to do more," Huyen said.
Nguyen Viet Thang, head of the planning department of X20 JSC in Hanoi, told VIR that the existing cap of 50 per cent has, in many cases, prevented his firm – a producer of plastic, garments, and wooden products – from boosting sales promotions, especially during times when it needed to recoup capital and sell off product stockpiles. Its sales promotion programmes were only part of the trade promotion programmes allowed by the prime minister.
"The new cap of 100 per cent will help enterprises to more rapidly sell the products in stock, and give consumers a greater choice of products," Thang said.
Nguyen Lan Phuong, partner at US law firm Baker and McKenzie Vietnam, told VIR that Decree No.81 "has been hailed as relaxing some restrictions on sales promotion activities under Decree No.37".
However, she argued that it is not entirely accurate to say that the cap of 50 per cent has been removed.
"The 50-per-cent discount cap has been raised up to 100 per cent only in specific circumstances, particularly during sales promotions organised by central or provincial authorities, and during public holidays, such as the Lunar New Year holiday and other national holidays," Phuong said.
According to her, Vietnamese public holidays are few and far between – a total of nine days for the entire year. Decree No.81 allows for 30 more days prior to the Lunar New Year holiday where sales promotions can offer discounts of up to 100 per cent. As such, businesses will have 39 days in total to offer such sales and liquidate out-of-season products. There may be other sales events centrally organised by the government where the 100-per-cent discount is allowed, but it remains to be seen whether the Ministry of Industry and its regional subsidiary departments have any plan to organise such events.
"Overall, the relaxation of the 50-per-cent discount limitation is definitely a positive change for companies and consumers from my point of view. However, it may not have a major impact on retailers," Phuong said.
"As Vietnam is working toward becoming a market economy, Decree No.81 appears to be another step for Vietnam to move closer to businesses' independence. In the current fast-paced business environment, companies should have the freedom and the legal ability to change up their stock, move old products, and create new products as they see fit.
"Limitations on how they do their business may hurt companies, consumers, and the economy alike. Also, Vietnam does have other laws to regulate a company's behaviour and to protect consumers' rights which follow international standards, such as the Competition Law and the Law on Consumer Protection," she added.
VIR