Despite there being few investors in the agricultural sector, it has become attractive to multisector businesses in recent years, showing positive changes in investor opinion regarding the potential of the sector.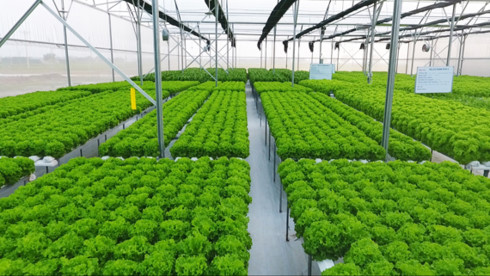 Export markets for agricultural products have opened up, with many product types having strong consumption channels along with growing domestic demands, which have focused more on good quality products.
Over the past three years, many businesses have poured investments into agriculture. For example, Hoa Phat Group, a well-known steel company, began investing in animal feed production. 
It has plans to invest several trillions of Vietnam dong in agriculture, in the aim of taking a 10% control of market shares and establishing itself among the top five of Vietnam's animal feed producers in the next 10 years.
Vingroup, a powerful property company, also ventured into agricultural production in 2015 with a range of organic food. It has developed production zones in the North and South.
Agriculture has become an important area for Hoang Anh Gia Lai Group. Fruits and chili brought in 57% of the group's income for the first quarter of this year.
Large vehicle manufacturer, Truong Hai Automobile Company (Thaco Group), has expanded its operations to include agricultural machines. 
Thaco which has transferred technology from the Republic of Korea's LA Mtron, built an agricultural machinery plant on more than 1.2ha at a cost of VND500 billion, manufacturing agricultural tractors for both domestic and foreign markets. 
Its agricultural machines have been on the market since 2018.
With all of this growth, agricultural production in Vietnam has been quite a favourable sector, but its profits are lower than other areas. 
As a result it has not drawn much attention from investors. Domestic and foreign investments in agriculture are still modest.
According to the Foreign Investment Agency, total foreign direct investment (FDI) in the agroforestry and seafood sector reached a mere US$76 million in the first five months of the year. 
Up to the end of May, Vietnam had attracted 498 projects in the sector with a total registered capital of US$3.4 billion.
The registered value of agricultural development projects showed limited foreign investment scale , with most funding going to processing. 
A large percentage of the foreign businesses bought raw farm produce to process for exports while only a few have invested in plantations.
One of factors putting investors off is the number of difficulties in the implementation process. 
They are disinclined to throw their weight behind agricultural investments due to the scattered land fund, difficulties in accessing the land fund and investment capital, the unstable market and weather dependent production.
Improved mechanisms and policies for the agricultural sector will give investors preferences and great support in terms of land rent and use, credit access,  hi-tech research, transfer and adaptation, human resource training, market development, provision of public services and investments in agricultural development and rural infrastructure.
VOV