Work starts on Gelex Ninh Thuan solar farm
The construction of the Gelex Ninh Thuan solar farm project with a capacity of 50 MWp began in Phuoc Dinh commune of Thuan Nam district in the south central province of Ninh Thuan on June 4.
With a total investment capital of 1.3 trillion VND (about 56.9 million USD), the project is built on 70 hectares with many works, including the installation area of solar panels and inverter stations; a 22kV/110kV electrical substation and 110kV double-junction line are connected to the existing 110kV transmission line of Ninh Thuan 1 and other auxiliary facilities.
Construction is expected to be completed in June, 2019, with a capacity of 82 million kWh per year.
The project is one of 18 projects with investment planning to have been approved by the Ninh Thuan provincial People's Committee last November.
Addressing the event, Luu Xuan Vinh, Chairman of the Ninh Thuan People's Committee, stressed renewable energy is the top priority in the province's economic development orientation. Ninh Thuan always encourages and creates best possible conditions to support investors.
So far, the province has counted 15 wind power projects and 27 solar power ones with designed capacity of nearly 800 MW and over 1,808 MW, respectively.
The Prime Minister and the Ministry of Industry and Trade had agreed to include these projects into the national power development scheme.
Ninh Thuan is a typically hot and dry area in the south central part of Vietnam. It is less affected by storms than other areas in the country, and has become known as the renewable energy centre in Vietnam.
 It holds good solar energy potential with average sunshine hours of 2,600-2,800 per year. 
The province is finalising a master plan for solar energy from 2016 to 2020 with a vision to 2030, which aims to generate some 2,000MW of electricity by 2020.
Cashew exports hit over 1.3 billion USD in first five months
Vietnam exported 141,000 tonnes of cashew in the first five months of 2018, raking in more than 1.39 billion USD, reported the Import-Export Department under the Ministry of Industry and Trade.
The figures showed a rise of 21.4 percent in volume and 25.3 percent in value year-on-year.
In May alone, 35,000 tonnes of cashew were exported with revenue of 330 million USD, up 8.8 percent in volume and 6.4 percent in value compared to the previous month. Cashew exports have expanded for four consecutive months.
Export cashew price hit an average of 9,867 USD per tonne in the first five months, up 3.2 percent year-on-year.
According to statistics from the Ministry of Agriculture and Rural Development, as of the end of 2017, Vietnam was home to 337,143 hectares of cashew, 4,410 hectares more than the previous year. Yield, nevertheless, remains low at under a tonne per hectares.
There are more than 465 cashew processing firms with total designed capacity of more than 1.4 million tonnes per year. However, nearly 70 percent are small scale.
Vietnamese cashew is present in ore than 90 countries and territories. The country achieved its highest-ever cashew exports in a year in 2017 with 353,000 tonnes of cashew kernels exported for a value of 3.52 billion USD, a year-on- year increase of 1.9 percent in volume and 23.8 percent in value.
Also, the country has set up a cashew processing industry, creating jobs in the farming and processing sectors for nearly 1 million people.
Vietnam's cashew industry has targeted 300,000 tonnes of cashew exports at a value of 3 billion USD this year, said the Vietnam Cashew Association.
HCM City cooperatives seek expansion abroad
With strong support from authorities, cooperatives in Ho Chi Minh City have developed strongly and are making efforts to expand their trade on agricultural products even into international markets.
When it was established in 2011, Phu Loc Agriculture – Trade – Services Cooperative had only 12 members growing vegetables and capital of 600 million VND (26,300 USD).
By 2016 the capital had increased 10-fold to 6 billion VND (263,000 USD), with the cooperative attributing it to members' efforts to save.
To sustain production, the cooperative has developed five farming areas in Cu Chi and Binh Chanh districts of HCM City and in the provinces of Lam Dong, Tien Giang and Long An.
It has also invested in two processing plants in the two districts with modern technologies and meeting food hygiene and safety standards.
In the last four years the cooperative has taken part in the city's price-stabilisation programmes for consumer goods, selling 400 tonnes of products a month, rising to 450 tonnes during Lunar New year.
Its products, which meet VietGap quality standards, are sold at many markets in the city like Ben Thanh, Van Thanh and Thi Nghe and supplied to restaurants, kindergartens and canteens.
Now it has 176 producers who grow 68ha of vegetables.
Phuoc An Agriculture, Production and Trade Cooperative is another successful co-operative.
Starting with 15 members and capital of 70 million VND (3,100 USD), it has grown to 62 members who farm 29ha and 1.8 billion VND (79,000 USD).
Every year it sells nearly 1,500 tonnes of vegetables and fruits, and last year earned revenues of 22.3 billion VND (98,000 USD).
The cooperative attributes the growth to close cooperation between members and its support for them.
It sells inputs to members at low prices after buying large quantities, enables them to obtain preferential loans, and helps them adopt advanced technologies.
The members have meanwhile actively looked for buyers and improved their management.
With the city planning to develop a new model for the sector in 2018-20, many co-operatives have made all-out efforts to improve the quality of their products.
Along with stamping their products, Phu Loc Cooperative has studied to diversify their products.
Phu Loc Cooperative plans to supply 500kg of vegetable buds to the market. It is growing hydroponic vegetables on an area of 3,500sq.m.
To expand its business, especially abroad, it has set up an online shopping page at www.phulocagain.com.
It has invested in technology to develop new varieties of vegetables, and sent samples to Australia to test the quality, following which it plans to export to that country.
To support cooperatives, the HCM City administration has tasked the Department of Agriculture and Rural Development and the Cooperative Alliance with supplying them inputs like seeds and fetilisers and helping them sell their products.
The co-operatives also get priority in the city's agricultural development programmes.
Hanoi's e-commerce booms, entailing potential risks
Hanoi has been one of the two leading localities in e-commerce for the past five years, but the trend has posed considerable risks in database, technology, transaction procedures, legal regulations and technology standards.
According to the Vietnam E-business index announced by the Vietnam E-Commerce Association (VECOM), in 2017, Hanoi came second with 75.8 points, following Ho Chi Minh City with 78.6 points. The e-commerce market in the capital city generated a total revenue of 36 trillion VND (1.57 billion USD), accounting for 7 percent of the total retail sales of goods and services. As of May 2018, there were 7,726 e-commerce websites or applications registered by individuals and organisations in the city.
Despite the fact that e-commerce has been booming, it still pose many risks considering the low level of the electronic environment, small scale and low professionalism of businesses, along with the prevailing customers' habit of using cash. 
Vice Director of the municipal Department of Industry and Trade Nguyen Thanh Hai said management authorities face challenges in managing fake and counterfeit goods in online trading. Besides, tax evasion has been a pounding headache, particularly when customers are individuals who do not care about receipts. Hai added that many online firms operate without business licenses and it is easy for them to swindle customers and evade tax. 
Meanwhile, customers face great risks of lost goods, due to the complicated system of home address. This is the reason why many retailers refuse to ship products to Vietnam via postal service.
The value of e-commerce turnover is reckoned at 7.5 billion USD by 2025, but this is still just 5 percent of the total trade turnover.
To encourage the e-commerce development in the city, Vice Chairman of the municipal People's Committee Nguyen Doan Toan signed Plan No.84/KH-UBND with focus on the deployment of computing cloud technology, Artificial Intelligence, Augmented Reality (AR), and Internet of Things (IoT) to create modern business models.
Hai said that his department has applied many solutions to support e-commerce in its online public services, such as online tax filing and payment and e-payment to create a transparent and equal business environment. Also, it encourages the use of QR application to trace origin of products and prevent trade frauds.
The market management authority is ordered to keep close watch on e-commerce enterprises and handle violations in a timely manner. 
Popularisation work on e-commerce policies and regulations will receive due attention while advanced e-commerce models will be introduced. In addition, the city encourages the establishment of websites and e-commerce applications which promote online sales of safe food.
The city will also invest in improving the local logistics networks from storage facilities to delivery services in companion with the development of online services in tourism, transport, healthcare and media.
Vietnam sees potential for organic fertilizer business
Vietnam's imports of organic fertiliser has surged in the past three years, reflecting increasing demand for the green product.
In 2017 alone, Vietnam imported about 220,000 tonnes of organic fertiliser, double the amount of 2016.
According to Pham ThiVuong, acting director of the Plant Protection Research Institute, when farmers use organic fertiliser instead of inorganic and chemical ones, the surrounding environment and water resources become cleaner and plants grow stronger and rely less on insecticides. They will harvest cleaner and safer products, which have higher retail and export value. 
Meanwhile, the production of organic fertiliser uses farming by-products and organic waste as its materials. Vietnam produces between 60 and 70 million tonnes of agricultural by-products annually.
The country currently needs about 11 million tonnes of fertiliser a year. As of December 2017, the number of registered organic fertiliser products was 713, accounting for 5 percent of the total, while the number of inorganic products made up 93.7 percent and biological products 1.3 percent.
The nation has 180 establishments licensed to make organic fertiliser but about 150 of them actively manufacture, with overall capacity reaching approximately 1.3 million tonnes a year. 
The country aims to annually manufacture 3 million tonnes of organic fertiliser by 2020.
Vietnamese garment firms expect to navigate Australia
Vietnamese garment firms expect to navigate and increase garment exports to Australia once the Comprehensive and Progressive Agreement for Trans-Pacific Partnership (CPTPP) takes effect, said director of the Yen Duong Ltd, Co. Thai Binh Duong. 
Under the CPTPP, Australia will reduce import tax to 5 percent in the first three years after the CPTPP enters into force, and waive itfrom the fourth year.
Truong Van Cam, Vice President and General Secretary of the Vietnam Textile and Apparel Association, said Australia's apparel imports have grown stably over the past five years, 3-4 percent annually on average. Moreover, apparel retail prices in Australia aremuch higher the import ones, giving Vietnamese products an advantage. 
However, Australia's garment imports from China have accounted for more than 60 percent in recent years. Apart from China, India is also working to enter the market. 
More than half of participating exhibitors in an international exhibition of garment materials held in mid-November in Melbourne were from China and one fourth were from India. In recent years, several Vietnamese enterprises have just joined the event. 
According to Cam, Australian businesses often place small orders at first to explore supply capacity and market popularity. If successful, contracts of higher value could be signed at better prices. 
Deputy head of the Ministry of Industry and Trade's Department of Asia-Africa Markets Nguyen Phuc Nam said Australia is an important partner of Vietnam in Asia-Pacific. In 2017, Australia imported apparel worth nearly 9.32 billion USD, nearly 173 million USD of which was from Vietnam, roughly 1.9 percent of the total. 
Australian companies are focusing more on Vietnam due to more competitive workforce costs than China's. 
To access the demanding market, Cam stressed the need to study demand, improve product design and workers' skills, and invest in modern machinery.
Australia has a population of nearly 24 million people  with a gross domestic product of nearly 1.39 trillion USD and average income per capita of about 50,000 USD each year, said the ministry.
PetroVietnam contributes 1.79 bln USD to State budget in five months
Drilling system at Bach Ho will (Source: pvn.vn)
The National Oil and Gas Group (PetroVietnam) has contributed 40.8 trillion VND (1.79 billion USD) to the State budget in the first five months of 2018, exceeding the plan by 32 percent and representing 55 percent of the yearly target.

According to the PetroVietnam, in the past five months, petrol market saw unexpected developments, negatively affecting the firms' business.

In the first five months of this year, the group put the Bungka Pakma – PM3CAA field into operation from May 12, a month and 19 days earlier than the plan.

Total production of the firm in May reached 10.44 million tonnes of oil, exceeding the plan for the five-month period by 2.7 percent and representing 45.7 percent of the target for the whole year.

Alongside, the firm also produced 9.8 billion kWh of power in the January-May period, surpassing its plan by 6.1 percent, along with 695,000 tonnes of nitrogen, and 2.69 million tonnes of petroleum.

At the same time, PetroVietnam's revenue in the first five months of this year hit 234.5 trillion VND, 21 percent higher than its plan. The group's after-tax profit reached 9.8 trillion VND, exceeding the plan by 15 percent and fulfilling 51 percent of its yearly target.

Vietnam, Argentina target 5 billion USD in bilateral trade value

Vietnam and Argentina hold potential to push bilateral trade to 5 billion USD in the next few years, heard a commercial exchange event in Ho Chi Minh City on June 4.

The event was co-organised by the Argentina Federal Investment Council and the Vietnam Trade Promotion Agency (VIETRADE) under the Ministry of Industry and Trade.

Speaking at the event, Argentinean Ambassador to Vietnam Juan Carlos Valle Raleigh said Vietnam is a strategic partner that Argentine businesses want to boost commercial cooperation.

According to the diplomat, the two countries elevated bilateral relations to the level of strategic partnership in 2010, creating a premise for the development of economic ties.

Bilateral trade increased to 3 billion USD in 2017, with Argentina's exports to Vietnam reaching 2.5 billion USD. In the first four months of 2018, Argentina exported 950 million USD worth of commodities to Vietnam and imported 170 million USD worth of Vietnamese goods.

Despite recording a trade deficit, Vietnam's exports to Argentina surged 70 percent in 2017 compared to 2016. Vietnam mostly shipped to Argentina high value added products such as apparel, footwear, electronic products, farm produce and processed food. The two markets supplement and cater to each other's demand.

Argentina is ready to open its market for high quality products from Vietnam, the ambassador said, adding that Vietnamese farm produce have potential to gain a better foothold in Argentina. The goal of 5 billion USD in bilateral trade is reachable, he stressed.

Vice Governor of Entre Rios province Bahl Adan Humberto, who is leading a delegation of three Argentinean provinces on a visit to Vietnam, said Argentinean firms consider Vietnam an important market with a lot of potential and opportunities for foreign investors.

According to the official, Vietnam has recorded a high and stable economic growth rate, with increasing per capita income pushing up demand for high quality products. Apart from promoting exports to Vietnam, Argentinean businesses also want to find partners for their imports of Vietnamese products.

The vice governor suggested organising business exchanges and trade promotion activities to help improve balance in bilateral trade. Argentina welcomes Vietnamese firms to study its market and introduce their goods, he added.

Argentinean companies also want to cooperate with Vietnamese partners in the areas of agricultural production, animal husbandry, tourism and investment, he said.
Vietnam Airlines, Sabre expand partnership
Vietnam Airlines and US-based Sabre Corporation, a leading technology provider in the global travel industry, have signed an agreement to expand their cooperation.
The carrier will broaden the scope of SabreSonic, Sabre's passenger service system (PSS) that Vietnam Airlines uses, to improve its performance.
Chairman of the Board of Directors of Vietnam Airlines Pham Ngoc Minh said the deal will allow the carrier to make use of Sabre's technology to boost its sale and distribution capabilities. 
Sabre has become an important partner of Vietnam Airlines and contributed to fulfilling its passengers' demand via supplying the latest technologies, he noted.
Sabre's solutions will increase Vietnam Airlines' competitive advantage in the Asia Pacific market, said Dave Shirk, president, Sabre Airline Solutions.
"With our customer-centric retailing, distribution and fulfillment capabilities, Sabre will continue to bring significant value to Vietnam Airlines as they strive to become one of the region's largest carriers," he added.
Apart from the PSS, Sabre said it is committed to helping Vietnam Airlines meet distribution standards set by the International Air Transport Association. 
This announcement came shortly after Sabre and Vietnam Airlines renewed a long-term content distribution agreement through the Sabre global distribution system, further strengthening the partnership between the two corporations.
Vietnam Airlines, a member of SkyTeam alliance, operates 90 routes to 20 domestic and 29 international destinations with an average of 400 flights per day.
Seminar talks development of shrimp farming
Minister of Agriculture and Rural Development Nguyen Xuan Cuong has ordered provinces and cities to focus on ensuring farmers raise shrimp using proper breeding processes and advanced techniques.
Speaking at a seminar held in Bac Lieu province on June 3 on measures to develop the shrimp sector sustainably, he urged provinces and cities to set up sustainable shrimp farming areas and ensure cooperation between farmers and processors and others in the production chain.
Farmers raise brackish shrimp on 637,000ha, slightly up from last year, including 582,000ha of black tiger shrimp and 54,500ha of white-legged shrimp, according to the Directorate of Fisheries.
In the first five months of this year a total of 200,000 tonnes of shrimp were harvested, an increase of 11.1 percent year-on-year.
White-legged shrimp accounted for the increase in both area and output, the directorate said.  
Nhu Van Can, head of the directorate's department of aquaculture, said the shrimp sector faced several difficulties.
Their exports came up against technical barriers put up by importing countries and there were not enough market forecasts, he said.
The price of white-legged shrimp has fallen by 10,000 VND – 30,000 VND a kilogramme since April, according to the directorate.
Higher output in major shrimp producing countries and lower imports by major importers have been a double whammy, according to the Vietnam Association of Seafood Exporters and Producers (VASEP).
Truong Dinh Hoe, VASEP General Secretary, said the price of raw shrimp, especially the white-legged variety, was not likely to increase by much this year.
Le Van Su, Deputy Chairman of the Ca Mau provincial People's Committee, said the price of black tiger shrimp was steady and 40 percent higher than that of white-legged shrimp.
The price of black tiger shrimp remains high since 2011.
The crustacean fetches 225,000 VND – 250,000 VND a kilogramme if it is of a size that makes 30 to a kilogramme.  
Participants at the seminar agreed that farming of white-legged shrimp should be reduced in terms of both area and output this year, and that farmers needed to adopt techniques that helped reduce costs.
They should focus on black tiger shrimp and control shrimp diseases, they said.
Cuong called on the directorate and other relevance agencies to efficiently forecast market conditions and warn farmers if their output seems likely to exceed demand.
The market would revive and so farmers should not panic and sell immature shrimp, he said.
"Shrimp processors should share in farmers' difficulties and consider them long-term partners."
He instructed agencies under his ministry to work with provinces and cities to help farmers adopt advanced techniques.
The ministry would work with other relevant ministries and sectors to resolve problems related to processing, infrastructure and prices to ensure the sustainable development of the shrimp sector, he promised.
Meanwhile, in Long An province, farmers are suffering huge losses.
Losing millions of dong, shrimp farmers in Long An like Truong Thanh Nhan suspended their farming to avoid debt, according to Nong Thon Ngay Nay (Countryside Today) newspaper.
In Nhan's farm, ponds once filled with shrimps and aeration propellers are now deserted.
"Diseases wiped out most of my shrimp after solely a month farming. When I collected the leftovers, the prices were too low to make my investment back, let alone profit," Nhan said.
He lost 200 million VND (8,800 USD) after two crop failures.
Le Van Hiep, a trader in Long An, said prices ranged from 70,000 VND (3.07 USD) to 105,000 VND (4.6 USD). Nhan claimed "if the financial values of shrimps stayed anchored at this rate — the lowest in three years' time, I will cease cultivating shrimps."
Shrimp farmers in Phuoc Lai commune had suspended operation, Nguyen Cong Danh, Vice Chairman of the commune's People's Committee, reported.
Their counterparts in Tan Chanh hamlet, the biggest feeding resource area for shrimps, were also said to be mulling suspending the farming of more than 100ha out of 850ha of shrimp ponds, according to Nguyen Trong Tuyen, Vice President of Tan Chanh hamlet.
Pham Phu Hung, Deputy Executive of Agriculture Extension Centre in Long An, attributed the cause to the low financial value of crops compared with high-priced inputs, which resulted in massive losses for farmers.
"If the prices for crops went up, farmers would continue growing shrimps at the drop of a hat," he noted.
Dong Quang Don, Manager of Agriculture and Rural Development in Can Giuoc district agreed, suggesting farmers continue their work at a steadily low pace to sustain the ponds and minimise market price risks. In the long-term, Don said cutting edge technology should be applied in shrimp farms.
A spread of infections for shrimps was another reason for crop failure, Pham Phu Hung added, so farmers should only count on credited shrimp breed sellers for input and renovate their ponds carefully.
Vietnam's shrimp exports to the US are in intense competition with India, according to cafef.vn, while traders were reported to only buy small prawns while refusing to take large shrimps.
Farmers all over Mekong Delta are facing the same issue, suspending their operation after their investment turned no profit, hoping for a rise in prices.
Vietnam eager to develop Lien Chieu deep seaport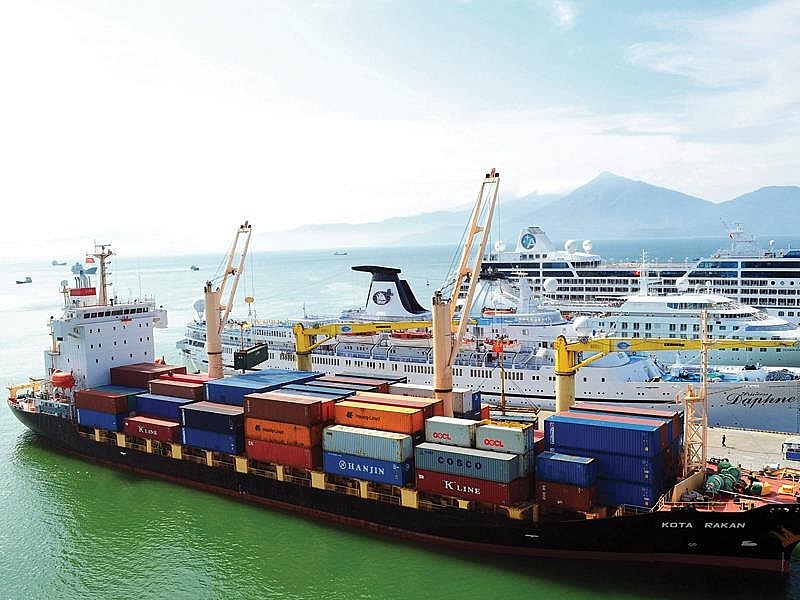 The government has been urging the authorities to appraise Lien Chieu Seaport, showing strong support and promising smoother sailing for the project.
Deputy Prime Minister Trinh Dinh Dung recently urged the Ministry of Planning and Investment (MPI) to appraise the capital sources and mobilisation methods of investment capital at Lien Chieu port.
Besides, the DPM assigned the Danang People's Committee to complete the pre-feasibility report for the project after the city studied MPI' appraisal.
Based on reports of MPI and Danang city, the Ministry of Transport (MoT) was asked to build the investment planning evaluation report to submit the prime minister for approval.
The assignment of the DPM shows Vietnam's eagerness to develop the Lien Chieu Seaport project, which is considered one of two key projects that aim to boost the central city as a main logistics centre in the ASEAN and the East-West Economic Corridor (EWEC) that links Laos, Myanmar, Thailand, and Vietnam.
Although the construction of Lien Chieu Seaport in Danang has just been appraised, domestic and foreign investors are already interested in the project.
Notably, Boskalis Inter A.V is the newest foreign investor that expressed interest in joining. Wanter Jacobs, regional business manager at Boskalis, said in a document sent to MoT that the investor wants to join component A–general infrastructure.
Boskalis will collaborate with T&T Group to deploy this project, particularly in conducting the feasibility study, design, and build general infrastructure system in component A.
With a massive investment capital and handling capacity, the $1.48-billion Lien Chieu Seaport located in Danang is expected to become Vietnam's second international gateway port, following Lach Huyen port in the northern the city of Haiphong.
According to the city's proposal, Lien Chieu Seaport, which would combine five functional areas, including a 50,000DWT (deadweight tonnage) harbour, another harbour which could handle 80,000-100,000DWT container ships with a loading capacity of 5,000-8,000 twenty-foot equivalent unit (TEUs), a liquid cargo harbour handling 10,000DWT ships, and an inland waterway harbour for 1,000-5,000DWT ships, as well as a logistics services area and other infrastructure.
Retail receives a big boost in Vietnam
Vietnam's growing revenue from retail services and the number of newly-established enterprises have reflected the upward-trend of domestic purchasing power and retail-related activities.
Last week in Tokyo, Japan's AEON Group was licensed to build a US$180 million mall in the northeastern city of Hai Phong. The 9.3ha project was commenced in mid-May 2018 and is expected to become operational in 2020.
The mall will employ 2,000 local people, and is expected to attract more than 13 million customers per year from Hai Phong and surrounding provinces such as Quang Ninh, Hai Duong, and Thai Binh.
In March, AEON began construction of its mall in Hanoi's Ha Dong district, with total capital of about US$90.4 billion. The joint venture between Hoa Binh Construction Corporation and Kajima Corporation are the general contractor designing and constructing the project. This is the second AEON mall in Hanoi, and the fifth in Vietnam.
The wave of new builds is not restricted to AEON, over a month ago, Vietnam's giant retailer Saigon Co.op also commenced the construction of its supermarket Phan Ri Cua in the south-central province of Binh Thuan's Tuy Phong district. This will be the third supermarket of Co.opmart in Binh Thuan, covering 7,000 square metres and costing VND 70 billion (US$3.1 million). The project is expected to be put into use later this year.
Last November, Saigon Co.op also put into operation its 88th supermarket in Vietnam – Co.op Mart Chu Van An in Ho Chi Minh City's Binh Thanh district. It is the firm's 33rd supermarket in Ho Chi Minh City.
The new US$1.82 million supermarket covers more than 3,000 square metres, and sells over 30,000 items.
Also in last November, Saigon Co.op launched its first two Co.op Food stores in Hanoi, laying the groundwork for it to expand its foodstuff business in the country's northern market. With these two new stores, Saigon Co.op now has 181 stores of this type throughout the country.
In October last, Saigon Co.op opened the 2.27 million Co.op Mart Chu Se, also its second, in the Central Highlands province of Gia Lai. This is a joint venture project between Saigon Co.op and Gia Lai Trade JSC.
According to the General Statistics Office (GSO), AEON Saigon Co.op is one of many firms that expanded operations in the wholesale and retail sector, which sits atop the GSO's five-month list of sectors with the most newly-established enterprises.
Specifically, in the first five months of the year, about 17,800 enterprises were established in the wholesale and retail sector, accounting for 33.9% of the total of newly-established enterprises nationwide, up 1.6% year-on-year.
The GSO reported that in the first five months of 2018, the country's total retail service revenue hit more than US$15.73 billion, up 10.1% compared to last year's corresponding period. Vietnam also received more than 6.7 million international tourist arrivals, up 27.6% year-on-year. This greatly contributed to the rise in total retail service revenue.
Pham Trong Nhan, deputy general director of Binh Duong Construction and Material Co., Ltd. said that Vietnam's retail sector is growing strongly. Nevertheless, he warned that local retailers are being "seriously threatened by foreign rivals".
"Foreign retailers are driving local retailers, especially small- and medium-sized ones, into difficulties. All foreign-owned supermarkets are selling the majority of foreign-made products," said Nhan, who is also a National Assembly member representing the southern province of Binh Duong.
"Within only three years, foreign retailers have grown to hold 70% of Vietnam's convenience store market, 17% of the supermarket space, and 50% of the online retail sector. That's unbelievable," Nhan said. "These rates are continuing to surge, without any controls."
On September 1, 2017, Korea's leading distributor, DHI, set up Vietmate – its Vietnamese subsidiary – after a year of exploring Zalo's potential in e-commerce. Their aim is to use the Zalo platform to distribute Korean products in Vietnam.
For Japanese retailer AEON, this group is targeted to have 20 malls operating across Vietnam by 2020.
Aeon is not only focusing on investing in large-scale trade centres, but also co-operating with Vietnam's leading supermarket operators – Citimart and Fivimart – to grow its footprint in the lucrative local retail market, while partnering with Japan's Sojitz Corporation to develop the Ministop brand of convenience stores.
According to the Korea Chamber of Business in Vietnam, foreign firms are finding ways to enter Vietnam's retail market via mergers and acquisitions with local firms, such as those between CJ and Cau Tre, Lotte and Bibica, Masan and Vissan, F&N and Vinamilk, TCC and Metro Cash & Carry, Vingroup and Ocean Retail, and between Central Group and Casino Group.
Soai Rap Petroleum Service Industrial Zone to be revoked
PetroVietnam Construction Joint Stock Corporation (PVC) will have its Soai Rap Petroleum Service Industrial Zone revoked due to operation inefficiencies and low occupancy rates.
Deputy Prime Minister Trinh Dinh Dung recently asked the Tien Giang People's Committee to revoke Soai Rap Petroleum Service IZ and called on the investor to transfer the project to other investors.
Besides, the DPM assigned the Ministry of Planning and Investment (MPI) and relevant authorities to monitor the revocation and transfer of the project.
Covering an area of 285 hectares, the project was licensed in March 2011. However, after three years, the IZ had only one tenant.
As a result, in October 2014, the government approved in principle to transfer the IZ to the Tien Giang People's Committee to manage according to the IZ development planning by 2015, with vision to 2020.
However, the transfer has yet to be completed despite repeated urging from the government.
The Soai Rap project is just one black spot in the bright picture of the local industrial real estate segment.
According to MPI's Economic Zones Management Department, there are 328 IZs across the country at present, taking up a total area of 96,300 hectares of natural land. Of this, 223 zones have been put in operation and 105 are in the process of site clearance and compensation. Occupancy reached 51.5 per cent overall, and 73 per cent at operating IZs.
In addition, Vietnam also has 17 coastal economic zones (EZs) established on a land and water surface area of approximately 845,000ha, not to mention Ninh Co EZ in the northern province of Nam Dinh, which is included in the planning but has not been established yet.
IZs with high occupancy rates include Vietnam-Singapore Industrial Park III in the southern province of Binh Duong or Que Vo I, Que Vo II, Tien Son, and Yen Phong I in the northern province of Bac Ninh, with the average occupancy rate of 85 per cent.
HDBank promotion offers deposit interest rate of 7.6%     
HDBank has relaunched its Bach nien phat tai (100 years of prosperity) programme offering extra interest to several categories of depositors.
The bank will offer extra interest of up to 0.7 percentage points to customers depositing for six months or 13 months and having a minimum balance of VND500,000 (US$22) in their current account.
Besides, the interest rate will also be commensurate with depositors' ages and deposit amounts.
The maximum interest a depositor can hope to get under the programme is 7.6 per cent.
This is the third installment of the programme, which will run until the end of June.
After two earlier instalments of the promotion this year, HDB had more than 8,600 existing customers renewing their saving accounts and attracted around 20,900 first-time depositors. 
Central bank approves VPBank's capital charter hike     
The State Bank of Viet Nam has approved the plan of Viet Nam Prosperity Joint Stock Commercial Bank (VPBank) to increase its current charter capital.
The hike from VND15.7 trillion (US$690 million) to VND25.2 trillion was approved at a VPBank shareholder meeting held on March 19, 2018.
The bank's management board will take responsibility for the capital increase pursuant to current laws and regulations. VPBank was also required to submit a revised application of their charter capital to the central bank.
The document takes effect within 12 months from the date of signing. However, the document will lose its effectivity if the increase in charter capital is not completed in the allowable time.
In the first quarter of the year, VPBank's total consolidated assets reached over VND284 trillion, representing a 24 per cent year-on-year rise. The bank's deposit mobilisation and issued valuable papers stood at VND209.9 trillion, up 13 per cent from the same period last year.
Meanwhile, lending rose 24 per cent from the corresponding period last year to VND185.6 trillion.
BVS sets revenue target of nearly $20m     
Bao Viet Securities Company (BVS) has set a target of VND454 billion (US$19.91 million) in revenues and VND143 billion, in after-tax profit, a company document preparing for 2018 shareholders' meeting on June 5 revealed.
The document from the firm's upcoming shareholders' meeting stated that the revenue targets expected a year-on-year increase of 4.83 per cent and 9.44 per cent, respectively.
BVS is oriented towards the deployment of all business operations, focusing on promoting brokerage, advisory, proprietary trading, flexible and suitable for each stage, preparing the necessary conditions for effectively deploying derivative products.
The company also targets brokerage revenue of VND210 billion, up one per cent year-on-year and maintaining the top 10 market share in both exchanges. In case of big market fluctuations, shareholders will authorise the board of directors to adjust the business plan.
In addition, the company will focus on research, development and implementation of different capital mobilisation plans such as stocks and bonds in order to meet the capital needs for business activities as well as meet the capital requirements in the derivatives market.
It is expected that this year, the company will increase its chartered capital to VND1.083 trillion.
BVS, a subsidiary of Bao Viet Holdings, is a Viet Nam-based provider of investment services. The company offers securities brokerage services, underwriting services, custody services and investment advice to investors. It is also engaged in the trading of securities and the provision of corporate financial consulting services for share auctions and listings. 
Expos to showcase latest ICT, broadcast, electronic products     
International telecom, IT, communications, broadcasting, and electronic expos Vietnam ICT COMM, Broadcast Vietnam, and Electronic Vietnam will be held in HCM City on June 7.
The three expos have attracted more than 300 exhibitors from 20 countries and territories, including technology leaders in Asia such as Japan, South Korea, Singapore, Hong Kong, Thailand, and India.
Speaking at a press briefing to introduce the expos on May 31, Ha Thi Phuong Lam, chairwoman of the Adpex Joint Stock Company, one of the events' organisers, said the number of exhibitors this year has increased by 50 per cent.
The events have attracted leading Vietnamese IT corporations such as Mobifone, LeLong, Zioncom, Du Hưng Technology, Bizentro, TC Technology, and Tung Viet Communication.
They will showcase advanced technologies, equipment and solutions for the aviation industry, digital data systems and centres for libraries, schools, hotels, supermarkets, GPS applications, telecom products, broadcasting technologies, telecom services, Internet services and applications, games, software, electronics, and ancillary products.
They will also have business matching and seminars on dominant technology solutions in 2018, 5G mobile and solutions for online services, and improving commercialisation of research results on IOT solutions and others.
Known for their size and rich and specialised content, the expos forum for businesses in telecom, IT and communications, broadcasting, and electronics to compare notes and explore business opportunities, Nguyen Long, deputy chairman of the Viet Nam Internet Association, said.
To be held by Adpex JSC, the Viet Nam Association for Information Processing, VIA, the National Agency for Technology Entrepreneurship and Commercialisation Development, and the Viet Nam Climate Innovation Centre, the expos will take place at the Saigon Exhibition and Convention Centre in District 7 from June 7 to 9. 
Vietjet to open Hanoi - Osaka direct flights
Vietnam's new-age carrier Vietjet Air will officially launch a direct route linking Hanoi with Osaka in Japan on November 8.
The airline held a special ceremony to announce the new route at the Japan-Vietnam Economic Forum in Tokyo on May 31, attended by Vietnam's visiting State President Tran Dai Quang, Japanese Government representatives, officials from both countries, and representatives from Vietjet.
"The Hanoi-Osaka route is to be first service in Vietjet's expansion into Japan - the Land of the Rising Sun," said Vietjet Vice President Nguyen Thi Thuy Binh. "We believe that this new route and our expanding network will help make the travel dreams of millions of passengers come true."
As part of Vietjet's expansion strategy in Japan, Ms. Binh added, the carrier will continue to open new routes between economic and tourism hubs in order to diversify destination choices and better meet the growing demand for air travel between the two countries and beyond to better connect with the rest of the world.
Using Vietjet's new and modern A320 aircraft, the Hanoi - Osaka route will operate on a daily basis with a flight time of over four hours.
Under the anticipated schedule, flights will depart from Hanoi daily at 1.45am and arrive in Osaka at around 7.50am. Return flights will take off from Osaka at 9.20am and land in Hanoi at around 1.10pm (all local times). The new service brings its total number of international routes to 45, while its domestic routes stand at 38.
Ticket sales for the new route are expected to be available from June 8, at www.vietjetair.com.
Vietjet has already cooperated with Japanese travel agencies to operate direct chartered flights from Vietnam to Osaka as well as to Narita in Tokyo, Sendai, Nagoya, Ibaraki, and Fukushima, demonstrating that the its services and efforts to link the two countries have been very well received.
Vietjet, SBI Leasing Services, Natixis, and some of the Japanese equity arrangers also signed an MoU on aircraft financing totaling nearly $600 million.
Following a "Consumer Airline" model, Vietjet Air continues to open new routes, add more aircraft, invest in modern technology, and offer more added-on products and services to meet the requirements of millions of passengers.