VietNamNet Bridge – The Government plans to develop three special economic zones, which it hopes will spearhead the country's growth. They will be located in the coastal district of Van Don in the northern province of Quang Ninh, Bac Van Phong in the central province of Khanh Hoa and Phu Quoc Island.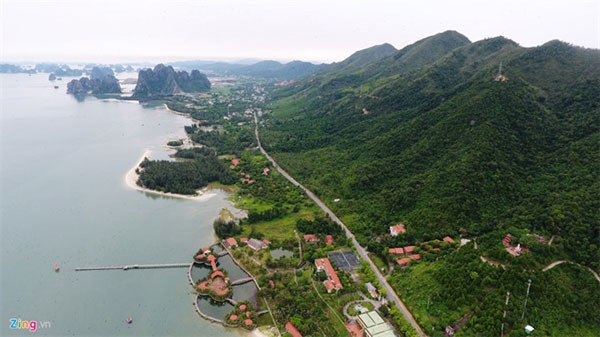 A view of the coastal district of Van Don in the northern province of Quang Ninh. — Photo zing.vn
Currently there are no special economic zones in the country though it has 18 coastal economic zones, 27 border economic zones and 325 industrial zones.
Vietnam had established the Vung Tau–Con Dao Special Economic Zone in 1979 but shut it down in 1991.
The Ministry of Planning and Investment expects the three special economic zones to contribute billions of dollars to the economy each year from 2020 onwards.
The Government has agreed in principle that the special economic zones will enjoy special regulations and fewer limitations to enable them to woo investors.
The draft Law on Special Economic Zones (or Law on Special Administrative-Economic Units) reflects this strategy.
The draft Law on Special Administrative – Economic Units aims to create a legal basis for the establishment, development, management, and operation of the three zones and ensure the best use is made of their regional potential and advantages.
The zones will be geared to attract investment, technology and management capabilities from abroad, and form high-growth areas with a new management model and modern living environment.
They will focus on research and development activities, start-ups, new technologies, high-quality health and education services, quality resorts, and tourism services.
To achieve these they will enjoy preferential policies related to taxation, land lease, water and other tariffs.
The bill originally proposed many incentives for Van Don, Van Phong and Phu Quoc like income tax waiver for 10 years for managers, scientists and specialists working there.
For other individuals who live and work there, the zones were to be tax-free.
Investors will enjoy value-added tax (VAT) incentives for import of equipment and machinery that are not manufactured domestically or fail to meet required standards.   
The bill has been placed in the public domain for getting feedback and discussed at the ongoing 14th National Assembly session.
However, in the latest draft submitted to the NA several incentives have been watered down. For instance, the period of income tax waiver for managers, scientists and specialists has been halved from earlier drafts to just five years now.
The tax exemption for individuals has also been taken out as has the VAT waiver for imported equipment and rental incentives.
The changes were possibly made at the instance of experts and NA deputies who had said there were too many incentives and those related to tax were likely be misused.  
They said all preferential policies should be considered carefully to ensure they serve the purpose of attracting investment and avoid squander of the country's natural resources.
But analysts disagreed saying the special economic zones are a new concept in Vietnam and the Government needs to pull out all stops and roll out the red carpet if it hopes to attract investment.
Banks not keen on gold trading on investors apathy
The Viet Nam Investment and Development Joint Stock Bank (BIDV) has stopped trading gold bars at nine branches since May 8.
A bank official said the branches are in remote areas like Cao Bang, Dien Bien, Lai Chau, and Lao Cai.
BIDV is not the first bank to pare its bullion trading activities.
Many branches of several banks now do not have enough gold and buyers often have to wait for one or two days to buy. Some branches have even stopped buying and selling bullion.
Analysts said demand for gold in Vietnam and abroad has decreased sharply.
According to a report from the World Gold Council, in the first quarter of this year the global demand for the precious metal dropped to the lowest ever level of 973.5 tonnes after falling 7 per cent from the same period last year.
Vietnam is said to have a similar situation though there are no statistics yet for the first quarter.
What is apparent is the dramatic drop in the number of transactions at large sellers like the Phu Nhuan Jewelry Joint Stock Company (PNJ).
A PNJ spokesperson said the number of gold bars traded now has fallen to 300-400 a day, down from 700-1,000 and occasionally even 20,000.
Analysts blamed this on the continuing stability of gold prices in Vietnam and globally.
On May 22 the global price stood at US$1,285 per ounce, or 1.3 percent down from late 2017.
The gold price converted into Vietnamese dong is estimated at about VND35.6 million per tael, about VND1 million lower than as compared with the domestic gold price.
In Vietnam, the selling and buying prices were VND36.62 million per tael of 37.5 grammes and VND36.70 million.
Have been hovering at these prices for a long time, and could fall, or at least not appreciate, soon since US interest rates are set to be hiked several times this year, driving the dollar up.
Without the opportunity to make a decent return from the metal, investors have turned their backs on it for the moment, and banks have little enthusiasm to trade it as a result.
Compiled by Thien Ly
Source: VNS