Laguna Lang Co, one of Asia's largest integrated resorts with international hospitality operator Banyan Tree as its managing partner, was recently issued a casino license by the Vietnamese Government.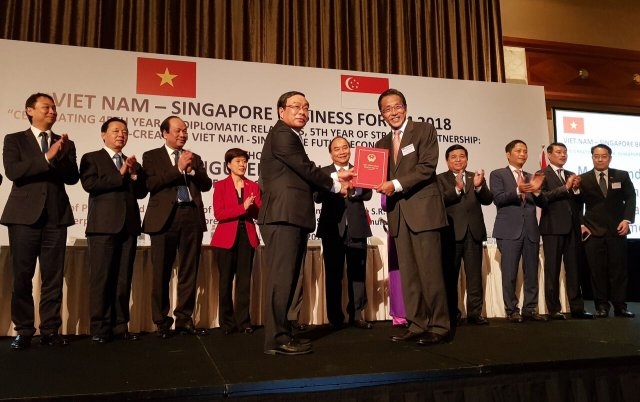 At the recent Vietnam-Singapore Business Forum 2018 in Singapore presided over by Prime Minister Nguyen Xuan Phuc, the license was presented by the Chairman of the Thua Thien Hue Provincial People's Committee Nguyen Van Cao to the Executive Chairman of Banyan Tree Holdings, Mr. Ho Kwon Ping.
Laguna Lang Co is part of a chain of integrated resorts created and managed by Banyan Tree under the Laguna brand and includes Laguna Bintan in Indonesia and the flagship Laguna Phuket in Thailand.
Laguna Lang Co's Phase 1, with investment of $285 million, comprises both Banyan Tree and Angsana hotels, an 18-hole championship golf course designed by Sir Nick Faldo, luxury private villas and residences, convention facilities, recreational activities, and beachfront land for six more hotels as part of the 280-ha project. It will celebrate its fifth anniversary from May 25 to 27.
Mr. Ho said the issuance of the casino license is a great start to its second phase. "Many hotel investors and development funds have been awaiting the casino license and the selection of a casino operator before finalizing their investment in our second phase."
This is the first casino license issued by the Vietnamese Government for a decade. Laguna Lang Co welcomes world-class casino operators and investment partners to join in the next exciting phase and growth of the integrated resort development in central Vietnam.
Known for its sustainable efforts towards the environment, the local community, and the economy of Thua Thien Hue province, Laguna Lang Co is the first luxury resort development of Banyan Tree Holdings Limited in Vietnam and has received numerous international awards. Existing infrastructure, including transportation, electrical, water and environmental management systems, will facilitate the rapid development of Phase 2 and future phases.
The project expansion from 2018 to 2022 will see investment capital increase from $875 million to $2 billion and includes international-scale casino operations.
Integrating a casino within the beach-golf resort, which is in close proximity to three UNESCO World Heritage Sites, provides a unique cultural, sporting and entertainment destination experience that will further boost tourism in Thua Thien Hue and attract global travelers.
VN Economic Times