Luxstay recently announced it raised an additional $2.5 million through its Pre-Series A Round funding from investors including Genesis Ventures, Founders Capital, Y1 Ventures, and two others. Japan's Genesis Ventures and the Singapore-based ESP Capital previously provided funding to the startup, founded by Vietnamese entrepreneur Steven Nguyen and incorporated in Singapore, mid-last year.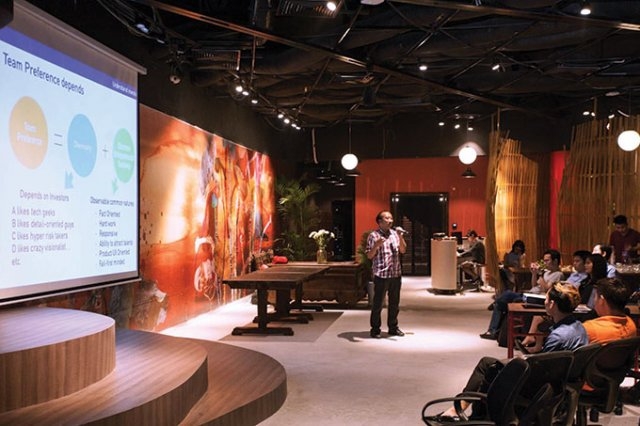 ELSA, a mobile app founded and managed by Vietnamese Vu Van and that uses artificial intelligence (AI) and speech recognition technology to help language learners improve their English pronunciation, also announced Pre-Series A Round funding of $3.2 million, led by Monk's Hill Ventures. 
"We are pleased to support ELSA's team of experts in the fields of AI and speech recognition as they scale their technology to new languages and markets," said Monk's Hill Ventures' Managing Partner Peng T. Ong. 
"ELSA has achieved exceptional organic growth over the past two years and we're excited to help grow their business and partnership efforts in 2018 and beyond."
Luxstay and ELSA are among the notable cases of startups attracting handsome funding and were highlights of investment flows into startups in 2017 and the opening months of 2018. 
Vietnam witnessed another year of robust startup funding activities in 2017, marked by major rounds and also the entry of new regional venture capital (VC) players. 
According to a report from Vietnam-based accelerator Topica Founder Institute (TFI). The total number of deals shot up to 92, nearly double the 50 in 2016. 
Thanks to foreign investments, the total collective startup deal value soared to $291 million last year, representing 44 per cent growth against the $205 million in 2016. 
The NYSE-listed Sea Group (formerly Garena) was a particularly voracious foreign investor, acquiring an 82 per cent stake in restaurant review platform Foody in a deal worth $82 million (the largest for the year), while two fintech and logistics startups closed deals reportedly worth up to $50 million. 
Other notable investments were the $54 million Series C investment in e-commerce platform Tiki, jointly made by Chinese internet giant JD.com and South Korea's STIC Investments, Hendale Capital's $10 million investment in Vntrip, and TNB Ventures $20 million Series A investment, among others.
The greatest potential for Vietnamese startups is believed to lie in developing technology solutions that resolve problems in emerging markets. 
According to Mr. Eddie Thai, General Partner at 500 Startups Vietnam, which had invested in 18 tech startups as at the end of 2017 and had closed 21 deals as at the end of March, Vietnam is one of the rare places in the world where there is a lot of engineering talent. IBM has projected that Vietnam could be in the Top 3 in the world by number of engineers in five years. 
"Many of these engineers are uniquely familiar with the challenges that poor people or rural people face, compared with engineers from wealthy places like San Francisco or New York or London," Mr. Thai said. 
"This should mean that Vietnamese engineers are better able to resolve such challenges." 
According to the Topica Founder Institute report, 500 Startups Vietnam was the most active VC fund in Vietnam in 2017. 
"We want to be even more active in 2018, perhaps with more than 20 investments this year," Mr. Thai added. 
Some Vietnamese startups have successfully called for tens of millions of dollars but none have called for hundreds of millions of dollars. 
"Vietnamese startups have no history of winning in Southeast Asia," Founder and CEO of Beeketing, Mr. Quan Truong, acknowledged. 
"This is why they find it hard to attract foreign funds compared with startups from elsewhere in the region."
In principle, capital flows from big to small markets; from the US to Japan, China, India and then to Southeast Asia, for example. Indonesia is the largest market in Southeast Asia, with a GDP 4.5 times higher than Vietnam's, followed by Thailand. 
Regional countries such as Indonesia, Malaysia and Thailand also have better capital mobilization policies than Vietnam does. 
High risks and complex procedures and sub-licenses, which take a long time to disburse for one deal, all make investors hesitate to inject money into Vietnamese startups. 
"In Singapore, it takes about one week to fulfill procedures and complete disbursement," said Mr. Nguyen Hoang Hai, Founder and CEO of Canavi. 
"The time needed in Thailand is a month but in Vietnam is at least four to six months." If this situation continues, he added, more and more Vietnamese startups will move and found in other countries. 
Founders are getting better and foreign VC investors are becoming more aware of Vietnam, but there's still a lot of work to be done and many more people that could become involved. 
According to Mr. Thai, before this year, 500 Startups Vietnam spent a lot of time spreading the word internationally about tech in Vietnam. It will now shift its attention to spreading the word in Vietnam. 
Many Vietnamese citizens, government officials, and businesspeople are aware of Industry 4.0 but not everyone knows what it means for them or how to take advantage of it. 
"So, we want to talk with Vietnamese small and medium-sized enterprises (SMEs) and corporations about how they can adopt or develop new technology," Mr. Thai said. 
"We want to advise policymakers on how to improve the regulatory environment for innovation. We want to help students gain practical experience in technological innovation and entrepreneurship. And we want to work with wealthy Vietnamese who want to earn money investing in the future of Vietnam as a startup nation."
VN Economic Times