The upcoming valid EU-Vietnam Free Trade Agreement (EVFTA) will create a strong driving force for fostering Vietnam – EU comprehensive economic partnership via the abolition of 99 percent of import tariffs in the next 7-10 years.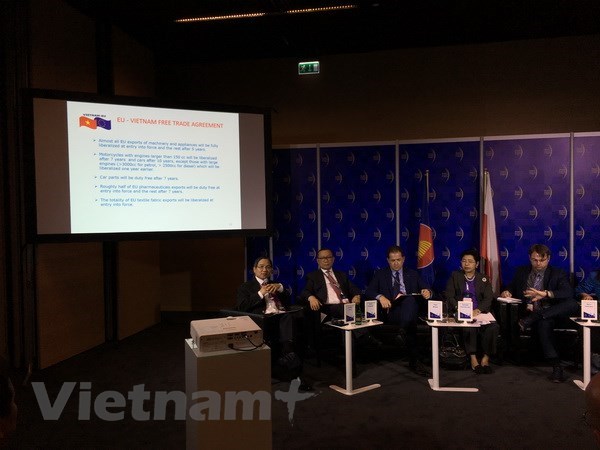 At the event 
Chairman of the Polish – Asian Chamber of Commerce and former Polish Deputy Prime Minister Janusz Piechocinski made the remark at a thematic session on ASEAN – EU economic cooperation recently held for the first time within the framework of the 10th European Economic Congress (EEC) in Warsaw, Poland. 
Other delegates said the Polish government strongly supports the deal and ranks Vietnam among the five priority markets, adding that Polish firms will be at an advantage when doing business in Vietnam. 
Vietnamese Ambassador to Poland Vu Dang Dung presented six competitive edges of Vietnamese economy, including its entry to free trade deals with developed economies in North America, Europe and Asia. 
Director of the Vietnam Institute for Economic and Policy Research and former member of the Prime Minister's economic consulting group Nguyen Duc Thanh noted that Vietnam has maintained its strong growth since 2017, and its consistent institutional and social reform will open up new opportunities for economic growth. 
Tran Ngoc Liem, Deputy Director of the Ho Chi Minh City chapter of the Vietnam Chamber of Commerce and Industry, suggested foreign investors pour capital into farm produce, pharmaceuticals, construction machinery, mining, green technology, water and wastewater treatment, renewable energy, real estate, electronics, non-alcoholic beverages, wooden furniture and luxury fashion in Vietnam. 
President of the Poland-Asia Research Centre Patrycja Pendrakowska highlighted Vietnam's efforts to deal with the EU's "yellow card" warning on illegal, unreported and unregulated fishing, including the adoption of the Law on Fisheries 2017 with terms in accordance with the EU standards, specific action plans and regular consultation with the EU. 
She also lauded Vietnam for holding widespread communications campaigns to encourage fishermen to tap aquatic products in line with the EU's regulations. 
As the largest annual forum in the Central and Eastern Europe, the EEC attracted the presence of Polish Prime Minister Mateusz Morawiecki, European Commissioner for Trade Cecilia Malmstrom and 11,000 delegates from many countries.-VNA