Do Thang Hai, Deputy Minister of Industry and Trade, talks to the Viet Nam Economic Times on his ministry's efforts to increase Vietnamese goods sold abroad.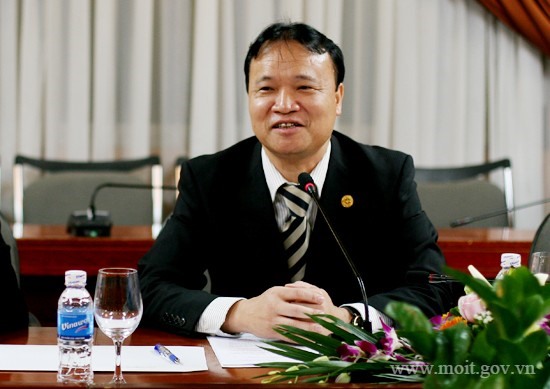 Do Thang Hai, Deputy Minister of Industry and Trade
What actions have the Ministry of Industry and Trade adopted to speed up the country's export promotion activities?
In 2015 the Prime Minister ratified the national export promotion strategy through the retail promotion systems abroad.
Three years later, the Ministry of Trade coordinated with foreign distribution groups to develop an action plan to improve Vietnamese enterprises' capacity to enter foreign markets through their distribution systems. However, this work required big support from concerned Government agencies, particularly from the Provincial Department of Industries and Trade, trade promotions agencies, foreign distribution firms and in particular Vietnamese enterprises and export associations.
For many years direct export to foreign advanced distribution systems has been considered as the most effective way for many Vietnamese enterprises to increase their turnover. The Ministry of Industry and Trade (MOIT) has also worked closely with foreign distribution agents to launch many activities such as 'Vietnamese goods weeks' in foreign countries to carve out a niche in foreign distribution networks.
Việt Nam now has more than 170 FDI retail establishments. Is there any possibility for Vietnamese goods being sold in these shops?
A report released by the Central Steering Committee of the campaign calling on Vietnamese people to give priority to using locally produced goods has indicated that more than 60 percent of Vietnamese consumers have shown their support to the campaign. Even in foreign retail shops, most of the goods are made in Viet Nam. This suggests that locally produced goods are more sought after in the country than foreign goods.
In Big C markets in Thailand, quite a lot of Vietnamese goods are displayed. Is this an indication that there is room for Vietnamese goods to enter the FDI distribution systems there?
I have to admit that we are still not familiar with international business practices and don't have much experience in commercial advertising.
To export Vietnamese goods abroad, many enterprises have to use a middle-man. However, if a foreign enterprise agrees to import our products, it means that they will be sold in all branches affiliated to that enterprise in that country or even worldwide. This is one way to help Vietnamese enterprises to gradually secure their foot in the international market.
Don't you think a bright future is waiting for Vietnamese good to be displayed in many shop counters abroad?
Of course, to have their items displayed in foreign retailers, high quality will be essential, as well as a clear display of its origin, and food safety stamps where necessary. To help these enterprises be able to export their products abroad, we'll regularly organise workshops and seminars to update requirements from importers for them to consider.
What are the Ministry of Industry and Trade's expectations in supporting Vietnamese enterprises to enter the foreign distribution network?
We have worked with leaders from many foreign companies, including Aeon and Central Group. During these meetings, we discussed on the increase of Vietnamese goods displayed in their distribution system. For Aeon, in 2017, Vietnamese goods were displayed in its counters worldwide, with a total value of some US$ 200 million. In a meeting with the Aeon management board, we raised a proposal to double the sales revenues in 2018.
Through workshops and training that Vietnamese enterprises' knowledge and skills on how to enter into foreign markets have improved considerably with better quality of their products. — VNS