Vietnamese businesses invested US$129 million in 34 new overseas projects in the first four months of this year, statistics from the Ministry of Planning and Investment revealed.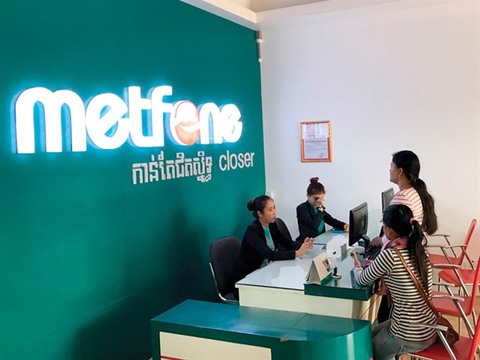 People register for services of Metfone, a Military Telecom Group (Viettel) brand in Cambodia. — Photo baodautu.vn
During the reviewed period, the firms also added $24.6 million into existing projects abroad, according to the data.
Finance and banking topped Viet Nam's overseas investments with the total new and additional capital reaching $105 million, accounting for 68.3 per cent of total investment capital abroad.
The processing and manufacturing industries came second with 13.2 per cent, followed by the retail and wholesale sectors and others.
From January to April, Vietnamese enterprises injected investments in 19 countries and territories. Of which, Laos ranked first with $80.12 million. Cambodia and Cuba were the runners-up with $25.9 million and $19.9 million, respectively.
The flow of Vietnamese overseas investment is likely to increase more significantly in the time to come, said Dang Phuong Linh from the Viet Nam University of Commerce.
In order to encourage Vietnamese firms to invest abroad, the State and relevant sectors should foster co-operation with the governments of countries where the firms have investments with a focus on creating a transparent and stable investment climate for businesses, Linh told Tap chi tai chinh (Finance) newspaper.
Promoting investment and providing domestic firms with effective information about overseas investment should also be included, she said.
Linh also emphasised the importance of hosting frequent dialogues among governments, Vietnamese enterprises, embassies, trade offices abroad, consulates and trade unions to solve difficulties the firms have encountered in a timely manner.
As far as businesses are concerned, she said, they need to study the laws and policies of the country where they want to invest.
Besides drawing up effective investment strategies for specific countries, they should sharpen their competition and management capacities, speed up the technological appliance and develop new products to gain more profits when investing abroad, she added. — VNS