Doosan Vietnam exports first rubber-tyred cranes to India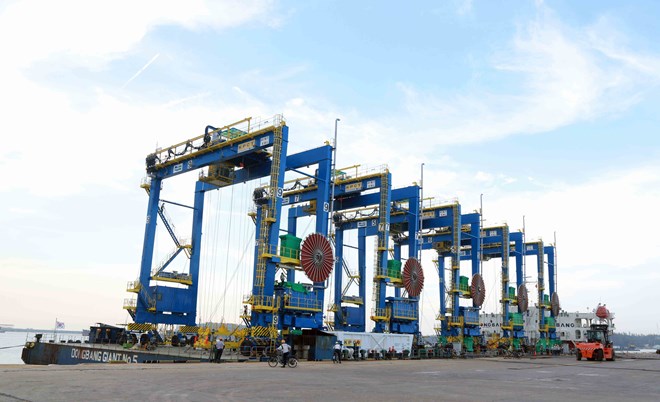 Doosan Heavy Industries Vietnam Co. Ltd. (Doosan Vina) has shipped five rubber-tyred cranes to India.
Each crane has a weight of 160 tonnes and is 37m high, 28m long and 13m wide. It is designed to handle 41-tonne containers.
The "Made-in-Vietnam" cranes were ordered by Krishnapatnam Port Co. Ltd of India.
These are the first rubber-tyred cranes manufactured by Doosan Vietnam.
In March, Doosan Vietnam also exported three rail-mounted quay cranes to India.
They are part of an order of 12 cranes requested by India-based Bharat Mumbai Container Terminals Private Limited, to deal with substantial throughput at its unit in the Jawaharlal Nehru Port (JNPT) in Mumbai. So far, a total of nine units have been exported to India.
The export is a key project of Doosan Vina, which has been prioritised for development by the Vietnamese Government.
The three rail-mounted quay cranes have a total weight of 4,440 tonnes. Each crane is 73.8m high, 143m long and 26m wide. Each one is designed to handle 75-tonne containers.
The last three cranes of the project are expected to be shipped to India in September. Doosan Vina has so far exported more than 70 cranes to the world market, including PSA Port of Singapore, JNPT of India, Samarinda Port of Indonesia and several ports of Vietnam.
Hai Phong Int'l Container Terminal to welcome first ship
A ceremony will be held in the northern port city of Hai Phong on May 13 to launch the Hai Phong International Container Terminal (HITC) and welcome the first ship to the port.
The HITC, a joint venture between Saigon New Port and Japan's Mitsui OSK Lines (MOL), Wan Hai Lines (WHL) of Taiwan (China), and Japan's Itochu Corporation (ITO), is the first deep-water port in the north of Vietnam. 
With two 750m-long wharves, the HITC is capable of receiving vessels up to 14,000 TEU. The goods output through the port is estimated at 1.1 million TEU per year.
Construction of the 45-hectare port began on May 12, 2016 with a total investment of 321 million USD.
According to the Saigon New Port, the HITC has a favourable location as it connects most of inland waterways and coastal roads to Quang Ninh and northern provinces. It also links to feeder terminals New Port 128, New Port 189, ICD New Port – Hai Phong and ICD New Port Ha Nam as well as the northern and central key economic zones and southwestern China.
Vitas: Vietnam's potential of exporting apparel to Australia is huge
Chairman of the Vietnam Textile & Apparel Association (Vitas) Vu Duc Giang has stated that Vietnam's potential of exporting apparel to the Comprehensive and Progressive Agreement for Trans-Pacific Partnership (CPTPP) member states and Australia in particular is huge. 
During a seminar held in Ho Chi Minh City on May 11, Giang asked Vietnamese apparel exporters to devise a strategy to take advantage of incentives brought about by the deal and other free trade agreements signed by Vietnam. 
Amidst the fourth industrial revolution, firms need to invest in modern technology to meet stringent demand of customers, he said. 
Vitas Vice General Secretary Nguyen Thi Tuyet Mai said in order to tap tax incentives in FTAs, firms must meet demand for rules of origin and control supply chain in the region. 
In the near future, Vitas will hold more seminars on CPTPP terms and connect domestic fiber manufacturers, weaving and dying establishments with buyers. 
A representative from Australia's IEC Group said though Australian population is only one-fourth of Vietnam's but they are ready to spend more so that firms need to offer products with high quality and diverse designs. 
There are only five sport apparel firms in Australia with a 16 percent market share so that Vietnamese enterprises could enter the market in the future, he said, adding that apparel businesses could access Australia via trade fairs. 
IEC will hold a specialised exhibition for global suppliers in apparel, accessories, leather and footwear in Melbourne, Australia from November 20-22.
Vietnam, Middle East boost trade, investment
Vietnam and the Middle East hold potential to boost trade and investment, as heard the Vietnam – Middle East trade forum held in Ho Chi Minh City on May 11. 
Speaking at the event, deputy head of the Vietnamese Ministry of Industry and Trade's Department of Asia – Africa Markets Le Thai Hoa described the Middle East as a big market with a population of over 300 million people. Each year, the region imports food worth nearly 40 billion USD, which is expected to hike to 70 billion USD by 2035. 
Major promising markets in the region include the United Arab Emirates (UAE), Turkey, Arab Saudi and Iran. 
Two-way trade between Vietnam and the Middle East hit 12 billion USD last year, 9 billion USD of which was Vietnam's exports to the region. Apart from food and farm produce, the region has great demand for mobile phones, electronic equipment, consumer goods, leather and footwear which are Vietnam's hard currency earners. 
The UAE is now Vietnam's biggest economic and trade partner with export turnover in excess of 5 billion USD last year. 
Vietnamese Ambassador to the UAE Trinh Vinh Quang said Vietnam is now gateway for UAE firms to access ASEAN market while the UAE is a gateway for Vietnam to expand to the Middle East. 
UAE Ambassador to Vietnam Obaid Al Dhaheri hailed Vietnam as the UAE's leading economic partner in Southeast Asia and suggested promoting collaboration across renewable energy, metallurgy, vessel repair, petrochemicals, chemicals and mechanical engineering. 
The UAE has invested in 14 projects worth over 26 million USD in Vietnam, mostly in infrastructure, real estate, mineral resources, manufacturing, tourism and services. 
Though two-way trade grows over years, Vietnam's exports to the Middle East only account for more than 1 percent of the region's total imports. Though the region is strong in oil and gas, chemicals, manufacturing materials, industrial and high-tech goods, trade with Vietnam remains limited. 
Hoa advised Vietnamese firms to understand business customs as well as necessary regulations on exports to the region. In particular, foodstuff needs Halal certification, adding that they should check records of partners and discuss the least risky payment before signing contracts and delivering goods. 
Do Hoai Nam, Vice Chairman of the Vietnam Coffee – Cocoa Association, said the region boasts huge demand for rice, coffee, pepper and aquatic products. 
He suggested accessing the Middle East market via Dubai – one of the most open economies and a transit hub in the region, and joining annual trade fairs in Dubai to directly meet regional buyers. 
On the occasion, the UAE's Relam Investment and Vietnam's MIG Holdings signed a cooperation agreement to launch Trade Hub in Vietnam – a platform operating in many countries to connect online trade. 
MIG Holdings Director Nguyen Duy Phuong said Trade Hub Vietnam is due to go into operation in July 2018, connecting manufacturers, services suppliers, financial organisations and investors together. 
He added that Trade Hub will help small and medium-sized enterprises in marketing and trade promotion and share logistics services for small orders. 
Executive Director of Savil Vietnam Neil Madgegor said the Middle East's investment in Vietnam tends to increase, mostly in real estate and high technology. 
In order to attract the Middle East investment, he said Vietnamese firms need to improve transparency, corporate governance and workforce quality, thereby promoting bilateral partnership.-
Indexes' recovery greens stock market
VN Index regained almost 16 points on May 11 after a tumble on the previous day, helping the stock market end green on the week's last trading day.
On the HCM Stock Exchange (HOSE), sellers still dominated in the morning, making the benchmark index fluctuate around 1,020 points.
In the afternoon, a money inflow appeared and strongly shored up VN Index.
Prices of key stocks bounced back with such shares as SAB, VIC, GAS, VIC, BID and CTG standing higher than the reference point at the end of the trading session.
Bank stocks grew by 3.29 percent while utilities and property stocks respectively rose by 4.89 percent and 2.35 percent.
VN Index increased by 15.98 points to 1,044.85 points. HNX Index on the Hanoi Stock Exchange (HNX) inched up 1.82 points to 122.77 points, and UPCoM Index on the Unlisted Public Company Market (UPCoM) was up 0.05 point to 56.08 points.
Liquidity fell sharply on May 11. Total transaction value of the market was low, nearly 4.742 trillion VND (208.4 million USD).
Vietnam attends AgriTech 2018 in Israel
Representatives from Vietnamese Ministry of Agriculture and Rural Development and businesses participated in the 20th International Agricultural Exhibition and Conference (Agritech 2018) in Israel on May 8-10.
The event offered an excellent opportunity for agro-enterprises to share experience in various fields such as ecological agriculture, fertilizers and chemicals, animal husbandry and milk production, net house cultivation, biotechnology, organic agriculture, fisheries, floriculture, plant protection, and marketing and export services.
Agritech 2018 is one of the world's most important exhibitions on hi-tech agriculture organized by Israeli Ministry of Foreign Affairs and Ministry of Economy once every three years since 1958 with the aim of promoting Israel's advanced technologies and connecting Israeli businesses with foreign partners.
This year's event featured over 250 pavilions and attracted over 10,000 visitors. 
The same day, a business forum between Vietnam and Israel was held. 
Director General of Israel's Ministry of Agriculture and Rural Development Shlomo Ben Eliyahu said business communities play a crucial role in promoting the cooperative relations between the two countries.
Deputy head of the Communist Party of Vietnam (CPV) Central Committee's Commission for External Relations Nguyen Huy Tang said Agritech 2018 enabled Vietnamese businesses to study the latest technologies that are being applied in agriculture in Israel as well as seek cooperation opportunities with Israeli agro-companies.
Despite geographical distance, the two countries have enjoyed sound relations in wide-ranging fields, according to Tang.
This year, Vietnam and Israel mark the 25th anniversary of diplomatic ties, he said, adding that over the past 25 years, the bilateral collaboration has been stepped up across the board, particularly in science-technology and agriculture.
Since 2014, the two-way trade has continuously grown, at over 1 billion USD per year, he noted.
Israel is running 27 foreign direct investment (FDI) projects in Vietnam with a total registered capital of more than 66 million USD, he said, adding that the two countries are pushing ahead with negotiations on the bilateral free trade agreement (FTA).
Tang said he hopes the Vietnam – Israel FTA will be signed soon, creating a legal framework for and facilitating bilateral trade.
Deputy Minister of Agriculture and Rural Development Hoang Van Thang expressed his confidence in the stronger cooperation between Vietnam and Israel, especially in agriculture. 
Addressing the forum, Vietnamese Ambassador to Israel Cao Tran Quoc Hai said the Vietnamese Government and people attach much importance to the comprehensive cooperation with Israeli State and people.
He highlighted remarkable achievements in the bilateral collaboration in economy, politics, culture, security and defence.
Notably, two-way trade hit 1 billion USD in 2017, fivefold against 2009, he raised the fact.
The two sides have conducted four rounds of negotiation for the bilateral FTA with important agreements expected to be reached soon, he added.
According to the Ambassador, apart from economic and trade cooperation, many Vietnamese localities and businesses and Israeli partners have successfully transferred technologies to carry out hi-tech agricultural projects including dairy production of TH True Milk and growing vegetable in greenhouses of Vingroup.
He highlighted the significance of the forum, which aimed to put forth orientations to strengthen economic partnership between Vietnam and Israel in the future as well as establish a foundation for business connectivity and update businesses with investment cooperation opportunities.
Pepper output increases sharply but prices fall
Vietnam's output and export of pepper increased sharply last year, but their prices and thus turnover from exports fell, according to the industry association.
The Vietnam Pepper Association (VPA) and industry-related authorities attended a meeting on May 11 in HCM City to review last year's performance.
According to the Ministry of Agriculture and Rural Development and the General Statistic Office, Vietnam has around 150,000 hectares under pepper and output last year was 240,000 tonnes, or 48 percent of global production.
According to the VPA there was a decrease in the use of pesticides last year since farmers are more aware these days of better farming techniques.
Prices have been highly volatile: the price of black pepper for instance declined from 133,000 VND per kilogramme in January to 73,000 VND in December.
The General Department of Vietnam Customs said 215,000 tonnes of the spice were exported for 1.1 billion USD, respectively up 20 percent and down 22 percent.
The reasons for the falling prices include climate change, a massive spike in the area under pepper, farmers' inexperience, which have contributed to rising outputs but with poor quality.
In the first quarter of this year prices were around 30 percent lower than a year ago, the VPA said.
Vietnam's exports this year are expected to be comparable to that of last year since the industry will continue to face all the current challenges such as climate change and diseases.
VPA plans to work more closely with farmers and businesses to help them comply with regulations and standards for pepper production and export and provide market information to help them make suitable decisions.
The Western Highlands Agriculture and Forestry Science Institute said they were researching into better pepper strains capable of withstanding diseases.
Willem Scato van Walt Meijer, General Director of Nedspice Processing Vietnam Ltd., which has been operating in Binh Phuoc province for the last five years, said quality control for exports and working closely with farmers were the keys to resolving the problems.
"We have a network of 1,600 farmers and trained them very carefully, and do 100 percent tracking and tracing of all our farms, which allows us to help certain farmers improve, monitor the effectiveness of each farmer, and reward outstanding farmers."
Minister of Agriculture and Rural Development Nguyen Xuan Cuong had said at a meeting in January that the rapid increase in land under pepper should be addressed quickly and the pepper farming land should be reduced.
Air freight costs stymie fruit exports
Vietnamese air freight costs are much higher than the regional average and this is believed to be one of the main reasons hindering Vietnam's fruit exports.
"We mostly export fresh mango, logan, litchi and dragon fruit to demanding markets like Australia, Japan and the Republic of Korea by air because such fruits cannot be sent by sea," Dam Quang Thang, General Director of Agrice Vietnam company, told Thanh Nien (Youth) newspaper.
Thang said his company has to use Thai, Malaysian and Singaporean airlines because their cost "is half or one third their Vietnamese counterparts". Thang said.
For each kilogramme of fruit worth 1 USD, his company pays 2-3 USD in freight, he revealed.
"We pay 2.9-3.2 USD for a kilogramme [if the consignment is] less than 1,000kg when shipping to Europe by Vietnamese carriers but only 1.2 – 1.8 USD with Thai carriers."
His company had lost several orders from the RoK to Thai rivals because of price, he said.
Nguyen Manh Hung, General Director of Nafoods Group, said: "The high air freight cost is the biggest hurdle to the development of Vietnamese fruit exports."
Due to the high cost, his company can only export around 1,000 tonnes of passion fruit, he said.
"If we can reduce transportation costs, we can sharply increase our quantity."
The issue was raised by Ta Duc Minh, Vietnamese commercial counsellor in Japan, at a ministry meeting held last February to discuss boosting fruit exports.
Vietnamese fruits cost more in Japan than those from faraway Thailand and Ecuador because their freight costs are much lower, Minh said.
Due to the high logistics costs, Vietnamese fruits are now exported only to Japan, the RoK and China.
Even large companies can only export a few thousand tonnes of fruits a year to more distant markets like America and Europe, according to a senior official in the Ministry of Industry and Trade's American and European markets department.
"Fresh fruits can only be exported by air, and logistics account for a big chunk of their price," Nguyen Quoc Toan, head of the Ministry of Agriculture and Rural Development's agricultural product processing and market development department, said.
"High air freight costs are limiting the competitiveness of Vietnamese fruits in the international market."