US Department of Agriculture and US Grains Council representatives welcome historic corn shipment to Vietnam
According to an official announcement by the US Embassy, US Department of Agriculture and US Grains Council representatives, with the assistance of the Quang Ninh Port Joint Stock Company in the Port of Cai Lan, welcomed the first direct shipment of US corn to Vietnam on May 3.
The shipment, which was 67,000 metric tons of US corn that arrived from the US Pacific Northwest, is the first vessel to arrive after USDA and Vietnamese plant health officials agreed to a new plant health protocol in September of last year.  The shipment is also the first of many US shipments of corn and other feed ingredients destined for Vietnam, which include soybeans, soybean meal and distiller's dried grains. 
The corn and feed ingredients are destined for Vietnam's rapidly expanding dairy and livestock sectors. Vietnam, which produces approximately 30 million metric tons of feed per year, has emerged as a leading market for US corn and feed ingredients, with US exports of these products nearing $700 million annually. Vietnamese importers in attendance noted the high quality of the corn and the importance of strong relationships with US suppliers. The U.S. Grains Council provides trade servicing to Vietnamese feed and livestock producers to support the export of US grains.  
At a separate meeting, the delegation discussed port and trade developments with local Port Authority Representatives and Plant Protection Department Representative of the Ministry of Agriculture and Rural Development. 
HCM City gets 6th safe farm produce market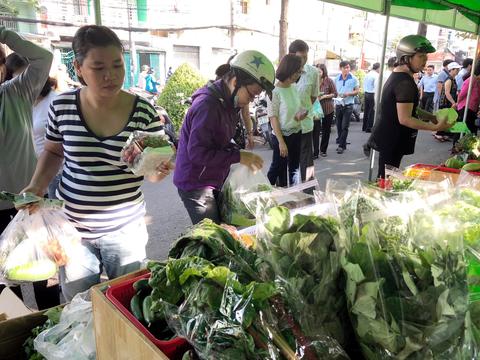 The HCM City Department of Agriculture and Rural Development opened the city's sixth safe farm produce market in Binh Phu Park in District 6 on May 6.
Each market, held on Sundays, has 20-30 local and other co-operatives and farms taking part and selling fruits and vegetables, poultry, pork, and seafood.
Nguyen Van Truc, deputy director of the department, said only products with food safety certification such as VietGap and GlobalGap can take part.
The fair organisers regularly check the quality of produce and randomly test fruit and vegetable samples for plant protection residues, he said.
The department plans to set up 10 such markets to bring together producers and buyers, he said.
The department opened the first market in August 2016 at Dong Ho Restaurant in District 10, he recalled.
Around 500-1,000 people shop at each market every week, he said, adding that exhibitors also sign supply agreements with canteens and restaurants.
At the opening ceremony on Sunday, the Saigon Agricultural Products Chain Joint Stock Company signed agreements with four traditional markets, Binh Tay, Binh Tien, Minh Phung, and Phu Lam, to supply safe farm produce.
The other four markets are at Le Van Tam Park in District 1, Le Thi Rieng Cultural Park in District 10, Tan Binh District Sport and Cultural Centre, and Quarter 6, Street No.19, in Binh Tan District's Binh Tri Dong B Ward. 
Delta improves PCI ranking     
The Cuu Long (Mekong) Delta region have improved their rankings in the Provincial Competitiveness Index (PCI), the head of Viet Nam Chamber of Commerce and Industry (VCCI)'s legal department has said.
Speaking at a conference in PCI in 2017 held in Can Tho last week, Dau Anh Tuan said the PCI of the delta had risen rapidly last year, with some provinces leading the country in areas such as administrative reform.
Delta authorities, for example, created the "Business Coffee" model in Dong Thap Province and an "Every Monday" meeting with businesspeople in Can Tho City.
Pham Thi Ngoc Dao, deputy director of the provincial Department of Finance, said the meetings allow authorities and local enterprises to discuss problems and come up with solutions.
Despite the progress in the PCI, the Delta's index of quality labourers has not yet changed in the last five years, and labour training facilities have improved only slowly, according to Nguyen Phuong Lam, deputy director of VCCI in Can Tho City.
To attract investment from big enterprises, high-quality labourers play an important role.
Only 10 per cent of labourers are trained in the delta, which has 10 million workers, as compared with the average level of labourers of 20 per cent in the country, according to a report in Tuoi Tre (Young) newspaper.
The delta should have plans to attract high-quality labourers to the area, Tuan said.
The other barriers include lack of good services to assist enterprises, and limited quality of execution in some departments and sectors.
Vu Tien Loc, chairman of VCCI, said that to solve the problem, the authorities of the delta should create a District Competitiveness Index (DCI) like the northern province of Quang Ninh.
The index measures the efficiency of economic management of the local government through eight criteria, including transparency, pro-active leadership, time costs of regulatory compliance, informal charges, policy bias, legal institutions, business support and accountability of leaders.
In 2016, Quang Ninh ranked second out of 63 provinces and cities in provincial competitiveness index. 
Conference on sustainable development of cashew sector     
The cashew sector needs to restructure to achieve sustainable development, the Ministry of Agriculture and Rural Development has said.
A report it tabled at a cashew development conference in Binh Phuoc Province on May 5, said the country had 337,143ha under cashew at the end of last year, 4,410ha up from 2016.
Since 2014, intensive farming techniques had increased productivity from less than one tonne per hectare to 1.2 tonnes, but it fell again in 2016 and 2017 due to the impacts of drought, unseasonable rains and diseases.
There are more than 465 cashew processors with a total capacity of over 1.4 million tonnes a year, but nearly 70 per cent are small in size.
There are around 20 large enterprises who make 15,400 tonnes of highly processed products like salt-roasted, butter-roasted and honey-roasted cashew, wasabi cashew, roasted sesame cashew, cashew nut candies and cookies and others for export.
Viet Nam has been the world's largest cashew exporter for many years, with shipments last year topping US$3.6 billion worth.
However, the sector is not very efficient.
Delegates at the conference blamed this on the fact too many enterprises are involved in exports. Many exporters do not even have processing facilities but buy nuts and export small volumes, creating unhealthy competition and affecting overall exports.
Thus, exports of highly processed cashew accounts for only 5 per cent while semi-processed items account for the rest, they said.
The sector faces challenges like low productivity, diseases, unfavourable weather and lack of linkages between production, processing and consumption.
Delegates said cashew productivity could increase by 30-40 per cent if advanced cultivation techniques become widespread.
This is a key requirement to develop the industry though other solutions such as replacing old trees, linking stakeholders in the production chain and increasing the rate of highly processed items should be focused on to enable sustainable development, they said.
Minister of Agriculture and Rural Development Nguyen Xuan Cuong said his ministry would focus on restructuring the sector with an emphasis on keeping the area under cultivation at 300,000ha and measures to double or even triple productivity.
Businesses should invest in intensive processing and reorganise the production chain from production to export to enhance efficiency, he said.
He urged them to develop the domestic market with top priorities given to high-quality products they could sell to tourists.
The ministry would collaborate with the Viet Nam Cashew Association to organise the Golden Cashew festival every year to promote cashew products, he said. 
Vietnamese enterprises in Japan seek to strengthen linkages     
The Vietnamese Business Association in Japan convened its congress for the second tenure (2018-20) on May 6, seeking ways to better connect Vietnamese businesses.
Speaking at the event, president of the association in the first tenure, Dinh Ngoc Hai, said after five years of formation and development, the association had gained initial achievements, contributing to connecting the two countries' enterprises, particularly those from Japan and Viet Nam's Can Tho City and Ca Mau provinces.
However, Vietnamese ambassador to Japan Nguyen Quoc Cuong said the connectivity between Vietnamese enterprises was not strong enough.
He hoped the second-tenure executive board would take more specific and practical measures to better connect Vietnamese enterprises in Japan as well as Vietnamese enterprises and Japanese partners.
Viet Nam-Japan relations were developing strongly, creating space for Vietnamese enterprises to integrate more deeply into the Japanese market, Cuong added.
At the congress, a new executive board of the association was selected with 11 members, including one president and four vice-presidents.
Vu Hoang Duc, the association's new chief, committed to helping the association grow further to become a trusted platform linking the two countries' businesses. 
Home Credit moves to fintech     
Consumer finance company Home Credit Vietnam Finance Company Limited has announced that it is becoming a financial technology company to enhance customer service.
It said it is focusing on building big data to set up a fully automatic contract approval process, greatly easing the application procedure for customers.
One of the technology advances it has made is applications on mobile devices.
After it was launched in March 2017, the app was downloaded 1.5 million times as of the end of the year.
New customers can register for cash loans of up to VND80 million (US$3,500) online through the mobile app.
Ten years after it came to Viet Nam, the Czech company has more than 9,400 points-of-sale nationwide and signed up an average of one million new customers a year, 60 per cent of them in the 20 – 30 age range. 
Tight credit cools City real estate     
With banks tightening credit to the property sector the HCM City market is cooling off, traders said.
In District 9 for instance, unlike a month ago, many people are offering to sell their lands but cannot find buyers.
The offers are much higher than bids, a broker said.
Huu Tin, a broker from Binh Tan District, told Nguoi Lao Dong (The Labourer) newspaper there have been no transactions for a week.
He has a 50sq.m house on Do Nang Te Street for sale for VND4 billion (US$175,000), but there are no takers, he said.
Even recently everything on offer was being snapped up immediately, he said.
Le Thi Hong Tham of District 7 told Viet Nam News she invested VND1.7 billion ($74,5000) to buy a piece of land near Long Hau Industrial Zone in Long An Province just off HCM City and sell it immediately.
"Earlier, land could be re-sold within three or four days of buying. But now, half a month has passed but I have been unable to sell it."
A broker in District 12 said she no longer accepts offers for sale because there are no buyers.
The deputy director of a real estate company in District 2 said in the last week or so the market has lost steam.
While a month ago he was closing five to seven deals every day, it has come down now to just one or two, he said.
According to insiders, the main reason for the slowdown is the tightening of credit by banks.
Banks have started hiking interest rates on loans for buying property.
The Viet Nam Export – Import Commercial Joint Stock Bank has increased interest by 1 percentage point to 11 per cent on all loans including buying new property or upgrading housing.
Other banks have increased the rate to 12-12.5 per cent.
Besides, lenders have cut the loan amount from 70 per cent of the property's value to 30-40 per cent.
A Sacombank credit official told Viet Nam News on condition of anonymity that there has been no official guidance from her bank's leaders on interest rates.
Her bank also limits the amount of loans for buying lands in places where the market has been hot like Districts 2, 9, Cu Chi and Nha Be. 
Domestic cement consumption up, export rises sharply
The country's cement consumption in the first four months of the year posted a year-on-year increase of 13 per cent to reach 29.83 million tonnes.
These statistics were revealed by the Department of Building Material under the Ministry of Construction.
In April alone, cement consumption in the country reached 8.77 million tonnes, increasing by 10 per cent compared to the same period last year and meeting 25 per cent of the annual target.
Remarkably, cement consumption in the domestic market has grown again.
In April, cement sold in the domestic market rose by five per cent over the corresponding period last year to 6.32 million tonnes. The country exported 2.45 million tonnes of cement in April, a year-on-year increase of 30 per cent.
Cement exports in the first four months of the year reached 9.98 million tonnes, representing a year-on-year increase of 29 per cent. 
First direct shipment of US corn arrives in Vietnam
The first direct shipment of US corn to Vietnam has arrived in the country with the assistance of the Quang Ninh Port Joint Stock Company in the Port of Cai Lan, the United States Department of Agriculture (USDA) and the United States Grains Council representatives. 
The shipment of 67,000 metric tonnes of corn that arrived from the United States Pacific Northwest is the first vessel to arrive after USDA and Vietnamese plant health officials agreed to a new plant health protocol in September in 2017, according to the US Embassy in Vietnam.
The May 3 shipment is also the first of many US shipments of corn and other feed ingredients destined for Vietnam, including soybeans, soybean meal and distiller's dried grains. 
The corn and feed ingredients are destined for the rapidly expanding dairy and livestock sectors of Vietnam.
Vietnam, which produces approximately 30 million metric tons of feed per year, has emerged as a leading market for US corn and feed ingredients, buying nearly 700 million USD of these products from the US annually.  
Vietnamese importers present at the reception of the shipment noted the high quality of the corn and the importance of strong relationships with US suppliers. The US Grains Council provides trade servicing to Vietnamese feed and livestock producers to support the export of US grains.
Vietnam businesses urged to use trade fairs to boost export to China
Vietnamese firms will have many opportunities to promote exports to China via the China International Import Exposition (CIIE), which will be held in Shanghai city from November 5-10, said Hu Suojin, Trade Counsellor of the Chinese Embassy in Vietnam.
Farm produce and consumer goods are among Vietnam's strengths, he said, noting that China bought 1.3 billion USD worth of farm produce from the Southeast Asian country. 
Vietnam's footwear export to China also increased 40 percent this year in the first two months of the year. 
Director of the Vietnam Trade Promotion Agency (VTPA) under the Ministry of Industry and Trade Vu Ba Phu said Vietnamese businesses will open 60 pavilions at the CIIE, displaying various kinds of products such as farm produce, processed food, consumer products and trade services. 
He said the CIIE is one of the most important trade promotion activities this year, adding that firms which participate in the event will receive support in pavilion rental fee, travel expense and other costs. 
According to the VTPA director, in order to enhance export to China's market, Vietnamese firms need to attend trade fairs in the country such as the ASEAN-China Expo and Kunming Fair.
Phu also advised businesses to work to increase the quality of products, build brand names, and improve packaging and designing. At the same time, they need to update information about the market, import-export policies, and customers' demand in different Chinese localities. 
Bilateral trade between Vietnam and China reached 93.69 billion USD in 2017, with Vietnam registering a trade deficit of 22.76 billion USD. 
Two-way trade may reach a record 100 billion USD this year.
Hanoi draws 744 million USD of FDI in four months
Foreign direct investment in Hanoi amounted to 744 million USD in the first four months of 2018.
According to the municipal report on its implementation of socio-economic development plan, between January and April, of the total FDI amount, 498.6 million USD was poured into new projects, 55.4 million USD was added to existing projects, and 190 million USD was invested in company stakes.
During the period, Hanoi also approved 21 privately financed projects with total investment of 16.3 trillion VND (717.2 million USD).
The authorities also licenced the establishment of 8,139 new enterprises, with their registered capital totaling at over 78.2 trillion VND (3.44 billion USD). The value represented an annual increase of 27 percent.
The capital city absorbed 3.4 billion USD in FDI last year.
Tra Vinh calls for investment in industrial, agricultural projects
The Mekong Delta province of Tra Vinh is giving priority to calling for investment in 59 projects in the fields of industry and agriculture between 2018 and 2025.  
Under the list of prioritised projects announced on May 7, the province hopes to attract investment in 45 industrial projects and 14 agricultural ones.
Those include a project to build an aquatic product processing factory with a capacity of 32,000 tonnes per year; a 40,000-tonne vegetable and food processing plant; a cattle and poultry meat processing factory with a capacity of 20,000 tonnes per year; and a 270MW-wind power plant.
Besides, a high-quality rice production and processing plant with an area of 1,000 ha and a plant to produce peanut with a total area of 2,000 ha will also seek investors. 
The projects will focus on producing high-tech products, clean farm produce by tapping potential in terms of materials and competitive advantages, thus increasing the added value of products. 
Investors pouring investment into these projects will enjoy incentives related to land clearance, expenses for building technical infrastructure, production activities, processing and persevering farm produce, and environmental protection.
Matthys van der Lely officially in charge of Masan meat business
Matthys van der Lely has officially become managing director to lead and develop the meat business at Masan Nutri-Science Corporation, Vietnam's largest fully-integrated branded meat platform, according to a company statement released today.
Matthys van der Lely is a seasoned executive with 30 years of experience across retail formats and developing branded meat businesses in Southeast Asia.
In his most recent role, as senior vice president of Mergers and Acquisitions, Business Development and Retail, he was responsible for building out Bounty Fresh's retail business from the ground zero and has successfully turned the business into the Philippines' second largest branded meat player while delivering strong profits.
"I am excited to lead and accelerate Masan Nutri-Science's vision of being the leading provider of safe and affordable meat products. Based on my experience, I strongly believe the Vietnamese meat market will evolve from predominantly warm fresh meat to chilled meat. Chilled meat will be the new standard as it is more delicious and hygienic," said van der Lely.
"With Masan's 3F (Feed-Farm-Food) meat platform, I am confident we will deliver Vietnamese consumers the best chilled meat products at affordable price points. I look forward to working with the Masan team to make this vision a reality in the near future," he added.
With Masan's 3F meat platform, I am confident we will deliver Vietnamese consumers the best chilled meat products at affordable price points.
According to Masan Nutri-Science CEO Pham Trung Lam, the firm was established with the end goal of becoming a consumer meat company and they will launch the first branded, chilled meat products in the fourth quarter of this year.
"The appointment of van der Lely will enable us to scale-up our meat business faster as he has a proven track record in other Southeast Asian markets and has strong entrepreneurial spirit. His skill set and experience strongly compliments our team and is core to our philosophy of combining international expertise with deep local understanding and know-how," Lam said.
Vinalines subsidiary proposes two new terminals at Lach Huyen Port
The total investment of the project at Lach Huyen International Gateway Port is VND6.946 trillion ($307 million), 45 per cent of which will come from Haiphong Port JSC and the remaining from loans.
Haiphong Port JSC (under Vietnam National Shipping Lines–Vinalines) has just sent a document to the Ministry of Transport proposing to build two container terminals in Lach Huyen Port (at DEEP C Industrial Zones in Cat Hai district).
Accordingly, the firm proposed to build the two container terminals with the total length of 750m and the capacity to receive 100,000-DWT ships. Additionally, the proposal would also include a barge berth where 100-160-TEU barges could arrive. Technical items will be built synchronously to meet the flow of 1-1.1 million TEUs of goods annually.
The total investment of the project is estimated at VND6.946 trillion ($307 million), 45 per cent of which would come from Haiphong Port JSC and the remaining from loans. If the Ministry of Transport (MoT) approves the project, it will be developed this year.
In addition to cargo transportation, the project contributes to the key role of Haiphong Port JSC and Vinalines in the maritime sector.
According to Decision No.2367/QD-BGTVT dated July 29, 2017 of MoT on approving the plan of the northern seaports by 2020 with a vision to 2030, Lach Huyen Port will be prioritised for development to raise its capacity and contribute to Vietnamese and international goods export-import activities. The port is estimated to have nine terminals with total length of 3,000m by 2020.
Overseas entrepreneurs from South Korea eye opportunities in Vietnam
YBLN Hanoi Forum 2018 was held in Hanoi for the first time with the participation of over 60 South Korean young business leaders that are operating in various countries and are closely following investment opportunities in Vietnam.
New South Korean Ambassador to Vietnam Kim Do Hyun, chairman of Young Business Leaders Network Kim Han Shin (YBLN), and Vietnamese Deputy Minister of Planning and Investment Vu Dai Thang attended the forum.
Ambassador Kim Do Hyun has just started his tenure in Vietnam on May 6. The forum is the first large foreign affairs events he attends after arriving to Vietnam. He has been the director of the international relations department and international markets development department of Samsung Group before being appointed as South Korean Ambassador.
YBLN Hanoi Forum 2018 is being held on May 6-10, 2018 in Hanoi, offering market research activities, business workshops, site visits to surrounding areas of the capitol and Danang city.
After 30 years of renovation, international integration, and maintaining high growth rates, Vietnam has become a middle-income country with nearly $230 billion of GDP and a golden population structure. Striving for openness, Vietnam has joined 11 FTAs with the total trade turnover of over $420 billion.
As a result, Vietnam has been the most attractive investment destination in the ASEAN, luring in over $320 billion of FDI capital from 126 countries. The investment climate has been improving, costs are falling, and more and more preferential investment policies are issued.
"A developed and integrated Vietnamese market is an opportunity and motivation for South Korean businesses to evolve co-operation and investment activities. We will join at deeper levels and reach higher in the global value chains. Vietnam commits to facilitate a transparent and favourable business climate, as well as create a fair playing field in all economic sectors, including South Korea businesses," emphasised Deputy Minister Vu Dai Thang at the YBLN Hanoi Forum.
Established in 2002, YBLN gathers young leaders from the leading South Korean businesses operating overseas. These businesses have been developing over the years and are creating a global economic network with South Korea at its centre. Earlier, this forum has been held in Singapore in 2011, Jakarta in 2013, Frankfurt in 2015, Sydney in 2016, and New York in 2017.
South Korea is Vietnam's largest FDI partner with nearly $60 billion of registered capital, the second biggest partner in bilateral development and tourism, and third largest trade partner. South Koreans make the most populous foreign community in Vietnam.
In last March, South Korean President Moon Jae-in and Vietnamese State President Tran Dai Quang promised to further elevate the strategic cooperative partnership. As part of this process, two-way trade turnover will be raised to $100 billion by 2020 from the $64 billion in 2017.
MVL Chain to bring blockchain-based ride-hailing app to Vietnam
Since Uber left Vietnam, both foreign and domestic firms race to launch ride-hailing services, setting themselves apart from Uber and Grab to gain market share. One of the latest players is Singapore-based transportation startup MVLchain, which owns the Grab-like platform MVL and is planning to utilise blockchain technology for the first time in Vietnam.
Speaking at the introduction conference organised in Ho Chi Minh City on May 5, CEO Kay Woo stated that Vietnam is considered a key market of MVL (Mass Vehicle Ledger) and that the firm submitted the dossiers to establish a legal presence in Vietnam and operate as an IT firm.
MVL will start to recruit drivers within this month and in case the dossiers are approved on time, the firm will launch the app in July. Drivers will not have to pay commission and the company will make a profit from selling data generated from its daily operations to insurance and market survey companies. This way, the firm expects to attract more drivers.
Besides, the firm targets acquiring a 25 per cent market share of all four-wheel and two-wheel vehicles in Vietnam.
According to CEO Kay Woo, the advantage of the firm's ride-hailing app is using blockchain technology, which utilises a growing list of digital records which are linked and secured using cryptography. A blockchain system can act as a secure, open, and transparent distribution ledger to record transactions between two parties. Blockchain technology can be applied to manage assets, contracts, and global payments.
Kay Woo added that along with the advantage of using blockchain technology, the firm will focus on luring in customers via a low-fare policy instead of pouring money into promotion programmes like Grab and Uber.
Along with MVL, international and local firms are ready to join the ride-hailing race. The Fastgo ride-hailing app is ready to be launched after three years of software development. The app is built by Mpos Vietnam Technology JSC after the order of a large-scale taxi firm from Indonesia and Taxi Open99 Group from Vietnam.
Fastgo offers advantages for both drivers and customers. Notably, with the exception of a fee to join the app, drivers will not have to pay commission to the operators of Fastgo.
Customers will enjoy lower fares than with both traditional taxi brands and Grab. Besides, customers will be insured against any incident occurring during the trip, including traffic accidents or personal injured due to conflict with the driver.
Besides, Phuong Trang Futa Group, a leading passenger transportation and parcel delivery company in Vietnam, invested VND2.2 trillion ($96.53 million) into developing the ride-hailing app Vivu and changed its name into Vato.
Vato will not lure in customers via promotion programmes. Instead, it will offer numerous advantages compared to its competitors.
Notably, drivers and customers can discuss the fare based on an initial fare issued by Vato. For example, after a customer orders a vehicle for a 5-kilometre ride, Vato will offer a fare of VND50,000, which the customer can then discuss with the driver.
Besides, Vato's base fare is VND8,500 per kilometre (similar to the fare of Uber), however, it only charges a 20 per cent commission, 5 per cent less than Uber.
Furthermore, once customers download the Vato app, they will be able to order vehicles from other taxi firms, including Mai Linh and Vinasun.
Furthermore, China-based ride-hailing player Didi Chuxing is waiting for the Vietnamese government's approval to start operations in the country. In addition, motorcycle ride-hailing transportation provider Go-Jek from Indonesia has gathered a team of experts to advise its expansion in Vietnam to break the dominance of Grab.
Frasers Property to acquire Phu An Khang for $18 million
Singapore-based Frasers Property Limited, formerly known as Frasers Centrepoint Limited, is to acquire 75 per cent of the issued share capital of Phu An Khang Real Estate JSC.
Frasers Property recently announced that its indirect wholly-owned subsidiary Frasers Property Investments (Vietnam) 1 Pte., Ltd. (FPIV1) has entered into a conditional share purchase agreement with Tran Thai Land Company Limited to acquire 24 million ordinary shares.
These shares represent 75 per cent of the issued share capital of Phu An Khang Real Estate JSC.
The completion of the proposed acquisition is subject to the fulfilment of the conditions set out in the acquisition agreement, Frasers Property's statement said.
If the proposed acquisition is completed successfully, Phu An Khang will become a subsidiary of Frasers Property. It is intended that Phu An Khang will undertake the development of a residential-cum-commercial project on a mixed-use development plot in District 2, Ho Chi Minh City.
The aggregate consideration for the proposed acquisition is VND408.6 billion (approximately $18 million).
The consideration was arrived at on a willing-buyer, willing-seller basis based on the estimated net asset value of Phu An Khang at completion, taking into account the value of the property.
The proforma net asset value of Phu An Khang based on its unaudited financial statements is expected to be VND544.8 billion (approximately $24.2million) on completion of the proposed acquisition.
Frasers Property further added that the consideration will be fully satisfied in cash on the occurrence of stipulated events as set out in the agreement and will be funded by the group's internal cash resources and/or external bank borrowings.
Frasers Property Vietnam made its maiden foray into Vietnam in 1999 with the development of 22-storey retail/office building Me Linh Point Tower in District 1, the central business district of Ho Chi Minh City. Since then, it has embarked on a mixed development project in District 2, Thao Dien ward.
Vinhomes makes stock exchange record in market capitalisation
Vinhomes, a subsidiary of Vingroup, expects to list 2.68 billion shares on the Ho Chi Minh City Stock Exchange on May 17, reaching a record market capitalisation of $13-13.5 billion.
As one of the leading real estate developers in Vietnam, Vinhomes are currently implementing projects in 40 cities and provinces across the country. It also owns numerous golden land plots in Hanoi, Ho Chi Minh City, Haiphong, and Danang, among others.
As of March 31, Vinhomes reported its asset value of VND94.69 trillion ($4.16 billion) and charter capital of VND38.24 trillion ($1.68 billion). The apartment sales volume in 2015-2017 made up 15 per cent of the country total.
The firm has released its financial statement for the first quarter of this year. Notably, it earned VND10.53 trillion ($462.6 million) in net revenue and VND3.98 trillion ($174.8 million) in after-tax profit, tripling and quintupling its performance from last year.
Recently, Singaporean sovereign wealth fund GIC issued plans to purchase ordinary shares and extend a debt-like instrument to Vinhomes, subject to the satisfaction of mandatory regulatory and other conditions. The combined value of the investment and debt instrument is approximately VND29.5 trillion ($1.3 billion).
GIC is one of the largest investment funds in Vietnam. It currently holds a 5 per cent stake in Masan Group, 5 per cent in VietJet, 0.7 per cent in Vinamilk, and 3.5 per cent in FPT. Its total holdings reach a total value of VND15 trillion ($658.6 million).
DeAura scam hard case to punished?
DeAura, in collaboration with FE Credit, enticed thousands of customers to sign loan agreements of nearly $2,000 each without any financial check.
DeAura set foot in Vietnam just two years ago, during which a lot of scandals point out dishonest business practices. Dozens of customers have visited the company headquarters to ask for a refund on DeAura's skincare products.
Nguyen Thi Hoi coming from Thach That district (Hanoi) was very tired and said that after clicking "Like" on facebook by accident, she was invited to try DeAura's beauty services and put into loan trap of VND43 million ($1,900).
After trying the product on half of her face, she was invited to buy a set of skincare products at the preferential price of VND43 million ($1,900) (the original price was VND73 million–$3,200). Hoi denied numerous times because she was unemployed at the time.
However, DeAura officers enticed her with sweet words that she should spend only VND50,000 ($2.2) a day to become more beautiful. She was offered to take the set right after trying and could return if she did not like it. DeAura gave out a series of papers to pass off as a purchase agreement.
"She did not let me read it, I could only sign without reading it and finding out that it was a loan agreement. I thought it was a present and that I only have to pay if I come to the spa and use their services. If I knew it was a nearly $2,000 loan agreement, I would not have signed. I have tried to return the brand new product set, but could not," recounted Hoi.
Numerous DeAura customers said that they did not know that they signed a loan agreement. They only found out that each of them had just borrowed nearly $2,000 after opening the box at home.
A customer called Le Thi Nhung (Hanoi) said: "When I arrived at DeAura Spa, I was led into a private room and drank the water of the spa, then some staff came in to persuade me to sign the contract. I was disoriented and did whatever they told. When I wanted to return the products, they asked me to pay a penalty of VND7 million ($300)."
According to feedback from numerous customers, their skin looked better after the first treatment at DeAura Spa, but treatment at home (using the same products) did not bring results, some even contracted acne.
Tran Thuy Linh (Hanoi) said that her face was swollen and pimples came out all over her face for one month. She has a certificate from the hospital, but DeAura has not allowed her to return the products and asked confirmation from a doctor appointed by DeAura.
Most DeAura customers told VIR that they signed the loan agreement without understanding what it was. They also said that DeAura in collaboration with a consumer finance company misrepresented the agreement and trapped them to sign loan contracts, essentially committing fraud.
On the social networks, numerous groups named "DeAura scam" have been established with thousands of members joining. This may be one of the reasons why DeAura had to be renamed. The parent company was renamed to Venesa in last March, while its spas also took on the names Lily, Aphrodite Eros, Camellia, Freyja, and Venus.
23,000 people purchased DeAura's products. However, many of these are unemployed, freelancers or workers with very low incomes (VND2-3 million, around $100 per month). However, in the loan contract, their incomes were noted to exceed VND10 million ($440) to meet the loan conditions.
Banking experts said that DeAura and a financial company under Vietnam Prosperity Joint Stock Commercial Bank (VPBank) have violated moral principles and Circular No.43/2016/TT-NHNN dated December 30, 2016 regulating consumer lending by finance companies.
However, according to lawyer Truong Thanh Duc, chairman of Basico, it is very hard to penalise DeAura.
"Regardless of whether DeAura and the consumer finance firm cheated or provided unclear advices, customers cannot refuse after signing the contract," he said.
He also warned consumers to keep an eye out and educate themselves as firms like DeAura are spreading fast. State agencies also need to closely monitor business activities and alerts customers for similar cases.
Last month, the Vietnam Competition Agency (VCA) issued a penalty to DeAura Vietnam for VND400 million ($17,620) for violating regulations on cosmetics distribution and business.
Four Vietnamese golf courses make top 18 list in Golf Digest
The Bluffs Ho Tram Strip in Vung Tau, Laguna Golf Lang Co in Hue, FLC Quy Nhon Beach & Golf Resort in Quy Nhon, and Vinpearl Phu Quoc Resort & Golf in Phu Quoc are some of the best golf resorts in Asia.
Vietnam dominated the list of the 18 best golf resorts in Asia, which was recently published by Golf Digest, a leading golf magazine headquartered in the United States. The list was based on the contributions of many golf experts from around the world and included four Vietnamese golf courses.
One of the representatives of Vietnam, Mr Adam Calver, Director of Golf of Laguna Golf Lang Co, said that the course of Laguna Golf Lang Co has been hailed as Nick Faldo's greatest design. He is one of the world's top golf players and was ranked number one on the Official World Golf Ranking for a total of 97 weeks. He takes a personal interest in the ongoing enhancements of the golf course. The tropical beach's coastline is amplified by the majestic beauty of the mountain backdrop that encases the entire Laguna Lăng Cô Resort. Faldo utilized every possible natural feature as he sculptured the course through ancient rice paddies and jungle mountains onto a peaceful beach that borders the signature Par 4, 9th hole. It provides a unique golfing experience like no other in Vietnam.
The staggering Truong Son mountain range surrounds the entire resort. Golfers are surrounded by pure nature. Walking in the course is like walking through a national park. There's a 400-foot waterfall that cascades down the mountain behind the 2nd green and the 3rd and 4th holes are carved into a traditional Vietnamese rice field, which is home to a family of water buffalo that likes to wade in the flooded paddy fields. The 5th and 6th holes turn into the jungle with giant boulders lining the fairway. The dense tropical jungle covering the mountainside is very spectacular. As you walk off the seventh green you get your first view of the East Sea and can see the waves crashing onto the beach behind the Par 3, 8th green. The 8th, 9th and 10th holes are all down on the sandy coastline where you can easily view the East Sea from each hole.
The Bluffs Ho Tram strip has a course that was designed by Greg Norman, another legendary golfer. It was also listed as one of Golf Digest's 100 best golf courses in the world earlier this year. The golf course sits perched on a coastal sand dune with elevation changes ranging from +5 meters to +50 meters. The ground surface has a sand base with limited vegetation. The Bluffs' coastal location provides beautiful panoramic views of Ho Tram Beach and a unique atmosphere sure to offer a variety of challenges to even the most seasoned golfers. The Bluff's clubhouse offers guests a variety of services including a pro shop with the latest equipment and accessories plus access to spacious locker room facilities and VIP salons.
The Bluffs opened to great fanfare in October 2014 when former US Open champion Michael Campbell played an exhibition match against two-time European Tour winner Robert Rock. A year later, the spectacular seaside links won "World's Best New Golf Course" at the World Golf Awards and served as the site of the Ho Tram Open, a $1.5 million Asian Tour event that attracted some of the biggest names in the game, including eventual champion Sergio Garcia.
The 36-hole golf course at FLC Quy Nhon Beach & Golf Resort is a harmonious combination of unique design and the picturesque scenery of Nhon Ly Beach. The highlight of the course is Eo Gio, the most spectacular place to watch the sunrise in Vietnam. It was built on large sand dunes beside an evergreen pine hill and really poses a challenge for golfers. They can gaze out into the gigantic ocean and natural sand dunes, and enjoy the glorious sun and wind.
The collaboration of two leading golf companies from the USA, Nicklaus Design and Flagstick, created one of the most gorgeous golf links in Asia, and it's recognized by international experts. FLC Quy Nhon Beach & Golf Resort won the Best New Golf Course in Asia-Pacific award and was voted amongst the Top Ten Best Courses in Vietnam at the Asian Golf Awards 2016. The Asian Golf Awards is the golf industry's equivalent of "The Oscars" and is owned by Asia Pacific Golf Group (APGG), the oldest specialist golf media house in the region.
The fourth golf course on the list, Vinpearl Golf Phu Quoc, is located amidst the unspoiled woodlands of the northern part of Phu Quoc. It immerses you in nature on a magical island known for its tropical paradise and stunning beaches. Its breathtaking scenery and unique golfing experience promise to impress travelling golfers. Having opened in 2015, Vinpearl Golf Phu Quoc is the first and only 27-hole international standard course on the island that caters to all levels of golfers. Finely constructed on 100 hectares, this unique island course was beautifully designed by IMG Worldwide and features three clusters (9 holes) situated across three stunning locations. Each one distinguishes itself with signature terrain, challenging obstacles and varied levels of difficulty.
Other golf courses in the list includes Bali National Golf Club & Resort (Indonesia); Datai Resort's ELS Club Teluk Datai (Malaysia); Banyan The Resort, Black Mountain Golkf Resort Hua Hin and Santiburi Beach Resort & Spa (Thailand); Fuchun Resort, Mission Hills Haikou and the Westin Blue Bay Resort & Spa (China); Grand XIV Naturo Golf & Spa Resort, Kawana Hotel & Golf Course, Onahama Ocean, and Hotel & Golf Course (Japan); and Sono Felice, Yong Pyong Resort, and South Cape Owners Club (South Korea).