Advanced technology crucial to improve cashew output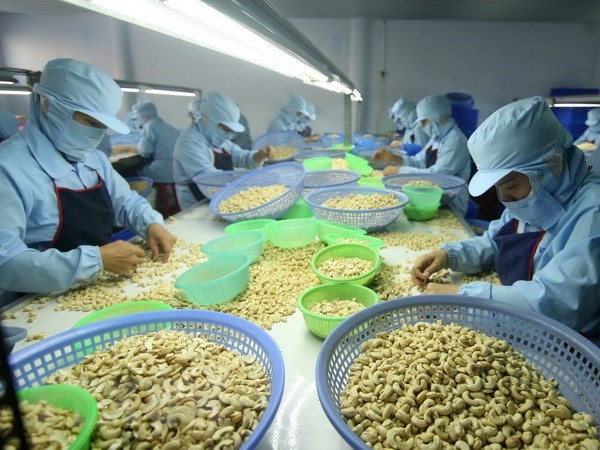 Cashew yield could surge up to 40 percent if comprehensive advanced technology is applied to cultivation process, experts said at a conference on the cashew sector held in the southern province of Binh Phuoc on May 5.
They stressed that this is a breakthrough solution to improve the performance of the cashew industry apart from investment in advanced processing.
At the event, Minister of Agriculture and Rural Development Nguyen Xuan Cuong said that the cashew sector needs to channel focus on enhancing connections between enterprises and farmers.
Advanced processing and production linkages should receive due attention in order to increase production growth and better cashew product quality, he noted.
According to statistics from the Ministry of Agriculture and Rural Development, as of the end of 2017, Vietnam was home to 337,143 hectares of cashew, up 4,410 hectares from the previous year. The cashew yield, nevertheless, remains low at under 1 tonne per hectares.
There are over 465 cashew processing firms with total designed capacity of more than 1.4 million tonnes per year. However, the number of small scale production units accounts for nearly 70 percent.
Vietnamese cashew has been present in over 90 countries and territories. Last year, the country raked in 3.6 billion USD from cashew exports.
Also, the country has set up a cashew processing industry, creating jobs in the farming and processing sectors for nearly 1 million people.
Purchasing power soars by 8.5 percent
The purchasing power in the total national retail value of goods and services until April 2018 reached nearly 1.40 trillion VND (61.4 million USD), the General Statistics Office (GSO) reported.
This is equivalent to a year-on-year increase of 9.8 percent. The increase is estimated at 8.5 percent if the price factor is excluded, higher than the growth of 7 percent in the first four months last year. The rise was similar to that during the Tet (Lunar New Year) holidays when the consumption demand was high.
GSO expert Vu Manh Ha attributed the surge in purchasing power in the first four months of this year to the high demand for accommodation, restaurant, services and travel in the summer season.
Of these, the revenue from retail goods, which accounts for more than 75 percent of the total revenue, hit 46.4 million USD, up 10.8 percent from the same period last year.
Food and foodstuff retail revenue increased by 12 percent, garment retail revenue by 12.8 percent, home appliances by 10.8 percent, culture and education products by 9 percent and transportation services by 8.2 percent.
Localities with high growth in retail revenue include HCM City (12.8 percent), Hai Phong (12.6 percent), Da Nang (12 percent), Binh Dinh (11 percent), Nam Dinh (10.9 percent) and Hanoi (10.4 percent).
The revenue from accommodation and restaurant services, which accounts for 12.3 percent of the total revenue, increased by 9.4 percent to 7.5 billion USD in the first four months.
The revenue from the tourism sector, which accounts for only 1 percent of the total revenue, reached a growth of 26.1 percent to 565.78 million USD in the first four months.
Tourism in Ho Chi Minh City recorded the highest increase in revenue (30.4 percent), followed by Binh Dinh (28.9 percent), Hai Phong (23.4 percent) and Hanoi (18.8 percent).
ACV targets over 5.6 trillion VND in 2018 profit
The Airports Corporation of Vietnam (ACV) said it is aiming at more than 5.6 trillion VND (246.4 million USD) worth of profit in 2018 at its Annual General Meeting of Shareholders held on May 4.
As heard at the meeting, the year's targeted revenue and dividend payment were set at 16 trillion VND (704 million USD) and 9 percent respectively.
The ACV projected that aviation growth in 2018 would be slower than in 2017 due to various difficulties, particularly the domestic market's slowdown. Between 2014 and 2016, the domestic market grew substantially at 20, 27, and 30 percent thanks to the engagement of private airlines, flexible price policy, and opening of several new air routes. The figure decreased to 18 percent last year.
According to the International Air Transport Association (IATA), the number of air travellers in the world will hit 7.2 billion in the next 20 years, with Vietnam ranked among the top five markets recording the fastest passenger growth.
The aviation sector in Vietnam has been supported by several advantages, such as increasing per-capita income and middle-class population, and policy assistance from the Government.
Top Thai Brands 2018 to open in Ho Chi Minh City
Top Thai Brands, a trade fair of its 16th edition, will take place in Ho Chi Minh City from May 10-13, attracting 300 leading Thai companies. 
On display will be automobile and motorbike spare parts, beauty and health care products, fashion, education, processed food, dried fruits and beverages. 
Nearly 20 Thai firms major in motorbike spare parts, household appliances and electronics will join the event. 
Most of Thai businesses are strong in manufacturing products with attractive designs and competitive costs. They also offer franchising opportunities and sell goods online. 
A representative from Thailand's Herb & Her company expressed hope that the B2B (business-to-business) programme at the event will make it easier for the firm to seek agents and distributors. 
Nearly 1,500 meetings between participating exhibitors have been held so far. 
The event will be co-hosted by the Thai Commerce Ministry's Department of International Trade Promotion, the Thai Commercial Affairs Office in Ho Chi Minh City and the Vietnam National Trade Fair & Advertising Company.
International arrivals to Vietnam rise by 29.5 pct in first 4 months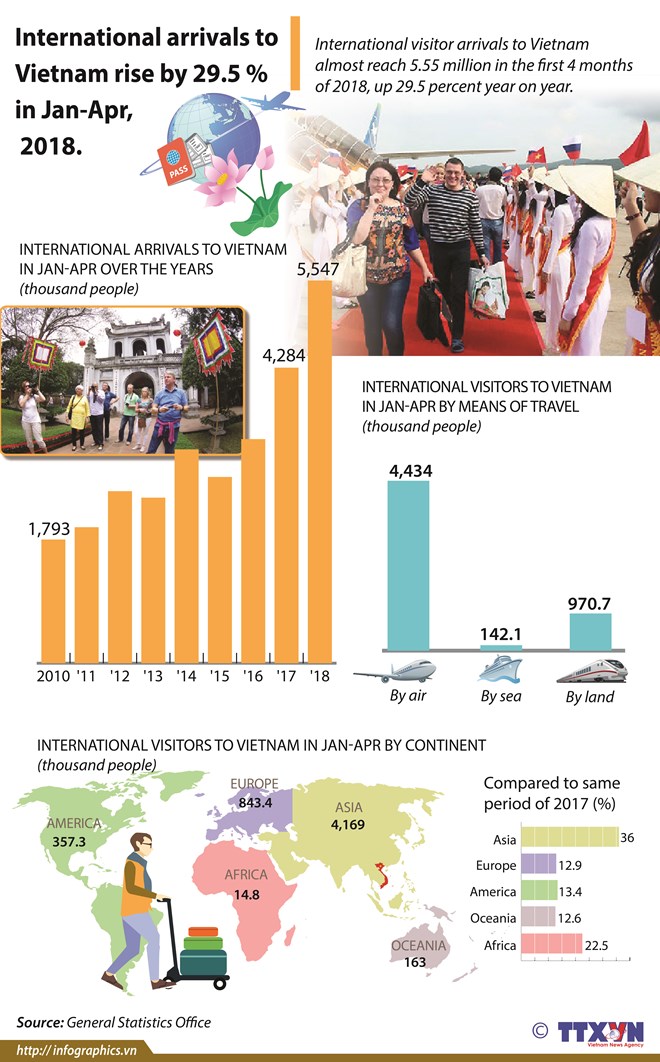 VN-Czech economic cooperation potential yet to be fully tapped
The economic, trade and investment cooperation between Vietnam and the Czech Republic has yet to meet the two economies' potential and demands, said Vietnamese Ambassador to the Czech Republic Ho Minh Tuan at a seminar in Prague on May 3.
Tuan pointed to several fields that the two sides can develop collaboration, including tourism and skilled labour exchange.
He also called for more efforts to diversify the bilateral trade ties and encourage different economic sectors and localities to get involved in developing the relations.
Vietnam always creates the best conditions for foreign enterprises, including those from the Czech Republic, to engage in the Vietnamese market, the diplomat affirmed.
At the seminar, delegates and Czech enterprises were introduced to incentives in bilateral economic, trade and investment cooperation, several prioritised projects of Vietnam, as well as the outcomes and new features of the minutes of the sixth meeting of the Inter-Governmental Committee on Economic Cooperation recently held in Hanoi.
Two-way trade has enjoyed positive growth over the past years, exceeding 1 billion USD last year, up 12 percent year on year. However, the turnover mainly comes from Vietnam's exports.
Meanwhile, the Czech Republic's investment in Vietnam and vice versa remains modest. As of April, the Czech Republic had run 36 investment projects in Vietnam with a total capital of nearly 100 million USD, while Vietnam had only four projects totalling 5 million USD in the European nation.
Delegates stressed the need for both sides to address shortcomings in economic, trade and investment ties, including difficulties in accessing each other's market, lack of information about market, investment policies, and visa granting procedures.
Zuzana Zahradnikova, Vice President of the Czech Chamber of Deputies' Committee on Foreign Affairs, spoke highly of cooperation potential between the two countries.
She vowed to back and boost bilateral trade cooperation, including addressing shortcomings in granting visas for Vietnamese citizens.
Earlier the same day, at the meeting with Zuzana Zahradnikova, Ambassador Tuan asked the Parliament of the Czech Republic to soon ratify the EU-Vietnam Free Trade Agreement in order to help promote trade ties between Vietnam and the EU and the Czech Republic in particular.
He suggested the European country facilitate collaboration between the two countries' businesses, especially in tourism and recruitment of Vietnam's skilled workers.
The host acknowledged the Vietnamese diplomat's proposals, adding that she will work with her country's authorised offices to handle the issues.
Legal framework on data management in need to boost digital economy
A workshop on Cross-border Data Flows took place in Hanoi on May 3 to discuss the importance of data access and sharing and the need to develop a legal framework on data management to boost the growth of digital economy.
The event was co-held by the Central Institute for Economic Management (CIEM) and the Asia Cloud Computing Association (ACCA).
Delegates talked about the prospects of Vietnam's economy in the fourth Industrial Revolution (Industry 4.0) and the development of digital platforms for e-commerce, e-services and infrastructure for cyber-security. They also outlined Vietnam's opportunities and challenges in effectively forming a management system of new digital tools in business.
Speaking at the event, ACCA Executive Director Lim May Ann announced a report on "Cross-Border Data Flows: A Review of the Regulatory Enablers, Blockers, and Key Sectoral Opportunities in Five Asian Economies: India, Indonesia, Japan, the Philippines and Vietnam." The report provides an overview of the current policies on data management in these nations and their impacts on the economic growth at large and the development of small- and medium-size enterprises.
It takes an investigative look at the way the five Asian economies are aggressively transitioning to more digitally enabled economies. While there are similarities in the drivers of these transitions, there are also significant differences in the approaches being adopted.
The Philippines, for example, has no explicit "digital economy" policy, whereas India has become "Digital India" and Japan is striving to be the "World's Most Advanced IT Nation." Conversely, the Philippines has no explicit cross-border data flow restrictions and was the first Southeast Asian country to formally adopt a "Cloud First" approach.
Vietnam today is among countries with high numbers of Internet users, estimated to account for over 50 percent of the population; and the Internet access rates in the country are on a par with others in the region, said former Standing Deputy Minister of Post and Telecommunications Mai Liem Truc. These have significant impacts on the country's digital economy, he noted.
According to the ACCA, Vietnam holds huge potentials to expand the digital economy but the country's legal environment for cross-border data flows is not as open as compared to other four nations. The ACCA cited a number of provisions of the Law on Network Information and Security, which require cooperation with the government and facilitate State agencies in carrying out "technical measures" when necessary, which imply allowing the Government to access encrypted information that could undermine users and personal privacy in Vietnam. 
Secondly, Decree 72/2013/ND-CP on Management, Provision and Use of Internet Services and Online Information requires IT companies to establish at least one server inside the country to "serve the inspection, storage, and provision of information at the request of competent state management agencies". At the same time, Circular No.38/2016/TT-BTTTT, one of the documents guiding the implementation of Decree 72, also contains detailed regulations on the cross-border provision of public information. Certain providers of such content are required to implement content restrictions related to national and social security.
Thirdly, the country has got tougher on taxation of the digital economy with stricter regulations for taxing income derived from Vietnam by digital companies from social media, accommodation and ride sharing sectors.
Lim May Ann suggested that the Government of Vietnam should adopt a more cautious approach to ensure that building a safe cyber environment does not inadvertently restrict and hamper the potential of the digital economy and the entire economy at large.
'Invest in the US' seminar held in Vietnam
More than 30 Vietnamese investors participated in a seminar held in Ho Chi Minh City on May 3 as part of the US Mission to Vietnam's ongoing recruitment for the SelectUSA Investment Summit in Washington, DC in June.
The first "Invest in the US" seminar, coorganised by the US Consulate General and AmCham HCM City, described the benefits of investing in the US, home to the largest amount of FDI in the world. 
Experts from Baker & McKenzie law firm provided Vietnamese investors with an introduction on the legal and foreign exchange requirements for outbound investment and gave presentations on best practices for establishing operations in the US. 
One of the benefits of investing in the US is the variety of opportunities that exist across the country's 52 states and territories. Representatives from the US states of Idaho, Iowa, and Pennsylvania spoke about investment opportunities in their states. 
Fred Burke, senior partner from Baker & McKenzie, highlighted how Vietnam's GDP growth was fueling greater interest in investing in the US. 
It is often said that investment follows trade, and Vietnam's trade with the US has grown enormously in recent years such that it is one of Vietnam's top export markets.  It should come as no surprise, therefore, that Vietnamese firms are looking to invest in the US to support their trade relations and take advantage of opportunities there, Burke said.
The Investment Summit promotes the US as a premier investment destination and connects qualified foreign firms with US economic development organisations to facilitate business investment and job creation. 
Last year's SelectUSA Investment Summit hosted by US Secretary of Commerce Wilbur Ross drew the largest crowd yet, with over 3,000 registered participants. 
With 28 delegates, Vietnam had the 12th largest delegation at the summit and the largest delegation from Southeast Asia.
Vietnamese enterprises in Japan strengthen linkages
The Vietnamese Business Association in Japan convened its congress for the second tenure (2018-2020) on May 6, aiming to seek ways to better connect Vietnamese businesses.
Speaking at the event, President of the association in the first tenure Dinh Ngoc Hai said that, after five years of formation and development, the association has gained initial achievements, contributing to connecting the two countries' enterprises, particularly those from Japan and Vietnam's Can Tho city and Ca Mau province.
However, Vietnamese Ambassador to Japan Nguyen Quoc Cuong stated that the connectivity between Vietnamese enterprises remains loose.
Therefore, he expressed his hope that the second-tenure executive board will take more specific and practical measures to better connect Vietnamese enterprises in Japan and Vietnamese enterprises and Japanese partners.
Vietnam-Japan relations are developing strongly, creating more space for Vietnamese enterprises to integrate more deeply into the Japanese market, Cuong added.
At the congress, a new executive board of the association was selected, with 11 members, including one President and four Vice Presidents.
Vu Hoang Duc, the association's new chief, committed to helping the association grow further in order to become a trusted venue linking the two countries' businesses.
HCM City contact point for provincial trade     
Southern provincial authorities should be more committed to work with HCM City to expand trade and export of Vietnamese products, the head of the city's Investment and Trade Promotion Centre (ITPC) said on Friday.
Pham Thiet Hoa, director of the centre, was speaking at a meeting with representatives from investment and promotion centres in several southern provinces about measures to help local companies enter foreign markets.
HCM City has signed cooperation agreements with around 40 cities and provinces countrywide with an aim to diversify products in the city's market and help bring investors to provinces.
But due to a limited human resources and cost inefficiencies, the city cannot visit every single province to help promote trading and investment activities. Thus, it is seeking to form regional cooperation with southern provinces to make good use of their strengths and resources, he added.
ITPC recently inaugurated a showroom on Nguyen Hue Pedestrian Street to not only showcase specialties and new products of local companies, but also to serve as a contact point for investors and foreign businesses looking for opportunities in southern provinces.
"Nguyen Hue is a 'diamond' street where there are many big investors as well as branch offices of foreign companies. It will attract a lot of visitors and businesspeople on vacation who also want to look for investment opportunities in Viet Nam," Hoa said.
He said the showroom is an effective model which has been adopted by other countries.
As each province holds an investment and trade promotion only once a year, if foreign investors miss it, they will have few opportunities to seek investment information. They can visit the showroom when they are free to do so.
At the showroom, ITPC staff with good English speaking skills will also be trained to provide information about provincial markets, he added.
Tina Phan, Indochina director of the Hong Kong Trade Development Council (HKTDC), said that accessing information is one of the biggest challenges faced by Hong Kong businesses that want to enter the Vietnamese market.
"Viet Nam has a very vibrant business environment and everyone wants to tap into it, but the problem is that information is not easy to obtain," he said.
To help Vietnamese companies find businesses opportunities in Hong Kong and bring Hong Kong businesses to Viet Nam, HKTDC has organised several trade and investment promotion events.
In September, it will hold the fourth edition of In Style – Hong Kong, a mega promotion event, in HCM City with not only promotion activities, but also seminars and workshops on branding and exports that will share Hong Kong's experiences with Vietnamese companies. 
HCMC measures aid supporting industries     
HCM City's Export Processing and Industrial Zones Authority (HEPZA) is working to add more land for supporting industries, according to the city's Department of Industry and Trade's Centre for Supporting Industry Development.
Hiep Phuoc Industrial Park has dedicated around 80 hectares for 56 supporting industry businesses, while Le Minh Xuan 3 and Mechanical Vehicle industrial parks are focusing on improving infrastructure in preparation for businesses.
Meanwhile, other industrial parks are working on compensation for land clearance.
HEPZA is also pushing for the construction of factories; Tan Thuan export processing zone has finished two factories, one of which is being rented by a car parts manufacturer. Other industrial parks are working on procedures to lease their factories.
This is part of HCM City's plan to develop its supporting industry and meet its goal of 45 per cent of national demand for manufactured inputs by 2020.
HCM City's supporting industry has not been growing as quickly as others, and is affecting the city's economic development as a whole. Around 95 per cent of the city's supporting industry businesses are small to medium sized.
Every year, the city has to import billions of dollars worth of materials and components.
Strong growth for steel production     
Steel production and consumption showed strong growth in the first four months of this year owing to favourable weather, said Nguyen Van Sua, deputy chairman of the Viet Nam Steel Association.
Steel production output in the first four months reached 3.21 million tonnes, a year-on-year increase of 8.8 per cent, including 850,000 tonnes in April. Meanwhile, the steel industry's consumption stood at 3.07 million tonnes in the period, a year-on-year surge of 12.9 per cent, including 830,000 tonnes in April.
The industry had optimistic results in exports also. In the first three months of this year, the value of steel exports exceeded US$1 billion, with the exports on an upward trend. Meanwhile, selling prices in April were stable in both north and south.
The Cong thuong (Industry and Trade) newspaper quoted Nguyen Van Sua as saying the price of raw materials in the world had fluctuated to affect directly the price of steel in the domestic market. The industry imports many raw materials for domestic steel production, such as steel scrap, iron ore, coke and graphite electrode.
"However, the good news is that domestic steel producers have actively produced a part of the raw materials to reduce dependence on imports," said Sua.
For instance, Ha Tinh Fomosa Factory has produced some 250,000 tonnes of hot rolled steel per month, reducing the import pressure on enterprises.
As a result, Viet Nam had a year-on-year reduction of 24.3 per cent in steel imports to 4.27 million from January to April, including 1.16 million tonnes in April, down 19.3 per cent.
Sua said in the future, the steel industry would continue to suffer pressures from trade protection measures adopted by other countries. Most large import markets such as the US and the EU have initiated investigations and applied tariff as a tool for trade protection to protect the domestic market, creating difficulties for exporters.
Meanwhile, the domestic market has promised more prospects in production and business, because the economy has continued to grow and investment activities have picked up early this year.
Therefore, to ensure the growth of steel consumption, state agencies should continue with policies and measures to strictly control the import of steel to protect domestic enterprises, he said.
In addition to this, the State should continue to make policies to promote economic development and stabilise the macro-economy and banking interest rates to create confidence among businesses.
The association expected that the steel industry will have a year-on-year growth of 20 per cent to 22 per cent in production this year. The production growth rate is estimated to reach 10 per cent for construction steel, 154 per cent for hot rolled steel, 5 per cent for cold rolled steel, and 15 per cent for welded-steel pipes. 
Finance ministers, central bank governors prioritise issues     
Finance ministers and central bank governors from ASEAN+3 economies reaffirmed their commitment to promote regional financial co-operation, during the annual meeting of the Asian Development Bank (ADB) in Manila on Friday.
The senior officials of the ASEAN+3 economies also expressed their commitment to further support an open and rules-based multilateral trade and investment system, which has provided robust economic growth in the region," Heng Swee Keat, Singaporean finance minister, said at the joint press conference of the 21st ASEAN+3 Finance Ministers and Central Bank Governors Meeting.
He also praised the successful completion of the first periodic review of the Chiang Mai Initiative Multilateralisation (CMIM), which will help strengthen the role of the CMIM as the regional financial safety net for the ASEAN+3 economies.
The community will continue to support the ASEAN+3 Macroeconomic Research Office (AMRO), as an independent international organisation and a trusted advisor to the members of the ASEAN+3, he further added.
Any substantial progress made in improving and strengthening the AMRO's core surveillance function over the region's socio-economic development is highly welcomed, he stressed.
The meeting also highlighted the Asian Bond Markets Initiative (ABMI), as it has made significant contributions to the development of the region's local currency bond markets and the regional bond market integration, Heng further said.
Heng also expressed the commitment of members of the ASEAN+3 community to create a resilient financial infrastructure, to cope with climate and disaster-related risks, through establishing the Southeast Asia Disaster Risk Insurance Facility, which is expected to function as a regional catastrophe risk insurance pool and help narrow the protection gap in the region.
The joint press conference was also attended by Dong Yeon Kim, deputy prime minister and minister of strategy and finance of South Korea.
The ministers from the two countries agreed that the meeting is testament to the region's mutually beneficial cooperation, which has lasted over two decades.
The ASEAN+3 community has strengthened its macroeconomic structure and remains open to trade, foreign direct investment and capital flows, they said in the joint statement.
In 2018, the community will aim to enhance regional financial stability and facilitate regional growth and financial integration, in line with Singapore's ASEAN chairmanship priorities to maintain growth, ensure stability and foster innovation in the region." 
VN earns US$1.1bn from rice exports in Jan-Apr     
Viet Nam earned US$1.1 billion by exporting 2.16 million tonnes of rice between January and April this year, up 35.7 per cent in value and 21.7 per cent in volume.
China was the main importer, occupying 29.1 per cent of the market share, according to the Ministry of Agriculture and Rural Development.
The average export price of rice showed a year-on-year increase of 15 per cent to touch $501 per tonne due to better quality.
High-quality rice comprised up to 81 per cent of the rice export volume, the ministry said, predicting that the global rice market will see a decrease in supply and increase in demand in the coming time.
In 2018, Viet Nam is expected to ship 6.5 million tonnes of rice abroad, up by 700,000 tonnes compared to 2017.
According to Viet Nam's Rice Market Development Strategy from 2017 to 2020 with a vision to 2030, one of the country's goals is to gradually reduce the rice export volume while increasing the value of exported rice.
Vietnamese rice is currently exported to over 130 markets worldwide.
Belgian businesses seek cooperation opportunities in Viet Nam     
Belgian Vietnamese Alliance and Flanders Investment and Trade held a meeting with a delegation of Belgian businesses on May 3.
The meeting comes ahead of the delegation's visit to Viet Nam from May 13-18 to explore cooperation opportunities with Vietnamese firms.
The delegation, which comprises nearly 90 entrepreneurs from 65 Belgian enterprises and is led by Minister-President of Flanders Geert Bourgeois, is scheduled to visit Viet Nam as part of the celebration of the 45th anniversary of the two countries' diplomatic ties.
Addressing the meeting, Vietnamese ambassador to Belgium Vu Anh Quang praised the Flanders Minister-President for his efforts to develop relations between Viet Nam and the Flanders region in recent years.
He hoped the upcoming visit of the delegation would help Vietnamese and Belgian businesses to understand more about each other's potential as well as open up trade and investment cooperation opportunities.
The diplomat said the two nations were working to elevate bilateral ties to strategic partnership in some specific fields.
According to him, the free trade agreement between the European Union and Viet Nam, once signed and ratified, will open up numerous opportunities for Vietnamese and Belgian enterprises to strengthen connectivity and collaboration.
This will also help increase Belgium's investment in Viet Nam, particularly in the fields of shipbuilding, agriculture, high technology and clean energy, contributing to promoting sustainable and green growth in the country, the ambassador added.
Bourgeois hailed Viet Nam's strong development over the past 30 years with a remarkable gross domestic product growth of six to seven per cent.
Viet Nam holds a lot of potential for economic development and, in fact, the country has been successful not only in seeking foreign investment but also in reforming trade and administrative procedures, he said.
The Flanders leader added he had high expectations from the Belgium-Viet Nam partnership. He hoped the two countries would work together to improve trade balance in future, citing that while the Flanders region exported 4.92 million euros (US$5.8 million) worth of goods to Viet Nam, it imported goods worth two billion euros from the Vietnamese market.
"The reality shows that goods produced in Belgium and Viet Nam, especially farm produce, are not competitive but supplementary, enabling the two countries to boost cooperation in trade and investment," he said.
During the five-day visit to Viet Nam, the delegation from the Flanders region will hold meetings and field trips to promote their products and study cooperation opportunities with Vietnamese partners. 
Vietjet's profit rises by 254% in first quarter     
Vietjet Aviation Joint Stock Company (HOSE code: VJC) recorded a yearly increase of 254 per cent in pre-tax profit at VND1.48 trillion (US$65 million) in the first quarter of 2018.
During the period, the company's revenue stood at VND12.56 trillion, up 146 per cent year-on-year, fuelled by the growth in passenger air transport, ancillary and sale as well as leaseback revenue, according to its consolidated financial results released on Thursday.
Compared to the target of VND50.97 trillion in revenue and VND5.8 trillion in pre-tax profit for 2018, the first quarter results achieved 25.5 per cent of the annual target, Vietjet said in a statement.
Thanks to fleet expansion along with the opening of new international routes, Vietjet's air transport revenue reached over VND6 trillion, an increase of 52 per cent year-on-year and 10 per cent higher than the company's target. This increased its core business profit by 74 per cent year-on-year to nearly VND737 billion.
The results showed that Vietjet's earnings per share (EPS) in the first quarter was VND3,026, one of the highest EPS in the stock market.
The company said it would pay a cash dividend of 10 per cent on May 25 to its shareholders and was on its way to finalise the necessary procedures at the State Securities Commission of Viet Nam to settle the remaining 20 per cent dividend of 2017 by means of shares.
From January to March this year, Vietjet operated 28,830 safe flights with a technical reliability of 99.7 per cent. The airline's on-time performance in the first quarter stood at 83.4 per cent.
Recently, Vietjet announced its plans to open international routes to India and Australia in line with the international flight network expansion strategy after achieving full coverage in the domestic airspace.
Vietjet also won the title of the fastest-growing regional airline, awarded by Changi Airport. 
Amid changing demographics, marketing needs to target couples: study
In the majority of ASEAN households today the husband and wife both work and equally share household roles, and so brands need to adopt new marketing approaches that target couples, an ASEAN consumer forum heard in HCM City last Friday.
The Hakuhodo Institute of Life and Living ASEAN, a think tank established in Thailand in 2014 by Japan's second largest advertising company, Hakuhodo Inc., reported this in its latest research into ASEAN consumer trends at the ASEAN Sei-Katsu-Sha forum.
The institute uses the term sei-katsu-sha to describe an individual as more than a consumer but as an individual with a lifestyle, aspirations and dreams.
The forum, "New Perspectives on Gender Equality at Home: Who Rules the House?", covered the division of household chores and child rearing between husbands and wives and the processes ASEAN and Vietnamese couples go through when deciding purchases.
It also highlighted the implications these findings have for marketing.
The research found that Vietnamese households where the husband works outside and the wife takes care of the home and children are now in a minority at just 25 per cent. Families where these duties are shared are the majority at 74 per cent.
In the remaining1 per cent of the households the wife works outside and the husband takes care of household chores and child rearing.
On shopping decisions, the research found that a majority of couples make them together when buying electronic goods, new homes, financial products, and seasonal gifts, and others while wives make most decisions about daily necessities.
Marketing approaches based on traditional ideas about gender are no longer suitable for today's ASEAN families, including Việt Nam, it said.
New approaches that take into account the reality of working wives, husbands that do household chores and joint decision-making may be required.
Nguyễn Thị Trâm Anh, associate strategic planning manager at the institute, said though brand decisions are often made before shopping, in 39 per cent of cases brand switches are effected by salespersons.
"Therefore, brands need to have experienced and knowledgeable salespeople to provide customers with sufficient information about the functions and benefits of products and comparisons with other similar products," she said.
The survey was done online in five countries —Singapore, Malaysia, Thailand, Indonesia, and Việt Nam — with 1,000 respondents in each place in addition to 8,100 home interviews.
Economic region seeks gov't guidance     
Members of the Central Key Economic Region are seeking an institutional framework from the government to enhance collective co-operation within the region, as they have so far been unable to reach a common ground.
According to the Council for the Central Key Economic Region, which includes the provinces of Thua Thien- Hue, Da Nang, Quang Nam, Quang Ngai and Binh Dinh, the members have worked for 10 years, but no sound progress toward co-operation for mutual benefit has been made.
Economic zones and industrial parks within the central provinces had been more interested in competing with one another so far this year, said Nguyen Van Cao, chairman of the council for the period of 2017-18.
A report by the Viet Nam Institute for Industrial Policy and Strategic Studies said that the economic zones in the five central provinces that make up the Central Key Economic Region have functioned in similar industries, thus competition between them is understandable.
Participants at a workshop held in Thua Thien- Hue last Saturday said that in order to resolve this situation, the Government must directly intervene.
"The government should allow the region to have some power as an institution, so that it has a better ability to make decisions for itself," said Dr Tran Dinh Thien, former director of the Viet Nam Institute of Economics, and a member of the Government Economic Advisory Group.
Thien said the Central Key Economic Region is merely a name as it had no tangible ability to make decisions, adding that while the Government formed the key economic region with the intention of increasing co-operation, it has in the meantime licensed economic zones in each locality individually.
"Each locality has an economic zone and they are affected by GDP growth pressure, leading to the need for competition," he said.
Dam Minh Le, deputy head of the Authority for Dung Quat Economic Zone and Industrial Parks in Quang Ngai, said that the Dung Quat Economic Zone in Quang Ngai and Chu Lai Economic Zone in Quang Nam were good examples of the failing cooperation within the region.
At first, Dung Quat and Chu Lai were intended to be one economic zone, but the two couldn't connect as the bridge connecting them had so far not been available, he said.
Huynh The Du from Fulbright University Viet Nam said that co-operation between economic zones in the region was impossible, as one must ultimately sacrifice for the sake of the others.
"Co-operation could be obtained if the government invested in better infrastructure and services for all five localities," he said, adding that the investment would also help lure investors.
Du said that the region should have a joint stock company gathering all the seaports in the region into one centralised entity, thus ensuring that no locality would be at a disadvantage in a co-operation plan.
Thien concluded that the potential and industrial infrastructure in each of the five localities of the Central Key Economic Region were not equal. As such, any co-operation pact would mean that one region must sacrifice for the others.
This problem could be solved by further integrating the region, and creating one solid institution to steer regional co-operation, he said. 
Top Thai Brands 2018 to open in HCM City     
The 16th annual Top Thai Brands trade fair will take place in HCM City from May 10-13, attracting 300 leading Thai companies. On display will be automobile and motorbike parts, beauty and health care products, fashion products, educational products, processed food, dried fruits and beverages.
Close to 20 Thai major firms in motorbike spare parts, household appliances and electronics will join the event. Thai businesses are renowned for manufacturing products with attractive designs and competitive costs. They also offer franchising opportunities and sell goods online.
A representative from Thailand's Herb & Her company expressed hope that the B2B (business-to-business) programme at the event will make it easier for the firm to seek agents and distributors in HCM City. Nearly 1,500 meetings between participating exhibitors have been held so far.