Hanoi's condo market attracts flow of foreign capital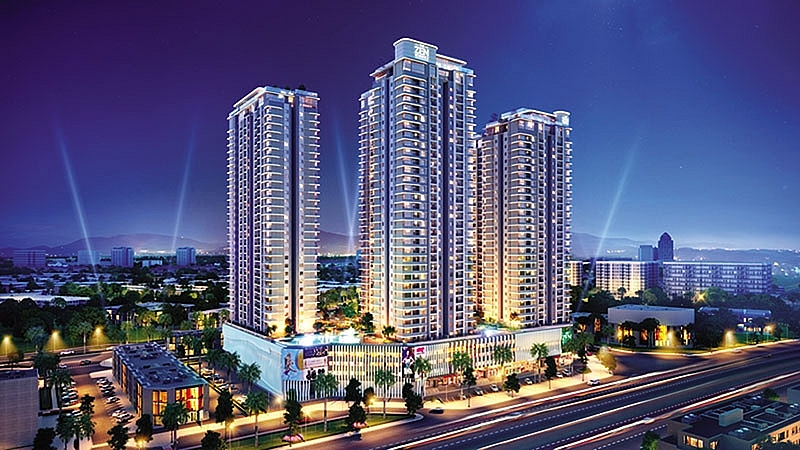 According to experts, Vietnam's real estate market will continue to charm foreign investors thanks to high liquidity and alluring profit-making prospects.
The ZEN Residence in Hanoi's Hoang Mai district is grabbing particular attention from foreign investors
The latest report by CBRE, a leading real estate advisory firm, showed that a total of 8,800 new condos were put on sale in Hanoi's realty market over the first quarter this year, 6,600 units of which have already found buyers.
CBRE also forecasted a 9-per cent jump in the volume of condos sold this year compared to 2017, reaching 28,000 units.
The plentiful supply aims to keep up with current burgeoning market demand, particularly from the soaring number of city dwellers, most of whom are young people.
In addition, young people in big cities like Hanoi often consider buying their own houses with their work savings or after getting married, leading to rising housing demand.
Favoured options are apartment units rather than landed properties due to both financial and comfort factors. That is because many developers are trying their best to provide prospective buyers with the utmost comfort by launching fully-furnished apartment building projects which feature a diverse range of accompanying facilities.
This helps young professionals relax amongst the hustle and bustle of the city with available convenient facilities. In addition, landed properties often carry a more costly price tag compared to apartment units, putting financial pressure on young buyers.
What is more, there is a surging growth in the middle-class population of Hanoi, which is set to continue rising amid the country's rapid economic development. In combination with burgeoning demand for condos, buying prices and rental costs are expected to rise as well.
The value of property chiefly depends on key factors such as transport convenience, geographical position, and accompanying amenities. The investment opportunities at projects which satisfy these factors, therefore, are very appealing to foreign investors, particularly considering the record-high property prices in many foreign markets in the region.
Well aware of the trend, Terence Chan, director of Golden Emperor, one of Hong Kong's leading outbound real estate firms, said that large-scale infrastructure projects and strong foreign capital flow are among the factors that have led to the booming economic development in Hanoi and stimulated the real estate market. In the condo sector, Gamuda Land with its award-winning condo project – the ZEN Residence (Gamuda Gardens in Hanoi's Hoang Mai district) – holds distinct advantages complemented by a smart infrastructure system that connects with major roads.
"By virtue of a well-conceived development plan, the ZEN Residence will grow into a charming residential community, promising to deliver foreign investors a high leasing profit rate at about 7 per cent per annum," Chan said.
Looking back on 2017 and the first half of 2018, Hanoi's condo market has attracted many foreign investors after they have penetrated the Vietnamese market.
At present, foreign investors from Singapore, Hong Kong, Japan, and South Korea have reported a rapidly growing presence in the Vietnamese real estate market, whereas previously, their attention was mainly confined to simply seeking investment opportunities. Besides, their investments have also expanded outside of the commercial real estate sector into the private housing segment.
US' Eaton shakes hands with Digiworld
Power management company Eaton has signed a new distribution agreement with its strategic partner Digiworld Corporation (HOSE: DGW) to supply power management technologies and services in Vietnam.
Pichai Suthijintatip, Eaton's regional director, power quality for Indochina, Thailand, Myanmar, and Bangladesh region, said that the company provides energy-efficiency solutions that help customers effectively manage electric, hydraulic, and mechanical power more efficiently, safely and sustainably.
"At Eaton, we help our customers maintain productivity, reduce energy consumption, and protect their capital investments through innovative power management solutions. We are dedicated to improving people's lives and the environment with powerful technologies and solutions," he said.
According to Suthijintatip, the tie-up with Digiworld will help Eaton to deepen its presence in Vietnam and provide top-notch quality services to Vietnamese people, helping them solve some of their biggest power management challenges through its industry-leading electric products and services.
With the large coverage of its nationwide distribution network and 20 years of experience as a distributor of more than 30 world-renowned technology brands, Digiworld is primed to take Eaton to more customers and providing them strong prospects in accessing innovative power management technologies and solutions.
Digiworld CEO Doan Hong Viet shared that, "This partnership is a positive step towards meeting our growth goals in the ICT business segment and enabling our customers to access exclusive power management technologies that are more reliable, efficient, safe, and sustainable."
"We are confident about the opportunities that this partnership will bring to the Vietnamese people and the growth ambitions of both our companies," he added.
Eaton is a power management company with sales of US$20.4 billion in 2017. The company is dedicated to improving the quality of life and the environment through the use of power management technologies and services. Eaton has approximately 96,000 employees and sells products to customers in more than 175 countries.
Digiworld is the leading market expansion services provider in Vietnam with a great trackrecord, especially in the ICT sector. With the core strength of five values−added services including market analysis, marketing, sales, logistics, and after-sales services—Digiworld provides top-notch services and tailor-made solutions for the most rapid and effective market penetration and market expansion for brands entering Vietnam.
Vietnam's coal imports grow despite large reserves
Despite its large reserves, Vietnam has to import a huge volume of coal in the 2016-2020 period, which began in 2017 and will see a sharp increase from 2020 to supply thermal power plants, according to a plan from the Vietnam National Coal and Mineral Industries Corporation (Vinacomin).
Last year's import volume reached more than 11.7 million tons in 2017 and will rise to 21m tons in 2018, 40.3m tons in 2020, 70.3m tons in 2025, and 100m tons in 2030.
According to a government plan adopted in early 2016, the Ministry of Industry and Trade and Vinacomin proposed the purchase of around 3 million tons for thermal power plants, but the figure had seen a fourfold increase to 13.3 million tons by the end of 2016.
Import price averaged at US$105 per ton last year, a year-on-year rise of 44.2%. Indonesia, Australia, and Russia were the three biggest coal suppliers of Vietnam, making up 83% of the country's total imports with 12 million tons last year.
Previously, Vietnam had long maintained a place as one of the leading exporters of coal with exports sometimes reaching 50% of the country's total output. However, the country is suffering a shortage of high quality coal while the current inventory is in excess of 9 million tons.
Experts forecast that domestic coal production's failure to meet the demands of thermal power plants and household consumption coupled with difficulties in coal exploitation will lead to a further increase in imports over the future.
Vietjet Air eyes 10 percent profit growth this year

Low-cost airline Vietjet Air aims to earn nearly 51 trillion VND (2.24 billion USD) in revenue and over 5.8 trillion VND (254.4 million USD) in profit, up 20.5 percent and 10 percent, respectively in 2018.
The goals were adopted at the airline's annual shareholder meeting in Ho Chi Minh City on April 26.
Vietjet Air plans to operate more than 120,000 flights with a total of 66 aircraft, an increase from 51 last year, and serve over 24.1 million passengers by the end of 2018. Additionally, it will provide services on a total of 100 air routes, including 39 domestic and 61 international airways.
It will increase international flights to destinations in North Asia and Southeast Asia and expand cooperation with other airlines that operate flights to Europe and America. It is developing plans to launch flights to Australia, Japan, Indonesia and India.
The carrier will put the Vietjet Aviation Academy into operation in 2018. The establishment will provide a full flight simulator for flight crew training, being run in cooperation with aircraft manufacturer Airbus.
In 2017, Vietjet Air carried over 17.11 million passengers on over 98,800 flights. It generated 42.3 trillion VND (1.84 billion USD) in turnover and 5.07 trillion VND (223.08 million USD) in after-tax profit, a year-on-year surge of 54 percent and 73 percent from the previous year. Earnings per share reached 11,356 VND.
The airlines' shares have been listed on the Stock Exchange of Ho Chi Minh City (HOSE) since last year, demonstrating commitment by the firm's Board of Directors to applying international standards in management and ensuring information transparency.
Following positive business results, the carrier's Board of Directors received approval from the shareholders to raise the dividend rate of 2017 from 50 percent to 60 percent. Accordingly, the company advanced 30 percent dividend payment in cash and will pay another cash dividend of 10 percent on May 25. The remainder of 20 percent will be paid in stocks.
Vietnam Airlines earns nearly 1.46 trillion VND in pre-tax profit in Q1
The Vietnam Airlines Corporation earned nearly 1.46 trillion VND (64.3 million USD) in pre-tax profit in the first three months of the year, 6.2 percent higher its set plan.
During the period, the corporation transported nearly 5 million passengers, up 5 percent from the same period last year. Travel demands shot up in key flights to Northeast Asian countries like Japan and the Republic of Korea.
The national flag carrier carried out 33,000 safe flights with its rate of On Time Performance (OTP) reaching over 90 percent.
In the first quarter of the year, the airlines continued efforts to better its four-star service quality. Particularly, Vietnam Airlines' application of information technology into its service brought convenience to passengers while making contributions to easing overload at many airports, especially Tan Son Nhat International Airport in Ho Chi Minh City.
The rate of customers making their own online check-in via website, mobile or check-in kiosks at Tan Son Nhat, Noi Bai and Da Nang airports stood at high level of nearly 50 percent.
In addition, thanks to the company's stable development, professional working environment, and sound remuneration, it ranked among the top 20 working places in Vietnam, according to the rating of Anphabe career network and Intage Vietnam.
In the second quarter of this year, Vietnam Airlines is continuing to focus its resources to ensure safe operation and security. The firm recently received the 12th A350 wide-body aircraft and work to assure its four-star service in line with international standards, particularly during peak national and summer holidays.
Also, it will organise the 2018 shareholders meeting and carry out a plan to increase its chartered capital by offering shares to current shareholders and sell the rights to buy shares of State shareholders.
FPT Retail shares soar on debut day     
FPT Digital Retail JSC (FPT Retail) shares soared 20 per cent on Thursday as the company debuted on the HCM Stock Exchange (HoSE).
FPT Retail listed its 40 million shares on HoSE with code FRT. Its shares moved to hit their daily rising band of 20 per cent, closing at VND150,000 (US$6.67) per share, from the debut price of VND125,000 per share.
At the closing price on Thursday, FPT Retail was valued at VND6 trillion.
The listing of FPT Retail was attractive to foreign investors as its shares topped the must-buy list to foreign investors. They posted a net buy value of VND137.3 billion ($6 million) for FPT Retail shares.
FPT Retail is holding two retail chains, which are FPT Shop (selling technological products) and F.Studio (authorised by Apple to sell authentic products and accessories). The total number of stores under the two chains has reached 480 across the country and is expected to increase in the near future.
The company is also the second-largest digital retailer behind Mobile World Investment Corporation. FPT Retail has made investment in 10 Long Chau pharmaceutical store chain. The number of drug stores is expected to reach 400 in the next four years.
The pharmaceutical segment is projected to contribute 40 per cent of FPT Retail's total revenue in the future.
FPT Retail plans to achieve VND1.6 trillion ($711 million) in total net revenue and VND377 billion in post-tax profit, a yearly increase of 22 per cent and 30 per cent, respectively. The company also expects to pay a 20 per cent dividend in cash.
In the first quarter of 2018, FPT Retail recorded VND3.88 trillion in revenue, an increase of 17 per cent year on year. Its first-quarter profit rose one-third to reach VND64 billion, equal to 17 per cent of the full-year target. 
Retailers roll out holiday promotions     
Many retailers have announced sales promotions to attract shoppers during the long Reunification Day-Labour Day weekend.
Co.opmart and Co.opXtra supermarkets are offering attractive discounts on beverages, fresh foods and kitchen appliances from April 26 to May 9.
Appliances like fruit juicers, electric stoves, gas stoves, electric rice cookers, and non-stick pans carry the biggest discounts of 25-46 per cent.
Chicken meat, fish, cuttlefish, fruits and vegetables are discounted by 10-25 per cent, with some already marinated to help reduce processing time.
With the holidays coinciding with the 22nd anniversary of the Co.opmart supermarket chain, Co.opXtra, Co.op Food, Co.op Smile and HTV Co.op are also offering steep discounts on chemical products, industrial foods and fashion products.
They are also offering customers a lot of bonus points and free coupons and running the "Super incentives" programme during weekends.
Korean retailer Lotte Mart is offering discounts of up to 50 per cent on thousands of products like foodstuffs, ready-to-eat foods and appliances besides attractive gifts until May 2 under a promotion programme called "Welcome great holiday".
To mark second anniversary of its Choice L private label, Lotte Mart has introduced top 10 Choice L bestsellers at its outlets as well as top 10 best Choice L products imported from South Korea at attractive discounts.
Members shopping for at least VND300,000 will have the chance to buy many products at huge discounts.
Big C supermarket has launched its big promotion programme, offering discounts of up to 50 per cent on more than 1,000 products like fresh and processed foods, beer, beverages, clothes, and regional specialities, which also have gifts attached, until May 9.
Besides, it has earmarked a display area for 15 regional specialities of SMEs taking part in a programme it launched along with Central Group Vietnam in 2016 to help small enterprises enter the modern distribution channel.
They include Viet Cuong canna vermicelli and Hung Thai green tea (Thai Nguyen Province), Hai Binh cashewnut roasted using firewood (Gia Lai Province), Thanh Xuan fermented pork (Dong Thap Province), Cau Tre pork paste (HCM City), Hue royal tea (Thua Thien-Hue Province), Long Trieu coffee (Da Lat City), which are sold at up to 20 per cent discount.
Big C said its stocks are more than 50 per cent higher than normal days, especially of ready-to-eat foods, breads, fruits and vegetables.
Other supermarkets and major electronics stores like Thien Hoa, Cho Lon, and Nguyen Kim are also offering big discounts on a large variety of products.
TH Group expands business to Singapore
In a bid to expand its fresh milk map in Vietnam, locally-owned TH Group has started marketing its products in Singapore.
During Prime Minister Nguyen Xuan Phuc's April 25-28 official visit to Singapore, TH Group, the owner of Vietnam's leading milk brand, TH true MILK, met with potential Singaporean partners to market its food products in the island nation.
The group has showcased its products at the Food and Hotel fair held in Singapore, and worked with the leaders of the Sheng Siong supermarket chain about a plan to sell its products, including TH true MILK, TH true Herbal, and TH true NUT.
TH Group has also inked a co-operation deal with Singapore's UBM—one of the nation's leading B2B exhibition and conference organisers. Under the deal, the two firms will boost co-operation in business development.
PM Phuc has also visited the fair and TH Group's booth. He said that TH Group is "a typical example of local firms boosting investment in the Vietnamese agricultural sector," and that the group is among the many domestic firms supporting the country in promoting Vietnamese products in foreign markets.
In a bid to expand its penetration of the fresh milk market in Vietnam, this year TH Group is planning to invest hundreds of millions of US dollars in the construction of many new high-tech agricultural projects nationwide, focusing on producing fresh milk, organic vegetables, herbs, and fruit.
The group is now fast-tracking the construction of its large-scale hi-tech dairy farm in the south-central city of Phu Yen. The project's first stage, worth $53 million, covers 82 hectares of land.
"We will also implement many other foodstuff projects," said Thai Huong, founder of TH Group.
The group is also boosting the construction of two other dairy farming and fresh milk processing facilities in Ha Giang and Thanh Hoa provinces, with the total investment capital of $287 million.
Since 2008, TH Group has been operating a $1.2-billion high-tech concentrated dairy and fresh milk production project in the central province of Nghe An.
Currently, while constructing a $2.7-billion hi-tech concentrated dairy and fresh milk production project in Russia, TH Group is also constructing a similar major project in the Republic of Bashkortostan, a federal subject of Russia.
C.T Group signs major deals at Vietnam-Singapore Business Forum 2018
Vietnam's C.T Group signed a series of agreements with Soilbuild, the Singapore-based leading integrated property group, on April 26 at the Vietnam-Singapore Business Forum in Singapore, held within the framework of Prime Minister Nguyen Xuan Phuc's official visit to Singapore from April 25 to 27.
Prime Minister Phuc and representatives from the Singaporean Government witnessed the signing ceremony between the two sides.
They included memoranda of understanding (MoUs) on the construction of the I-Town Urban Area in Ho Chi Minh City's Binh Chanh district, a $350-million project under the city's master plan to develop its satellite cities, and on the establishment of a $64-million factory that utilizes Prefabricated Prefinished Volumetric Construction technology in the building of residential apartments. This cutting-edge technology has been applied in Singapore in recent times and helped drive significant progress in the country's construction industry. 
Earlier, the C.T Group also inked a cooperation deal with Soilbuild Singapore to build and promote the brand name of a 1,600-apartment project at 360 Ha Noi Highway, Ho Chi Minh City, with total investment of nearly $100 million.
The C.T Group also strengthens its ties with other international partners, particularly Japan and South Korea.
Hoa Phat's steel exports to Australia surges following ADC's decision

The Hoa Phat Group is scheduled to ship 6,500 tonnes of steel to Australia in May, the highest-ever export volume to the market in a month.
The group said its steel exports to Australia has surged after the Australia Anti-Dumping Commission (ADC) ended investigation into antidumping charges against Hoa Phat and other steel producers of Vietnam as it found no violations.
In the previous years, Hoa Phat received orders for an average of 3,000 tonnes of steel from Australia each month.
Last year, Hoa Phat exported 36,000 tonnes of rolled steel and steel bars to Australia and received no complaint from Australian customers. Since early April 2018, its export volume has reached 4,200 tonnes.
With good signals from the Australian market following the ADC's decision, the group expects even higher growth in the market in the future.
Australia is the world's biggest exporter of iron ore with high quality. Last year, Hoa Phat partnered with four biggest iron ore suppliers of Australia to ensure the long-term supply of materials for its plants, especially Hoa Phat Dung Quat iron and steel production complex in the central Quang Ngai province.
PV Power given green light on new plants     
Prime Minister Nguyen Xuan Phuc has given the go-ahead to PetroVietnam's proposal of transferring the two gas-fuelled power plants – Nhon Trach 3 and 4 – to PetroVietnam Power Corporation (PV Power).
In an official letter dated April 23, the PM agreed to allow PV Power to replace PetroVietnam as the investor of the two thermal power plants.
Late in March, PetroVietnam proposed the transfer plan which aimed to reduce capital pressure on the group so that it can focus on other major State-owned coal, oil and gas projects.
The Nhon Trach 3 and 4 power plants were added in the Viet Nam's Power Development Master Plan VII for the period of 2016-20, with vision to 2030.
The Ministry of Industry and Trade (MoIT) approved the construction of Nhon Trach power centre in September 2017 in Ong Keo Industrial Park in Dong Nai Province, which is the transmission hub of the southern region comprising three key economic centres – HCM City, Dong Nai and Ba Ria-Vung Tau.
The two liquid natural gas-fuelled power plants have total capacity of 1,500MW with an estimated total investment of VND33.3 trillion (US$1.5 billion). They are set to be operational by 2020-21.
Prior to the agreement, PV Power hinted at entering a joint venture with other investors, with mind to hold 51 per cent of total equity. However, according to MoIT, the establishment of a joint stock company could mean delayed construction, hindering the objective of providing power for the southern region.
At present, PV Power is managing operations of Nhon Trach 1 and 2, so PV Power can use the existing infrastructure of these two power plants, such as temporary ports, oil tank depots, diesel oil (DO) tank systems, water systems, warehouses and office buildings, to reduce the investment cost for Nhon Trach 3 and 4.
PV Power is the second largest electricity producer in Viet Nam, behind the Electricity of VIet Nam. PV Power has a charter capital of almost VND21.8 trillion (over $956 million), currently managing eight power plants nationwide with a total installed capacity of 4,208MW.
By the end of 2017, PV Power supplied 150 billion kWh to the national grid. It reported a total revenue of over VND200 trillion, with a pre-tax profit of VND11 trillion, and contributed nearly VND10 trillion to the State budget.
Calls for consumer protection watchdog     
With increasing demand for credit and more people taking part in financial activities, a watchdog is required to protect consumers, a workshop on protection of finance consumers heard in HCM City on April 26.
Le Thi Kim Xuan, head of the Viet Nam Banks Association's HCM City office, said financial inclusion is a global trend now.
But it does not only mean enhancing access to credit but also protecting consumer rights and improving their finance literacy, she said.
Many countries have implemented plans to enhance the public's knowledge of finance and set up a regulator to protect their rights, she said.
Though Viet Nam adopted a law on consumer rights protection in 2010, which clearly states the responsibilities of relevant stakeholders in case of consumer complaints, violations remain common, she said.
She blamed it on two major factors. Firstly, many consumers remain unaware of their rights due to lack of financial knowledge, and rarely read the contract carefully when borrowing money or signing up for any service, she said.
Secondly, financial providers do not fully disclose information to consumers, who end up signing up for something they are not aware of, she said.
"Therefore, finance education is important and necessary to help consumers access formal financial markets and stay away from loan sharks."
Speaking to the media on the sidelines of the workshop, James Collan, a financial consumer protection consultant from the International Finance Corporation, said: "Viet Nam is facing an increasing indicator of risks due to more citizen participation in financial services, increasing accessibility to credit and more services being offered."
That is why a financial consumer protection framework should be put in place to mitigate financial risks and the potential for harm done to consumers, he said.
One of the first principles of consumer protection is 'buyer beware', meaning consumers need to exercise caution and due diligence but given the level of sophistication, coercion and unethical market conduct displayed by a range of financial institutions nowadays, it is not sufficient to place the responsibility solely on the consumers, he said.
"There needs to be a central body to deal with consumer protection and to build a framework which includes adopting legislation and regulations, and developing education programmes [for consumers]."
The central body would work to ensure consumers are informed about their obligations when borrowing money and help resolve disputes between them and financial institutions, he said.
"It's unreasonable to think that a consumer can take a financial institution to court and pay for the cost of that. You need an alternative method to resolve the dispute."
HCMC projects get new investors     
The HCM City property sector has continued to attract a lot of foreign investment, especially via mergers & acquisitions.
Nguyen Hoai Nam, general director of Malaysia's Berjaya Viet Nam, told Dau tu (Invesment) newspaper that his company had sold its two projects in the city to another investor.
The Viet Nam Financial Centre (VFC) in District 10 and the Viet Nam International University Township (VIUT) in Hoc Mon District have register capital of US$930 million and $3.5 billion.
"We cannot disclose detail information because the two sides are on the discussion and all might finish soon," he said.
The 7ha VFC, licensed in 2008, would have a five-star hotel, apartment and shopping mall.
The 925ha VIUT was also licensed in 2008. It needs to build a university on 100ha, while the remaining can be used for commercial, amusement, and residential facilities.
Nam said both projects face challenges and have thus been delayed.
"Following the sale, work will soon begin."
Singapore-based Keppel Land announced that it is buying 40 per cent of the $1.2 billion Empire City in the Thu Thiem New Urban Area.
The 14.6ha project received a licence in 2015 for building an 86-floor tower with luxury apartments, office space and a retail area.
Besides property, science and technology services and tourism are attracting the most interest from foreign investors.
Techcombank places 1.65mn shares with institutional investors
Techcombank, one of the largest private sector joint stock commercial banks (JSCBs) in Vietnam, has announced the successful placing of 164,076,954 ordinary shares to institutional investors.
Based on a final price of VND128,000 ($5.62) per share, the placement raised a total of approximately VND21 trillion ($922 million), equating to a market capitalization of $6.5 billion. The book was significantly oversubscribed at the time of pricing.
Trading of Techcombank's shares on the Ho Chi Minh Stock Exchange (HSX) is expected to commence on Monday June 4, under the stock code TCB VN.
"We are thrilled with the positive response from the international investment community," said CEO Mr. Quoc Anh Nguyen Le. "Our decision to allocate a large portion of our offering to the cornerstone tranche is testament to the tremendous demand from a diverse and high-quality set of investors. Just as important is that a number of these funds are investing in Vietnam for the first time."
He added that Techcombank believes investors are attracted by the strength of its business model and the broad background and experience of its management team. But, most importantly, investors are very bullish on the growth of Vietnam's middle class as its young population enters the workforce. "The country's low financial inclusion rate also makes banking a very attractive proposition," Mr. Le said.
This year is shaping up to be one of the more exciting times for the country's equity market as it parallels the trajectory of Vietnam's economic development, he went on. "Our management team is grateful for the incredible support from our existing shareholders, excited to welcome new investors, and appreciative of our advisors, who together made this initial public offering a resounding success," he said. "We are committed to providing the highest value to our customers, developing our team members, and delivering strong returns for shareholders."
Morgan Stanley, Viet Capital Securities, and Deutsche Bank AG arranged the offering.
Established in 1993, Techcombank is one of the largest JSCBs in Vietnam and one of the leading banks in Asia. It provides a broad range of banking products and services to more than 5.4 million customers in Vietnam, with an extensive network of 315 branches around the country.
HCMC, Long An province beef up agro-product consumption

The Department of Industry and Trade in the Mekong delta province of Long An and its counterpart in Ho Chi Minh City yesterday held a meeting to discuss agricultural product consumption.
Speaking at the meeting, director of the department in Long An Le Minh Duc said that since 2016, HCMC and Long An have signed an agreement of consuming produce; however, it is not as stable as expected.
HCMC department Deputy Director Nguyen Ngoc Hoa said that HCMC is planning to build chains of traceable food and vegetables in supermarkets, traditional markets and harvest-preservation. It is regrettable that very a few cooperatives and firms in Long An satisfied the requirements.
It is a must that enterprises and cooperatives in Long An province introduce their production scale and capability to its peers in HCMC for a long-term cooperation.
In the meeting, cooperative representatives moaned of their members' production habit; moreover, they use fertilizers rampantly not to follow producers' guidance and relevant agencies.
Deputy Chairman of Long An province People's Committee Nguyen Van Duoc said that long An will adopt measures to connect firms and cooperatives with their large peers in HCMC adding that Long An strives to become one of safe and quality vegetables, fruits suppliers to meet HCMC demand.
Vietnam enjoys trade surplus of US$3.1 billion as of mid-April
Vietnam recorded a trade surplus of US$3.1 billion as of April 15, 2018, according to the latest statistics of the General Department of Vietnam Customs.
The country's total import-export turnover rose 17% to US$125.7 billion. Of the figure, US$64.4 billion came from exports, a year-on-year rise of 22.8%.
Vietnam's major export staples include mobile phones and components, garments-textiles, computers and electronic components, machines and equipment, footwear, transport vehicles and accessories, timber and wooden products, aquatic products, coffee, and iron and steel.
 As of mid-April, foreign direct investment (FDI) businesses posted a trade surplus of US$9.4 billion.
 FDI firms raked in US$45.9 billion from exports, up 24.3% against the same period last year, making up 71.3% of the nation's total export turnover.
 Meanwhile, FDI enterprises imported US$36.5 billion worth of goods.
 Vietnam's export-import turnover hit US$400 billion in 2017, representing a fourfold increase in ten years.
 The country first achieved US$100 billion in foreign trade value in 2007, the year it joined the World Trade Organisation (WTO). The figure rose to US$200 billion in 2011, and US$300 billion in 2015. 
 According to the WTO, in 2006, Vietnam's total export and import turnover ranked 50th and 44th in the world. In 2015, the nation jumped 23 and 16 steps, occupying 27th and 28th positions, respectively. 
 At present, Vietnam has 30 export groups with an annual turnover of at least 1 billion each, including textiles, leather, footwear, coal and crude oil.
 Vietnam has trade relations with more than 200 countries and territories around the world, gradually moving import-export markets from Asia to Europe and America.
Strong growth in fruit and vegetable exports to key markets
Up to mid-April, exports of fruit and vegetables to key markets such as the US, Japan, China and Thailand saw an increase in their rates of growth compared to the same period last year.
According to the General Department of Vietnam Customs, exports of the products reached US$176.9 million during the first half of this month, up 13.4% against the corresponding period of last year, bringing the total value of exports for three-and-a-half months to US$1.15 billion, a year-on-year rise of 33.8%. At that pace, the export value is expected to exceed US$1.3 billion by the end of this month.
In the first quarter of this year, China imported US$727 million worth of fruit and vegetables from Vietnam (up 42%), followed by the US with nearly US$29 million (up 19%), Japan with US$28.5 million (up 26.8%), the Republic of Korea with US$24 million (up 8.7%), and Thailand with US$18.1 million (up 23.8%).
The UN Food and Agriculture Organization (FAO) forecast that China's imports and consumption of fruit and vegetables will grow rapidly over the 2017-2020 period, accounting for 15.1% of global consumption. China's burgeoning demand offers an excellent opportunity for Vietnam to boost its trade with the market.
The Vietnamese fruit and vegetable sector has recorded strong growth in its exports over recent years, hitting a record high of US$3.514 billion last year, up 43% over the previous year. Last year, China was the leading importer of Vietnam's fruit and vegetables, making up 75% of Vietnam's total export value, trailed by Japan, the US, the RoK, the Netherlands, Malaysia, Taiwan, Thailand, the UAE, and Russia.
PV Gas forecasts lower earnings for 2018
The PetroVietnam Gas Corporation (PV Gas), a subsidiary of  the Vietnam Oil and Gas Group (PetroVietnam), is targeting 55.7 trillion VND (2.47 billion USD) in its total revenue and 6.43 trillion VND (283.2 million USD) in post-tax profit for 2018, heard the company's annual shareholder meeting last week.
In addition, PV Gas also plans to pay a 40 percent dividend payout ratio for 2018 performance.
The figures were largely lower than the firm's earnings in 2017, which were recorded at 66 trillion VND in total revenue and 9.94 trillion VND in post-tax profit.
The full-year earnings were forecast based on the firm's assumption of crude price trading at 50 USD a barrel.
Such strong growth of oil prices helped PV Gas and other local energy firms earn high results in 2017.
PV Gas' earnings in 2017 beat its full-year forecast by 28 percent in total revenue and 89 percent in post-tax profit.
That was also the reason for PV Gas to increase its cash dividend payout rate for 2017 performance by a third to 40 percent.
PV Gas continued to see strong growth in the first quarter of 2018 as its net revenue in the first three months rose 12 percent year on year to more than 18 trillion VND and was equal to a third of the full-year target.
Its first-quarter post-tax profit increased by a fifth from the previous year to 2.6 trillion VND, equal to 40 percent of the year's target.
PetroVietnam will cut its ownership in PV Gas down to 45 percent. The company is looking for potential investors and reports the list of investors to the Government. The deal will not be finalised in 2018.
At the annual shareholder meeting, PV Gas also asked for shareholder approval on the company's construction of Nam Con Son 2 gas pipe with the adjusted investment of 6.48 trillion VND, of which PV Gas will fund 30 percent and borrow 70 percent from other institutions. The project is planned to complete in the third quarter of 2020.
CPI in Ho Chi Minh City up 0.12 percent in April
Consumer price index in Ho Chi Minh City rose by 0.12 percent monthly and 2.5 percent annually in April, according to the municipal Statistical Office on April 29. 
Among 11 commodity groups, eight recorded monthly price increases, led by transportation (1.35 percent). It was followed by culture, entertainment and tourism (0.62 percent), goods and other services (0.12 percent), beverages and cigarettes (0.09 percent), medicine and medical services (0.05 percent), education (0.04 percent), food and catering services (0.04 percent), apparel, headwear and footwear (0.01 percent). 
Lower prices were seen in housing, electricity and water supply, fuel and construction materials (0.24 percent), household equipment and appliances (0.08 percent). Post and telecommunication prices stayed the same during the month. 
Gold and USD prices went up 0.19 percent and 0.17 percent, respectively month-on-month.
VietShrimp 2018 draws over 100 local, foreign businesses
VietShrimp 2018, the second fair on technology in the shrimp industry of Vietnam, has taken place in the southern province of Bac Lieu province, drawing the participation of over 100 domestic and foreign businesses and groups.
VietShrimp 2018 featured 150 pavilions introducing products such as animal feeds, bio products, medicine, technology, equipment and machinery for farming, processing and logistics services of the shrimp industry as well as the fisheries industry.
Speaking at the opening ceremony on April 27, Deputy Minister of Agriculture and Rural Development Vu Van Tam said Vietnam's shrimp industry had developed for less than 20 years, but the nation is one of top producers of brackish water shrimp in the world. The industry gained 3.85 billion USD from shrimp exports in 2017.
The highlight of VietShrimp 2018 focused on shrimp farming technology, along with sustainable development of the shrimp industry, according to the organising board.
The three-day fair included a series of activities such as exhibitions, workshops and field trips.
The fair was jointly held by the Vietnam Fisheries Association, the General Department of Fisheries and the People's Committee of Bac Lieu.
Vietnam, Mexico seek partnership in food industry
Mexico's Secretariat of Agriculture, Livestock, Rural Development, Fisheries and Food (Sagarpa) and the Mexican Embassy in Vietnam co-hosted a seminar in Hanoi on April 27, discussing business and investment cooperation opportunities in the food sector between Vietnam and Mexico.
Addressing the event, Mexican Ambassador to Vietnam Sara Valdes Bolano said that both Mexico and Vietnam are well-known for agricultural products. Mexico can supply Vietnam with high quality products at reasonable prices, she said.
Mexico is now the world's 15th biggest food exporter and the biggest avocado producer, she noted, adding that Mexico is also famous for strawberry, banana and beef. The country's food production growth reached 13 percent in 2017, the ambassador noted.
The Sagarpa and the Ministry of Agriculture and Rural Development of Vietnam have worked together to finalise a memorandum of understanding on plant protection and food products, and another on researching and importing fresh products, she said.
The signing of the Comprehensive and Progressive Agreement for Trans-Pacific Partnership (CPTPP) is expected to promote the trading of agricultural products between the two countries, said the ambassador.
A Sagarpa representative said that Mexico has exported food products to 160 countries in the world with more than 290 agricultural products, such as avocado, potato, lemon, strawberry, mango and watermelon.
At the event, Mexican businesses introduced their strong products. Meanwhile, many Vietnamese firms held that the event is a good chance for them to explore the Mexican market and seek partnership with their Mexican peers.
According to the Ministry of Industry and Trade, Mexico is the third biggest trade partner of Vietnam in the Latin America region, with two-way trade growing rapidly. Vietnam has enjoyed trade surplus in the market for years.
In the first nine months of 2017, trade between Vietnam and Mexico reached 2.2 billion USD, including 1.8 billion USD worth of Vietnamese exports and 405.3 million USD worth of imports.
The two countries shared favourable conditions for boosting economic cooperation as they both are members of the Asia-Pacific Economic Cooperation Forum and CPTPP.
Vietnam is keen on fostering cooperation with Mexico in rice and aquaculture, along with science, technology, pharmaceuticals, education-training, and climate change response.