What comes to mind when you think of Phu Quoc Island? Pristine beaches, historic sites, Buddhist shrines, or fishing villages?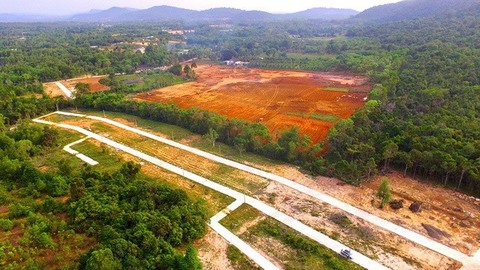 Dozens of hectares of agricultural land have been divided illegally for sale in Cua Duong Town on Phu Quoc Island. — Photo dantri.com.vn
These are the dominant images among visitors and tourists, but today you cannot enter a cafe or shop on the island without hearing heated conversations about the price of land.
Early next year, the island is slated to become a special administrative economic unit, which has sparked a firestorm of interest among real estate brokers, mostly from Ha Noi and HCM City.
Investors are flocking to the island looking for land, pushing prices up in anticipation of the new administrative designation, which would offer preferential incentives for development.
Phu Quoc, known as the Pearl Island of Kien Giang Province, was once a sleepy area of around 100,000 people. In recent years, however, the 567sq.m island has become a tourist mecca for thousands of visitors from around the world.
The inevitable problems that come with such rapid growth have not escaped the area. Land disputes, fraud, pollution and social disorder are only a few of the issues that local authorities now face.
Because of the massive profits from land speculation, nearly every resident on the island, including motorbike drivers and vendors, wants to take part in the risky but lucrative game.
One broker, who declined to be named, said land prices at prime locations on Tran Hung Dao Street had reached "crazy" heights of more than VND100 billion (US$4.38 million) per cong (1,000sq.m), while land costs in Cua Duong Commune had soared to VND1.5 billion-VND5 billion per cong.
Beachfront property can cost over VND25 billion ($1.1 million) per cong, but land owners are waiting to sell because the price is expected to rise, according to the broker.
Land that has been divided into lots has also seen price rising, from VND250 million ($10,967) per lot last year to VND1 billion now.
Ho Thanh Tu of Cua Duong Commune, who once worked as a driver transporting buyers looking for land, now earns hefty commissions as a land broker.
"I intended to buy a car for my driving service, but instead I invested in property because I can earn a lot from land speculation," he said.
Many people on the island have become wealthy from selling their land. Even so, some of them have regretted selling at "low" prices to buyers, mostly land brokers or speculators.
Some land lots have seen ownership transferred dozens of times in a short period, pushing up prices far beyond the real value, according to experts.
For example, a land lot sold in the morning can be sold to another buyer at almost double the price later the same day.
Nguyen Van Thieu, 50, a land broker from HCM City's Go Vap District, said that land prices on the island had risen to astonishing heights.
"When I visited the island a few years ago, I advised my friends to buy lots of 100-200sq.m for VND500-700 million each. But they didn't, so now they regret because the price has gone up to several billion per lot," he told Viet Nam News.
In recent years, many Viet kieu (overseas Vietnamese) have also been buying a great deal of property in Viet Nam, including on Phu Quoc Island.
Land disputes
Land fever on the island has led to many cases of fraud and disputes related to transactions, according to local authorities.
Kien Giang Province's police, for example, recently detained Pham Thi Thao Trang, 39, of Ham Ninh Commune for "appropriation of property charges". She was charged with selling the same land lots to two different people.
She first sold two land lots covering a total of 5,500sq.m on Tran Hung Dao Street in Duong Dong Town to a resident on Phu Quoc for VND50 billion. She said the sale had been notarised.
A month later, she sold the land lots to another person for VND63 billion. She received a deposit of VND10 billion and pledged she would complete transfer procedures at the notary office within 30 days, but she never did, according to police.
At a recent meeting of the Phu Quoc District's People's Committee in Cua Duong Commune on April 4, committee chairman Dinh Khoa Toan said the district had recently received around 253 complaints related to land disputes.
"Land disputes are occurring wherever there is a real estate project," he said. "The number of cases is increasing as land fever continues unabated."
Due to the number of land sales, the notary offices on Phu Quoc are always overloaded with work. Every day, hundreds of transactions are recorded at Notary Public No 1 Office on April 30th Street and at Notary Public No 2 Office on Nguyen Trung Truc Street.
Another serious issue involves fraud committed by members of organised crime groups, according to Phu Quoc District Police, who have resolved 13 land disputes involving such groups.
At least 138 members involved in organised crime have been questioned by police investigators. Of the number, 23 people had criminal records, and 66 were residents of other towns or provinces in Viet Nam.
Besides these violations, dozens of illegal land and mineral exploitation cases have been discovered in recent months.
Pham Vu Hong, chairman of Kien Giang Province's People's Committee, said that more and more people, especially workers from other cities and provinces, were coming to Phu Quoc every day.
"The People's Committee is now paying a great deal of attention to organised crime on Phu Quoc," he said.
Environmental protection
Besides rampant land speculation, the authorities are dealing with massive amounts of waste because of rapid development. On average, Phu Quoc Island discharges more than 150 tonnes of waste per day.
The island has only two landfill sites, one of which has been closed for months, while the other is now overloaded and cannot receive more waste, according to Huynh Van Minh, head of the Public Works Management Board of Phu Quoc District.
"The waste treatment plant in Ham Ninh Commune's Bai Bon Village has also been closed for maintenance and upgrading," he said.
Pham Van Nghiep, vice chairman of Phu Quoc District's People's Committee, said the waste treatment factory in Bai Bon would be closed until June.
Hong, the chairman of Kien Giang Province's People's Committee, said the committee over the past 10 years had not been able to attract investment in wastewater treatment projects.
In the face of such development, Phu Quoc authorities have urged people to carefully consider their decision to buy land.
"Buyers should think carefully before making land purchases and should not chase after prices. Many of these areas are included in overall planning, and these might not be granted permits to build hotels or restaurants," they said.
In an effort to stabilise prices, the district plans to introduce strict measures to manage land transactions, prevent speculation, and handle illegal land appropriation.
Deputy Prime Minister Truong Hoa Binh has asked the Government Inspectorate to improve inspection of management and use of agricultural land on Phu Quoc.
Many land-use violations have occurred, including the transfer, leveling, and division of farmland, as well as the building of houses and infrastructure on agricultural land.
The Deputy PM has asked the Kien Giang Province's People's Committee to resolve the violations on Phu Quoc and report the results to the Prime Minister before July.
Since 2010, there have been three periods of land fever on Phu Quoc. This year, land prices rose by three to four times compared to mid-2016.
Located 46km from the mainland, the island can be reached by air from HCM City within 50 minutes and from Ha Noi within two hours. — VNS