VietNamNet Bridge – Ride-hailing firm Uber Technologies Inc recently agreed to sell its Southeast Asian business to bigger regional rival Grab, marking its second pull-out from an Asian market.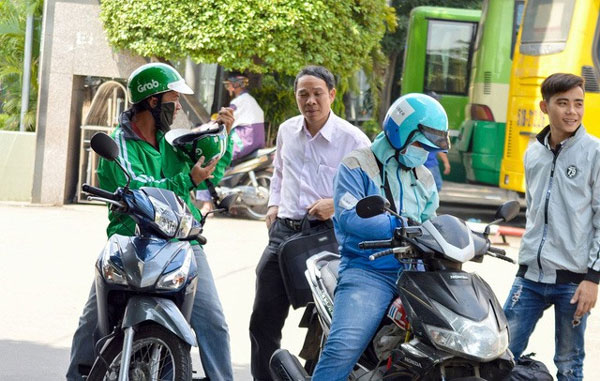 Ride-hailing firm Uber Technologies Inc recently agreed to sell its Southeast Asian business to bigger regional rival Grab, marking its second pull-out from an Asian market.— Photo tuoitre.vn
Uber will take a 27.5 percent stake in Singapore-based Grab and Uber CEO Dara Khosrowshahi will join Grab's board. Grab was last valued at around US$6 billion.
Grab provides transportation, food delivery, mobile payments and financial services and operates in 195 cities across Southeast Asia. The company claimed to have a 95 percent market share of the ride-hailing market last year when it announced plans to raise more than $2.5 billion from SoftBank and other investors.
Uber's withdrawal from the Asian market is expected to redraw the ride-hailing market including in Vietnam.
"What are the gains and losses for local rivals from Uber's withdrawal?" and "How will Vietnamese consumers be affected?" have been hot topics in recent days.   
Some analysts said Uber would leave behind a gap and local ride-hailing companies, many recently set up, should capitalise on the opportunity to expand their investment and market share.
"The companies that provide the best services will win."
Local transport firms believe that the space created by Uber's withdrawal is a great opportunity for them to make inroads into the lucrative ride-hailing market so they want to grasp it by rushing to further invest in ride-hailing applications. 
Phuong Trang Tourism Service and Transport JSC invested almost US$100 million into Vivu and has renamed it Vato, reflecting its plans to develop a variety of e-commerce services.
This car application sets a minimum price of VND25,000 (US$1.1) for a ride and then allows users to bargain with the driver for the most competitive price.
With 2,000 cars registered, the default price for customers is VND8,500 per kilometre, similar to Grabcar. Drivers have to pay a 20 per cent commission, five percentage points less than Grab charges.
Mai Linh Group, another of Vietnam's leading taxi operators, has also seen the number of drivers registering to use its technology platform surge since the Grab-Uber merger.
Mai Linh Bike is setting itself apart from Grab by collecting only a 15 per cent commission and buying drivers uniforms if they earn VND2.5 million in the first month of the contract. Mai Linh will also buy insurance for all drivers after six months of working.
The rate charged by Mai Linh Bike is VND11,000 for the first two kilometres and VND3,700 for every subsequent kilometre. Prices won't rise during peak hours unlike Grab and Uber.
Telecom behemoth Viettel recently signed an agreement with transportation start-up Gonow to become the latest entrant in the ride-hailing market.
Viettel will support Gonow in developing websites, a sales network, a customer care system and payment services. It holds a 30 per cent stake in Gonow.
Founded one year ago, Gonow is a platform which connects drivers or car owners with customers to provide passenger and goods transportation as well as car leasing services.
It operates in all 64 provinces and cities in the country and plans to expand to international markets starting at the end of this year.
In recent years, to cope with the rapid expansion of ride hailing apps Uber and Grab, several traditional taxi firms also developed their own car hailing applications under a Government-approved pilot project to use technology in passenger transport.
Thanh Cong Taxi Group introduced the @ThanhCongApp application to become the first taxi company in Vietnam to use chatbot technology. @ThanhCongApp operates in five cities and provinces, Hanoi, Ha Nam, Vinh Phuc, Quang Ninh, and Thua Thien-Hue.
Other taxi companies like Taxi Group, The Ky Moi, Sao Thu Do, and Vinasun also have their own ride hailing applications with interfaces similar to those of Uber and Grab.
Result
Phuong Trang Tourism Service and Transport JSC said after Uber's pull-out from Vietnam was announced the number of people using its VATO app increased to around 5,000 drivers for cars and bikes within three days, double the previous peak usage.  
Ho Huy, chairman of Mai Linh Group, said the number of drivers registering to use the company's technology platform has seen a surge. Hundreds of people use Mai Linh Bike every day, most of them shifting from Uber.
The Grab-Uber merger has raised concerns that Grab will monopolise the market in violation of the Competition Law.
Drivers and customers have been worried about their benefits and a possible increase in fares.
Many Uber drivers said the takeover was bad news since their incomes would be affected with the number of cars increasing sharply.
Some said in the past, with competition they could ask for higher commissions, but now they would have no choice and have to take whatever Grab offers.
Besides, many Uber drivers had borrowed from banks to buy a car or cars to become the company's full-time employee. With Uber's demise, they are likely to lose their jobs if they are not taken on board by Grab due to whatever reason.  
As for customers, they also fear that promotion programmes may be reduced or even stopped since Grab now has a monopoly in the ride-hailing market.
An official from the Viet Nam Standards and Consumers Association admitted that Grab is likely to start manipulating prices in a market in which it has no direct rivals.
However, many analysts dismissed the fears saying Grab would not be in a position to abuse its apparent monopoly.
The scramble by local transport firms to enter the tech-based taxi market in recent times means they would provide enough competition to Grab and dissuade it from harbouring notions of monopoly abuse.
Another, and more important, reason is that the Governments of several countries which may be affected by Uber's withdrawal and Grab's monopoly, including Vietnam, have indicated they will nip in the bud any possible anti-competitive behaviour by Grab.
A statement from the Philippine Competition Commission (PCC) quoted by Reuters said: "The Grab - Uber acquisition is likely to have a far-reaching impact on the riding public and transportation services. As such, the PCC is looking at the deal closely."
The PCC said the acquisition would put Grab in a virtual monopoly in the ride-sharing market and it would determine whether this deal substantially reduces competition.
Malaysia has also said it would monitor Grab for possible anti-competitive behaviour.
In Vietnam, the Viet Nam Competition Authority has asked Grab to provide information and documents related to the acquisition as well as the acquisition contract to prevent possible violations of the competition law.
The Law on Competition clearly stipulates that mergers and acquisitions that could have a major impact on market competition should be curtailed.
Analysts pointed to another reason that would likely make Grab behave: It has been dominating the ride-hailing market thanks to its cheap fares and would be foolish to change that policy, especially since it still has to contend with traditional taxi firms, who remain redoubtable competitors.
Improvements needed
Experts have hailed Vietnamese transport firms' efforts to invest in technology to grab the opportunity to develop their business after Uber's withdrawal.
Speaking at an online forum held by Giao Thông newspaper late last week they said however they were getting into a fierce battle and would have to make great efforts in many aspects to survive.
They should have flexible pricing policies and development strategies, and have a good understanding of sharing economy to be able to soon adapt IT and technology.
Sharing economy is an economic model often defined as a peer-to-peer (P2P) based activity of acquiring, providing or sharing access to goods and services that are facilitated by a community based on-line platform.
However things pan out, one thing is inescapable: it is vitally important that authorities and policies ensure healthy competition to benefit both service providers and passengers.
Source: VNS