Automobile sales surge 70 percent in March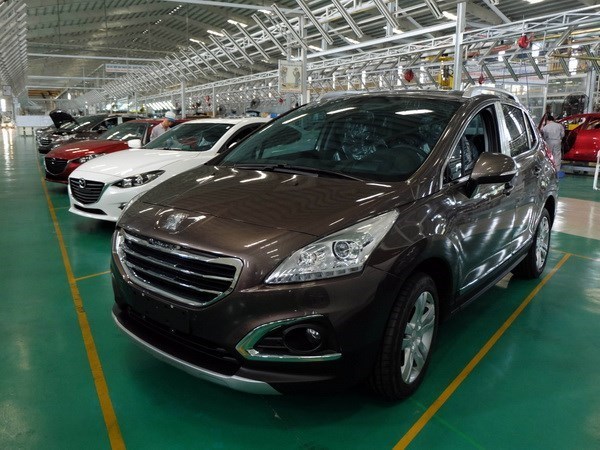 A total of 21,127 automobiles were sold in March 2018, a surge of 70 percent over the previous month, reported the Vietnam Automobile Manufacturers' Association (VAMA) on April 10.
The VAMA revealed that among the sold vehicles, there were 12,858 passenger cars, a month-on-month increase of 48 percent, along with 6,949 commercial and 1,320 special-purpose vehicles, up 109 percent and 222 percent, respectively.
In terms of origin, the number of domestically assembled vehicles was 18,777 and imported automobiles were 2,350, representing rises of 76 percent and 37 percent against the previous month. 
The VAVA's monthly report also showed that new Honda cars were introduced in the month – Jazz, CR-V, Civic and Accord – which were imported from Thailand. In the month, Honda sold 1,311 cars, up 24 percent year on year.
In the first three months of this year, a total of 59,558 vehicles of all kinds were sold, a drop of 8 percent from the same period last year. A fall of 4 percent was seen in sales of passenger cars, while that of commercial and special-purpose vehicles was 11 and 40 percent respectively.
The number of domestically-assembled vehicles sold in the January-March period was 50,049, up 8 percent, while the figure of imported vehicles were 9,509, a drop of 48 percent from the same period last year.
According to a representative of Toyota Vietnam, affected by Decree 116/2017/ND-CP, automobile producers did not import cars into Vietnam in March, especially cars from some ASEAN countries. Meanwhile, sales of domestically-assembled vehicles boomed thanks to abundant supply and competitive prices.
Russian firms network in HCMC     
The Russian Export Centre on Tuesday held a networking event in HCM City to enable Vietnamese and Russian business executives to meet each other and improve the business relationship between the two countries.
Held at the Rex Hotel, it was attended by around 20 businesses from the two countries.
Robert Kurilo, chief representative of the Russian Export Centre (REC) in Ha Noi, said: "Viet Nam is good at agriculture, medical products and tourism, which Russia has high demand for.
"However, trade between the two countries has not been as good as we would hope. I think this is because after the fall of the Soviet Union, Russia had to focus on its domestic markets.
"Russia is slowly paying more attention to the Viet Nam market, but now there is a lot of competition with countries such as Japan and the US, so that can be a challenge.
"But with the support of businesses, the Viet Nam Chamber of Commerce and Industry (VCCI) and Russian authorities, we hope to build the relationship between the two sides."
Since January this year logistic companies such as Russian Railway Logistics are providing services enabling export of Vietnamese goods to Russia and vice versa by rail, which is faster than by sea.
Sergey Klishin of Schelkovo Agrohim, one of Russia's largest plant protection chemical manufacturers, said: "We are here to network with Vietnamese companies and research the plant protection chemicals market in Viet Nam as we are aware that Viet Nam has high demand for such products. We are looking for partners so we can tap the market."
Nguyen Viet Anh, marketing manager of NaFoods Group (a Vietnamese fruit and vegetable exporter), said the event was a great opportunity to meet with Russian companies that can help export Vietnamese fruits to Russia, which has great demand for Vietnamese fruits.
He did meet some potential partners and hoped for close co-operation with them, he said.
REC's Russian Gastro House in District 1, a showroom for Russian food items, plans to expand in the next few months.
It will change its name to Trading House of Russian Export Centre and showcase more types of products and organise more promotional events.
Trade between the two countries last year was worth around US$5.2 billion.
Alexey Popov, Russia's consul general in HCM City, said the two countries hoped to reach $10 billion by 2020.
Vo Tan Thanh, deputy director of the VCCI said the Viet Nam - Eurasian Economic Union Free Trade Agreement which took effect in 2016 and the expansion of REC's services were major factors in boosting trade and fostering the relationship between Viet Nam and Russia. 
HDBank allowed to expand business in 2018     
HCM City Development Commercial Joint Stock Bank or HDBank has been approved by the State Bank of Vietnam to open 45 new branches and transaction offices in 2018.
If the plan materialises, HDBank will increase its network to 315 transaction points.
In 2007, HDBank opened 19 branches and transaction offices, taking the total number of transaction points to 270.
Due to the expansion of its network and business plan, HDBank recruited more than 2,600 people in 2017, taking the total number of staff to more than 13,700.
Last year, the bank recorded a pre-tax profit of VND1.95 trillion (US$86 million), an increase of 113.7 per cent over 2016.
The sharp increase in profit was attributed to an increase in the scale of lending and settlement of overdue debt, bad debt and non-performing assets as well as an increase in income from other services and securities investment and business.
The net income of HDBank last year increased by VND1.7 trillion, while income from investment in securities, mainly government bonds, increased by VND333 billion. The income from other activities rose by VND103 billion, from service activities by VND78 billion and from capital contribution by VND31 billion.
Property Awards 2018 to boost transparency     
The first Viet Nam Property Awards 2018 is expected to create new development trends in the property market, says Dang Hung Vo, former deputy minister of Natural Resources and Environment.
The annual awards are co-hosted by the Viet Nam Real Estate Association (VNREA), Management Agency for Housing and Real Estate Market under the Ministry of Construction and VTV24 news centre.
The award ceremony is scheduled to take place in the middle of this month at the National Convention Centre.
According to Vo, the awards are considered significant to ensure sustainable and transparent development of the real estate market.
The awards aim to honour outstanding individuals, organisations and projects that contribute to the rapid, sustainable and transparent development of the realty market amidst industrialisation, modernisation and integration, thereby encouraging domestic property firms to improve competitiveness and trademark to meet international practices.
The competition is open to all individuals and entities operating in real estate in line with Viet Nam's law, exclusive of wholly foreign-owned ones, without discrimination between VNREA members and non-members.
Participants will compete in eight categories, including prestigious real estate developer, largest urban area, best resort development, best office building for rent and shopping mall, best residential area, best green building, best real estate transaction floor and best social housing project.
He said the eight categories cover all aspects of the property market. Of these, the three criteria of green building, energy saving and highly valued by customers have been standards.
"Estate firms will have the opportunity to score based on the criteria. The awards will also help prestigious property developers advertise their image as well as encourage businesses to become more professional in the market," he said.
Workspace provider Regus offers conference centre in HCM City     
lobal workspace provider Regus has launched its conference centre in the Deutsches Haus building on Le Duan Street in HCM City's central business district area.
Situated on the second floor of the Deutsches Haus centre, it can host up to 200 guests and is equipped with modern technology.
Viet Nam is currently one of the fastest growing MICE (meetings, incentives, conventions and exhibitions) hubs in Southeast Asia, having invested significantly in infrastructure in recent years to position itself as Asia's next Tiger Economy.
According to statistics from McKinsey consulting group, last year 17 per cent of visitors to HCM City came for business purposes, higher than the regional average of 14-15 per cent.
The company began operations in Viet Nam in 1998 and now boasts eight business centres spread across HCM City, Ha Noi and Da Nang.
Regus solutions enable businesses to minimise their second largest cost of doing business - the expenses associated with leasing, equipping and staffing an office.
The Deutsches Haus centre is the first Regus facility in Viet Nam to offer conference centre solutions.
Regus' office, co-working and meeting spaces are spread over 3,000 locations in over 100 countries and serve 1.5 million members every month. 
Annual awards recognise listed firms for corporate governance, success     
The Viet Nam Listed Company Awards (VLCA) kicked off its 2018 season in HCM City on Tuesday.
The awards, given jointly by the HCM City Stock Exchange (HOSE), the Ha Noi Stock Exchange (HNX) and Viet Nam Investment Review magazine, and sponsored by Dragon Capital Group, are an extension of the Viet Nam Annual Awards (ARA), an event that has accompanied the growth of Viet Nam's stock market and listed companies for a decade now.
Besides the annual reporting awards and the sustainability reporting awards, this year's contest will also conduct an in-depth review of corporate governance standards at listed companies.
The aim of the review is to encourage listed firms to adopt international standards of governance and promote sustainability.
A corporate governance set of standards developed by the VLCA's organising committee is based on the standards of Organisation for Economic Co-operation and Development (OECD) countries, with adjustments made to suit the local situation.
Besides annual reports, judges will also take into account information published by companies between July 1 last year and April 30 this year on other channels, such as their own website or policymakers' websites.
An independent third-party judge will be invited to evaluate the corporate governance section.
The preliminary results of the awards and corporate governance review will be checked by global auditors Deloitte, E&Y, KPMG, and PwC to ensure the highest level of transparency, impartiality and professionalism.
Another new aspect of the VLCA this year is that participating companies, wherever they are listed, will be classified into three groups based on their market capitalisation (large cap, mid-cap or small cap).
This classification will create opportunities for mid- and small-sized companies, encouraging them to take part in the awards.
There will be awards in three categories, Annual Reports, Corporate Governance, and Sustainability Reporting.
In the Annual Reports category, 10 mid-cap and small-cap companies each and five large-cap companies will be chosen for the awards.
In the Corporate Governance category, it will be five each.
The Sustainability Reporting Awards will be given with assistance from the International Finance Corporation and the Association of Chartered Certified Accountants. There will be one first and second prize each and three consolation prizes based on the completeness, reliability and presentation of reports.
The preliminary round and auditing of results will end on August 31 and the final round on September 15. The awards ceremony is expected to take place in October. 
SAM Holdings seeks additional share issue to finance new investments     
SAM Holdings Corp is seeking its shareholders' approval to issue additional 101 million shares and offer a stock dividend rate of 3 per cent for the 2017 business result.
The plans, if they receive the nod of shareholders at the annual shareholders' meeting on April 17, will be implemented in 2018 and 2019.
The wire and cable manufacturing and trading company will issue some 7.25 million shares to pay the stock dividend, while the additional share issue will be offered at the rate of 41.76 per cent and at a price not lower than VND10,000 per share.
The proceedings will be used to finance the purchase of State shares in State-owned enterprises' divestment, restructure debts and supplement working capital.
The company's charter capital is expected to increase from VND2.4 trillion to VND3.5 trillion (US$153.5 million) after the two issues.
Its board of directors has also proposed business targets of VND2.95 trillion in revenue and VND180 billion in pre-tax profit for 2018, up 20 per cent and 26 per cent, respectively, against 2017.
This year, the company will evaluate the effect of its investment projects and divest from some ineffective projects. It will also promote investment in new areas such as high-tech agriculture.
The dividend rate is projected at 3 per cent, as that of 2017. 
FPT Telecom to pay 50% stock dividend     
FPT Telecom Joint Stock Company will pay shareholders stock dividend at the rate of 50 per cent for 2017's business result, the company announced.
The list of shareholders participating in this payout will be finalised on April 20.
The telecom arm of the FPT Group is expected to issue some 75.4 million shares to pay dividend this time.
Shares of FPT Telecom, which are trading on Unlisted Public Company Market with the code FOX, rose 6.5 per cent on April 10 to VND85,000 (US$3.73) per share after the announcement.
In its annual shareholders' meeting in late March, FPT Telecom approved the plan of distributing the undistributed profit, which reached VND1.2 trillion ($52.6 million) by 2017-end, with a dividend payment scheme of 30 per cent in cash and 50 per cent in the form of shares.
The company paid the 30 per cent cash dividend last year.
In 2018, the telecom firm targets a total revenue of VND8.67 trillion, up 13.3 per cent year-on-year, of which core business lines – telecom and advertising services – are projected at VND8.1 trillion and VND570 billion, respectively.
Its pre-tax profit is expected to reach nearly VND1.4 trillion, a rise of 14.6 per cent against 2017. 
Russian Export Center delegation visits Vietnam
The Russian Export Center JSC (REC), in cooperation with the Ministry of Industry and Trade of the Russian Federation, is holding commercial events in Hanoi and Ho Chi Minh City during a visit by a delegation from April 9 to 13. The trip's mission is to develop economic and commercial relations between the two countries.
The REC delegation visited Saigon Hi-Tech Park in Ho Chi Minh City, one of Vietnam's leading science and technology centers, and had business-to-business (B2B) meetings with representatives of Vietnamese enterprises involved in export projects with Russia.
It introduced the REC Commercial House Model on April 10. With an "umbrella structure", the Commercial House Model will link Vietnam with REC's entire infrastructure network abroad, allowing a centralized source for Russian exporters to approach and conduct meetings and negotiations with foreign partners, provide samples of their products at active stalls in the network, or organize product exhibitions. A pilot project of the Commercial House Model is now being researched in Ho Chi Minh City.
The ceremony introducing the Commercial House Model was attended by Mr. Popov Alexey Vladimirovich, Russian Consul General to Ho Chi Minh City, Mr. Robert Kurilo, Head of the REC, and Russian and Vietnamese business associations and companies.
The REC delegation will also attend Vietnam Expo 2018 on April 11, in Hanoi. More than 30 leading Russian enterprises are participating at the event, including the VIST Group, the Sinara Transport Machines JSC, Sintez, Nacimbio, and others.
In the Russian area will be a forum on the "Russia-Vietnam Partnership in the Area of Trade and Economy: Development Strategies"; round tables on exporting agricultural products to Vietnam, promoting cooperation in industry and energy between Russia and Vietnam, and information technology and digital economy; and seminars on the adaptation of Russian products in Vietnam and the conditions and financial angles of doing business in the country.
The delegation will also visit several Vietnamese companies based in Hanoi that have branches in Russia.
The Russian Export Center JSC is a State-owned development institute established by the government to support the development of the non-commodity export industry. It offers a wide range of financial and non-financial support to benefit Russian exporters in exploring foreign markets and building capacity in global trade. The REC also acts as a focal point for interaction with relevant domestic ministries and agencies and cooperates with key industries and business players in Russia to improve export conditions in Russia and help bypass trade barriers.
Ba Ria - Vung Tau supports new startups
The People's Committee of Ba Ria – Vung Tau is working with the non-profit Startup Vietnam Foundation (SVF) to support new business and boost economic growth in the province.
During a conference on startups attended by officials and businesses late last week, the two parties signed an agreement to promote financial aid and other investment channels, and to enhance networking between investors and customers.
The People's Committee and SVF plan to devote resources to counselling and managerial training programmes, and build a network of investors to aid startups.
Nguyen Thanh Long, deputy chairman of the committee, said the province was already seeing numerous ambitious and innovative start-ups.
He asked departments, organisations and businesses to keep track of startup needs and assist them as much as possible.
Startup support policies are part of the province's plan to develop an innovative startup community that uses the province's indigenous ingredients ("Made in Ba Ria – Vung Tau" products) and demonstrates their quality to other regions in Vietnam.
Some companies in the province have become famous for promoting "Made in Ba Ria – Vung Tau" ingredients, such as Forny Ltd, a local company that produces honey and turmeric powder whose products are now sold at pharmacies all over Vietnam.
The company was among the first in the province to produce turmeric powder after conducting lengthy research on technologies, material purchases and production chains.
The company Amazon Food Ltd is also well known for producing cocoa products that use only ingredients from Ba Ria – Vung Tau, which has contributed to their reputation in Vietnam as well as Japan. 
Cargill opens grain warehouse in southern province
Cargill on April 10 opened an 80,000 metric tonne warehouse for grains and oilseed at the Saigon International Terminals Vietnam (SITV) port in Phu My town, the southern province of Ba Ria-Vung Tau. 
Equipped with world-class equipment, the 10 million USD facility is expected to meet the growing demand for grains primarily from the food and animal feed sectors.
The company said the warehouse meets safety, security and quality requirements and enables customers to receive agricultural products faster, more efficiently and more cost effectively.
This is Cargill's such facility in the southern region. It has another 50,000-tonne facility at Cai Lan Port in the northern province of Quang Ninh.
Alan Willits, head of Cargill's grain and oilseed business in Asia Pacific, said Vietnam is a key market for the company and the new storage facility strengthens its ability to supply high-quality feed grains and animal feed products to customers. 
According to him, the investment is part of Cargill's strategy to expand business to meet the growing demand for feed grains and animal feed, driven by increased meat consumption amongst Vietnamese consumers.
In the past three years the volume of grains and oilseed handled by the company in Vietnam has grown four-fold from 400,000 metric tonnes to 1.75 million tonnes.
By 2020 Cargill expects this to increase to more than 3 million tonnes, making it one of the largest importers, marketers and distributors of grains in Vietnam, he said.
Alongside the investment in the storage facility, Cargill will also become the first company in Vietnam to offer customers a digital platform that will provide real-time information including the warehouse stock position, shipment status, product orders and contract status updates. The digital solution will be launched in June 2018.
Cargill, which came to Vietnam in 1995, is a leading animal nutrition company that produces premix and compound feed. It also deals in food and beverage ingredients, grain, oilseed and metals.
Philippines to import 250,000 tonnes of rice from Vietnam or Thailand
The Philippines is considering an emergency purchase of up to 250,000 tonnes of rice from Vietnam or Thailand to ensure enough rice for domestic consumption during months of bad harvest.
According to the Philippines' National Food Authority (NFA), officials concerned are in the process of reference for the emergency purchase.
Under a new decree of President Rodrigo Duterte, the state-run grains agency may resort to alternative methods of procurement, especially during emergency cases. Therefore, the NFA said that whoever can bring in the rice requirement the fastest and the cheapest will be awarded the supply contract.
Duterte on April 5 met with rice traders to appeal to them not to hoard rice or sell the grains at higher price.
Rice traders promised to sell white rice at a price lower than the current market price and provide market with 700,000 sacks of rice.
Raw material shortage to result in halted production
Many cashew nut processing facilities are facing the risk of being halted their operations due to a serious shortage of raw cashew nuts in the first quarter of this year.
The Vietnam Cashew Association (Vinacas) reported that local businesses shipped 74,590 tons of cashew nuts in the first quarter of this year to get US$758.067 million with an average price of US$10,173 per ton. Exports increased 33.8% in volume and 46.69% in value compared to the same period last year. However, the sector is in the serious shortage of raw cashew nuts for processing.
Early this year, the sector expected a bumper crop with an output of around 400,000-500,000 tons. However unfavourable weather and limited care of cashew growers have made the 2017-2018 crop fail on a large scale.
Meanwhile the quality of import raw cashew nuts also decreased, badly affecting the nut volume.
This year, the sector is expected to get 300,000 tons of raw cashew from local growers, import about 1 million tons and export around 270,000 tons of processed cashew nuts.
Vietnam Listed Company Awards kicks off 2018 edition
Vietnam Listed Company Awards announced its 2018 season on April 10, with greater emphasis on corporate governance and a new classification system for the winners.
This morning, Vietnam Listed Company Awards, co-organised by the Ho Chi Minh City Stock Exchange, the Hanoi Stock Exchange, and Vietnam Investment Review under the sole sponsorship of Dragon Capital Group Ltd., announced its 2018 edition.
Vietnam Listed Company Awards (VLCA) is an extension of Vietnam Annual Reports Awards, which has accompanied the growth of the Vietnamese stock market and listed companies throughout the past ten years (2008-2017).
Besides the annual reporting and the sustainability reporting awards, this year's contest will conduct an in-depth review of the corporate governance standards at listed companies, with a tailored set of criteria.
The aim of this corporate governance review is to encourage Vietnamese listed firms to adopt international standards of governance and promote sustainability.
The corporate governance standards developed by VLCA's Organising Committee are based on the standards of OECD countries, with adjustments to fit the current situation at Vietnamese listed firms and the Vietnamese law.
Beside the annual reports, judges will also take into account reliable information published by companies between July 1, 2017 and April 30, 2018 via other channels, such as their own or policymakers' website. An independent third-party judge will be invited to evaluate the corporate governance section.
Similar to previous editions, the preliminary results of VLCA and the corporate governance section will be checked by global auditors Deloitte, E&Y, KPMG, and PwC to ensure the highest levels of transparency, impartiality, and professionalism.
Another new aspect of VLCA this year is that participating companies are listed on the HSX and HNX. The participants will be classified into three groups based on their market capitalisation (large, middle, and small-cap). This classification will create opportunities for small-and medium-sized companies, encouraging them to join the awards and receive recognition.
The preliminary round and auditing of results will end on August 31, 2018. The final round will end on September 15, 2018. The awards ceremony is expected to take place in October 2018.
Le Hai Tra, acting chairman of HOSE and co-head of the Organising Committee, said, "As the Awards reach the 11th year, we continue to feel a strong responsibility to continue the Awards, which has had a positive impact on listed Vietnamese companies, investors, and the entire market in general. This year, we are determined to raise the quality and reputation of the Awards."
Mothercare's entry to challenge Bibo Mart domination?
The joining of the globally leading specialist retailer of products for mothers-to-be, babies, and children, Mothercare Plc., may be the starting pistol in the race with Bibo Mart JSC.
mothercares entry to challenge bibo mart domination
On April 21, Mothercare will launch its first baby and mom retail store in Ho Chi Minh City's Crescent Mall, which is one of the first shopping centres in Vietnam meeting international standards. The store volume is expected to increase to three within the year.
Mothercare will join Vietnam via franchising partner Au Chau Fashion and Cosmetics Co., Ltd. (ACFC), which is a subsidiary of Imex Pan Pacific Group (IPP Group) and specialises in distributing the products of Nike, Tommy Hilfiger, and Gap, among others.
Covering an area of 286 square metres, Mothercare will supply UK-standard products meeting all demands of mothers-to-be, babies, and children.
According to the first phase's development plan, Mothercare will focus on supplying creative and unique products for children below five.
With its "Welcome to the club" slogan, Mothercare set itself apart from general baby and mom stores. Notably, Mothercare will organise programmes and forums to connect family members with each other to better take care of the babies and connect families with each other to train and share experiences in pre-natal care raising children.
In the UK, Mothercare and Early Learning Centre products are sold through the group's own multi-channel (in-store and online) retail operations and via a smaller wholesale operation. In the overseas markets, the group's products are sold through its franchise partners' retail stores with a small but growing online presence and a fledgling wholesale business for territories where the company does not have franchise partners.
At present, the baby and mom retail market is dominated by the Bibo Mart baby and mom store chain, which is 20 per cent owned by ACA Investments—Japan's leading fund management company and an affiliate of Sumitomo Corporation.
Starting out with only two stores in 2006, Bibo Mart now has 120 stores. It is expected that by the end of this year, the number of stores will double over 2016's figure to reach 180 and then 500 by the end of 2019.
On average, about 10 new stores will open nationwide each month. Bibo Mart stores will be located in more than 18 cities and provinces, targeting locations that are densely populated and convenient for buyers. Over its 12 years of establishment and development, Bibo Mart is now the No. 1 mother and baby chain in Vietnam and is valued at $140 million.
In May 2017, ACA Investments completed the purchase of a 20 per cent stake in Bibo Mart JSC with the ambition to become the dominant baby and mom retailer in Vietnam.
ACA Investments is one of the best-performing fund managers in Asia, with a head office in Singapore and extensive experience in investing in projects in the Asia-Pacific region. It was established in 2008 and has a focus on growing companies in specific industries as well as investment-related services, such as mergers and acquisition advisory.
Mothercare was established in 1961 in the UK. Mothercare Plc. is a global retailer for parents and young children. In 1974, it established the first Early Learning Centre. Both brands resonate well with customers the world over. It currently has 1,300 stores across more than 50 countries, offering a range of products from both Mothercare and Early Learning Centre.
The clash of Mothercare and Bibo Mart is expected to be fierce, as Mothercare has extremely deep financial foundations, while Bibo Mart receives support from ACA Investments, giving both sides ample ammunition.
Dak Nong promises great incentives for solar power project
Europe Clean Energies Japan K.K will receive numerous incentives during the construction process of the Truc Son solar power project located in Cu Jut district of the Central Highlands province of Dak Nong.
The Dak Nong People's Committee has approved in principle the Truc Son solar power project invested by a joint venture between Europe Clean Energies Japan K.K and Thanh Nien Media Corporation.
According to the plan, the project will cover an area of 50.77 hectares and have the total investment capital of VND1.1 trillion ($48.3 million).
The investor will accelerate efforts to complete the administrative procedures for the investment certificate to implement the project as soon as possible. The project is expected to come into operation in June next year with the capacity of 67MWh per year and operate for 50 years.
During the construction phase, the investor will enjoy corporate income tax, land rental fee, and import tax incentives, among others. Besides, the authorities will support the investor in completing the administrative procedures.
Previously, the investor planned to implement the construction in February this year so that the plant can generate electricity in March 2019, but failed.
In another movement, India-based EPC firm Sterling and Wilson plans to build 300MW of solar PV plants in Vietnam by mid-2019.
The company said it was in advanced discussions with leading developers in the country for projects requiring investment of $250 million.
Sterling and Wilson plans to hire local workers to construct and maintain the solar projects and aims to generate employment for nearly 600-700 people during construction and 50 people during the 20-year maintenance phase.
Bikesh Ogra, CEO of Sterling and Wilson, said, "Vietnam is one of the fastest growing economies in the world with nearly 8-10 per cent annual increase in power consumption by industries who are the largest consumers of electricity in the country. We are working closely with leading developers to join the larger aim of bringing affordable and clean energy to the Vietnamese market."
Long-delayed Metro Line No.2 may be added $701.78 million?
Despite the fact that the construction of Metro Line No.2 connecting South Thang Long and Tran Hung Dao has been delayed for ten years now, the Hanoi People's Committee proposed the government to add VND16.1 trillion ($701.78 million) to the project, increasing its total investment capital to VND35.7 trillion ($1.56 billion).
Approved in November 2008, the project is invested by Hanoi Metropolitan Railway Management Board (MRB) with the total investment capital of VND19.55 trillion ($857.5 million) by the Japan International Cooperation Agency (JICA).
Under the approved plan, the metro line will be 11.5 kilometre long, nearly 9km of which will run underground and 2.6km above the surface. It consists of a 17.5-hectare depot in Xuan Dinh ward, North Tu Liem district, and ten stations, including three elevated and seven underground.
The project was expected to come into operation in 2017, however, the construction has yet to be kick off. The investors have only completed the building of tender packages and the basic design.
In 2015, the Hanoi People's Committee proposed the Ministry of Planning and Investment (MPI) to adjust the investment capital of the project up to VND51.7 trillion ($2.27 billion), however, because the added capital volume was too extensive, MPI asked the Hanoi People's Committee to reconsider its proposal. As a result, for its second proposal, the Hanoi People's Committee only requested to increase the capital to VND35.7 trillion ($1.56 billion).
Accordingly, in April 2017, the Hanoi People's Committee submitted the adjustments to other agencies for consultation.
The metro line will start from South Thang Long-Ciputra and end at Tran Hung Dao Street. It will pass through Tu Liem, Tay Ho, Cau Giay, Ba Dinh, and Hoan Kiem districts.
The first adjustment involves the basic design of the project. In particular, although the total length of the route remains the same (11.5km), the underground parts increased from 8.5 to 8.9km and the total length of the overhead parts was reduced from 3 to 2.6km.
In addition, to ensure investment efficiency, the total number of trains (each having four carriages) for this line also dropped from 14 to 10. The train frequency will be five minutes.
Due to long delays, the project's deadline is expected to be extended to 2023.
When the Hanoi authorities submitted the adjustments to other agencies, Hanoi authorities said that they signed an agreement with JICA for the first phase's loan of ¥14,688 million ($133.3 million), including ¥11,573 million ($105 million) for construction and ¥2.223 million ($20.18 million) for consultancy services, effective from July 2009 to June 2019.
On another hand, in February 2018, Vingroup was permitted to compile investment dossiers, including the expanded phase of the Metro Line No.2 from Tran Hung Dao Street to Thuong Dinh with the length of 5.9km.
Vingroup proposed building the pre-feasibility and feasibility plans financed from their own equity. If Vingroup become the official investors of the project, its expenditure for building investment dossiers will be added to the investment capital of the projects.
However, in case it is not selected to develop the project, it will be ready to hand over all investment dossiers to the Hanoi People's Committee and the selected investors without asking for recompensation.
FPT to focus on digital transformation
FPT Group will focus on its core segment: technology, specifically digital transformation, after reducing its ownership rates in FPT Trading and FPT Retail.
Digital transformation is expected to help FPT's continued growth and preserve its position as the leading tech group in Vietnam which it has been holding for the past 30 years. Therefore, despite no longer being the major stake-holder of the two "golden geese" (47 per cent in FPT Retail and 48 per cent in FPT Trading), FPT's leaders still believe in the group's development.
"Large businesses' digital transformation demands are growing unprecedentedly. Some of these businesses decided to sign with FPT in only two months, while previously they spent 2-3 years to find partners in the same segment," Truong Gia Binh, chairman of FPT Group, said at FPT's annual general shareholders' meeting on March 28.
Binh also added that the number of FPT's partners within the Fortune Top 500 group in 2017 remained 64, exceeding 2016's 24. Many of the world's leading brands, including Starhub, GE, Airbus, and Coca Cola Vietnam, have co-operated with FPT to satisfy their digital transformation demands. Currently, the number of these partners increased by 104.
FPT even has ambitions to become one of the world's leading companies specialised in digital transformation and become a key partner of many the world's leading IT.
FPT also set the target of increasing its turnover by 50-70 per cent per annum from digital transformation segment, in order to preserve the growth rate of 25-35 per cent during the next five years. FPT also expects that digital transformation will make up 50 per cent of the group's turnover.
Technology will be FPT's main engine of growth in 2018 with an anticipated turnover and profit of VND12.149 trillion ($535.2 million) and VND1.46 trillion ($64.3 million), up 10 and 29 per cent year-on-year, accounting for 55 per cent of the group's turnover and 42 per cent of its profit.
The telecom segment is expected to reach VND8.66 trillion ($381.5 million) of turnover and VND1.394 trillion ($61.4 million) of profit, up 13 and 16 per cent year-on-year, respectively.
After FPT Trading and FPT Retail become FPT Group's venture companies, the group's turnover in 2018 is predicted to hit only VND21.9 trillion ($964.7 million) (after excluding the turnover of FPT Trading and FPT Retail), lower than last year's VND43.8 trillion ($1.92 billion).
However, the net profit is expected to reach VND3.484 trillion ($153.4 million), up 18 per cent year-on-year.
Ho Chi Minh City to organise bid for Metro Line No.5-phase II
Ho Chi Minh City will organise a bidding this year to select investors to develop Metro Line No.5–phase II under the public-private partnerships (PPP) model.
Accordingly, the investors will conduct a survey and build the construction plan for Metro Line No.5–phase II.
Previously, the city issued plans to organise the bidding in March this year, which failed as the authorities had not approved the project's feasibility report yet.
Ho Chi Minh City plans to build a total of eight metro lines, one tramway line, and two monorail lines, but currently only Metro Line No.1 between Ben Thanh and Suoi Tien is under construction and is scheduled for completion in 2020.
In January 2018, during a working session with the Ho Chi Minh People's Committee, Jose Kaiser Moreiras, general director for International Trade and Investment Department under the Spanish Ministry of Economy, Industry and Competitiveness (MEIC), pledged to provide financial assistance worth $335.2 million for Ho Chi Minh City to develop Metro Line No.5.
Jose Kaiser Moreiras stressed that Spain has experience in technology application, construction design, transport infrastructure development, and relevant consultancy. However, no more information about the proposal has been published.
Metro Line No.5 has total investment of €1.56 billion ($1.94 billion). Its first phase has a total length of 9 kilometres, including 7.46km of underground track and 1.43km of elevated rails.
The first phase of Metro Line No.5 is a priority project as it will serve as a transit system among other lines in the city.
Ho Chi Minh City plans to build a total of eight metro lines, one tramway line, and two monorail lines, but currently only Metro Line No.1 between Ben Thanh and Suoi Tien is under construction and is scheduled for completion in 2020.
Line 1 has a length of nearly 20km and consists of 14 stations, three of which are underground.
Geleximco unswayed by investors' refusal to hand over thermal power plants
In spite of being refused by existing investors to develop the billion-dollar thermal power plants, Geleximco is still determined to take over the projects.
Earlier in July 2017, Hanoi General Export Import JSC (Geleximco) expressed interested in co-operating with Sunshine Kaidi New Energy Group Co., Ltd. to invest in five thermal power projects, including Quynh Lap I, II, Quang Trach I, II, III, and Haiphong III under the public-private partnership (PPP) model.
MoIT has issued a document to collect opinions from relevant authorities about Geleximco's proposal to establish Geleximco-HUI and implement the Quynh Lap 1 and Quang Trach 2 thermal power plants.
Three months later, in October 2017, Geleximco sent documents to the government and authorities to propose establishing Geleximco-HUI, a joint venture between Geleximco and Hong Kong United Co., Ltd. (HUI, a subsidiary of Kaidi), to implement the $2-billion thermal power plants Quynh Lap 1 and Quang Trach 2 from Vinacomin and EVN, respectively.
Notably, Geleximco proposed permitting the joint venture to hold a 75 per cent stake in Quynh Lap 1, leaving the remaining 25 per cent with Vietnam's mining group Vinacomin. Meanwhile, the joint venture is looking to acquire the entire 100 per cent stake of Quang Trach 2 from state run Electricity of Vietnam (EVN). Geleximco stated that 80 per cent of the investment capital comes from loans from Chinese banks, while equity is only 20 per cent.
However, Geleximco's proposal has yet to be approved due to concerns of the existing investors of Quang Trach II and Quynh Lap I about potential delays in construction and rising capital demand in case Geleximco partners up with Chinese contractors.
A representative of Geleximco stated almost all long-delayed projects are invested by either state capital or loans with government guarantee. Besides, numerous investors from Europe and the US had their investment certificates revoked due to the long delays in construction.
"Thus, selecting partners that have enough financial potential and experience is more important than the origins of the investors. Furthermore, we affirmed that the joint venture can arrange capital without guarantee from the Vietnamese government, thus in case the projects fails to meet the schedule, we will have to bear the most responsibility," the representative said.
Talking about Kaidi, the representative of Geleximco said that the corporation was selected as the contractor of Mao Khe-Quang Ninh thermal power plant invested by Vinacomin. The project is considered the largest thermal power project so far and the only thermal power project in Vietnam that has been constructed before schedule. Staring operations in April 2013, the plant is still operating smoothly.
In April 2009, the government assigned Vinacomin to develop Quynh Lap I thermal power plant. According to the plan, the project will come into operation in 2022-2023. However, it was not until seven years later in September 2016 that Vinacomin submitted the pre-feasibility and the environmental impact assessment report to the Ministry of Natural Resources and Environment for evaluation.
During these seven years, Vinacomin failed to find co-investors due to legal and financial problems.
Notably, Vinacomin invited Kospo Group from South Korea and Geleximco to join the project. However, Kospo asked the Vietnamese government to guarantee the loans as well as the electricity purchase contracts. As a result, the two parties failed to reach a compromise.
Geleximco affirmed that it can arrange capital without guarantee from the Vietnamese government, however, it asked to hold 75 per cent of the project. Vinacomin disagreed with Geleximco's proposal.
Failing to find partners, Vinacomin has yet to complete the site clearance, despite the ground-breaking ceremony organised in October 2015.
As the manufacturing sector has been driving electricity demand, the Ministry of Industry and Trade (MoIT) has issued a document to collect opinions from relevant authorities about Geleximco's proposal to establish Geleximco-HUI and implement the Quynh Lap 1 and Quang Trach 2 thermal power plants.