Ho Chi Minh City again leads the country in e-commerce, according to the Vietnam E-commerce Association (VECOM)'s Vietnam E-commerce Index 2018, released at the Vietnam Online Business Forum 2018 on March 14 in Hanoi.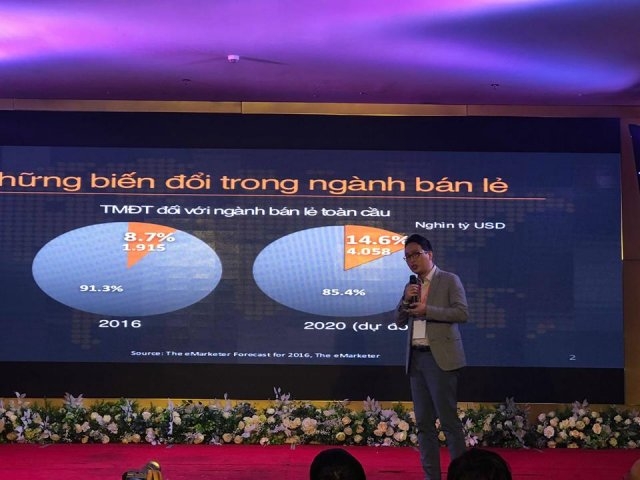 The city recorded an aggregate score of 82.1 points, 3.5 points higher than in the 2017 index. Sub-indexes put the city much higher than the national average, in particular in Infrastructure and Human Resources and Business-to-Business (B2B) transactions.
Hanoi was second, with 79.8 points, 4 points higher than last year, followed by northern Hai Phong city, central Da Nang city, and southern Binh Duong province.
The distance between Ho Chi Minh City and Hanoi and these localities, however, is substantial.
The average score was 37.5 points. The difference between the average of the lowest five localities (27.5 points) and the top five (64.3) points was 36.7 points.
Despite the efforts of State management agencies, organizations and enterprises to narrow the gap around the country, results fell short of expectations and bridging the digital divide continues to be a major challenge for Vietnam.
The survey on which the index is based was conducted by VECOM from September to November 2017 at more than 4,100 enterprises around the country, measuring four sub-indexes: Infrastructure and Human Resources; E-commerce Business Transactions with Consumers (B2C); Business-to-Business (B2B); and Government to Business (G2B).
Director General of the E-commerce and Digital Economy Department at the Ministry of Industry and Trade Dang Hoang Hai said that e-commerce has grown quickly in the 20 years since the internet arrived in Vietnam and has become increasingly popular for businesses and the community. "Growth in e-commerce has always remained above 20 per cent and was 25 per cent in 2017; which is high globally," he said.
Some experts have forecast that growth of over 25 per cent can be sustained during the 2018-2020 period.
The Vietnam Online Business Forum 2018 attracted many delegates as well as important speakers from Amazon and Nielsen. Many e-commerce enterprises took part, such as Matbao, DKT Technology, Zalo, and Vietnam Payment Solution (VNPAY). 
VN Economic Times