Strong growth in Vietnam-Australia trade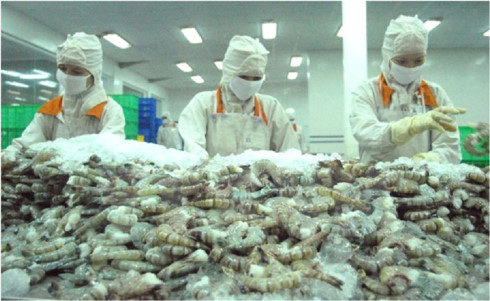 Australia ranked 14th among more than 200 Vietnam's trade partners with the total value of imports and exports being around US$6.45 billion for 2017, a year-on-year rise of 22.7%, according to the General Department of Vietnam Customs.
Last year, Vietnam's exports to Australia rose 16.1% to US$3.28 billion (1.5% of the country's total export value) while imports grew to US$3.17 billion (up 30.5% and 1.5% of the country's total imports).
Based on the latest statistics provided by Vietnam Customs,  strong growth was also seen in bilateral trade  climbing  to US$595 million in the first month of this year, 58.9% higher than last January with the Southeast Asian nation's exports to Australia standing at US$305 million (up 42.8%) and imports at US$290 million (up 80.2%).
Australia has been among the top 20 of 200 countries having the highest trade value with Vietnam over recent years.  Vietnam has always run a trade surplus with the Oceanic country, however, a downward trend is appearing. The trade surplus dropped from US$1.84 billion in 2014 to US$816 million in 2015, falling to US$403 million in 2016 and further, to just US$116 million in 2017, the lowest level for the past five years.
Vietnam's major exports to the largest market in Oceania have been primarily electronics and equipment, footwear, garments, and seafood over recent years. Exports of telephones, electronics, and components made up nearly 31% of the country's total exports to Australia at US$1.02 billion last year. Other major exports to Australia included crude oil (US$262 million), footwear (US$225 million), seafood (US$185 million), machines, equipment and tools (US$175 million), and garments (US$173 million).
In terms of imports, Vietnam mainly bought metals (US$628 million), coal (US$470 million), wheat (US$424 million), and cotton (US$296 million) last year.
According to the Australian Bureau of Statistics (ABS) and the Department of Foreign Affairs and Trade (DFAT), Australia's service exports to Vietnam hit AUD1.1167 billion in 2014, with education service exports accounting for 87%. In the opposite direction, Australia imported AUD843 million worth of services from Vietnam with tourism services constituting 68%.
Tourism boosts jobs in Danang
The tourism sector has generated over 140.000 jobs in the central city of Danang according to local officials.
Truong Quang Nghia, the party secretary of Danang City, held a review meeting with the Department of Tourism about the sector's operation in 2017 and new goals for 2018 on March 7.
Chairman of Danang Tourism Associations Huynh Tan Vinh said that the city had experienced extraordinary development since 2008 when the city received 1.2 million visitors. In 2017, it received 6.6 million visitors and earned nearly VND20trn (USD878.75m). Over 2.3 million international and 4.3 million domestic tourists visited Danang last year, an increase of 39% and 11.2% compared to 2016.    
Tourism generated over 140,000 jobs last year, accounting for 25% of the total jobs. Danang has set goals to welcome 2.7 million international and 4.77 million tourists in 2018, earning VND22.50trn (USD988.59m) from tourism.
However, Vinh also raised concerns about the changing cityscape. About 10 years ago, Han River could be seen by casual travellers on the nearby roads but many constructions have marred the scenery. Despite the increasing number of visitors, many of them didn't want to return the second time.
"Why do people want to visit Danang? I think it's for the beauty of Han River and Son Tra Peninsula. Big cities like New York and Paris have much more extravagant buildings," he said.
There are opinions that Danang lacks capable personnel and funding for tourism and it should take a different promotion path such as inviting Roger Federer or Rafael Nadal to play a match in Danang. Huynh Tan Vinh said that they needed to attract more tourists from different markets such as Australia and India instead of depending on South Korea and China.
However, Nghia said the surge of visitors from South Korea and China was an opportunity that Danang must take. "They're very easy going and willing to spend," he said. "Danang needs to attract tourists from different markets for stable business."
Nghia proposed limiting the use of motorbikes and wanted to encourage the citizens to walk more. He said that it was not too difficult to increase public transport but it was not easy to start an exercise movement.
Rural areas boast rapid growth in FMCG
Despite facing wide fluctuations, the fast-moving consumer goods (FMCG) market in rural areas achieved a growth rate of 6.1% last year compared to the 4% level recorded in urban areas.
According to Nielsen Vietnam, the FMCG market grew by 5.4% last year, higher than the previous year's 4.9% growth in spite of a decline in the last quarter. The final quarter also saw a 0.5% fall in growth rate when compared to the third quarter of 2017. 
The consumption of essential goods in the market, including drinking water, food, milk, family and personal care products experienced a drop off to the end of the year, with only the beverage sector rising by 3.2%, Nielsen Vietnam reports.
Nguyen Anh Dung, director of Nielsen Retail Measurement Services, says the circulation of goods via traditional commercial channels and retail shops in both rural and urban areas showed a sharp plummet toward the end of last year due to the impact of several devastating storms on the country, which caused huge property and human losses.
Mr Dung has identified another cause for the decline, as the traditional Lunar New Year (Tet) came later than the previous year, falling in mid-February, instead of early January.
Nielsen highlights FMCG growth in rural areas as a new source of development for producers. However, expansion to such areas also presents challenges for businesses who have to bear the cost of delivering products to these areas. This is a difficulty not only for Vietnam but all Asian countries.
Some rural areas have greater prospects than others, therefore, businesses need to carefully define potential areas to best utilize investment sources. To achieve success in more rural areas, producers must understand the customer base, notes Nielsen Vietnam.
Mr Dung says rural customers are demanding more   premier quality services and products as they seek products associated with an urban lifestyle thanks to the burgeoning development of advanced technology and infrastructure.
Foreign car makers try to navigate new law in Vietnam after two-month hiatus
Foreign car makers are looking at ways to obtain the documentation required by a new law in Vietnam to reopen automotive exports to the country.
Two months after Vietnam put in place a rule requiring stringent inspections of imported vehicles, around 2,000 Honda Motor passenger cars are slated to arrive in Vietnam from Thailand early this week, likely the first batch of foreign-made autos to undergo the new checks, according to Nikkei Asian Review.
Honda has obtained quality certification from Thai authorities, and the Vietnamese government has apparently accepted the documents.
The Indonesian government is also planning to change the vehicle type approval (VTA) certificates it issues in an effort to reopen automotive exports to Vietnam.
"With the VTA adjustment, Indonesian automotive exports are expected to return to the country," the Jakarta Post quoted Indonesian Trade Ministry international trade director general, Oke Nuwan, as saying.
"The government will convey the change in the VTA certificate to the Vietnamese government to get an immediate response. Hopefully, there will soon be automotive exports to Vietnam," said Oke.
A new decree issued by Vietnam designed to protect its own developing automotive industry forced Indonesia to stop exports of completely built-up (CBU) vehicles to the country this month, according to the Jakarta Post.
The decree stipulates that traders are only permitted to import automobiles if they can provide valid vehicle registration certificates issued by authorities from the countries of origin.
Original quality control certificates for each vehicle and letters of authorization regarding recalls of defective vehicles from the manufacturers are also required, along with copies of quality assurance certificates provided by the countries of origin.
Toru Kinoshita, chairman of the Vietnam Automobile Manufacturers Association (VAMA) and CEO of Toyota Vietnam, said the decree does not comply with international rules, putting the brakes on car imports in Vietnam.
The Ministry of Industry and Trade claims the regulation will protect consumers and create fair competition between local auto assemblers and CBU importers.
Vietnam imported just 30 cars with less than 9 seats in the first two months of 2018, falling from 5,430 units during the same period last year.
In total, the country imported 536 completely built units (CBUs) between January and February, according to the General Department of Vietnam Customs.
Central bank issued bills valued at over $4 billion     
The State Bank of Viet Nam (SBV) has issued record high bills worth some VND92.1 trillion (US$4.05 billion) until Monday to withdraw money from the banking system.
Reports from VP Bank Securities Company showed that last week alone, the SBV made a net withdrawal of VND50.5 trillion through the open market operation with the issue of bills with terms of 14 and 28 days, at interest rates of 0.6 and 0.9 per cent per year, respectively.
Despite the withdrawal, the interest rate of Vietnamese dong loans in the inter-bank market still declined sharply. The rate on Monday dropped by 0.02–0.05 percentage points for most terms against the previous week.
Specifically, the overnight rate on Monday fell sharply to 1.16 per cent against more than 4 per cent before Tet (Lunar New Year). The rates for one-week, two-week and one-month loans also reduced to 1.34, 1.66 and 2.40 per cent, respectively. 
MARD helps small farmers find vendors     
The Department of Cooperatives and Rural Development (DCRD) under the Ministry of Agriculture and Rural Development (MARD) and non-government organisation Good Neighbors International (GNI) signed a cooperation agreement on Wednesay, hoping to introduce new farming methods and the agricultural products value chain to remote areas.
A development assistance programme is underway to support the establishment, organisation and operation of new agricultural cooperatives and agro-food value chains in areas supported by the GNI.
Key beneficiaries include poor people in mountainous and ethnic minority areas.
The assistance programme's first phase during the 2018-2020 period includes jointly developed new cooperatives, aiming at efficient production and income generation.
The ultimate goal is forming an appropriate link between agricultural production, distribution and marketing towards sustainable agri-food chains.
An Yong Sic, Chief Representative of GNI in Viet Nam, said that within their supporting programme, GNI has cooperated with over 1,000 farmers in three provinces of Thanh Hoa, Hoa Binh and Tuyen Quang.
GNI cooperates with a number of supermarkets and convenience stores in Ha Noi to assist these farmers in finding a distributor. So far, a number of their products have been sold at Kmart, Lotte Mart and Vinmart.
GNI and the DCRD will conduct surveys and research on current agricultural products consumption demand, so they can interpret suitable market linkages between new cooperative groups and implement communication activities to support product sustainability.
Ma Quang Trung, DCRD's Director General, said at the signing that though Viet Nam had about 12,000 cooperatives as of 2017, only about 38 per cent of them have reported any positive result.
Generally, cooperative members' income is still low, since they are mostly small and very small groups struggling to get their products to the market.
In the coming years, GNI will continue their support programmes and connect farmers with agricultural products distributors, as well as maintain up to 12 existing revolving funds for cooperatives, worth VND12.4 billion (US$550,000) in total. 
VIB receives 2 international digital banking awards     
Vietnam International Bank (VIB) won two international digital banking awards at a ceremony in Hong Kong on Thursday.
VIB was named "Digital bank of the year 2017", while its mobile banking app, MyVIB, won the "Best retail mobile banking experience 2017" award.
Organised by The Asset magazine, the awards recognised VIB's efforts and performance in pioneering the development of digital banking in Viet Nam, the bank said in its statement.
VIB is the first local bank that has enabled customers to open bank accounts online. It is also among the pioneers to boost investment in digital marketing, which is considered key to connect with customers in the digital era.
VIB is well-known as one of the financial institutions that recognise the importance of fintechs in expanding capacity to provide customers with innovative and effective services. The mobile banking app, MyVIB, is an example of VIB's co-operation with fintechs, providing unique and outstanding features, such as transferring money in real-time via social networks or buying air tickets easily and quickly.
Tran Nhat Minh, Deputy Chief Executive Officer cum Head of VIB's Business Technology Service, said the bank attracted a large number of customers last year, thanks to the launch of a new service which enabled them to open bank accounts online.
These customers accounted for 20 per cent of the bank's new customers in 2017, Minh said.
During the year, the number of customers who registered for VIB's digital services also increased by 50 per cent year-on-year, while the number of customers who downloaded MyVIB was up by 104 per cent. The number of customers who regularly used the app increased by 87 per cent year-on-year.
"With the right and serious investment in digital banking in particular and banking services and products in general, we believe VIB will maintain its position as one of the most innovative and customer-centric banks in Viet Nam," Minh said.
The two awards won by VIB are important in "The Asset Triple A Digital Awards 2017" of The Asset. The awards were assessed by a panel of experts in the region and were aimed at honouring financial institutions and technology firms with excellence in development and application of digital technologies in the Asia Pacific region, including Japan and Australia.
The Asset's awards are prestigious qualifications with a strict and transparent assessment process and are granted to banks and relevant institutions with outstanding achievements and contributions to the finance and banking sector throughout the year.
VIB is the first local bank to be awarded by The Asset in two consecutive years. 
SHB increases charter capital to over $528.6 million     
The Saigon-Hanoi Bank (SHB) successfully increased charter capital to over VND12 trillion (US$528.6 million).
According to the State Securities Commission, it received SHB's announcement about the bank's successful issue of more than 83.92 million shares to pay dividends, raising the charter capital from VND11.2 trillion to over VND12.03 trillion.
This increase was allowed as part of a plan approved at last year's SHB shareholder meeting.
According to SHB, the capital hike will help the bank increase its capital utilisation, expand lending and develop its network to better meet the needs of customers.
SHB CEO Nguyen Van Le said that the issue of shares to increase the charter capital of SHB is necessary and important to help the bank modernise its facilities, improve governance and develop new products and services, thereby raising its competitiveness.
By the end of last year, SHB's total assets reached VND277.99 trillion, placing it among the top 5 private commercial banks in Viet Nam. The bank last year posted a pre-tax profit of VND1.93 trillion, up 66 per cent against the previous year and 11 per cent higher than the yearly plan. 
Vietnamese fruit becoming popular in Japan     
Vietnamese fruit is making its presence felt in the Japanese market, with the country registering a turnover of US$170 million in 2017 through the export of fruits and vegetables, a year-on-year increase of 70 per cent.
This was revealed by Ta Duc Minh, Vietnamese trade counsellor to Japan, during Japan's largest international food and beverage exhibition, Foodex Japan 2018, which opened on Tuesday in Chiba City. Up to 20 Vietnamese enterprises from various cities and provinces, such as HCM City, Ha Noi, Nghe An, Bac Giang, Ninh Binh, Dong Thap, Ben Tre, Can Tho, Kien Giang, Lam Dong and Ca Mau, which are active in the field of agro-fisheries and food export, took part in the event.
At the expo, Vietnamese firms displayed products such as fruits and vegetables, seafood, cod-liver oil, organic pepper, seedless lemons, rice products, Phu Quoc sauce, various biscuits and juices.
The four-day exhibition attracts 3,350 firms from 80 countries and territories worldwide, and is expected to welcome some 85,000 visitors. 
FAST500 firms face challenge of increasing input price     
Increasing input prices, rise of competitors and administrative procedures will be the three biggest barriers affecting the growth of businesses this year.
This was revealed in the FAST 500 Ranking Lists 2018, drawn up annually since 2011, which was announced by the Viet Nam Report and online newspaper VietnamNet on March 8.
The surveyed firms in the ranking paid special attention to the input price (60.5 per cent) and fierce competition (52.6 per cent).
Experts said, this year, companies would face fierce competition due to the expansion of preferential policies for foreign companies.
Companies in the FAST500 said their two biggest rivals in 2018 would be leading local firms and multinational groups that are active in joining the market.
To overcome the challenges, the surveyed companies said they would improve productivity and expand to new markets.
They believed that clean agriculture, information and technology, clean technologies, retail, and tourism and hotels would be the five sectors with the potential for higher growth in the next three years.
FAST500 companies said improvement of the legal environment should be given priority in 2018 to support production and businesses for sustainable development.
The compound annual growth rate (CAGR) of FAST500 firms in 2013-2017 saw stability, as the index rose by 46.4 per cent.
The average CAGR of the three business sectors was high and stable. Especially, the CAGR of State-owned companies reached 38.7 per cent, increasing 5 per cent from the 2012-2016 period, showing improvement in their businesses and positive signs of the privatisation process.
The list is based on independent research and assessment of Viet Nam Report JSC. It complies with international standards and was drawn up in consultation with domestic and foreign experts.
The FAST 500 rankings are also based on international standards, including the models of the Inc 500, Fortune 500 and Deloitte 500.
This is the eighth consecutive year of the FAST 500 list in Viet Nam. The performance of the companies was calculated by the CAGR on revenue in the 2009-12 period and also based on criteria such as total assets, the number of workers, after-tax profits and prestige in the media.
The award ceremony will be organised on April 18 at Viet Nam National Convention Centre in Ha Noi. 
Top 10 of FAST500:
1. Masan Resource Corporation
2. Khang Dien House Trading and Investment JSC
3. FIT Group
4. Transport and Industry Development Investment JSC
5. Vietjet Aviation JSC
6. T&T Group
7. Golden Gate Trade Services JSC
8. Hai Dang JSC
9. National Payment Corporation of Viet Nam
10. The PAN Group Corporation
Asian factory expo underway in Ha Noi     
The second Factory Network Business Expo (FBC Ha Noi 2018) kicked off at the National Exhibition Construction Centre in the capital on Thursday, bringing together 180 domestic and international businesses, including firms from Japan, Thailand and China.
They are showcasing metal products, hardware, tools, electric and electronics, machinery and equipment as well as manufacturing technology.
The two-day expo is described as a good opportunity for participating enterprises to update advanced machinery and equipment to improve their production capacities and join the global part supply chains while expanding their markets and seeking new business opportunities, the event's organisers said.
The previous event witnessed the participation of more than 100 exhibitors while attracting nearly 2,900 visitors. 
Vinacapital, Maybank Kim Eng host VN Corporate Day in London     
VinaCapital and Maybank Kim Eng Securities hosted the Viet Nam Corporate Day in London on Wednesday and Thursday to showcase investment opportunities in Viet Nam's stock markets.
The event, featuring large cap companies like Coteccons, FPT Retail, HDBank, Phu Nhuan Jewelry, Eximbank, and Vietjet Air, was attended by around 100 institutional investors with combined assets in excess of US$7 trillion.
"Viet Nam's stock market has become one of the most attractive destinations for international investors thanks to solid progress in the SOE privatisation programme and the Government's focus on foreign investments," Kim Thien Quang, CEO of Maybank Kim Eng Viet Nam, said.
Don Lam, CEO of VinaCapital, said the event was in line with his fund's efforts over the last 14 years to promote Viet Nam's impressive growth story to the world and facilitate direct discussions between international investors and Vietnamese businesses.
"From the success of Viet Nam Corporate Day, I believe more investors will take notice that Viet Nam is open for business, and participate in more opportunities to help take Vietnamese companies to the next stages of growth and improve their competiveness in ASEAN and the world."
VP Bank stock permitted for margin trading     
The HCM City Stock Exchange (HoSE) has removed the shares of Viet Nam Prosperity Joint Stock Commercial Bank (VPB) from the list of securities not eligible for margin trading.
Six months have expired since the first trading date on August 7, 2017.
On the stock market, the price of VPB was VND65,100 (US$2.9) per share on Thursday, and the average liquidity was nearly 4.3 million shares per session.
In 2017, VPB posted a pre-tax profit of more than VND8.1 trillion, registering a 65 per cent year-on-year increase.
The bank's total assets reached nearly VND278 trillion last year, increasing 21 per cent from the previous year.
Customer lending rose by 24 per cent to VND196 trillion in 2017, and the deposit was VND200 trillion, up 16 per cent from the previous year.
Its turnover growth rate in 2017 was VND25 trillion, posting a 48 per cent year-on-year rise. The net profit rose by 36 per cent and net services by 70 per cent. It used more than VND8 trillion for its risk prevention fund.
The bank's growth quality was also seen through the return on equity (ROE) of 27.47 per cent and the return on assets (ROA) of 2.54 per cent. 
Rong Viet Securities profit doubles     
Rong Viet Securities Company has reported that its profits more than doubled year-on-year in the first two months.
Its pre-tax profit in the period was VND30 billion (US$1.3 million), on revenues of VND75 billion ($3.3 million).
Revenues from margin trading rose by over 48 per cent while income from brokerage saw a whopping 179 per cent jump.
The company said 2018 is the first year since its restructuring.
This year it targets after-tax profit of VND144 billion ($6.3 million).
It plans to increase its registered capital to VND1 trillion ($43 million) by issuing shares and invest in human resources and IT.
VN wood firms eye int'l market     
Viet Nam's woodworking industry can expand exports but to expand market share and increase value, it needs to keep pace with market trends and capitalise on opportunities, experts have said.
Helmut Max Merkel, editor-in-chief of Mobelmarkt (International Interior Business Magazine) and general manger of CRP Consulting Nuremberg, Germany, said the German furniture market is "big but difficult."
"Germans love to buy furniture."
German consumers were not directly affected by the European crisis, and the country's low jobless rate makes its climate conducive for private consumption, he told the Global Wood Products Market Development seminar in HCM City on Wednesday.
"German love to live in a cosy environment. So the per capita consumption of furniture is higher than in other countries."
There was an increase demand for furniture products made from natural materials, multifunctional furniture at reasonable prices, he said.
In the past, Germans preferred harder seats compared to consumers in its neighbouring countries, but now the seat comfort has become important and modular sofa sets are becoming popular, he said.
Germany's furniture imports were worth 9.4 billion euros (US$11.67 billion) in January-September last year, with Poland, China, the Czech Republic and Italy being the biggest exporters and Viet Nam ranking 13th.
But not many Germans have information or know about Vietnamese furniture, Merkel said.
Juliane Lemcke, technical wood expert for the Swiss Import Promotion Programme, said demand for wooden furniture in the EU is rising slowly, with consumption steady in the larger markets like Germany, the UK, Italy and France and increasing in Spain, Poland, Sweden and the Netherlands.
There is an increase in the use of engineered wood products (EWP) for home construction, commercial buildings, industrial products and furniture, especially flat pack furniture, in the EU, she said.
The EWP market in Europe is still at an early stage of development but its use is growing rapidly, especially in home construction, commercial buildings, industrial products and furniture, due to its cost competitiveness.
And demand for environment-friendly packaging products to replace non-recyclable materials is on the rise.
Talking about the European home furnishing market in 2016-20, she said demand for multi-functional furniture is expected to increase, with living room and bedroom furniture generating the majority of sales followed by the kitchen segment.
The major trend in bedroom furniture is the use of country or rustic style, involving use of pale, pastel colours and traditional styling, she said.
She also spoke about the US trends and effects on furniture.
With the number of single-person households increasing, and thus also smaller homes and apartments, demand for modular, space-saving and multifunctional furniture and furniture for storage is high, she said.
Bjorn Henseler of Schuler Consulting GmbH said Viet Nam is good at making furniture from solid wood, but the future of the market lies in customisation.
So businesses should also grasp market trends to adopt suitable development strategies, delegates said.
They agreed that consumers' shopping habits in the US and EU are changing with the growth in e-commerce, especially to young customers.
Huynh Van Hanh, permanent vice chairman of the Handicraft and Wood Industry Association of HCM City (Hawa), said Viet Nam's exports of wood and wooden products have increased by 12.3 per cent a year on average for the past seven years, reaching $7.66 billion last year.
They are expected to reach $8.5 billion this year, he said.
Co-organised by Hawa and the Swiss Import Promotion Programme, the seminar was held on the sidelines of the Viet Nam International Furniture and Home Accessories Fair being held at the Saigon Exhibition and Convention Centre from March 7 to 10. 
MoF opposes goods, services price hike     
The Ministry of Finance has asked people's committees of provinces and cities under central administration to not increase the prices of goods and public services in the first quarter of 2018.
Under the ministry's Official Letter 2323/BTC-QLG issued on March 1, the prices of goods and public services include that of healthcare, education and environmental hygiene services, car parking, sightseeing, accommodation and rent in markets and trading centres.
The official letter also requested the people's committees to strengthen price management after Tet (Vietnamese Lunar New Year).
In the first two months of 2018, the consumer price index (CPI) increased by 2.9 per cent, according to the official letter.
To achieve the target of curbing inflation, with CPI growth rate set at 4 per cent for the entire year, the ministry asked the people's committees to continue implementing solutions proposed in the official letter 240/CD-TTg, issued on February 21 by the Prime Minister.
The people's committees are also required to direct the finance departments and relevant State offices to closely monitor the supply and demand of goods and services, the market as well as prices for stabilising the market, especially essential goods such as food.
The watch over the market will help authorities avoid unreasonable price hikes and misinformation about the market.
The finance ministry has also requested the people's committees to improve the management and inspection of implementing current regulations on prices, especially prices of goods and services that have a high demand during post-Tet festivals, such as transport, food and drinks, sightseeing, tourism and parking service. 
PM directs boosting support for enterprise development
Prime Minister Nguyen Xuan Phuc has issued a directive, requesting strong enforcement of Resolution No. 35/NQ-CP dated May 16, 2016 on enterprise development policy to 2020 in the spirit of the Government accompanying enterprises.
The PM requested ministries, sectors, and localities to devise comprehensive and drastic measures to implement their tasks.
He ordered the Ministry of Planning and Investment to continue organising training courses to help small- and medium-sized enterprises enhance the management capability and financial transparency, thus gaining better access to credit.
The PM also urged revision of Decree 78/2015/ND-CP dated September 14, 2015 on enterprise registration to reduce business starting cost, and submit to the Government for approval in 2018.
The Finance Ministry was tasked with drafting revisions to the laws on taxation, quickly removing tax-related problems and proposing simplified tax and accounting procedures for small-sized businesses.
The ministry was also told to build a decree on the use of e-invoice, publish the list of 1,000 biggest corporate tax payers of Vietnam, and research revisions to the Securities Law to facilitate indirect foreign investment.
The directive requested the Ministry of Natural Resources and Environment to review all regulations on land revocation, ground clearance, land renting, land-use change, land pricing, and land access for small- and medium-sized enterprises.
The Ministry of Justice was instructed to enhance its appraisal of legal documents in line with the Law on Promulgation of Legal Documents 2015 to ensure that the promulgation of regulations on business investment conditions and administrative procedures is in line with authority, and the regulations are truly necessary, rational, transparent and feasible.
The Ministry of Transport was asked to issue instruction on reviewing investment costs of Build-operation-transfer (BOT) projects and monitor the collection of tolls to determine the period of time and amount of fee collection; addressing shortcomings in operation, location and toll collection of BOT transport projects; and installing automatic toll collection technology at all toll stations across the country.
The Ministry of Science and Technology needs to accelerate measures to help enterprises modernise their technology and enhance their science-technology application via the national programme on science and technology. The ministry was also required to intensify the intellectual property development programme period 2016-2020, thus accelerating intellectual property registration, and announcing norms and standards for local innovative products.
The Ministry of Education and Training was tasked with trimming administrative procedures in granting investment licences in the sector to encourage investment in universities. It was also instructed to early submit to the Government a decree on autonomy of public universities.
The PM also urged Ho Chi Minh City, Binh Duong, Binh Dinh, Binh Thuan, Cao Bang, Hai Phong, Dak Lak, Long An, Nam Dinh, and Tra Vinh provinces to quickly set up hotlines to assist local enterprises.
The directive required ministries, sectors and localities to increase their dialogues with enterprises, while the Vietnam Chamber of Commerce and Industry was asked to further boost the campaign "Vietnamese products conquer Vietnamese."
Chinese firms keen on VN's environmental protection market     
Viet Nam has become an important market for Chinese businesses operating in environmental protection.
This is because of the increasing negative impact on the environment in the process of Viet Nam's economic development, industrialisation, urbanisation and exploitation of natural resources.
Gang Jiang, director of the China Environment Chamber of Commerce in Shanghai, said this at a press conference in Ha Noi on Tuesday to introduce the Asia trade fair for environmental technology solutions, or IE Expo China 2018.
The expo will be held at the Shanghai New International Expo Centre from May 3-5. Covering more than 120,000sq.m, the expo is expected to attract 1,800 businesses from 30 countries to showcase their latest products and services.
"Joining the expo will help Vietnamese businesses approach and seek the latest environmental protection technology solutions," Jiang said.
The annual expo has been one of the largest expos in the environment sector in Asia. The 19th edition of the expo will have 11 exhibition indoor areas and an outdoor area. Some 1,800 businesses from 30 countries and territories, such as the US, Italy, Germany, Japan, Viet Nam and South Korea, will showcase their latest products and services. Some of the world's largest firms, including Suez, Veolia, Pentair, Xylem, Honeywell and Philips, will participate in the expo.
The three-day event will also organise 30 conferences and forums.
China is the world's second-largest market in the trading of environmental protection products. 
Workshop on trade mediation in HCM City     
The Viet Nam International Arbitration Centre (VIAC) and the International Finance Corporation organised a workshop on trade mediation in HCM City on Wednesday.
International integration and the frequent economic and trade disputes require mechanisms that can resolve the disputes.
A failure to resolve them will affect the legitimate rights and interests of enterprises that enter into contracts.
To provide enterprises with an alternative to going to court, the authorities issued a commercial mediation policy.
The Government's Decree No 22 on commercial mediation took effect last April.
The country is aiming to put in place a legislative and regulatory framework to ensure consistency between its laws and international regulations on commercial dispute resolution.
The decree has made conciliation activities more concise and flexible, creating a legal basis for trade conciliation and other professional activities.
Experts are encouraged to resolve some disputes through negotiation and arbitration. The role of the courts is to enforce the decisions the disputants arrive at.
Reviewing the mechanism of commercial conciliation in Viet Nam, Nina Mocheva, a senior finance specialist at the World Bank, said Viet Nam has taken the important step of having a legal framework for the settlement of commercial disputes through conciliation and arbitration.
However, international experience shows that when commercial conciliation begins, the legal community may be reluctant to pursue more litigation, meaning it takes time to overcome the constraints, she said.
Therefore, it is necessary to help authorities and enterprises develop a favourable trade environment, she said.
The VIAC has also found that since many business entities in Viet Nam are small or medium-sized, they tend to approach civilian instead of arbitration courts, and this has hindered the growth of this commercial mediation method. 
All Ericsson Radio System products ready for 5G     
Ericsson announced on Tuesday that the installed base of all radio products from the Ericsson Radio System portfolio can now run 5G New Radio (NR) through a remote software installation.
"The combination of our new products and 5G support for radios already deployed in the field will give operators access to a very broad and flexible 5G portfolio. They will be able to move quickly to enhanced mobile broadband and address the new opportunities with industrial applications," said Denis Brunetti, president of Ericsson Viet Nam, Myanmar, Laos and Cambodia.
"Investments in Ericsson Radio System since 2015 will continue to bring value to operators when the time is right for transition to 5G," Brunetti said.
The advanced service will contribute to bring more ICT (information and communications technology) users, he said, adding that the company was committed to investing in ICT jobs in Viet Nam in the coming years.
According to the latest Ericsson Mobility Report, the global mobile data traffic is expected to grow eight times, while 5G subscriptions are predicted to reach one billion by the end of 2023. This puts increasing demand on operators to continue to expand capacity cost efficiently while addressing their 5G evolution. 
Road to success of three Vietnamese women with essential oil
The project of oil essence by a team of three Vietnamese women has brought them the grand award in a national competition for young people with promising startup plans, and is about to make greater success in the domestic market.
Vu Thi Ly Ly, Tran Thi Hue and Nguyen Thu Thao, all 24, received VND100 million (US$4,400) for their project on oil essence and products from nature in the Luong Van Can Talent Awards, held in October 2017.
The competition is named after an eponymous Vietnamese businessman and aimed at selecting potential entrepreneurs with auspicious plans.
​The women come from different educational backgrounds and regions in Vietnam: Ly is a law graduate born in Binh Duong Province, southern Vietnam; Hue is a computer engineer from Nam Dinh, a coastal province of northern Vietnam; and Thao is a chemistry graduate from Tuyen Quang Province, northeast of the country.
Hue represented the group to join the competition.
Lai Minh Duy, a judge in the contest, highly praised their project since they created designs living up to the competition's expectations and their oil essence products were tried-and-trusted, sold successfully online previously.
Another judge, Dinh Ha Duy Trinh, was impressed by the project's commercial effectiveness.
"In comparison with other teams, who only proposed ideas, you've even carried out the project and attracted customers," Trinh told the group.
The women have used the prize money to open in Hanoi a showroom where visitors can witness the process of distilling oil essence, savor perfume and drink tea.
They have rolled out around 20 types of essential oil, with a strong focus on lemon grass, cinnamon, broadleaved paperbark, and pomelo peel.
During the last Vietnamese Lunar New Year festival, they designed sets of wooden old-looking boxes and essential oil bottles, which ran out rapidly due to multiple orders.
Their project will still specialize in essential oil while devoting the greatest attention to core products, not all.
In terms of the long-term strategy, they plan to divide the business's operations into trading and service, in order to build a more professional 'experience service' and clearer management system, Hue said.
"The difference that we're trying to make is offering experience. We sell products indirectly and form a space of values for customers. It's their choice to buy or not," Thao said.  
She added that the distinctive feature of their business is the 'experience service.'
With Ly's assistance, Hue had established a technology company in her student time to realize her ambition of doing business, before meeting Thao, who worked in essential oil.
They traveled to the mountains to have the hands-on experience of extracting the substance.