The packaging industry is expected to grow at a minimum of 10 per cent on average in the coming years, according to experts.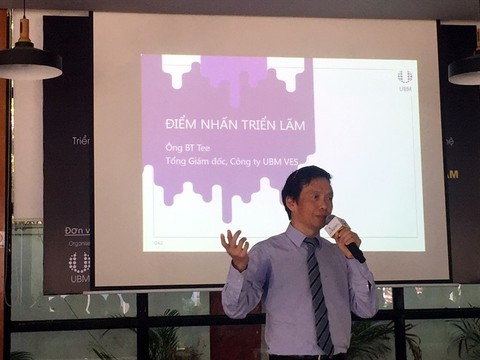 BT Tee, general manager of UBM VES, said demand for food packaging would continue to increase.
Demand for food packaging would continue to increase driven by growing demand for food and beverages processed and packaged for domestic consumption and export, BT Tee, general manager of SES Vietnam Exhibition Services (UBM VES), said.
Processing and packaging is one of the emerging industries with massive growth potential and whose development has greatly impacted other sectors and industries, he said.
Many international food manufacturers and packaging producers have come to Viet Nam to invest, he told a press conference held in HCM City on Tuesday to introduce the Propak Vietnam exhibition.
Prof Dr Luu Duan, deputy chairman of the Viet Nam Association of Food Science and Technology, said the country's packaging industry has seen rapid changes in recent years due to the strong development of the food processing industry.
Consumers are increasingly focused on food hygiene and quality, with more opting for packaged products, he said.
"The domestic food production sector, though diverse in terms of variety, has low yields, quality and value-addition and high post-harvest losses, mainly because it follows traditional preservation and processing methods.
"Therefore, besides improving farming methods, Viet Nam also needs to pay attention to harvesting, improving processing technology and rational use of advanced packaging to improve product quality and ensure food safety and hygiene."
Packaging costs are currently high, accounting for more than 50 per cent of cost for certain products, and food processors are looking for ways to cut packaging costs, including through the use of automation, he said.
Most machines as well as materials used in the packaging industry are imported, he said.
PROPAK Vietnam, a major annual processing and packaging technology exhibition, would help businesses discover new production technologies and strengthen business links, he said.
2018 PROPAK Vietnam
Lee said PROPAK Vietnam, to be held in HCM City from March 20 to 22, would showcase many cutting-edge processing and packaging machines, technologies and services for the food and beverages, cosmetics, pharmaceutical, bottling and beverages, barcoding, printing and labelling industries.
Organised by UBM VES, the exhibition has attracted more than 420 exhibitors from 29 countries and territories, including 11 international group pavilions from India, Denmark, Italy, Germany, mainland China, Korea, Japan, Singapore, Taiwan and Thailand.
Conferences and seminars will be held on the sidelines of the expo, including technical seminars hosted by the Viet Nam Association of Food Science and Technology and Lean Six Sigma Network, with topics areas ranging from food safety control and risk management to emerging trends in industrial water treatment.
The opportunities offered by the event are enhanced by the joint staging of the Plastics and Rubber Vietnam, a trade event for plastics and rubber manufacturing technologies and materials.
Propak Vietnam will be held at the Saigon Exhibition and Convention Centre in District 7, and is expected to attract more than 8,200 trade visitors. — VNS