VietNamNet Bridge - The Vietnamese snack market, with value of $518 million in 2015, is expected to be worth $1 billion by 2020, experts say.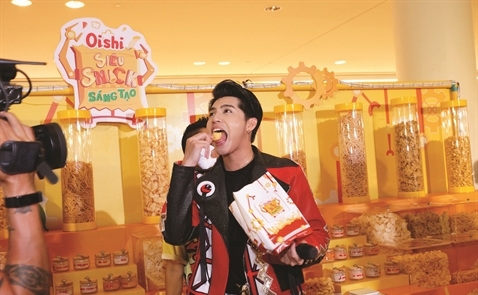 The Vietnamese snack market was valued at $518 million in 2015
Processed snacks account for 33 percent, nuts 30 percent and potato chips 24 percent.

The snack market is becoming more attractive thanks to changes in Vietnamese spending habits, improved income per capita, and changes in lifestyle.

A report from Decision Lab showed that people aged 15-23 eat snacks throughout the day with VND13 trillion spent every month.

There are three main types of snacks, classified based on materials for processing, including potatoes, nuts and snacks made of fruits and food.

The Vietnamese snack market revenue may reach $700 million in 2017. It is now the main source of growth for packaged foods in both urban and rural markets. Analysts say the real figure could be even higher if investors scale up their production. 

In March 2016, Koikeya Vietnam began building its $8.7 million snack factory in HCM City, and its first products were launched into the market last October.


The Vietnamese snack market, with value of $518 million in 2015, is expected to be worth $1 billion by 2020.
The leading Japanese snack food manufacturer has turned Vietnam into its first overseas production base, hoping to reach revenue of VND200 billion for hot chili snack products in the next three years.

The snack market, however, is getting crowded with the arrival of many brands from all over the world. These include Liwayway's Oshi from the Philippines, PepsiCo's Poca and Orion's O'star. Meanwhile, Kinh Do is a veteran Vietnamese manufacturer making sliced potato chips. All these manufacturers have production bases in Vietnam.

In addition, the domestic market is also flooded with imports, mostly from Thailand and South Korea. The price levels vary, from VND5,000 per pack to VND20,000 per pack, while imports are more expensive, priced at up to VND40,000. 

The materials used to make snacks are diverse. Oishi, for example, has introduced products made of pumpkin and tomato, while South Korean products are mostly made of seafood.

An analyst said the key to success for snack manufacturers lies in marketing and distribution.

Snacks sell better in public places like cinemas. However, he said, in order to introduce snacks into the CGV cinema network, distributors will have to pay VND1 billion a year. Karamucho has chosen Mesa as its major distributor. Mesa is also the distributor of Oishi.