Environmental tax on petroleum products may rise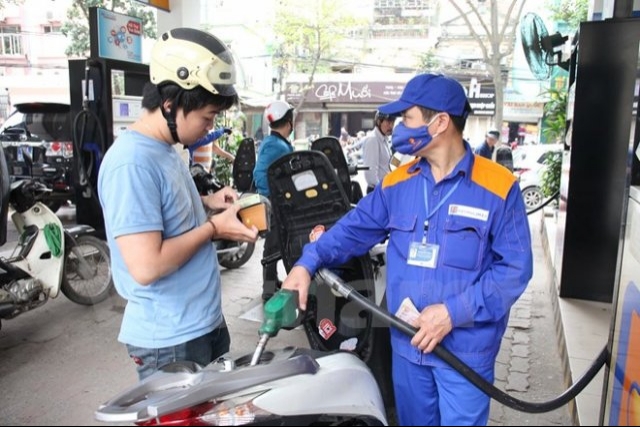 Vietnam is looking to increase the environmental protection duty imposed on fuel products from the current VND3,000 ($0.13) to VND4,000 ($0.18) per liter, according to a proposed amendment to the Environment Protection Law drafted by the Ministry of Finance (MoF).
Explaining the hike, which if approved would be applied from July 1, the ministry said it will add VND15.7 trillion ($690 million) to the State budget, offsetting a shortfall caused by a fuel import tax cut.
The hike is necessary because import taxes on oil and petroleum products are declining sharply, the ministry said, noting that the current import tax on petroleum products is 20 per cent and on oil products 7 per cent, and the rates will be slashed to 10 per cent and zero per cent in line with Vietnam's tariff commitments.
According to the ministry, retail prices of oil and petroleum products are now lower in Vietnam than in neighboring countries and many other Southeast Asian countries.
Under a free trade agreement between ASEAN and South Korea, which came into effect in early 2016, the import tariff on gasoline imported from South Korea to Vietnam has fallen from 20 per cent to 10 per cent.
As a result, most Vietnamese traders who had imported gasoline from ASEAN countries switched to South Korean imports, because the import tariff on gasoline from the former remains at 20 per cent.
The MoF has also proposed an increase to the environmental protection duty imposed on oil products, by VND500-VND1,000 ($0.02-$0.04) per liter.
Fuel is a major source of revenue for Vietnam. Import tariffs from fuel, which are paid by local businesses, now account for around 7 per cent of State income.
With import tariffs set to be abolished as part of free trade deals, a higher tax would help sustain that income, experts said. But some industry insiders are concerned that the hike will not be welcomed. Mr. Nguyen Tien Thoa, former director of the MoF's Price Management Department, said the hikes will draw a "reaction" from consumers and may affect consumption.
Vietnam imported 900,000 tons of various kinds of oil and petroleum products in January, totaling $552 million, for respective rises of 3.5 per cent and 10.8 per cent, according to the General Statistics Office.
It took in VND42.4 trillion ($1.86 billion) in revenue from environmental protection taxes in 2016, up nearly 57 per cent against 2015. Spending on environmental protection was just VND12.3 trillion ($534 million) in 2016, accounting for 29 per cent of tax revenue.
2M car imports down sharply
According to estimates from the General Statistics Office (GSO, the number of imported motor cars in February was just 200, worth nearly $14 million, against 340 and $22 million, respectively, in January.
The two-month figure is down substantially compared to December, when 14,000 vehicles were imported worth $360 million.
The main factor in the decline was Decree No. 116, under which car imports face a range of difficulties.
Along with problems in import conditions, regulations on the registration of each type of car is also an issue.
The Tet holiday in February also disrupted import activities and customs clearance for vehicles arriving on Vietnam's shores.
The Office of the Government held a dialogue recently with enterprises to identify ways to cope with difficulties facing importers from Decree No. 116. Many at the meeting believe imports will continue to remain low, at least in the first half of the year.
68% of Vietnamese freelancers not paid at times
Digital platforms are having a positive impact on the freelancer community in four Southeast Asian markets: Singapore, Indonesia, the Philippines, and Vietnam, according to the latest PayPal Global Freelancer Survey.
Vietnam scored highest among the four markets in terms of optimism, with 91 per cent of those surveyed saying they expect to do more or a lot more freelance work in the future.
The survey also found that at more than half (58 per cent) of the freelancers surveyed in the four Southeast Asian markets have had experiences of not being paid for their work and services.
The number in Vietnam is the highest among the four markets, at 68 per cent. On average, nearly half of freelancers (48.5 per cent) surveyed in these markets attributed payment issues to a prevailing attitude of not taking freelancers seriously.
"Southeast Asia is a key market given the region's growing population and increasingly vibrant entrepreneurial economy," said Mr. Rahul Shinghal, Managing Director of PayPal SEA and Head of Merchant Support for PayPal APAC.
"We are seeing more young people choosing to freelance, as being your own boss offers more autonomy and flexibility than a 9-to-5 job. As they become integral to the global economy, it is critical for them to be accorded the same respect that other professionals receive. We should do more to elevate the standing of freelancers as a community and empower them in their autonomy."
Following an online survey of 11,324 freelancers and freelance considerers across 22 markets worldwide in October 2017, of which 1,602 freelancers or freelance considerers were from Singapore, Indonesia, Vietnam and the Philippines, PayPal's "Global Freelancer Survey" revealed the extent to which digital platforms provide ease and convenience for freelancers to receive payments as well as to access new assignments and work opportunities.
PayPal and bank transfers were found to be popular payment methods for freelancers in these markets, with 85 per cent accepting PayPal payments and 79 per cent accepting bank transfers. PayPal was cited as the most widely accepted payment method in Singapore (76 per cent), Indonesia (88 per cent) and the Philippines (92 per cent), with the exception being Vietnam, where more freelancers accepted a bank transfer (87 per cent).
More significantly, digital payment platforms are also enabling a more seamless payment process, transcending fragmentations of the Southeast Asian market due to divisions in geography as well as within the financial services landscape of the region.
The study revealed a disparity in preferred payment methods among freelancers' client base, as international clients opt for PayPal as the preferred payment method, with an average of 76 per cent of payments from international clients being made via PayPal. This compares to an average of 30 per cent of payments from international clients made via bank transfer, which are found to be the preferred payment method among domestic clients.
"At PayPal, we are committed to empowering communities and businesses to participate in the global economy through innovative financial payments solutions," said Mr. Shinghal. "We recognize the importance of equipping freelancers with confidence and the right tools to help sustain their business across Southeast Asia and more."
Food association drafts action plans     
Enhancing trade promotion and market research and providing information to businesses are among the tasks the Viet Nam Food Association will focus on in the next five years.
Speaking at the association's eighth congress in HCM City on Tuesday, Bui Thi Minh Tam, its deputy chairwoman for 2011-17, said despite a very difficult situation in the last few years, the association had managed to help exporters both buy rice from farmers and export.
"The global rice market has witnessed a great change in the last seven years, with production surpassing demand, leading to high inventories," she said.
Viet Nam's exports peaked in 2012 and then decreased, and global prices have also declined because of abundant supply and high inventories, she said.
The rice export structure has changed significantly, with shipments of low-value white rice going down from 83.72 per cent in 2011 to 40.74 per cent last year.
Exports of fragrant rice increased from 6.63 per cent to 29.2 per cent while sticky and Japonica rice shipments also increased strongly in the period, she said.
Deputy Minister of Agriculture and Rural Development Tran Thanh Nam said Viet Nam was among the three largest rice exporters in 2011-17, exporting 5-7 million tonnes a year worth US$2.5-3.5 billion.
Last year exports jumped by 23.2 per cent to $2.66 billion, he said.
Besides producers and exporters, the association has also made great contributions to the sector's achievements by providing information and co-operating with authorities and businesses in building the Vietnamese rice brand, he said.
The food sector, including rice, is expected to face challenges in the coming years, including climate change, importing countries becoming self-sufficient, changes in rice import policies in Viet Nam's key markets, and increase in trade barriers and quality requirements, he said.
"To sustain growth, the rice sector needs to restructure."
He said the association should co-operate with his ministry and localities to review zoning plans and match areas and popular rice varieties, create linkages in rice production, and persuade members to ensure quality and food safety.
The association should work with localities and members to continue the shift towards high-quality rice and ensure the use of advanced production and processing technologies to maximise value, he said.
It should continue to provide up-to-date production and trading information, strengthen market research and forecast to make timely recommendations to farmers and businesses, help enhance trade promotion, develop Vietnamese rice brands and organise trade fairs in the domestic and overseas markets, he said.
Quality, competitive prices and good brands are the key factors that would enable Vietnamese rice to penetrate more markets, he added.
The congress voted for 27 executive board members, with Nguyen Ngoc Nam, acting general director of the Viet Nam Southern Food Co-operation, becoming the association's chairman for the 2018-23 term.
VN important part of Japanese bank's 'Asia-centric' strategy     
Viet Nam is an important part of a new "Asia-centric" strategy which Japan's Sumitomo Mitsui Banking Corporation (SMBC) is pursuing to strengthen its business in Asia, said Shosuke Mori, SMBC's Asia Pacific Division.
As the Government of Viet Nam has been restructuring the local banking system, SMBC wants to contribute to the process by sustainably developing Eximbank and supporting other local banks' reforms in the coming time, Mori said.
SMBC, one of the largest and oldest banks in Japan, expects its clients worldwide to invest in Viet Nam and hopes to contribute to the development of the country's banking sector with its new banking management system, he said.
Receiving Mori in Ha Noi on Monday, Deputy Prime Minister Vuong Dinh Hue described the bank as an effective credit channel and gateway for foreign investors, including those from Japan, to enter Viet Nam.
Hue welcomed the presence of SMBC in Viet Nam and the role it was playing to restructure Eximbank.
He said a new scheme for restructuring credit institutions was adopted to improve the capacity of commercial banks and accelerate the resolution of non-performing loans (NLPs).
He, however, noted that even though the restructuring process had harvested some positive outcomes, many challenges remained. The Government was committed to continue improving the local business climate and providing favourable conditions for both domestic and foreign investors, adding it would do its best to support SMBC in Viet Nam.
SMBC has been present in the country since 1994 with a branch each in Ha Noi and HCM City. Last year, both the branches posted zero NLPs and a total net profit of VND291.6 billion (over US$12.8 million). SMBC is also Eximbank's strategic investor and currently holds 15 per cent of the Viet Nam-based bank's charter capital. 
HCM City leader receives Singaporean, Australian investors
Ho Chi Minh City has numerous projects open for foreign investment, Secretary of the municipal Party Committee Nguyen Thien Nhan said at a reception for investors from Singapore and Australia who came to explore investment opportunities in the city on March 6.
They include six resettlement projects, upgrades to 50 old apartment buildings and construction in Thu Thiem urban area.
The city plans to build an innovative urban area covering Districts 2, 9 and Thu Duc, including Thu Thiem urban area. 
Nhan urged sectors and localities to continue creating favourable condition for investors to explore cooperation.
On behalf of the delegation, Neil Wilson, Chairman of the Australian Sakkara Group, said they have invested in numerous projects in the city.
They are interested in the city's infrastructure projects, such as upgrades to canals, old buildings, Thu Thiem urban area and the equitisation of State-owed enterprises, with a total investment likely to reach 1.5 billion USD.
The southern economic hub witnessed significant socio-economic-cultural accomplishments in 2017. The city recorded an 8.25 percent increase in gross regional domestic product, higher than the 8.05 percent growth the previous year.
Domestic investment exceeded 899 trillion VND (39.5 billion USD), three fold higher than 2017, while foreign investment hit 6.38 billion USD, double the figure of the previous year.
The city provide more than 347.9 trillion VND (15.3 billion USD) for the State budget, representing a year-on-year rise of 12.94 percent.
Vietnam joins Foodex 2018 in Japan
Vietnam launched a stall at the 43rd International Food and Beverage Exhibition (Foodex 2018) that opened in the Japanese prefecture of Chiba on March 6. 
Foodex is Asia's the largest exhibition dedicated to food and drinks across Japan and the whole world. 
As part of the national trade promotion programme 2018 launched by the Ministry of Industry and Trade, the Vietnam Trade Promotion Centre for Agriculture sent a delegation of businesses to the event to maintain ties with Japanese and Asian importers, sign valuable export deals, popularise Vietnamese cuisine and farm produce. 
Up to 20 participating businesses come from cities and provinces with strength in agro-fisheries such as Ho Chi Minh City, Hanoi, Nghe An, Bac Giang, Ninh Binh, Dong Thap, Ben Tre, Can Tho, Kien Giang, Lam Dong and Ca Mau. 
On display are Vietnamese specialty fruits, vegetables, processed aquatic products and fish oil, organic pepper, seedless lemon, rice-derived food, cakes and fruit drinks. 
Ta Duc Minh, Commercial Counsellor of the Vietnamese Embassy in Japan, said Vietnam's fruit and vegetable export to Japan hit 130 million USD in 2017, up nearly 70 percent. 
The four-day exhibition attracts 3,350 firms from 80 countries and territories worldwide, and 85,000 visitors.
Vietjet announces to operate Vietnam-India direct route
Vietjet has announced its plan to operate a direct route connecting Vietnam and India in order to serve travel demands of the two peoples and to contribute to region's integration and trade exchange.
The announcement, made at the Vietnam - India Business Forum held in India on March 3 with the witness of President Tran Dai Quang and senior leaders of Vietnam and India, marked breakthroughs on the 45th anniversary of Vietnam – India diplomatic relationship and 10th anniversary of strategic partnership between Vietnam and India.  
The first route is planned to connect Ho Chi Minh City with New Delhi on a basis of four flight per week.
India – the second largest population country in the world, located in southern Asia, is famous for its diversified culture, religions, cuisine and tourism.
Also, the country is well-known for its marvelous nature and grand architectures that are certified as the world heritages. Among them are Valley of Flowers National Park (Uttarakhand), Lotus Temple (New Delhi), Taj Mahal (Uttar Pradesh), and Red Fort (New Delhi).
Vietnam, a country with civilised culture is a tourist destination among international travelers. Among must-see places are a typically culture capital of Hanoi, a romantic citadel of Hue, magnificent Quang Binh and Da Nang, and the economic hub of Ho Chi Minh City. Robust integration while preserving typical cultural traits have become a unique feature of the most dynamic city in Vietnam.
Aiming to "Consumer Airline", Vietjet is continually opening new routes, adding more aircraft, investing in modern technology and offering more added-on products and services to serve all demands of customers.
Vietjet is a pioneering airline that is loved by many for its exciting promotional and entertainment programs, especially during the festive season.
With high-quality services, diverse ticket classes and special low-fare tickets, Vietjet offers its passengers flying experiences on new aircraft with comfy seats, delicious hot meals, beautiful and friendly cabin crews, and other interesting added-on services.
US major project marks good start in 2018 for footwear industry
Skechers USA, a major footwear maker based in California, is studying a plan to invest in Vietnam in a project that probably needs 20,000 workers. The project marks a good start for the local footwear industry after a slowdown in 2017.
Skechers, a heavyweight rival to two global footwear brands – Nike and Adidas, sold more than 200 million products last year and now seeks to shift investment from China to Vietnam.
The firm was advised by the Vietnam Leather, Footwear and Handbag Association (LEFASO) to set up the first facility in northern Hai Duong province with an investment slated for between 700 million and 1 billion USD.
The project offers hope to Vietnam's footwear industry as the sector saw falls in not only foreign but also domestic investment last year.
Benefits of free trade agreements between Vietnam and other nations have added heat to the footwear industry, leading to a record growth rate of 28 percent in the flow of investment into the sector in 2015, said Phan Thi Thanh Xuan, LEFASO general secretary. 
However, after the United State withdrew from the Trans-Pacific Partnership (TPP) and the United Kingdom chose to leave the EU, the investment declined in 2017. It was clearly reflected by the contraction in imports of shoe-making machinery, equipment and materials, she explained.
Imports of footwear machinery and equipment in 2017 decreased to 146 million USD, compared to 170 million USD a year during the 2015 – 2016 period. Leather imports also fell to 1.5 billion USD last year from 1.6 billion USD in 2016, she added. 
Xuan noted that the EU-Vietnam Free Trade Agreement is expected to be signed this year, adding that once the trade deal enters into force, it will eliminate import duties on Vietnam's trainers and handbags.
The tariff elimination will not only direct more flows of foreign orders to Vietnam but also draw greater investment from international footwear manufacturers, such as Skechers, into the country, she said.
Vietnam is now in the world's Top 5 shoemakers with 70 percent of the total export revenue contributed by foreign-invested enterprises.
Binh Dinh works on hi-tech shrimp farming to raise export value
The central province of Binh Dinh is carrying out a project on hi-tech shrimp farming to raise export value. 
Accordingly, the provincial People's Committee has zoned off two areas for shrimp farming in brackish water covering 612ha, including one stretching 206ha in Cat Hai and Cat Thanh communes, Phu Cat district and the other in My Thanh commune, Phu My district. 
Besides, a project on hi-tech shrimp farming in glasshouse is being implemented by the Viet Uc – Phu My Ltd company on a total area of more than 116ha in My Thanh high-tech agricultural zone. The company plans to start raising shrimp in March with a total output of 8,400 tonnes per year. 
Meanwhile, five businesses applied for shrimp farming in Phu Cat district. 
Director of the provincial Department of Agriculture and Rural Development Phan Trong Ho said hi-tech shrimp farming areas are zoned off in coastal and eco-friendly venues. 
Vice Chairman of the provincial People's Committee Tran Chau said the provincial authorities pledge to provide all possible support for investors to do business, especially land rental; after granting them with investment certificates. 
Binh Dinh is one of the top localities nationwide in terms of shrimp quality. The annual output of shrimp breeding in brackish water nears 7,100 tonnes, 94 percent of which is white-legged shrimp and the remaining is tiger prawn. 
The province has 1,833ha of shrimp farming which is planned to reach 1,923ha by 2020.
MARD speeds up Vinacafe's equitisation
After a long period of hesitation, the Vietnam National Coffee Corporation (Vinacafe) is being pushed towards equitisation once more by the Ministry of Agricultural and Rural Development (MARD).
During a March 5 meeting at Vinacafe's headquarter, Deputy Minister Ha Cong Tuan said he was not completely confident about the company's latest restructuring plan.
According to Vinacafe, the company has formulated and submitted to the MARD a reorganisation and modernisation scheme for the period 2017-2020, while waiting for the Prime Minister's consideration and approval.
It proposes equitisation at the parent company (Vinacafe), including seven agricultural companies and three other auxiliary units, plus the equitisation of 18 other subsidiaries, dissolution of four and the possible splitting-up of one.
The said plan will be Vinacafe's third approved scheme since 2012. But Tu?n was doubtful it would sit well with the Government this time.
He also expressed the Government's firm decision on getting Vinacafe listed on the stock exchange, regardless of any difficulties that may arise.
In 2017, the corporation managed to equitise five subsidiaries. Nonetheless, there remain unresolved issues for each one, ranging from unapproved land usage to financial troubles, significantly prolonging the evaluation period and delaying the ultimate listing deadline.
Deputy Minister Tuan said Vinacafe has made very slow progress in implementing the plan's content, compared to other State-owned enterprises.
He questioned the reason why two previous installments of Vinacafe's restructuring plan failed, whether for reasons of feasibility or capability, while asking the company to better define its production and business orientation.
The MARD has requested Vinacafe lessen their dependence on the existing 16,500 hectares of coffee plantation, and develop a vertically integrated chain of purchasing, processing, and export. But it seems like they have failed to grasp a larger market share.
Vinacafe set a 2018 revenue target of over 3.8 trillion VND (169 million USD), with a revenue goal of 96 billion VND (4.27 million USD).
At the end of 2017, the corporation reported revenue of 3.7 trillion VND (164.8 million USD). However, net profit came to just over 77 billion VND (3.4 million USD), just 73 percent of the yearly goal.
The reason for the decrease in profit is a significant drop in coffee prices during the first quarter of 2017, coupled with reduction in farming area, leading to decreased productivity and general profit.
Vinacafe has made promises to focus on intensive investment, increasing productivity, lowering prices while stabilising output, in the hope of increasing quantity, export turnover and achieving a better growth and efficiency targets than 2017's.
According to figures released by the General Statistics Office, coffee exports in the first two months of 2018 are estimated at 336,000 tonnes, up by 17.6 percent year-on-year.
The export value of coffee reached 652 million USD in the first two months of 2018, a slight increase of 0.8 percent over the same period in 2017.-
Mechanisms needed for stable property market
A line-up of tools and solutions to promote stable and sustainable development of the real estate market are being studied by the Ministry of Construction as part of efforts to ensure the market's transparency.
The ministry said that it will closely work with the Ministry of Finance to complete tax and finance mechanisms while joining hands with the State Bank of Vietnam to control the credit flow to the property sector. 
Removing bottlenecks on capital to carry out key housing projects will be given due attention.
The ministry will work to chalk out measures to develop social housing projects in urban areas and for workers in industrial zones as well as supervise the planning and use of land allotted for social housing in ?the areas.
Regular update on the building material market will help the ministry to carry out timely measures stabilising prices of major building materials. Effective implementing the building material planning and development schemes is crucial to ensure a balance of supply and demand. 
The ministry will support the production of materials that help cut construction costs.
The construction sector target a growth of up to 9.21 percent in 2018.
VFA urged to increase high-quality rice production
The Vietnam Food Association (VFA) was urged to work with other units to continue shifting rice production towards higher output of high-quality rice and applying technological advances in production and processing to maximize the value of rice.
The call was made at the association's eighth congress in Ho Chi Minh City on March 6 during which participants elected Nguyen Ngoc Nam, Acting Director General of Vinafood 2, as VFA President in the 2018-2023 tenure, to replace Huynh The Nang, who retired. 
In the new tenure, the association has set to increase its membership in order to coordinate actions to counter price squeeze and dumping and unhealthy competition.
VFA will work closely with other State agencies and authorities of localities to accelerate productive production and business.
Tran Thanh Nam, Deputy Minister of Agriculture and Rural Development asked the association to work with the ministry's units and localities in screening the planning of rice growing areas to adjust production scale and output to fit the demand for local consumption and export.
The association should boost production connectivity and develop cooperatives so as to proactively prepare supplies of quality rice for export to specific markets, he said.
Duong Phuong Thao, deputy head of the Import-Export Department of the Ministry of Industry and Trade reminded VFA members to take into account changes in import-export policies being implemented by major markets. 
Vietnam may export 6.5 million tonnes of rice in 2018, with high-quality rice accounting for a large proportion of total rice export volume and normal rice making up less than 20 percent.
The country sold 861,000 tonnes of rice abroad in the first two months of this year, earning 419 million USD, up 17 percent in volume and 34 percent in value compared with the same period last year.
The Philippines was the biggest importer of Vietnamese rice, accounting for 26.9 percent of the market share. It was followed by China, with 23.5 percent.
In 2017, Vietnam earned 2.6 billion USD from the shipment of 5.8 million tonnes of rice abroad.
Fair showcases high-quality Vietnamese products in An Giang
A trade fair displaying high-quality Vietnamese products opened in the Mekong Delta province of An Giang on March 6.
The six-day event has attracted the participation of 150 businesses, which are showcasing household appliances, food, medicine, apparel, and handicrafts, among others at 350 booths. 
Visitors to the fair will have a chance to enjoy discounts, gifts, game shows, and musical performances. 
The fair also features a seminar and training course on technological application for startups, as well as exchanges between producers and consumers.
The event is the first of a series of similar fairs to be held nationwide in the coming time.
The fair is co-organised by the High Quality Vietnamese Product Business Association and the Centre for Trade and Investment Promotion of An Giang province.
Ba Ria-Vung Tau seeks to tackle investment hindrances
Officials from the Department of Planning and Investment and other relevant agencies and sectors in the southern province of Ba Ria-Vung Tau met on March 6 to seek measures to draw in more investment.
Nguyen Hong Linh, Secretary of the provincial Party Committee, who chaired the meeting, said the province boasts a lot of untapped potential but has yet to do enough to reel in big investors.
He suggested departments and other sectors to join hands in making existing investors satisfy and treating businesses, old and new, local and foreign alike, on an equal footing. 
He pointed to the need to shorten the licence-granting duration while speeding up a support programme for businesses.
The Industrial Park Management Board should pay heed to the quality of infrastructure at industrial parks in an effort to raise their competitiveness, he noted. 
According to Le Hoang Hai, Director of the Department of Planning and Investment, in 2017, the province licensed 86 locally-invested and foreign-invested projects with a total investment of 1.5 billion USD and 41.9 trillion VND.
Newly-licensed projects are engaging mainly in warehouses, logistics, ports, industry, tourism, housing, environment, healthcare, mining, trade and agriculture.
Also in 2017, local and foreign businesses disbursed over 36.1 trillion VND of their investment capital, accounting for around 80 percent of the total investment poured into the locality.
On February 23, the province presented investment licenses to eight projects worth over 8.3 trillion VND (366 million USD) at a meeting with businesses.
The projects comprise two solar power factories, two housing projects, one hospital project, one ceramic factory, one tourism project, and one steel project.
The locality is focusing its investment attraction efforts on the five sectors that it has potential, namely industry, sea ports, port logistics services, tourism, and hi-tech agriculture.-
Can Tho kicks off Women Startup Day
The Women's Union of the Mekong Delta city of Can Tho launched the Women Startup Day on March 6 to celebrate the International Women's Day (March 8) and encourage the women to start businesses.
The Women Startup Day will have a series of programs to support the women's startups between 2018 and 2025 as they are facing a number of barriers in skills, resources and ability to use advanced technology.
The support will be provided for all women living in the city with a business idea, those wanting to start a business, new cooperatives and startups owned by women, and female entrepreneurs clubs. Priority will be given to women living in difficult circumstances, or from ethnic minority groups, or with disabilities.
From March 2018, the city will select innovative and feasible startup ideas to provide support in branding, funding and training.
The city's Women Union will introduce women with startup ideas to participate in vocational training courses that offer knowledge in startups. It will also give them legal assistance in registering trademarks to original inventions, patents or local specialties.
It will work with banks and credit institutions to give women entrepreneurs better access to funding and organize regional and international trade promotion events to help them improve their businesses' competitiveness.
Can Tho sets to raise awareness of career and startup issues among 70 percent of its women, support the establishment of at least 20 cooperatives managed by women, and advise and aid the development of 1,500 newly-found enterprises owned by women.
Expert: Businesses need better awareness of sustainable development
It is necessary to raise enterprises' awareness of the importance of as well as advantages and benefits from sustainable development, an expert has said.  
Nguyen Quang Vinh, Secretary General of the Vietnam Chamber of Commerce and Industry and Vice Chairman of the Vietnam Business Council for Sustainable Development, said Vietnam's business community have had clearer awareness of cooperation opportunities and risks that they may encounter. 
However, contributions made by enterprises, especially those operating in the financial sector, to the nation's sustainable development progress remain limited, he noted.  
Vietnamese businesses are still meeting difficulties in integrating sustainable development goals (SDGs) into their sustainable development reports, he added. 
Vinh stressed the need to outline policies to encourage businesses to make sustainable development reports, especially loosing legal procedures to facilitate the process. 
Responding to the UN Agenda 2030 for Sustainable Development, 193 member nations approved 17 SDGs of enterprises regarding poverty reduction; education quality; gender equality; clean water and sanitation; clean and sustainable energy; job and economic growth; innovation industry and infrastructure; inequality reduction; urbanization and sustainable community; responsible consumption and production; climate change adaption; water and land resources. 
Vinh said 1,500 CEOs worldwide joined the dialogue in New York to discuss the role played by the enterprises in the world's sustainable development through their business to promote economic growth, create jobs, stablise society and protect the environment. 
Thousands of innovation business ideas have been introduced and applied, towards expanding enterprises' business activities through establishing partnership and business, Vinh noted. 
Statistics show the number of enterprises that built sustainable development reports have doubled in the past five years. 
However, almost small and medium-sized enterprises (SMEs) – the dominant force in the Vietnamese business community, have not yet known well about sustainable development reports.
Dong Nai works to sharpen competitive edge for businesses
The authorities of southern Dong Nai province said they will continue assisting local businesses to research export markets and promote trade for achieving an export turnover of 18.3-18.5 billion USD in 2018.
They said they will help with connecting local producers and FDI enterprises located in the province in a bid to reduce the import of products that local businesses can produce and sharpen the competitive edge of domestic enterprises.
Dialogues and meetings with businesses will be held regularly to promptly tackle difficulties and hindrances so businesses could have smooth production and export activities.
In the first two months of this year, the province posted a 25 percent surge in export and ran a trade surplus of nearly 610 million USD, of which 267 million USD was made in January and 340 million USD was recorded in February.
The locality's major export items included apparels, footwear, wooden products, machinery and spare parts, and electronic products and components.
It main markets are China, the Republic of Korea, Japan, and China's Taiwan.
As one of southern localities having huge investment attraction, Dong Nai is currently home to 35 industrial parks with more than 1,510 investment projects, including some 1,100 foreign-invested ones, with about 900,000 workers.
About 70 percent of workers in Dong Nai come from other provinces, mostly in the central and northern regions.
SAP to instal customer relationship software for Sacombank     
Saigon Thuong Tin Commercial Bank (Sacombank) has hired SAP, a global leader in enterprise application software, for its customer relationship management (CRM) project, which consists of functions like sales, service, marketing, and integrated database analysis.
BJ Burlingame, head of digital business services for SAP Southeast Asia, said "Banking is essentially about data to gain insights into customers' behaviours and preferences, and essentially improving customer conversion rates, wallet share and customer loyalty."
SAP's CRM application would enable organisations to "uncover insights that can simplify their sales processes with better customer engagement, accurate forecasting, and real-time pipeline management," she said, adding that "This will allow them to deliver contextual and personalized experience for their customers."
With an increase in internet use in Viet Nam, it is essential for businesses to invest in digital technology if they want to succeed, she said.
Nguyen Minh Tam, deputy CEO of Sacombank, said: "The specific goal we have from this project is to take advantage of 360-degree customer views from CRM analytics to have better understanding of the needs and behaviours of existing and potential customers.
"We consider the completion of CRM an essential factor in making Sacombank stand out from its competitors in the market."
The bank, without divulging the cost of the project, said merely it cost a "large amount of money."
It is expected to be ready in March next year. 
Japanese Group launches five-star resort     
Route Inn Group from Japan has launched its first five-star beach resort project – the Grandvrio Ocean Resort Da Nang – in Dien Ban Town of central Quang Nam Province, adding 96 hotel rooms and 54 villas to the provincial hospitality industry.
The group said it's the second project in Viet Nam since it debuted a four-star hotel project – the Grandvrio Da Nang City – in the central city and the start of a plan to develop a chain of 50 hotels in the country until 2025.
Grandvrio Ocean Resort Da Nang, located on the coast between Da Nang and Hoi An, offers private pool villas and rooms with ocean views and contemporary interior design, luxurious fittings and high-end amenities, creating more options for tourists visiting Da Nang and Hoi An.
It also offers the biggest Japanese style restaurant, Bikura, an Onsen (a Japanese hot spring and bathing facilities), Zen Spa and Kids' zone.
The Japanese Group also began an enrollment programme for students from Da Nang-based Dong A College to serve a chain of 320 hotels in Japan and Viet Nam following a training agreement signed in 2015.
Japan plans to open a Consulate office in Da Nang as a way of boosting tourism and exchange between Japan and Da Nang as well as other central provinces in the future.
Route Inn was considered the first Japanese company to invest in the hospitality sector in central Viet Nam when it poured US$18 million into Da Nang last year. 
TTC Energy signs up Japanese contractor for solar plant     
Gia Lai Electricity Joint Stock Company has hired Japanese-owned JGC Vietnam Co., Ltd as the contractor for the construction of a solar power plant in the Central Highland province of Gia Lai's Krong Pa District.
The lump sum turnkey contract covers engineering, procurement, construction and commissioning (EPCC) for the 49MW plant.
When it starts generating power next autumn it would be among the largest such facilities in the country.
TTC Energy, whose biggest subsidiary is Gia Lai Electricity JSC, has invested heavily in clean energy and trialled wind and solar power models besides investing in hydropower projects.
It plans to achieve a solar capacity of 1,000MW and wind capacity of 40MW so that they account for 73 per cent of its total capacity by 2020.
JGC Vietnam is an engineering company specialising in EPC (Engineering – Procurement – Construction) services and technical solutions for various industries.
It is a 100 per cent affiliate of JGC Group of Japan. 
Vietnam Airlines to increase flights from HCMC to Singapore, Taiwan
National flag carrier Vietnam Airlines will add four more flights a week on its routes from Ho Chi Minh City to Singapore and Taipei from March 27.
The additional flights to Singapore will depart Ho Chi Minh City at 7.25pm on Monday, Wednesday, Thursday and Sunday and return at 11.25pm on the same day. Flights to Taipei will depart at 2.15 am on Tuesday, Thursday, Saturday and Sunday and return at 10.10pm on Monday, Wednesday, Friday and Saturday.
With the advantage of arriving early in the morning, the new flights to Taipei will give travelers more time to explore the city while those on business can begin work as soon as they arrive. Meanwhile, the return flights departing late in the evening allow passengers to have more time on the day of departure to sightsee or work before returning to Vietnam.
Vietnam Airlines now conducts eleven flights a week between Ho Chi Minh City and Taipei and 25 a week between Ho Chi Minh City and Singapore. Flights are operated on Airbus A321 aircraft with four-star international-quality services.
From now until June 30, Vietnam Airlines is offering special prices for tickets on these flights. A return ticket from Ho Chi Minh City to Singapore starts from VND2.79 million ($123) while Ho Chi Minh City to Taipei tickets start from VND4.56 million ($200) (including taxes and fees).
Golden Lotus members flying from Ho Chi Minh City to Singapore or Taipei from March 25 to April 25 will also be offered 500-1,500 bonus miles.
The number of Vietnamese visiting Taiwan has increased sharply after Taiwan relaxed its visa policy towards Vietnamese citizens, in September 2016, which allows those who hold permanent residence certificates issued by Australia, Canada, Japan, South Korea, New Zealand, Schengen signatories, the UK, and the US, or hold a visa or a residence card from one of these countries either valid or expired within ten years from the date of their expected arrival in Taiwan to use an online application to obtain an online visa. In 2017, around 400,000 Vietnamese visited Taiwan, up 100.5 per cent against 2016, according to figures from Taiwan.
Meanwhile, Singapore, one of most popular destinations for Vietnamese, also welcomed an increasing number of Vietnamese tourists. The island nation welcomed more than 530,000 in 2017, for growth of 13.2 per cent over 2016, according to the Singapore Tourism Board.