The Mekong Delta province of Bac Lieu has rejected the proposed Cai Cung thermal power plant project, saying that it wants to become a national centre of renewable energy and a large producer of shrimp farming.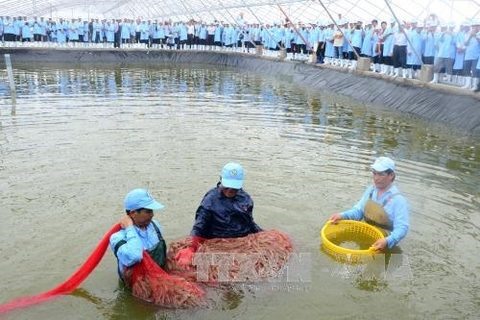 The Japanese-invested thermal power project was expected to improve Bac Lieu's gross domestic product (GDP) rapidly, just as existing Duyen Hai thermal power plant has done in the neighboring province of Tra Vinh, some experts said.
Since the Duyen Hai thermal power plant began operation, Tra Vinh's GDP has increased from 6 per cent to 12 per cent.
Commenting on the rejection of the plant, Duong Thanh Trung, chairman of Bac Lieu Province's People's Committee, said that, even with the latest technology and equipment, the plant would have caused environmental problems as it would require a big area for cinder dumps which would damage shrimp farming, considered key to the province's economy.
"Bac Lieu needs a large area for industrial shrimp farming, including intensive and semi- intensive shrimp farming and organic shrimp farming in submerged forest areas," Trung said. "We need to consider either shrimp farming or thermal power, and we have only one option. If we agree with the Cai Cung project, it means we would lose the shrimp economy."
The decision to reject the thermal power plant proposal has received strong support from local residents and enterprises.
Prime Minister Nguyen Xuan Phuc welcomed the decision by Bac Lieu authorities to develop high-tech industrial shrimp farming.
Le Xuan Anh, director of a company in Bac Lieu, said: "The biggest strength of the province is shrimp farming, and nearly 50 per cent of the province's total area is used for shrimp farming. So the decision is right and is in conformity with the practical conditions and local economic environment."
"If the thermal power plant project had been chosen, the province's budget may have received a hundred billion dong annually. However, thousands of local farmers and enterprises would go bankrupt because the plant would have a negative effect on the shrimp farming environment," he added.
High-tech shrimp farming
With the launch last month of construction on a VND3.2 trillion (US$140 million) high-tech agricultural park specialising in shrimp, Bac Lieu is expected to become a national shrimp industry hub.
The high-tech agricultural park will cover 420 ha in Bac Lieu City's Hiep Thanh Commune and serve as a centre linking institutes, schools and enterprises. The centre will use high technology in shrimp breeding, produce breeder shrimp and other varieties for shrimp farming, exports and processing.
Chairman Trung said: "More than 20 enterprises have registered so far to invest in the hi-tech shrimp farming park, with total investment of more than $114million, and many institutes and schools have signed agreements to transfer and apply advanced technologies."
Nguyen Xuan Cuong, Minister of Agriculture and Rural Development, said the park would help expand high-tech shrimp breeding across the Mekong region and another 28 shrimp-breeding cities and provinces nationwide.
Its operation is expected to help realise the country's shrimp export target of $10 billion in the 2021-2025 period.
Bac Lieu currently has an aquaculture area of 1,290 square km, while agricultural production makes up 43 per cent of the province's GDP.
Each year, the province harvests about 210,000 tonnes of aquatic products including 115,000 tonnes of shrimp, of which export turnover exceeds $527 million, or 13.7 per cent of the country's total.
Renewable energy
Late last year, Bac Lieu authorities and the South Korean SY Panel Group signed an agreement to develop a $450 million solar power plant.
To be built on 400ha in Dong Hai District, the plant is designed to have a capacity of 300 MW. When it is completed in mid 2019, the plant will be the country's largest solar power plant.
Hong Young Don, chairman of the SY Panel Group, said: "This renewable energy project is the biggest solar power plant in Bac Lieu. This project and other wind power projects will contribute to the economic development of Bac Lieu as well as Viet Nam."
Bac Lieu firms are now keen on investing VND100 trillion ($4.4 billion) in renewable energy projects, according to local authorities.
The province, with a 56 km-long coastline, has great potential for developing wind power and sun power projects. – VNS