China remains biggest buyer of Vietnam tra fish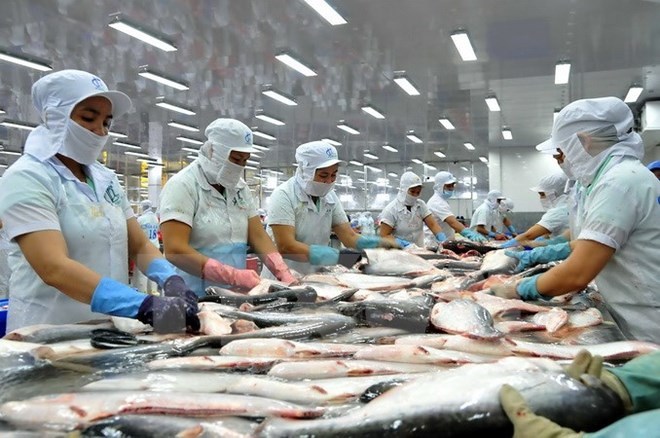 After successfully tapping the Chinese market last year, the Vietnam Association of Seafood Exporters and Producers (VASEP) has forecast China will remain the biggest importer of Vietnamese tra fish this year.
According to a report by VASEP, Vietnam exported more than US$410 million worth of tra fish to China and Hong Kong last year, up 34.8% over 2016 and accounting for 23% of the country's total tra fish export.
Meanwhile, last year saw outbound sales of tra fish to the U.S. and the European Union (EU) falling around 11% and 22.3% respectively due to Farm Bill, an anti-dumping duty imposed by the US and media bias against Vietnam's tra fish in the EU.
Despite falls in the US and the EU, the growth of the Chinese market helped the export turnover from tra fish hit US$1.78 billion last year, increasing 4.3% against the previous year.
VASEP general secretary Truong Dinh Hoe said the northern neighbor's demand for tra fish would increase as the product is becoming more popular among Chinese consumers.
China may import an equivalent of 400,000 tons of live tra fish from the Mekong Delta region valued at US$400-US$500 million this year. However, the region has annual output of 1-1.2 million tons of live tra fish for export, so it is necessary to seek buyers for the remaining 600,000-800,000 tons.
In addition to ASEAN, Brazil and some other markets, the consumption of the remaining 600,000-800,000 tons of tra fish will depend on the EU and the U.S.
Meanwhile, the tra fish price has risen to an all-time high. Two-kilogram tra fish is sold at VND30,000-VND32,000 per kilogram while one-kilo fish sell for VND29,000-VND30,000 per kilogram, said Nguyen Huu Nguyen, manager of a fish farming cooperative in Chau Phu District, An Giang Province.
Vietnam is facing the scarcity of material tra fish while tra fish exporters have high demand for the product, resulting in higher tra fish price, Nguyen explained.
"Meet The USA 2018" conference- good opportunity for development links
The Vietnam Ministry of Foreign Affairs, the Da Nang People's Committee, the US Embassy and the American Chamber of Commerce in Vietnam (AmCham) jointly held "Meet The USA 2018" conference in the central city of Da Nang on March 5.
In his opening remarks, Vietnamese Permanent Deputy Foreign Minister Bui Thanh Son hailed fruitful cooperation between Vietnamese and US localities and businesses across multiple fields, saying the US has expressed desire to further step up cooperation with Vietnam and other nations in the Asia-Pacific. 
Vietnam has also assured its determination to adopt open-door policy and international integration, seeing the US as a leading important partner, he said, adding that the country greatly values initiatives and great efforts of the US and other countries to maintain peace, stability, cooperation and development in the region.
He also praised both sides for joint efforts to boost their trade ties, with stable investments and higher two-way trade revenue. 
Son affirmed Vietnam's recognition of high importance on the relationship with the US and its readiness to cooperate with the country to go ahead with its reform and renovation process, and create a favourable business environment.
He highlighted cooperation between Vietnamese localities and US businesses, partners and localities as a pillar of the Vietnam-US comprehensive partnership which was established in 2013. 
Local level collaboration has been a helpful channel for cooperation mechanisms at the Government level, especially in speeding up the implementation of joint projects, Son said.
US Ambassador to Vietnam Daniel Kritenbrink, in turn congratulated Vietnam and Da Nang on the successful hosting of the APEC 2017 Economic Leaders' Week. 
US firms will stand side by side with their Vietnamese partners in development, the US diplomat said while suggesting Vietnam should boost international integration and facilitate the operation of US enterprises in Vietnam. 
The "Meet The USA" conference covers four sessions, focusing on Vietnam-US trade and investment prospects 2018 – 2020, smart cities – high technology,  start-up,  education and workforce. 
Chairman of the Da Nang People's Committee Huynh Duc Tho updated 50 US business representatives on potential and advantages of Da Nang in economics, trade, and international investment, especially its ties with US localities and businesses. 
Tho said he hopes that US partners will continue to stand side by side with the municipal authority and offer more cooperative opportunities in investment, trade, smart city building, start-up and education-training with the city. 
On this occasion, the External Affairs Department under the Foreign Ministry and Coca-Cola Vietnam signed a memorandum of understanding on cooperation.
At the conference, the participants also discussed Vietnam-US relations especially the trade balance between the two nations.
Vietjet announces direct route from Vietnam to India
Budget carrier Vietjet has announced a plan to open a direct route connecting Vietnam and India in order to serve the travel demands of the two peoples and contribute to integration and trade throughout the region.
The announcement was made at the India-Vietnam Business Forum in New Delhi on March 2 with the presence of Vietnamese President Tran Dai Quang and senior leaders from the host nation.
The event aimed to mark the 45th anniversary of the Vietnam-India diplomatic relationship and the 10th anniversary of a strategic partnership between the two countries.
The first route is planned to connect Ho Chi Minh City with New Delhi with an initial four flights per week.
As a new-age airline, Vietjet is following a plan to open new routes, add more aircraft, invest in modern technology, and offer more add-on products and services to serve customers.
Currently, it boasts a fleet of 55 aircraft, including A320s and A321s, and operates 385 flights every day. The airline has carried more than 55 million passengers on a network of 82 routes in Vietnam and to international destinations across the region.
Vietnam Airline adds flights from HCM City to Singapore, Taipei
National flag carrier Vietnam Airlines on March 5 announced that it will increase flights from Ho Chi Minh City to Singapore and Taipei (Taiwan) to meet the rising demand of passengers to these attractive destinations.
As scheduled, from March 27, the airline will launch an additional four round-trip flights on each air route. The new flights to Singapore will departure at 19:25 on Mondays, Wednesdays, Thursdays and Sundays, while the reverse flights will begin at 23:25 on the same days. 
Meanwhile, the flights to Taipei will leave at 2:05 on Tuesdays, Thursdays, Saturdays and Sundays; and those returning to HCM City will take off at 22:10 on Mondays, Wednesdays, Fridays and Saturdays.
The plan will help increase the airline's total flights from HCM City to Taipei and Singapore to 11 and 25, respectively. Four-star Airbus A321 will be used for all these flights. 
Vietnam Airlines was recognised as a 4-star airline for two consecutive years in 2016 and 2017 by the international air transport rating organisation Skytrax.
It targets a 13 percent increase in revenue and an 8.3 percent rise in the number of passengers in 2018. 
Apart from Asia, the airline is also seeking to expand their markets in Europe.
Ben Tre's pomelo earns geographical indication
Green-skin pomelo, a speciality of the Mekong Delta province of Ben Tre, has been granted a geographical indication (GI) certificate by the National Office of Intellectual Property (NOIP).  
According to Lam Van Tan, Director of the provincial Department of Science and Technology, the GI is applied to pomelo grown in islets in the districts of Chau Thanh, Binh Dai, Mo Cay Bac, Mo Cay Nam, Cho Lach and Ben Tre city. 
The pomelo, which earned the name as its skin remains green even when it is ripe, is much sought after on the market due to its great taste. The fruit has thin skin, few seeds, and pinky flesh.  
Statistics of the provincial Department of Agriculture and Rural Development show Ben Tre currently has around 6,500 hectares of green skin pomelo, producing almost 100,000 tonnes a year. 
The GI recognition is expected to help Ben Tre expand the market for the pomelo and raise income for local farmers.
Hanoi to host Vietnam Expo 2018 in April
The 28th Vietnam International Trade Fair (Vietnam Expo 2018) is set to take place at the Hanoi International Exhibition Centre from April 11 to 14.
Themed "Enhancing Regional and Global Economic Links", the event has to date attracted registrations from more than 450 businesses located across 16 local provinces and cities and 23 countries and territories, such as Russia, the Republic of Korea, Thailand and Japan.
Russia is an honorable guest at the Vietnam Expo 2018, where Russian firms will display their key and outstanding products such as mechanical manufacturing, automated equipment, industrial biotechnology, high technology electronics on an area of 520 sq.m. The participation is expected to boost trade between the two countries. 
The year 2017 marked upbeat growth in Vietnam – Russia ties, with both sides agreeing to push the implementation of the Eurasian Economic Union – Vietnam free trade agreement and increase bilateral trade to 20 billion USD by 2020. 
A representative of the Ministry of Industry and Trade said the expo offers tremendous opportunities to participants, as its previous editions witnessed hundreds of contracts and cooperative pacts sealed.
This year, the fair focuses on the display of machines, construction materials, as well as information technology, food, and healthcare products.
Ministry requests strengthening post-Tet price management
The Finance Ministry recently issued a Notice requiring the People's Committees of cities and provinces to strengthen price management following the traditional Lunar New Year (Tet), so as to achieve the goal of controlling consumer price index below 4 percent this year. 
Accordingly, prices of services under the management of the People's Councils and People's Committees of cities and provinces will remain the same, including health check-ups and treatment, education, environment hygiene, vehicle parking, travelling, lodging and rentals in exhibitions and shopping malls. 
They were required to closely follow the movement of supply, demand and prices to stabilise the market, particularly daily necessities such as food. 
The ministry requested strengthening inspection over compliance with regulations on traffic safety and service prices while raising public awareness of the effort to prevent false information causing public concern. 
In the first two months of this year, the CPI increased by 2.9 percent.-
An Giang earns 110.8 million USD from exports in two months
Export turnover of the Mekong Delta province of An Giang in February was estimated at 55.25 million USD, up 2.12 percent year-on-year. 
According to Vo Nguyen Nam, Director of the provincial Department of Industry and Trade, with the figure, the locality's export revenue in the first two months of this year reached 110.8 million USD, a rise of 5.62 percent against the same period last year. 
The province's main export items like rice, seafood and garments-textiles saw higher export revenue as compared with the corresponding time last year. 
During the period, An Giang shipped abroad 61,390 tonnes of rice, pocketing 30.76 million USD, up 53.2 percent in volume and 72.8 percent in value. Meanwhile, 22,120 tonnes of seafood worth 50.73 million USD were delivered overseas, increases of 20.09 percent in volume and 52 percent in value. 
Other exports like garments-textiles, footwear, fertilizers and pesticides recorded revenue equivalent to that of the same period last year. 
The department has partnered with relevant units to remove difficulties in production and export facing frozen vegetables whose export turnover slightly decreased against the corresponding time last year. 
The sector has also frequently got updated information about export-import markets, especially China.
Ministry works towards housing sector's sustainable development
The Ministry of Construction will work towards the housing market's sustainable development for the sector to achieve the targeted growth of 8.46 – 9.21 percent in 2018.
The ministry will closely monitor the country's real estate market and provide regular updates on the market. It will improve the market's information system and the database on the property market to ensure the sector's transparency.
It will continue coordinating closely with the Ministry of Finance to refine real estate-related financial and tax policies; and partner with the State Bank of Vietnam to set tighter control on credit services for the field and amend credit policies in a flexible and timely fashion.
At the same time, the ministry plans to work together with relevant ministries and agencies to tackle challenges in allocating State budget for the key housing programmes.
In 2018, the Ministry of Construction will continue to study and adopt proper measures to fuel the development of the affordable housing in urban areas and low-cost housing for workers at industrial parks and to encourage to-let house and affordable house projects.
It will also take steps to stabilize prices of building materials and support the development and production of cutting-edge building materials that help reduce cost of construction.
Pouchen VN gets custom priority card     
The General Department of Viet Nam Customs has granted a preferential treatment card to shoemaker Pouchen Viet Nam Enterprise Company Limited.
The company will receive some preferential customs treatment in export-import operations, such as priorities at the stage of customs and post-customs clearance stage; single customs declaration and priorities in tax procedures in line with Circular No. 86/2013/TT-BTC issued by the Ministry of Finance issued in 2013 dated June 27, 2013.
According to a representative of the Post-Customs Clearance Examination Department, operating under the Viet Nam General Administration of Customs, in recent years, this company has had an average import-export turnover of US$600 million per year.
The duration of priority recognition for Pouchen Viet Nam is three years, counting from the date of signing the decision. After this period, if the enterprise continues to meet the prescribed conditions, the duration will be extended for the priority enterprise regime.
Pouchen Viet Nam is the 65th enterprise in the country owning the preferential business regime in the field of customs.
Under the provisions of Circular 722015/TT-BTC on priority enterprises, one of the important conditions to get a priority card is the import-export turnover of enterprises. Specific conditions for enterprises are as follows:
Ordinary import-export enterprises must achieve an import-export turnover of $100 million per year or more;
Enterprises (exports of goods made in Viet Nam) must achieve an import-export turnover of at least $40 million per year;
Exporters of agricultural and aquatic products that are produced or raised in Viet Nam must earn $30 million or more each year;
Enterprises, which are customs procedure agents, must have reached 20,000 customs declarations or more each year;
In cases that enterprises are granted the high-tech enterprise certificates by the Ministry of Science and Technology, according to the provisions of the Law on High Technologies, they shall not consider the turnover conditions.
Pouchen Viet Nam is a Taiwanese foreign direct invested enterprise, specialised in producing and exporting footwear, especially sports shoes, with its main markets in Europe and America continents. 
Project to promote exports to Middle East     
Vietnamese export companies will have opportunities to set up distribution channels in the Middle East thanks to a market research programme launched by the Investment and Trade Promotion Centre in HCM City and the Vietnamese Embassy's Commercial Affair Office in the United Arab Emirates (UAE).
The research will be carried out from March 4-9 this year. It aims to help rice, food and fruit exporters seek opportunities in Middle Eastern nations.
According to the Ministry of Industry and Trade, trade between Viet Nam and the Middle East reached US$12.8 billion in 2017, up 17.4 per cent from 2016.
Viet Nam's main exports were mobile phones, computers and accessories, seafood, footwear, garment and textiles, fibre, rice, pepper, wood products, cashew nuts, natural rubber, vegetables and fruit and coffee beans.
The country mostly imported materials for domestic production, such as plastic, liquefied gas, electronic spare parts, machines and animal feed, from the Middle East. 
HCM City set to host international livestock, aquaculture expo     
The latest machinery, technologies and business solutions for the livestock breeding, dairy and aquaculture industries will be on show at the ILDEX Vietnam expo in HCM City from March 14 to 16.
The 7th International Livestock, Dairy, Meat Processing and Aquaculture Exposition has attracted nearly 250 exhibitors from 30 countries and territories, and there will also be six national pavilions set up by France, the US, South Korea, the Netherlands, China, and the Czech Republic.
Speaking at a press briefing in HCM City on March 5, Nguyen Ba Vinh, director of the Minh Vi Exhibition and Advertisement Services Co., Ltd (VEAS), one of the expo's organisers, said this year's event would be the largest ever and 50 per cent bigger than the last one held in 2016.
The increasing participation by foreign exhibitors shows their interest in the country's livestock industry, he said.
Many seminars and conferences will also be held during the expo, including one on sustainable solutions for cow farmers for developing dairy and meat processing and another on alternative antibiotic solutions in livestock.
Hoang Thanh Van, head of the Animal Breeding Department, said despite difficulties last year the livestock sector grew by over 2.9 per cent.
The livestock industry is shifting away from traditional, small and scattered breeding to industrial-scale production with centralised slaughtering systems, he said.
It is expected to face more challenges this year, requiring stake holders in the industry to make more efforts to develop linkages in production and consumption and adopt measures to cut production costs, he added.
The exhibition would offer industry professionals the chance to learn about new technologies, network and explore business opportunities, he said.
Organised by VEAS and VNU Exhibitions Asia Pacific Co., Ltd, ILDEX Vietnam will be held at the Saigon Exhibition and Convention Centre in District 7 and is expected to attract 10,000 visitors. 
Russian firms to showcase goods at Viet Nam Expo     
Russian companies will exhibit their major products during the 28th Viet Nam International Trade Fair (Viet Nam Expo 2018), slated to be held at the International Exhibition Centre in Ha Noi from April 11 to April 14.
On display will be mechanical processing, precision mechanics and automation equipment, as well as industrial biotechnology and high-tech electronic goods, on a total area of 520sq.m.
The bilateral economic cooperation between Viet Nam and Russia was in the spotlight in 2017, and the two sides have agreed to accelerate the implementation of the free trade agreement between Viet Nam and Europe-Asian Economic Union through bilateral trade, which is expected to reach US$20 billion by 2020.
The upcoming expo is seen as a significant event to further trade promotion in an efficient way by the two sides, the event's organiser, the Viet Nam National Trade Fair and Advertising Company (Vinexad), said in its statement.
Besides exhibitors from Russia, the upcoming event will also attract those from other countries and territories, including South Korea, mainland China, Nepal, Thailand, Japan, Singapore, Cuba, Laos, Cambodia, Taiwan and Hong Kong.
They will showcase machinery and equipment, construction and building materials, electricity, electronics and information technology products, raw materials and auxiliary materials, food items and agricultural products, as well as household appliances, health care products and services.
Viet Nam stocks lose on last-minute selling     
Vietnamese shares tumbled on Monday as investors dumped a huge amount of stocks during the at-the-close (ATC) session for intraday profits.
The benchmark VN-Index on the HCM Stock Exchange dropped 2.47 per cent, or nearly 28 points, to end at 1,093.48 points. It gained 1.6 per cent last week.
This marked the worst decline for the benchmark index since it suffered two drops of 5.10 per cent and 3.54 per cent a month ago.
The minor HNX Index on the Ha Noi Stock Exchange lost 2.14 per cent to close at 125.51 points, reversing from a 0.9 per cent gain made on Friday.
On the contrary, the UPCOM Index on the Unlisted Public Company Market (UPCoM) was up 0.45 per cent to 60.44 points, extending its growth for a second day and increasing 1 per cent in total.
More than 364 million shares were traded across the three local exchanges, worth VND11.48 trillion (US$510.4 million).
The market breadth was negative with 352 declining stocks against 285 gainers.
According to the Ha Noi-based Bao Viet Securities Company (BVSC), the benchmark VN-Index plunged in the last minutes dragged by strong selling pressure despite staying on its uptrend during most of the trading session.
"Investors feared that the market could form a two-peak pattern in the short term," BVSC said in its daily report.
Liquidity surged and surpassed the average level with negative market breadth, signaling that "investors were cautious and anxious about the possibility of a plunge in the next session," the company said.
In the 20 industries on the stock market, financial stocks with banks and securities firms were two of those that were worst hit by investors' strong selling pressure, data on vietstock.vn showed.
The banking and brokerage industry indices plummeted 5.6 per cent and 5.7 per cent, respectively.
The banking industry was sunk by Bank for Investment and Development of Viet Nam (BID), Vietinbank (CTG), VPBank (VPB), Asia Commercial Bank (ACB), Vietcombank (VCB) and MBBank (MBB).
Those leading bank stocks tumbled at least 5 per cent.
Among securities firms, the four big ones – VNDirect Securities (VND), Saigon Securities Inc (SSI), HCM City Securities Corp (HCM) and BIDV Securities (BSI) – were brought down to their daily declining band of 6.7-7 per cent.
In addition, energy stocks also traded in the negative territory as oil remained pessimistic during the Asian trading session.
The worst-performers among energy stocks included PetroVietnam Gas (GAS), Binh Son Refining and Petrochemical Company (BSR) and PetroVietnam Coating JSC (PVB).
Viet Dragon Securities Co (VDS) wrote in its report that the correction had finally taken place in an unexpected scenario and there was a high chance the benchmark index would drop deeper on Tuesday. 
Hà Nội People's Committee to offload entire stake in Vinawind
The Hà Nội Municipal People's Committee will put up 6.7 million shares of Thống Nhất Electromechanical Joint Stock Company (Vinawind) for public auction on Hà Nội Stock Exchange on March 30.
The move is part of its divestment plan for the 2016-20 period.
The share offer accounts for 46.9 per cent of the company's charter capital. Foreign investors are allowed to buy the entire share amount.
At a starting price of VNĐ42,400 (US$1.86) per share, the State is expected to collect more than VNĐ284 billion from the auction. This is almost equal to its IPO (initial public offering) price of VNĐ42,383 on March 17, 2015.
Founded in 1965, Thống Nhất is a popular and long-standing brand name among the citizens of Hà Nội, along with Thủy Tạ ice cream, Thượng Đình shoes and Sao Vàng (Golden Star) balm. Thống Nhất produces fans and household electrical equipment.
Unlike many traditional businesses struggling in the face of stiff market competition, Vinawind has had stable business in the last two years, with a revenue of more than VNĐ900 billion and an annual net profit of over VNĐ60 billion.
The company is also a good dividend payer, with a high ratio of 25 per cent expected in 2017 and 2018.
Hà Nội Municipal People's Committee is Vinawind's largest stakeholder with 46.9 per cent. The two other main shareholders are Sài Gòn-Hà Nội Insurance JSC (20.98 per cent) and Việt Nam National Aviation Insurance Corp (19.24 per cent).
Vinawind had a charter capital of VNĐ143 billion and total assets worth VNĐ520 billion by the end of 2017, up 23 per cent over the previous year.
In October 2017, the Municipal People's Committee announced its divestment plan at 96 enterprises during 2016-20, with a total charter capital of nearly VNĐ10.35 trillion, including popular brands such as Hà Nội May 19 Textile Group, Thượng Đình Footwear Co, Thăng Long Mechanical JSC and Hanel Ltd Co.
Vietnam resolves to make EU lift 'yellow card' on seafood
The Vietnamese agency assigned to the oversight of the food industry has been implementing various stringent measures in an effort to have the 'yellow card' by the European Commission (EC) rescinded.
The 'yellow card' corresponds with a warning issued by the EC to any country refusing to cooperate in the international fight against illegal, unreported and unregulated fishing.
Vietnam received card in October 2017, which stipulates that after a six-month period, if the country can enable considerable progress in grappling with illegal fishing, the sanction will be lifted, and a 'green card' – an eligible status for export – will take its place; otherwise, a 'red card,' a total ban, will be enforced.
Vietnam's Ministry of Agriculture and Rural Development and provincial authorities have been striving for the removal scheduled for April 2018, Ha Cong Tuan, the body's deputy minister, said on March 2.
A number of coastal areas have equipped themselves with offshore fishing boats and preemptively taken actions against illegal fishing in the waters of neighboring countries.
In Quang Ngai Province, located in central Vietnam, those boats found with a repeat of forbidden fishing are indefinitely prohibited from operations, according to Tran Ngoc Cang, chairman of the local People's Committee.
The owners of two boats coded QNg 90518 and QNg 90945, for instance, have forfeited the right to be granted loans for their profession and to carry out fish-catching activities for good.
In addition, before fishing boats depart from docks, coastal police require their owners and captains to sign a commitment document against illegal fishing.
In Ba Ria-Vung Tau Province, in southern Vietnam, the local Department of Agriculture and Rural Development has formulated an action plan to stop fishers from continuing catching fish in foreign waters, according to Tran Van Cuong, director of the body.
"The program was designed in accordance with the [said] ministry's guidelines and will be presented to the provincial People's Committee for approval over the next few days," Cuong said on March 2.
He added that since October 2017 the spirit of this effort has also been seen in an official order from the committee, thwarting any attempts by Vietnamese boats to fish outside the nation's maritime areas.
Punitive measures accordingly include rendering invalid from six to twelve months the fishing licenses of boats transgressing the national sea borders for the first time, and revoking the fish-catching right permanently for ships with a recurrence of illegal fishing.
The Vung Tau administration has also required fishing boats with large power machines to be retrofitted with cameras and stay connected around the clock with relevant authorities on land.
Boats which belong to that type but fail to feature the devices are not granted or ineligible to renew operation licenses, Cuong, the director, said.
Housing sector targets this year's growth of beyond 8%
The Ministry of Construction will improve the housing market's information system and the database on the property market to ensure sustainable development toward achieving this year's growth rate of 8.46 – 9.21%.
The ministry will closely monitor the country's real estate market and provide regular updates on the market and work hand in hand with the Ministry of Finance to fine-tune real estate-related financial and tax policies. It will also partner with the State Bank of Vietnam to tighten stricter controls on credit services.
It plans to join hands with relevant ministries and agencies to deal with challenges in State budget allocation for the key housing programmes.
The Ministry will work more on stabilizing prices of construction materials and  fuel the development and production cutting-edge building materials that help reduce costs of construction.
This year, a score of proper measures will be taken to spur the development of the affordable housing in urban areas and low-cost housing for workers at industrial parks and undertake affordable housing projects.
Two ROK retail groups seek trade opportunity in Vietnam
Two retail and distribution groups from the Republic of Korea (ROK), K-holdings and Coupang, will meet Vietnamese partners to discuss investment opportunities on March 22.
This is part of activities within the framework of the Vietnam-ROK business exchange program organized by the Export Support Centre under the Vietnam Trade Promotion Agency and the Vietnamese Trade Office in the ROK with the aim of boosting exports to the market.
The two groups are in need of importing spices/sauce, noodle/vermicelli/rice noodle and products, canned food/frozen seafood, frozen and dried fruit, coffee, chocolate, cashew nut, pepper, cinnamon, anise, dried food such as dried beef, chicken and cuttlefish, fresh fruits like coconut, pineapple, banana, mango and dragon fruit and some other processed food, which offer opportunities for Vietnamese agricultural businesses to ship their products to the market.
Twenty-five years after establishing the diplomatic ties, Vietnam and the ROK have become strategic and important economic partners. Vietnam's exports to the market rose 31% to US$15 billion last year. Bilateral trade is expected to reach US$100 billion by 2020.
According to the Korea International Trade Association (KITA), the ROK's exports to Vietnam reached nearly US$48 billion last year, accounting for 8% of the country's total export value. This is an impressive figure as it was just nearly 4% in 2014.
Vietnam became one of the ROK's top ten export markets in 2009 for the first time with an export value of more than US$7 billion and surpassed Japan to be the third largest export market of the country in 2015.
PV Power awaits listing on UpCOM and strategic investor
Print EmailAfter a successful initial public offering (IPO), PetroVietnam Power Corporation (PV Power)—the second-largest electricity producer in Vietnam—is ready to list its shares on the Unlisted Public Company Market (UpCOM) tomorrow and is looking for a strategic investor.   
After that, it will conduct the sale of 676 million shares or 28.88 per cent of its charter capital to a strategic investor. Interested investors are required to have reported profit in the last two years, hold no accumulated losses, and keep the acquired PV Power shares for at least five years.
To date, 30 investors expressed interest in becoming the strategic investor of PV Power. However, no official applications have been submitted to PV Power yet.
Previously, on January 31, PV Power reported a successful IPO by selling all the 468.37 million shares on offer at the average selling price of VND14,938 ($0.66) per share, with the highest and lowest selling prices being VND28,000 ($1.23) and VND14,500 ($0.64). After the sale, PV Power's total capitalisation reached $1.48 billion.
PV Power is considered the first power producer to report a complete take-up at its IPO via public auction.
Earlier in 2015, Vinacomin-Power Holding Corporation sold only 0.005 per cent of the offered shares for VND12.053 billion ($529,469), failing its IPO.
Besides, in early February, Power Generation Corporation 3 (EVN Genco 3) also reported a failed auction with only 2.8 per cent of the offered shares sold, leaving 97.2 per cent unmarketable.
PV Power was established in 2007 andis fully-owned by PetroVietnam. As the second-largest electricity producer in Vietnam, the company operates one coal-fired thermal power plant, three gas-fired power plants, and three hydropower plants.
The firm plans to develop nine gas-to-power projects located in Dong Nai, Kien Giang, Binh Thuan, and Quang Nam.
In 2017, PV Power produced 20.581 million kWh of electricity, acquiring VND30.98 trillion ($1.36 billion) in revenue and VND2.503 trillion ($109.95 million) in pre-tax profit. This year, the firm expects to generate 21.570 million kWh with VND30.95 trillion ($1.35 billion) in revenue and VND1.91 trillion ($83.9 million) in pre-tax profit.
South Korean food firm Jooan Holdings sets foot in Vietnam
Targeting the potential food manufacturing and distribution sector in Vietnam, Jooan Holdings Corporation from South Korea has decided to established a branch in Hanoi before establishing a $1.2 million food manufacturing and processing plant in Vietnam.
The launching ceremony was organised this morning and the branch is named Jooan Foods Corporation.
"Before deciding to open the branch in Vietnam, Jooan Holdings Corporation spent a long time studying the food market, the eating habits as well as the taste of customers in Vietnam. We see great opportunities to develop in Vietnam," said Yi Sanghoon, CEO of the head office of Jooan Foods Corporation.
Foreign investors find the food sector attractive, especially South Korean firms like CJ and Daesang that acquired domestic food firms to consolidate their presence in Vietnam.
In order to compete with the existing competitors, including South Korean firms in the market, the company will focus on the quality of the products instead of their prices.
Besides, the company will study and pioneer supplying new products. Thus, customers will find numerous products that are totally new to the Vietnamese market among the company's products.
In the framework of the launching ceremony, Jooan Foods Corporation and HT Food Co., Ltd. signed a memorandum of understanding (MoU) to co-operate in the food distribution sector in Vietnam.
"After two years of studying the distribution of South Korean foodstuff in Vietnam, we met Jooan Holdings Corporation whose products we found to match the taste of Vietnamese consumers. After seeing the modern technology lines at Jooan's plants in South Korea with our own eyes, we decided to co-operate with the firm," said Nguyen Thi Thu Ha, deputy general director of HT Food Co., Ltd.
Within six months after establishing the branch in Vietnam, the company plans to enter into a co-operation with T&T 159 Food JSC to build a food manufacturing and processing plant in Vietnam.
The plant will manufacture products according to the orders of the company's partners. The plant's products will be exported to South Korea and other countries. The initial investment capital of the plant is expected to reach $1.2 million.
Indian firms strengthen renewable energy investment in Vietnam
Renewable energy has attracted many foreign investors to Vietnam, including several Indian firms.
The two-day state-level visit of President Tran Dai Quang and his wife to India on March 3-4 will bring a new Indian investment wave, this time focusing on renewable energy, infrastructure, education, and information technology.
Indian giants, including TATA Group, Adani Green Energy Ltd., and Suzlon Energy Ltd. set foot in Vietnam very early after the country opened its doors for foreign investment. TATA Group's solar power project in Binh Phuoc province is the latest Indian investment project. Its total capacity is 49 megawatts and is located on 55 hectares in Loc Ninh district of the southern province.
Shenbagam Manthiram, chief representative of TATA Group, said that Binh Phuoc has ample sun irradiation. Besides, Loc Tan commune is well connected to transport infrastructure and the national grid as well. This project is expected to be completed in June 2019 to take advantage of the preferential feed-in-tariff from the government (9.35 cent/kWh for 20 years).
Earlier, in 2013, the Indian company also poured $1.8 billion into the 1,200MW Long Phu 2 thermal power plant in the Mekong Delta province of Soc Trang. This is one of three power plants at Long Phu Power Center. Putting Long Phu 2 into operation is a significant milestone in promoting investment between Vietnam and India.
In 2017, TATA deployed solar power projects in four Vietnamese provinces with the total estimated capacity of 250MW. Besides renewable energy and beverages, this company intends to expand to other sectors in Vietnam.
Following TATA, Adani Green Energy Limited researched Vietnamese localities to develop several renewable energy projects. Jayant Parimal, CEO of Adani Green Ltd., revealed that these plants will generate at least 1,000MW of renewable energy in Vietnam.
In addition to these two giants, Suzlon Energy Ltd. also intends to develop renewable energy projects in Vietnam that would use the most modern technology in the world. The company is one of the world leaders in renewable energy solutions.
Himanshoo Raj Khare, director of emerging markets at Suzlon, said that the company has visited Vietnam to research five localities as well as meet and discuss with ministries and related agencies certificates for solar power projects.
Hi-tech Indian projects not only meet environmental protection requirements but also promise opportunities of technology transfer and improving quality of Vietnam's human resources.
To date, India has 176 projects in Vietnam with the total investment of $814 million, ranking 28th among the nations and territories investing in the country.
Quy Nhon and Quang Nam take the baton
While the major urban areas of Danang and Nha Trang are running out of land sites for development, the emerging Quy Nhon in Binh Dinh and the hot spot of Quang Nam offer golden opportunities to woo investors in the hospitality segment.
A 2017 survey of the overall real estate market in the central region shows that there are no strong fluctuations in Quang Tri, Quang Binh, and Phu Yen. In particular, the market in Quang Tri and Quang Binh has not seen any major projects apart from land transactions between individuals. The only highlight of Phu Yen is a shophouse project by Vingroup, but land plot projects' liquidity remains at a low level, similar to the northern residential area in South Tuy Hoa Urban Area.
The Thua Thien-Hue real estate market has experienced more robust performance. According to Nguyen Van Tu, director of the Thua Thien- Hue Land Development Centre, there is a dramatic shift in the land plot segment. The market is quiet in the north and northwest but is bustling in the south and southeast. The strong growth of the land plot segment in the areas has given a boost to neighbouring towns and communes like Phu Vang and Huong Thuy, forming a chain of new property products.
Quy Nhon is deemed as an emerging place that has more advantages than Nha Trang and Danang in terms of infrastructure system, with roads connecting to the rest of Vietnam. Quy Nhon also serves as a gateway to the Central Highlands, southern Lao localities, and northeastern Cambodian provinces. Vietnam Airlines has opened routes linking Quy Nhon with Hanoi and Ho Chi Minh City with steady flights at Phu Cat Airport, which contributed to attracting an increasing number of tourist arrivals to Binh Dinh.
"As Binh Dinh unlocks its tourism potential, investors have ramped up investment in the province," said Huynh Cao Nhat, deputy director of the Binh Dinh Tourism Department.
On the same note, Nguyen Thuc Dinh, director of the Binh Dinh Department of Planning and Investment, said that as a wave of investment arrived to the tourism and services sector, several real estate projects have contributed to improving infrastructure and local tourism. Some notable developments include FLC Sea Tower Quy Nhon, the Kim Cuc hotel and tourism complex, the BMC Quy Nhon complex, TMS Luxury Hotel and Residences Quy Nhon, and the Hoa Sen Tower luxury complex with hotels, apartments, and shopping malls.
According to Nguyen Thi Kim Cuc, chairwoman of Kim Cuc Investment and Construction Co., Ltd., Quy Nhon is an emerging market where infrastructure and tourism have yet to be fully developed. Quy Nhon seems to attract mainly local tourists in the coming years, but hotel rooms and accommodations fail to keep up with the rising demand.
She added that the province has offered more favourable incentives to lure in investors. Many luxury resorts and five-star hotels are underway in Quy Nhon's downtown and Phuong Mai Peninsula.
Evaluating Binh Dinh's tourism growth and its tourism development strategy until 2020, Dr. Tran Du Lich, head of the consultancy group for Central Coastal Region Development and Co-operation, said that Binh Dinh is on the right track to develop tourism to become the province's key economic sector.
Bordering Danang, Quang Nam is a bustling gateway with almost complete infrastructure. The year 2017 was marked by a strong momentum in the northern Quang Nam real estate market covering the ancient town of Hoi An and Dien Nam-Dien Ngoc New Urban Area.
According to the Quang Nam Department of Construction, roughly 80 investors have injected capital into high- and mid-end projects in the land plot, townhouse, and villa segments in the province. However, the total stock is inadequate to meet the demand, while the projects are quickly snapped up after launch.
New Hoi An City and Hoi An Royal Residence in suburban Hoi An have made a splash with their villa and condotel models. Meanwhile, several land plot and townhouse projects like Sun River City by Bright Land JSC, My Gia 1 and 2 by Phu Gia Thinh Corporation, and GAIA by Gaia Group are warming up the market. These projects are located in the route linking Danang with Hoi An through Dien Nam-Dien Ngoc New Urban Area, which borders the Co Co River on one side and the sea on the other.
According to the Quang Nam Department of Construction, the northern Quang Nam real estate market has become more bustling due to the successful urban development planning in recent years. Dien Ban has reached the standard of urban type IV, while some communes in the eastern region have been upgraded to wards. However, the main reason for strong economic growth and urban development is its proximity to Danang.
Meanwhile, the southern Quang Nam real estate market along the coastal road from Cua Dai Bridge to Tam Ky City has undergone a dramatic transformation in the liquidity of the landed property segment, especially in the coastal Tam Thanh area.
After the Tam Ky-Tam Thanh route was expanded and upgraded, Tam Thanh has developed new tourist attractions like Vietnam's first mural village as well as Tam Thanh beach square for big events. The growth of the tourism and services sectors in the commune resulted in a property price hike. A 300-square metre land plot next to the beach square in the main route to Sheraton Hotel fetches VND2.5 billion ($110,000). Meanwhile, a 100sq.m land plot near the beach square goes for a minimum VND1.55 billion ($68,200).
"In the southern Tam Thanh residential project, the cost of land use rights increased by 20-30 per cent compared to the floor price in 2017. Land prices also rose by 50 per cent compared to the two previous years," said Nguyen Quang Tuan, director of the Management Board of Tam Ky Investment and Construction Projects.
According to the Quang Nam Department of Construction, Quang Nam's coastal area is bustling with large investment projects. Some real estate brokers noted that the attractiveness of the Quang Nam real estate market is unlocked by newly developed urban areas with new and unique designs meeting the standards of modern urban development and a full suite of social utilities. The department added that that the provincial real estate market has increased by 10-20 per cent on average in 2017, as the market is in the beginning of a boom cycle and has yet to reach a peak.
Opportunities are ample for investors in 2018, especially when infrastructure is fully developed and connected with other cities and provinces in the central region and nationwide.
Danang land plot segment takes divisive flight
Developers have shifted their focus from the south to the northwest of Danang due to news about infrastructure and planning. Opportunities are huge in the the central real estate market in 2018, but the outlook is not that bright.
Following the real estate fever in 2016, Danang's land plot segment continued to experience robust performance in 2017 with two spotlight segments.
The first was the land plot segment in the south of Danang and the north of Quang Nam, like the planned Dien Nam-Dien Ngoc New Urban Area. In the beginning of 2017, the segment warmed up thanks to good news from the city. Danang successfully hosted the APEC Economic Leaders' Week, as well as implemented several large-scale infrastructure projects.
In the first quarter of 2017, the market saw land prices nearly double from VND2-3 million ($88-132) to VND4-5 million ($176-220) per square metre, even reaching VND8 million ($352) along the Hoang Sa extended street. Prices hiked in the area primarily because the Quang Nam People's Committee has green-lighted a slew of resort projects at an investment promotion conference in the province. Meanwhile, the University Village project has been resumed with a total investment capital of VND20 trillion ($880 million).
To the east from a planned tunnel through the Han River in Van Don-Thuan Phuoc area of Son Tra District, land prices have escalated to a record high of VND20 million ($880) per sq.m. Prices normalised at VND10-12 million ($440-528) when the prime minister decided to suspend the project and reassess its feasibility.
The second spotlight was the northeastern area which used to be quiet before the latest news of Danang Railway Station, Lien Chieu Port, and Vingroup's project in South Hai Van drew investors' attention. This, coupled with infrastructure development, made the area more appealing to investors. Take Golden Hills for example—after a long delay, it completed the first phase in the second quarter of 2017 with a complete take-up.
Several projects have been hunted by investors like Pandora City, Lakeside Palace, Cham River Park, Phuoc Ly, Hoa Khanh Residence, Nam Tran Central Park, Northwest Urban Area, Phuong Trang Urban Area, and most recently, New City, which is located on the previous site of Tan Cuong Thanh Urban Area in Lien Chieu District.
Land prices have also been on a steady increase to VND7-10 million ($308-440) per sq.m in the areas next to Golden Hills, up to VND15-17 million ($660-748) in the centre of Lien Chieu District, which is almost the match of Hoa Xuan in Cam Le District.
This area is forecasted to become the hotspot of Danang's real estate market, especially after Sun Group's grand designs have been outlined for Hoa Ninh-Hoa Son Urban Area in Hoa Vang District. Accordingly, in a proposal submitted to the Danang People's Committee, the group said it aims at inviting the world's leading consulting firms like WATG, CallisonRTKL, Hyder, and WSP to conduct research and planning to ensure the success of the project.
In spite of the tremendous potential of the Danang real estate market, analysts have issued warnings to investors.
Southern Danang has seen a boom in the land plot segment in the past two years, but its infrastructure has yet to be fully developed. The construction progress is slow at most of the projects in the area, apart from some urban areas including FPT City, Hoa Xuan, Phu My An, Golden Hills and Sea View.
Most projects have been delayed for several months, although the developers have announced good sales performance and committed to completing infrastructure facilities on time. At the planned Dien Nam-Dien Ngoc New Urban Area, thousands of land plots remain undeveloped while buyers are waiting in vain for their ownership certificates.
Vu Trong Phung from real estate services firm 68 Land said that the land plot fever in Danang in the past two years helped change the façade of several areas in the central city and the north of Quang Nam. However, this will not be enough to solve deep-rooted problems, such as the locals being unable to settle down due to high property prices. In fact, many projects remain sparsely populated despite being sold out.
According to Tran Ngoc Thanh, general director of Dat Xanh Central Vietnam, developers have failed to create a vibrant community due to a lack of customer support and the incomplete infrastructure.
"When customers purchase a property either for living or investment, they need to carefully study the project and the developer, especially their capability and track record of project development. After choosing the project, investors and homebuyers should visit the site to observe the construction progress before spending money," Thanh added.
Meanwhile, Phung noted that Danang features continuously strong economic growth and ever-increasing living standards. The city keeps luring in a large number of workers from other localities and the city's population is projected to reach two million people in the next few years. As a result, according to real estate developers and brokers, the housing demand in the central city will rise in the coming time, and it will also push up prices.
Le Thanh Sang, director of Kim Thinh Real Estate, said that speculators are distorting the landed property segment in the city. There are several land plots left idle in Danang and the Dien Nam-Dien Ngoc in Quang Nam, with a majority in the hands of investors from Hanoi. At the same time, local people cannot afford land as the prices are exorbitant.
On the same note, Dang Thanh Thien, manager of the Alo Dat Danang news website, said that there is huge demand for affordable housing, but land gets pricey in the city. Also, many projects have been left undeveloped, serving as a deterrent for homebuyers to spend money.