Sunseap International enters solar co-operation with InfraCo Asia
On February 14, Sunseap International, the international arm of Singapore's leading clean energy provider Sunseap Group, signed an agreement with InfraCo Asia Development Pte., Ltd. (InfraCo Asia) to jointly develop a 168MW utility-scale solar power project in the south central coastal province of Ninh Thuan.
Accordingly, InfraCo Asia will take a minority stake alongside Sunseap's existing partner, CMX RE Canada, while Sunseap International will continue to hold a majority stake in the project.
InfraCo Asia will bring its leadership expertise and provide funding for the development phase of the project. The project is expected to reach commercial operation by June 2019. During the construction phase, the solar power project will be able to create jobs for more than 200 local workers. Approximately 30 long-term jobs will be sustained when the project is in operation.
Lawrence Wu, co-founder and director of Sunseap, said, "We are delighted to have received the support of InfraCo Asia for our first project in Vietnam. We see huge potential for solar energy development in Vietnam and are excited to bring affordable and reliable clean energy to the country."
"Sunseap International remains focused on developing innovative solar energy solutions that benefit communities in the region while saving the environment. We hope that our solar power project will help to promote green energy investment in Vietnam and in the Indochina region," Wu added.
"As the opportunity for renewables in Vietnam continues to grow, we are excited to partner with Sunseap on a project that will serve as a catalyst for further private sector investment. It will support Vietnam—which is currently reliant on coal—in creating a cleaner energy mix for the future," said Allard Nooy, CEO of InfraCo Asia.
The initial investor of the project was CMX Renewable Energy Vietnam Co., Ltd., a joint venture of Sunseap International and CMX RE Canada. The project covers an area of 200 hectares with a total investment capital of VND4.39 trillion ($193.4 million).
In October 2017, the Ninh Thuan People's Committee approved the investment planning of the investor.
Being one of the first large-scale solar projects to go online in Vietnam, the Ninh Thuan solar project will tap into Vietnam's significant solar potential, generate employment opportunities, and contribute to a cleaner energy mix for the country.
Electricity demand in Vietnam is growing by 12 per cent annually. According to the Vietnamese government's targets, solar power is expected to become the main new renewable energy source in the future, with installed capacity to be increased from around 6-7MW at end of 2017 to 850MW by 2020, accounting for 1.6 per cent of the country's power generation, and 12,000MW by 2030 or 3.3 per cent of the country's power generation.
In April 2017, Vietnam fixed the price of solar power at 9.35 US cents/kilowatt hour. The government set a June 2019 deadline for solar power plants to be built and connected to the grid to receive this guaranteed solar feed-in tariff price.
Sunseap is one of the largest and most established players in the solar energy industry in the region. It has a pipeline of projects in Cambodia, India, Thailand, Vietnam, Malaysia, and Australia.
InfraCo Asia is an infrastructure development and investment company which aims to stimulate greater private sector investment in infrastructure in the low-income developing countries of South and Southeast Asia.
It funds pre-financial close, early stage, and high-risk infrastructure development activities by taking equity stakes in socially responsible and commercially viable infrastructure projects that contribute to economic growth, social development, and poverty reduction.
Binh Minh Plastic to auction off 24.16 million shares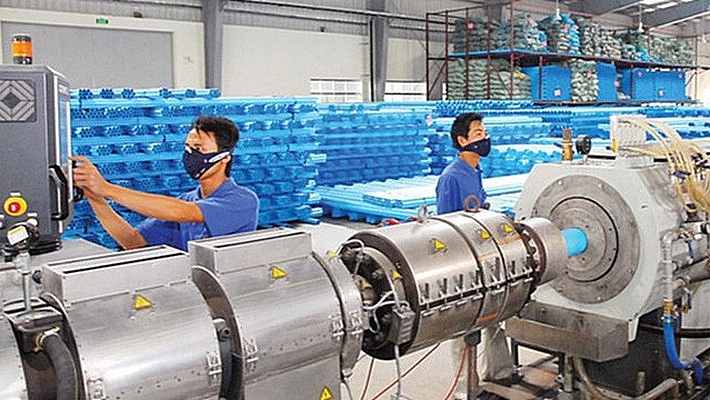 Plastics manufacturer Binh Minh Plastic JSC (BMP), which is nearly 50 per cent owned by Thai PVC manufacturer Nawaplastic Industry Co., Ltd., will put 24.16 million shares or 29.51 per cent of its stakes on sale via an auction.
The auction is expected to be organised on March 9 at the Ho Chi Minh City Stock Exchange (HSX). All organisations and individuals satisfying the conditions stipulated by BMP's regulations on public share auction can join.
The offered shares are owned by State Capital Investment Corporation (SCIC).
Interested investors will need to submit their applications to participate in the auction between February 28 and 4 PM, March 3 to HSX and other agencies.
The minimum share volume to register is 20,000 shares. Investors will have to pay a deposit of 10 per cent of the total value of the subscribed shares based on the starting price.
The initial price is expected to be published on February 28.
Earlier in late September 2017, the State Securities Commission (SSC) approved the plan to lift the foreign ownership limit in BMP to 100 per cent. At the time, analysts believed that Nawaplastic will be a candidate in the race for a controlling stake in BMP.
Nawaplastic announced that it will divest from another large-scale plastic manufacturer, Tien Phong Plastic JSC, to collect capital to acquire more BMP shares. However, to date, no more information about these deals were published.
BMP manufactures and trades civil and industrial products made of plastic and rubber. The company also designs, manufactures, and trades in plastic moulds for the casting industry; produces and trades machinery, materials, and sanitation equipment for the construction industry; provides interior decoration and water supply and drainage services; and offers appraisal, among others.
In 2012, Nawaplastic spent VND352 billion ($15.4 million) on purchasing 7.13 million ordinary BMP shares, representing 20.4 per cent of the firm's charter capital. After being paid dividends via stocks, the Thai firm currently holds 16.7 million BMP shares.
To date, Nawaplastic earned more than four times its initial investment in BMP. Furthermore, the Thai firm also earned VND193 billion ($8.46 million) from cash dividends during the past five years.
Hyosung Group to pour $6 billion into Vietnam's chemical and heavy industries
South Korea's leading textile and chemicals firm, Hyosung Group, intends to invest $6 billion to enable Vietnam to become a global manufacturing base for the chemicals and heavy industries.
Cho Hyun-joon, chairman of Hyosung Group, said that the group commits to strengthening co-operation with Vietnam, not only in processing spandex and yarn for automotive tires, but also in the chemicals and heavy industries. Their detailed plan for expanding investment has been outlined.
Last year, Hyosung poured a total of $1.3 billion into a polypropylene manufacturing plant and liquefied petroleum gas (LPG) underground storage in Cai Mep Industrial Zone of Ba Ria-Vung Tau province. Besides, Cho Hyun-joon revealed that Hyosung is considering establishing a production plant in Quang Nam province.
Hyosung has set out a strategy for semi-finished products in Vietnam based on cost competitiveness. The semi-finished products will be turned into finished products at a plant in Changwon, South Korea, then will be exported to other countries. This strategy will raise export value as well as improve the productivity of the plants in South Korea.
Expanding investment in chemicals and heavy industry will enable Vietnam to become a global manufacturing base for both, with various plants producing four major product groups.
"When the projects are complete, Hyosung Vietnam could supply products for all segments of the world market," noted a representative of Hyosung Group.
At a meeting with Prime Minister Nguyen Xuan Phuc on February 8, chairman of Hyosung Group also mentioned infrastructure projects in Vietnam. He said that the group has considerable experience in the implementation of power construction and transmission projects. Hyosung's technical foundations, along with technology transfer, will enable Vietnam to become an exporter of transformers rather than an importer.
He also intends to co-operate with other firms and promote IT projects in the fields of energy storage system (ESS), ATM, e-payment, and fintech. The two countries expect to hold Korea Investment Forum to further lure Korean investors to Vietnam.
Earlier, in 2007, Hyosung poured $1.5 billion into a plant at Nhon Trach 5 Industrial Zone to produce textiles and core industrial raw materials, such as spandex yarn, yarn for automotive tires, steel, and electric motorcycles. This plant is based on an area of 90,000 square metres and has 7,000 workers.
Quang Nam's high-tech park dream runs into obstacles
The central province of Quang Nam faces numerous barriers in its way to realise its dream to develop a high-tech park.
The Quang Nam People's Committee has organised a conference themed "Models and Solutions to build and manage the high-tech park" as its first move to build a high-tech park in the province.
According to Le Van Thanh, Deputy Chairman of the Quang Nam People's Committee, the province has great potential for developing a high-tech park. Notably, the province is located in the key central economic region and owns Chu Lai Open Economic Zone and is near Dung Quan Economic Zone. Besides, Quang Nam has deep-water ports and convenient transportation system. Additionally, it has a large land fund of 400-500 hectares to develop a high-tech park.
"Quang Nam has set out clear targets in the master plan for socioeconomic development by the end of 2025, with vision to 2030. In order to realise these planned targets, provincial leaders see developing science-technology in general and high-technology in particular as the key. In 2016, the province issued the strategies for science-technology development by 2025, one of which is building a high-tech park," said Thanh.
However, according to a decision issued by the prime minister relating to the master plan for the development of high-tech zones up to 2020 and orientation to 2030, there will be no more large-scale high-tech parks like the three existing parks in Hoa Lac, Danang and Ho Chi Minh City. In case the cities and provinces want to develop high-tech parks, they will be built from the local budget or other capital sources called by the cities and provinces.
The above conditions are considered great barriers for Quang Nam to develop a high-tech park.
Numerous experts bid Quang Nam to carefully consider the issues before deciding on a high-tech park.
Notably, Prof. Chu Hao stated that in order to develop and operate a high-tech park, Quang Nam needs to build enthusiastic and professional human resources, build suitable investment attraction policies, and arrange a massive capital volume. Besides, the province needs to study construction and the operating model.
According to Prof. Nguyen Quoc Sy, chairman of VinIT Technology Institute, it takes at least 15-20 years and between two-to-three generations of scientists to complete a high-tech park in the world. Quang Nam needs to invite senior science-technology experts to provide consultancy for the construction and operation, as well as select enthusiastic investors.
Responding to the opinions of experts, Thanh said that Quang Nam will find a new way, which is different from the three existing high-tech parks. The province will co-operate with professional consultants to develop a high-tech park which is suitable with the local conditions.
Clean water project to ease thirst of Hanoi residents in October
The Duong River surface water treatment plant project, one of the key national projects, is expected to be put into operation in October 2018, ensuring water supply for millions of people in Hanoi and the neighbouring provinces of Bac Ninh, Hung Yen, and Hai Duong.
Do Thi Kim Lien, chairman of Duong River Surface Water Plant JSC, made the commitment at the meeting on March 1 with Nguyen Duc Chung, Chairman of the Hanoi People's Committee, when he visited the construction site.
This was the first fact-finding visit to this important project by Hanoi leaders.
"The investor should prepare to develop the second phase of the project so that it can supply 300,000 cubic metres of clean water a day by the second quarter of 2020 at latest," said Chung.
Located in Phu Dong and Trung Mau communes, Gia Lam district, the VND5-trillion ($227-million) plant is expected to have a capacity of 150,000 cubic metres per day when the first phase is completed in October.
Kicked off in March 2017, the project is being developed on 61.5 hectares by VOI, New Technology Application and Tourism One Member Company Limited (NEWTACO), VietinBank Capital, and Hanoi Water Limited Company (Hawaco).
The Duong River surface water treatment plant project is one of the key projects to provide clean water and improve the health conditions of residents in the capital.
MWG's Cambodian strategy to feature BigPhone expansion
Mobile World Group (MWG) plans for long-term business with a series of BigPhone stores in Cambodia, which is a potential market with 16 million people, 96 per cent of whom are using mobile phones.
mwgs cambodian strategy to feature bigphone expansion
MWG has just announced that in addition to its four existing stores in Cambodia, six new BigPhone units will be opened in the first half of 2018 in Phnom Penh.
There is a staff of about nine for each store, based on an area of 150sq.m. The average revenue of each store hit $80,000 per month, 20 per cent lower than the expectations of the company. Mid-range phones at the price of $200-300 apiece are always on the list of the most-consumed items, while premium mobile phones, such as iPhone and Samsung devices, have made significant contributions to the total profit of these stores.
"A large number of secondary mobile phones like Mobiistar are bought but the profit on them is not much," said Ho Viet Dong, BigPhone's CEO.
At the end of this year, if each store's revenue hits $100,000 per month, they will start to generate profit. However, Dong said that BigPhone plans to operate 10 stores in 2018 to measure and improve business indicators and propose an official strategy for the scale and timeframe of investment in Cambodia.
While it was established in the country in October 2016, it was not until June 2017 that MWG launched the first store in Phnom Penh.
"We sell imported items here, but local people do not want to buy items with tax, while we have to export the import documents of the products. It is really a challenge," said Dong. He also revealed that they spent four months to deal with local providers to secure a supply of particular imported items.
The Cambodian mobile phones and electronics market is currently like the Vietnamese market 15 years ago. Thus, business advantages belong to traditional stores.
Due to the import tax on the items, the average selling price at BigPhone is 10 per cent higher than the market average. BigPhone expects revenue and profit to balance out when the import tax is reduced to 5 per cent this year.
"Before the appearance of MWG in Cambodia, there were only small and scattered stores run by different owners in the market. BigPhone is the largest store chain in Cambodia now," added Dong.
The organisational structure of BigPhone is rather simple, with members of staff being responsible for various tasks. Nguyen Ba Tin, manager of import and marketing, said that after four months of negotiations with brands, Samsung was the first brand to approve providing all the vouchers that BigPhone requires. At the time, there were four iPhone distributors, but they did not fulfill tax obligations.
"Finally, Apple's representative in Singapore appointed Falcon as the exclusive distributor in Cambodia. Therefore, the market is gradually becoming united and local people are getting acquainted with tax purchases," Tin noted.
Although customers in Phnom Penh still buy at traditional stores, 85 per cent of those who have been to BigPhone will return and buy at this shop. Their age ranges from 25 to 40 and they are generally well to do.
BigPhone reports positive growth, however, company representatives confirmed that BigPhone needs more time to familiarise itself with the market. BigPhone will produce profit from 2018, but it will be limited due to tax and rent expenses.
Despite many difficulties and challenges, Tran Kinh Doanh, MWG's CEO, still considers Cambodia a potential market.
Mobile advertising grows strongly in Southeast Asia
Mobile advertising saw strong growth across Southeast Asia in 2017, driven by the mobile-first habits of consumers in emerging markets, according to a new report by performance management company Nielsen.
At the same time, on-target mobile advertisement performance improved throughout the year.
The Nielsen Digital Ad Ratings Benchmarks report, which assessed more than 3,000 digital campaigns since its launch in Southeast Asia in 2015, found that in the first half of 2017 more than 9 out of 10 (93 per cent) digital ad campaigns leveraged mobile channels, and the platform achieved an on-target reach equal to or higher than digital or desktop benchmarks for all but two reported age benchmarks.
Across Southeast Asian markets (Indonesia, Malaysia, the Philippines, Singapore, and Thailand) digital ads targeting the 18-49 age bracket reached their intended audience 85 per cent of the time for mobile, digital, and desktop campaigns. This is spectacular compared to the 2016 benchmarks where only 70 per cent of ads delivered via desktop and 66 per cent delivered via mobile reached their intended audience.
For digital advertising campaigns intended for consumers aged 21-34, those conducted through mobile devices surpassed desktop performance by 32 percentage points (mobile at 78 per cent against desktop at 46 per cent). "The rapid growth of mobile advertising in Southeast Asia is being driven by the mobile-first habits of consumers in these emerging markets," said Aimee Gerry, Nielsen's Head of Digital in Southeast and North Asia.
"While desktop ads have historically had higher on-target percentages of reaching their intended audience, advertisers have made significant strides in closing the gap in the past year. This shows that advertisers are increasingly harnessing the mobile channel's power to provide a more personalised platform for their audience, enabling them to have more precise connections," Gerry said.
Looking at categories, advertisers in the Computers & Electronics and Business & Consumer Services sectors had the easiest time reaching their desired audience across digital devices, achieving an on-target success of 75 and 73 per cent, respectively, compared to the 56 and 55 per cent for advertisers in the Automotive and Entertainment sectors.
BSR's share value reaches ceiling price on first day on UpCOM
Binh Son Refining and Petrochemical Company Limited (BSR)'s shares soared in value on the first day of transaction on the Unlisted Public Company Market (UpCOM), reaching the ceiling price of VND31,300 ($1.38) from the reference price of VND22,400 ($0.98).
This morning, BSR listed 241.4 million shares on the UpCOM. Within the morning, share value increased by 40 per cent compared to the reference price. Ending the transaction this morning, 11.73 million shares were traded at the average unit price of VND31,000 ($1.36).
Previously, BSR reported a successful initial public offering (IPO) with a complete take-up of the offered shares and the record selling unit price of VND14.8 million ($651.69).
The average selling price was VND23,043 ($1.01), 57.8 per cent higher than the initial price. The lowest selling price was VND20,800 ($0.92). Of particular note, an individual investor succeeded in buying 10,000 shares at the record price of VND14.8 million ($651.69) apiece.
Numerous foreign investment funds won at the IPO with high buying prices, two of which are Vietnam Opportunity Fund (VOF)—a member of VinaCapital—and Dragon Capital. VOF spent $25 million acquiring a 10 per cent stake in BSR.
After the IPO, BSR earned VND5.57 trillion ($245.26 million) in proceeds, 1.5 times more than it expected.
Regarding the race to become the strategic investor, to date, Petrolimex and Indian Oil have officially submitted the applications.
Besides, Russia's top energy firms Rosneft and Gazprom Neft, Thailand's PTT, and Kuwait Petroleum Corporation signalled intentions to join the race. However, no official movements have been implemented.
What lies behind T&T interest in Vinafood 2?
T&T Group's plan to become a strategic investor of Southern Food Corporation (Vinafood 2), despite Vinafood 2's bleak business results, shows its determination to expand its operations in the agricultural sector as well as seize the golden land plots owned by Vinafood 2, according to newswire The Leaders.
Recently, T&T Group expressed interest in buying the 125 million shares (representing 25 per cent of the charter capital) on offer to become the strategic investor of Vinafood 2. This movement, makes the public think that T&T is going mainly for the golden land plots held by Vinafood 2, while acquiring the company would be a good basis for the group to set foot in the agricultural sector.
T&T group operates in numerous sectors, including property, finance, industry, sports investments, and import-export trading. Besides, on February 6, 2018, T&T Group and Boskalis Group from Netherlands signed an agreement to co-operate in the seaport sector.
Furthermore, T&T invested in a series of domestic agricultural firms, including Vietnam General of Agriculture Material Corporation Limited (Vigecam), Vietnam National Vegetable, Fruit and Agricultural Product Corporation JSC, and Hanoi Trade Corporation.
According to the latest developments, T&T signed the agreement to co-operate with P.Marom, a firm operating in greenhouse technology from Israel, and Enza Zaden, a firm with 80 years of experience in the agricultural sector from Netherlands. Accordingly, on January 22, 2018, T&T launched the agricultural brand T.Vita with the support of the two foreign partners.
According to plan, T&T offered two agricultural projects in the northern province of Bac Giang, including the T.Vita hi-tech model farming project in Phuc Son commune, Tan Yen district, and the T.Vita hi-tech agricultural product processing project whose location is to be introduced by the local authority.
Firstly, the model farming project was planned to be raised on an area of 100-150 hectares to grow high-quality vegetables and fruits. The project would apply modern technologies, such as glasshouse, membrane house, auto irrigation and fertiliser supply systems (imported from the Netherlands, France, and others).
Secondly, T&T proposed to execute the second project with the scale of 5-10ha to process various vegetables and fruits.
At present, T&T's revenue from the agricultural sector stands at hundreds of million dollars each year. Thus, acquiring Vinafood 2 will open opportunities for T&T to increase its revenue from this sector.
Regarding Vinafood 2's golden land plots, the company currently holds 146 large-scale land plots in Ho Chi Minh City, Can Tho, Long An, and Ben Tre, with a total area of 3.405 million square kilometres. In Ho Chi Minh City alone, it owns 17 land plots with a total area of 89,842 square metres. Vinafood 2 used part of this area to develop real estate projects, while, T&T hasbeen looking for land plots to implement its projects.
According to the approved equitisation plan, Vinafood 2 is permitted to hold 2.106 million sq.m after the equitisation. Thus, if T&T successfully becomes the strategic investor, it will hold part of this area.
According to the latest information, to date, T&T is the only candidate for the strategic investor position, thus it is quite sure that T&T's designs will find fruition.
New firms register nearly $9 billion in first two months
Vietnam had an average of 300 newly-established firms with an average of VND10.5 billion ($0.46 million) in registered capital each day in January and Febuary this year in the context of reaching the goal of a start-up nation.
According to the Business Registration Agency at the Ministry of Planning and Investment, the number of newly-established enterprises in February was 7,864, carrying the total registered capital of about VND100 trillion ($4.4 billion), up 44 per cent in number and 59.1 per cent in registered capital compared to last year.
In the first two months of 2018, there 18,703 new firms were established with the total registered capital of VND197.3 trillion ($8.7 billion), up 29.4 per cent in number and 29.3 per cent in registered capital against the corresponding period last year.
There were an average of 300 newly-established firms with an average of VND10.5 billion ($0.46 million) in registered capital each day. The number of employees of the newly established firms is 156,410, down 6.1 per cent on-year.
Real estate is the most attractive sector with VND58.741 trillion ($2.6 billion) of newly registered capital, capturing 29.8 per cent of the total. It is followed by the construction sector with VND30.3 trillion ($1.34 billion), or 15.4 per cent, then wholesale, retail, and automobile repair with VND28 trillion ($1.24 billion), accounting for 14.2 per cent. Next is the processing and manufacturing sector with VND20 trillion ($0.9 billion), capturing 10.1 per cent.
The number of enterprises resuming operations in the first two months is 6,878, down 13.8 per cent on-year. The number of enterprises temporarily suspending operations is 11,191, up 29 per cent on-year. The number of enterprises waiting for dissolution and the completion of dissolution procedures is 8,470.
PV Oil to list 200 million shares on UpCOM on March 7
PetroVietnam Oil Corporation (PV Oil), Vietnam's second largest petrol distributor, will list 200 million shares on the Unlisted Public Company Market (UpCOM) on the first transaction day of March 7.
Its shares are valued at the reference price of VND20,200 ($0.89), according to information published by the Hanoi Stock Exchange.
PV Oil is the third large-scale firm listing on the UpCOM this year, following Binh Son Refining and Petrochemical Company Limited (BSR), which was listed on March 1, and PetroVietnam Power Corporation (PV Power) which will be listed on March 6.
Previously, on January 25, it successfully conducted its initial public offering (IPO) by selling all 207 million shares offered, equalling 20 per cent of its charter capital. The average share price was VND20,196 ($0.89), fetching VND4.16 trillion ($184.9 million) in proceeds for the company.
PV Oil currently operates 500 petroleum stations and supplies petroleum for 3,000 other stations, almost all of which are located in the north. PV Oil plans to increase the number of its petroleum stations to 1,500 and increase its market share through M&A activities.
In 2017, PV Oil reported a consolidated revenue of VND56 trillion ($2.46 billion) with a consolidated pre-tax profit of VND405 billion ($178.02 million).
This year, the firm expects to earn VND41 trillion ($1.8 billion) in revenue and VND340 billion ($149.45 million) in pre-tax profit.
Nawaplastic to boost holdings in Binh Minh Plastic to 50 per cent
Nawaplastic Industry Co., Ltd, a subsidiary of Thailand's SCG, will buy the 24.16 million shares or 29.51 per cent of the stakes put on offer by Binh Minh Plastic JSC (BMP).
nawaplastic to boost holdings in binh minh plastic to 50 per cent
On March 2, the Ho Chi Minh City Stock Exchange (HSX) announced that it received the application to buy BMP's offered shares. If the deal is successful, Nawaplastic will increase its holding in BMP to 49.91 per cent from the existing 20.4 per cent.
Previously, BMP announced that it will put 24.16 million shares (29.51 per cent) owned by State Capital Investment Corporation (SCIC) on sale via an auction.
The auction is expected to be organised on March 9 at the HSX with the starting price of VND96,500 ($4.24). All organisations and individuals satisfying BMP's conditions can join.
Thereby, at the above initial price, Nawaplastic will spend at least VND2.32 trillion ($101.94 million) acquiring the offered stake.
Previously, Navaplastic announced intentions to drop Tien Phong Plastic to increasing holdings in BMP in September 2017.
At the time, Nawaplastic's announcement came as a surprise because both Binh Minh Plastic and Tien Phong Plastic approved lifting the foreign ownership limit (FOL) to 100 per cent.
Furthermore, the Thai firm earned a large profit from its investments in the two Vietnamese companies. Both Nawaplastic and Tien Phong Plastic refused to comment on this decision.
According to Robert Tran, general director of Robenny Strategic Consulting Group in the Asia-Pacific region and the US, the decision may have come from an internal conflict in the board of directors.
Notably, in early July this year, Tien Phong Plastic, through its subsidiary Southern Tien Phong Plastic, struck a share sale agreement with Japanese Sekisui Chemical Company Limited.
The deal made Nawaplastic unhappy because at the time, they intended to buy more of State Capital Investment Corporation (SCIC)'s stake in Tien Phong Plastic to seize controlling rights.
Nawaplastic, a wholly-owned subsidiary of Thai Plastic and Chemicals PCL (TPC), specialises in manufacturing and distributing PVC plastic.
TPC, which is a 90 per cent owned subsidiary of SCG, currently holds 50 per cent of the Thai plastics market, while simultaneously owning numerous plastic manufacturing companies in Vietnam, including Chemteck Co., Ltd. (100 per cent), Viet-Thai Plastchem Co., Ltd. (72.49 per cent), and TPC Vina Plastic and Chemicals Corporation Limited (70 per cent).
Through the acquisition in BMP and Tien Phong Plastic, Nawaplastic would seize their advantages in manufacturing and distribution systems as well as their brands to realise SCG and Nawaplastic's target to control the construction materials market in Vietnam.
Indonesia tries to jump-start car exports to Vietnam
A new regulation issued by Vietnam has forced Indonesia to halt car exports to the country, which could cost it US$85 million in Dec - Mar period.
The Indonesian government is planning to change the vehicle type approval (VTA) certificates it issues in an effort to reopen automotive exports to Vietnam.
"With the VTA adjustment, Indonesian automotive exports are expected to return to the country," the Jakarta Post quoted Indonesian Trade Ministry international trade director general Oke Nuwan as saying.
"The government will convey the change in the VTA certificate to the Vietnamese government to get an immediate response. Hopefully, there will soon be automotive exports to Vietnam," said Oke.
A new regulation issued by Vietnam designed to protect its own developing automotive industry forced Indonesia to stop exports of completely built-up (CBU) vehicles to the country this month, according to the Jakarta Post.
The new regulation stipulates that traders are only permitted to import automobiles if they can provide valid vehicle registration certificates issued by authorities from the countries of origin.
Original quality control certificates for each vehicle and letters of authorization regarding recalls of defective vehicles from the manufacturers are also required, along with copies of quality assurance certificates provided by the countries of origin.
The regulation also requires importers to have one car from each batch shipped to Vietnam to go through emissions and safety tests.
Under the previous regulation, only one certificate was required for each model of car, regardless of how many batches were imported.
Oke said if manufacturers are reluctant to export their cars to Vietnam, Indonesia could lose around US$85 million in the December-March period.
Last year, Indonesia exported 38,832 CBU vehicles worth US$718 million to Vietnam, according to the Jakarta Post.
Indonesia is also the third largest passenger car exporter to Vietnam, after Thailand and China, with a market share of 13.12%.
MoIT urges US to carefully consider restrictions to steel imports
The Ministry of Industry and Trade (MoIT) has requested the US to carefully consider alternative means to restrict the import of steel and aluminum products from Vietnam.
MoIT has said while it is important to ensure compliance with the World Trade Organisation's regulations and international practices, the developing trade relations between the two countries should not be affected.
The proposal was made after US Secretary Wilbur Ross released on February 16 reports of the US Department of Commerce's investigations into the impact on national security from the import of steel mill products and wrought and unwrought aluminium from Vietnam.
MoIT said Vietnamese imports accounted for a negligible share of the total US steel and aluminium imports.
In the reports, Ross recommended to US President Donald Trump a global tariff of at least 24 percent on steel imports from all countries and territories, or a tariff of at least 53 percent on steel imports from 12 countries (Brazil, China, Costa Rica, Egypt, India, Malaysia, the Republic of Korea, Russia, South Africa, Thailand, Turkey and Vietnam), with a quota on steel imports from all other countries equalling 100 percent of their 2017 exports to the US, or a quota on steel products from all countries equalling 63% of each country's 2017 exports to the US.
Ross recommended to President Donald Trump three alternative remedies for dealing with the excessive import of aluminium: a tariff of at least 7.7% on all aluminium exports from all countries and territories, or a tariff of 23.6% on all products from China, Hong Kong, Russia, Venezuela and Vietnam. These would cover both aluminium ingots and a wide variety of aluminium products.
All the other countries and territories would be subject to quotas equal to 100 percent of their 2017 exports to the US, or a quota on all imports from all countries and territories equal to a maximum of 86.7% of their 2017 exports to the US.
The reports are currently under consideration of the US President, and no final decisions have been made yet. The President may take a range of actions, or no action, based on the analysis and recommendations provided in the reports. Action could include making modifications to the recommendations, such as adjusting percentages.
The US President needs to decide on the steel recommendations by April 11 and on the aluminium recommendations by April 19.
MoIT said it would keep following the progress of the case and is considering all solutions to ensure the justifiable rights and interests of Vietnamese businesses.
According to reports of the Vietnam Steel Association, Vietnam's steel sector exported more than 5.5 million tonnes of steel worth US$3.64 billion in 2017, marking an increase of 28.5% in volume and 45.4% in value compared to 2016.
Of the exports, ASEAN countries imported 59.3% of Vietnam's steel, while the US imported 11.1%.
The association has predicted a year-on-year increase of 20%-22% in steel production this year.
A year of triumph for CapitaLand Vietnam
Although the Singapore-listed developer's official business results for 2017 are not yet out, last year was a great success for CapitaLand Vietnam.
In mid-2017, CapitaLand scooped up the Best Developer in Vietnam Award granted by the prestigious Property Guru Vietnam Property Awards.
As of now, Vietnam is the company's third largest market in Southeast Asia, just behind Singapore and Malaysia. During its 23-year development journey in Vietnam, the company has taken solid steps towards sustainable development.
Accordingly, unlike many other developers that might launch projects extensively, the company has followed a sound development plan under which a new project will go in the development pipeline when other projects near completion to ensure financial and human resources readiness.
At the times when the Vietnamese real estate market fell in the doldrums and many developers dropped out of the game, the company remained solid and committed to long-term development in the country.
Besides, despite being one of Asia's largest developers, CapitaLand did not launch extensive marketing campaigns for its projects, but has built up a reputation through ensuring excellent quality and progress at its projects.
Through strictly pursuing this business approach, CapitaLand Vietnam has gradually built up its reputation through roll-outs of diverse projects in the top-end segment in the past years, such as Mulberry Lane, Seasons Avenue, The Vista, Vista Verde, Feliz en Vista, and more.
The company finalised the construction of its Vista Verde project and completed hand-over to customers prior to the schedule.
"Earlier, I bought an apartment at The Vista. Due to the excellent quality and services, I have decided to buy another unit at the company's Vista Verde project for both living and leasing purposes. CapitaLand Vietnam always keeps its promises and provides excellent services," said Nguyen Anh Ngoc, a Vista Verde resident.
Ngoc also said she had chosen CapitaLand's projects because the developer provides diversified payment packages depending on customers' financial capability and always made good on its promises, particularly regarding the amenities in the projects' design.
Similarly, Leung Kai Sun Sunny, a Hong Kong (China) resident at Vista Verde, said, "I am an investor and I have bought units at CapitaLand Vietnam's projects as an investment. 
CapitaLand is a trusted developer, therefore, after Vietnam has loosened regulations allowing foreigners to buy and possess houses in Vietnam, I bought these units without hesitation for future investment. I bought two units at Vista Verde and another two at Feliz en Vista."
"The price of apartments at quality projects like Vista Verde might be many times more expensive in Hong Kong, mainland China or Singapore than in Vietnam," he added.
In parallel to supplying the Vietnamese market with quality real estate projects, CapitaLand has paid due heeds to philanthropic activities, particularly children's education.
Since 2011, CapitaLand has built two Hope Schools and upgraded the facilities of other existing schools to provide students with a comfortable learning environment.
Beyond donations, the company gives time and attention to the children through regular visits by local staff and volunteer expeditions involving overseas staff.
"Through these efforts, we hope to empower children to fulfill their potential and create a better future. We remain committed to do our part for the community as we continue to grow CapitaLand's business in Vietnam," said a company representative.
In addition to CapitaLand Thanh Phuoc A Primary Hope School in the southern province of Long An and CapitaLand Nang Yen Primary Hope School in the northern province of Phu Tho, CapitaLand Hope Foundation is building its third Hope School in Vietnam, a kindergarten located in the northern province of Hung Yen that will benefit 500 children aged one to five years old. This third Hope School is slated for completion in March 2018.
Savills Vietnam's portfolio expanding well into 2018
Leading property management firm Savills Vietnam has officially been appointed to manage Hanoi's Thang Long Number One Apartments project.
Having been in operation since its handover in late 2014, the 39,000-square metre Thang Long Number One (TLNO) complex consists of two 40-storey buildings, which take in over 1,000 units of apartments. Besides these, the green surroundings of TLNO also include kindergartens, tennis courts, fitness centres, indoor and outdoor pools, shopping malls, and an indoor park.
According to Vu Kieu Hanh, Savills Vietnam's head of Property Management in Hanoi, stepping in when a project is already in operation poses its own unique challenges.
Property managers that are in charge right after a project is finished benefit from brand new infrastructure and technical systems; while full instruction and transferring of know-how are also provided by sub-contractors. As a result, early involvement enables a company to understand better the properties they manage.
On the other hand, taking over a property after some time has passed since handover means that infrastructure deterioration might have set in, due to insufficient maintenance.
"Our management process always starts with an in-depth review of current operational procedures, from which we make adjustments as required. We also seek to ensure that no instruction from sub-contractors is missed. Our overarching goal is always to avoid any disruption whatsoever to the residents, while providing our services in a smooth and efficient manner. Savills has a great deal of refined experience in property management, and we are confident this goal will be achieved," Hanh added.
In January 2018, TLNO became the latest project to be added to Savills Vietnam's property management portfolio, which now boasts a total property area of over 2.5 million sq.m.
Major projects currently managed by the firm include StarLake, Mandarin Garden, Richland Southern, BIDV Tower, and Capital Tower (all in Hanoi); as well as Saigon Pearl, The Vista, Avalon, Riviera Point, and MasteriThaoDien (Ho Chi Minh City).
Besides TLNO, other recent Hanoi additions to Savills Vietnam's portfolio are The Eden Rose, Hanoi Belleville, and The Emerald.
Deposit security to seize top spot on upcoming bank AGM agendas
Following the incident of "vanished" savings at Eximbank, deposit security will likely be in the limelight at Vietnam-based banks' upcoming annual general shareholders' meetings (AGM), rather than the previous issues, such as dividend payment and non-performing loans.
On February 23, the State Bank of Vietnam (SBV) officially issued Document No.1126/NHNN-TTGSNH directing domestic credit institutions (CIs) and branches of foreign-owned banks to enhance security throughout transactions, especially ones relevant to savings accounts at local branches.
Dr Le Xuan Nghia, a Vietnamese economist, pointed out that in case Basel II was properly applied, the overall operations at Vietnam-based banks would be carried out more efficiently, eliminating clients and shareholders' concerns over deposit security.
Economist Nguyen Tri Hieu asserted that the fact that banks failed to enhance deposit security alerted the public to the rather loose restrictions on the current financial system.
Previously in June 2016, the West Lake branch of BIDV failed to trace a client's savings' which mounted up to roughly VND32 billion ($1.4 million).
The current scandal was caused by the loss of VND245 billion ($10.8 million) in the savings of a client named Chu Thi Binh earlier deposited at Eximbank.
Resolution No.42/2017/QH14 on the pilot implementation of measures to tackle non-performing loans at credit institutions issued by SBV allowed Vietnam Asset Management Company (VAMC) to further improve its debt trading activities as well as banks to flexibly allocate the accrued interests.