2017  has been another remarkable year in the manufacturing and industrial sector and 2018 will continue to see high demand for industrial and logistics properties with strong investments from operators, occupiers, and owners.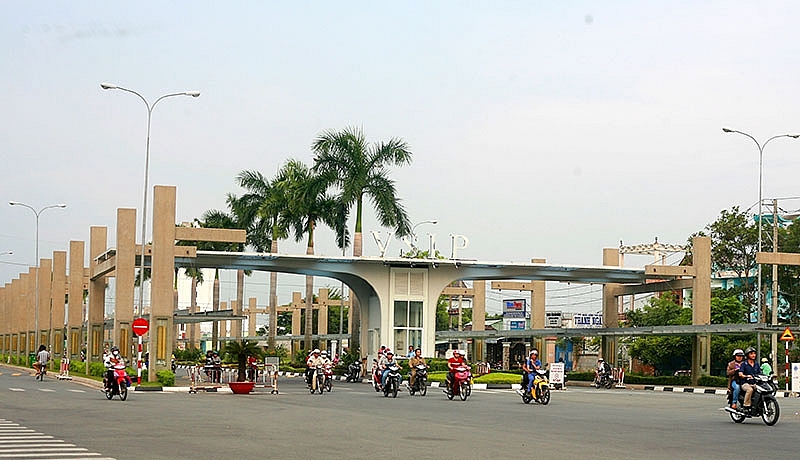 Singapore's Sembcorp has been maintaining steady relations with Vietnamese partners over the years
Cushman & Wakefield has advised on a record number of transactions for our firm this year, from land and building acquisition and straight leasing deals to more challenging build-to-suit and divestment transactions. In each case, the demand for more sophisticated transactions has been driven by foreign groups, but was ultimately dependent on the capabilities and actions of local landowners, investors, and, in some cases, third-party developers.
The trend of foreign and local groups co-operating has been gathering strength in the last few years and as foreign groups become more accustomed with the opportunities, constraints, and local business practices, we will see more transactions and larger investments into the sector. Equally, the willingness to enter into transactions and the capabilities of local groups have improved quickly, which, along with demand from foreign groups, has improved investor confidence. Additionally, we will continue to see lower capitalisation rates as well as higher rents and land prices as a result of increased investor and occupier demand.
Whilst all market indicators are positive, the market needs to keep up with demand in terms of capabilities, quality, and security to continue to drive the industrial property segment, an important real estate market segment and indeed, one of the largest contributors to the Vietnamese economy. Many challenges remain in doing business in the industrial and logistics sectors. Physical, legal, and simple business practice issues still need to be overcome in almost every transaction and these issues limit the areas in which foreign companies will do business.
In 2018, this will pose some risks to Vietnam as premium locations or sites for multinational investors become limited. While there are some 320 industrial zones (IZs) in Vietnam, only 13 per cent are foreign-owned and a low percentage of the entire 91,000 hectares of industrial land meet the critical needs of global corporations. Vacancies in the best industrial areas are extremely low and many companies are now having to compromise on location or quality, which will affect the competitiveness of Vietnam versus other countries.
Cushman & Wakefield recently fielded a question on the availability for Grade A warehouse space from a large Western company looking for a significant warehouse footprint in Vietnam. In fact, what the company considered Grade A does not yet exist in Vietnam. That is not to say that it cannot be built, but with a two-year project timeline for any build-to-suit opportunity, the company may indeed look elsewhere for such a facility if it can be procured easily and quickly.
In this example, the challenge for the incoming company was twofold: firstly, to find available land in suitable areas at a competitive price point, and secondly, to partner with a landowner and developer with a proven track record in delivering high-quality warehouses.
In too many cases one or the other of these key components cannot be found in one site and costly compromises need to be made in terms of location (logistics cost) or construction quality (risk, operational inefficiency).
The solutions to these issues are simple in practice, but we have yet to see true competition among local developers and landowners to deliver projects of the quality most foreign groups' demand.
There is a real opportunity for local landowners to attract more foreign groups to their IZs and in the next couple of years early-movers will get the highest reward. In some cases, there are opportunities to retrospectively improve either zone infrastructure or demolish and rebuild old, inefficient buildings. Equally, expectations and sometimes the approach of foreign companies or groups could be improved. As with any business in Vietnam, there is never a quick fix, but through better planning and understanding, we would certainly see fewer aborted or compromised projects—foreign groups only need to position themselves better.
Typically with factories, large foreign groups prefer to build their own facilities as they are obviously very particular to that company's needs. However, warehousing is broader in terms of the type of end user and features more simple construction. This is where we see more obvious opportunities for current IZs or those entering the market to capitalise on good demand. Many IZs will offer standardised ready-built facilities, often with varying degrees of construction quality, but many could improve even their smaller facilities in the future. Warehousing trends are changing and occupiers are looking to drive efficiency in their buildings.
To do this, some simple base-building improvements can be made which include higher cleared height, better column spacing, higher floor loads, and stronger floor loading. Naturally, this will push up construction costs a little, but in return occupiers get better efficiencies through cubic meter capacity and layout design and thus can justify a higher rent. If developers were also willing to consider meeting better fire code regulations over and above the Vietnamese standard codes, occupiers may also be able to offset some expenses from lower insurance premiums which could also go into their rent budget.
Looking to 2018, we will see more M&A deals in IZs and hopefully more occupiers looking to take advantage in sale and leaseback structuring.
2017 saw the first real test for sale and leaseback, with an occupier essentially raising capital on an asset and securing a long-term lease with an investor creating a bond-like yield.
Local investors will be more aggressive to acquire more of these facilities, whilst foreign investors fall behind in appraising the yield profile, which is not yet competitive enough versus other countries in the region. However, we do not consider this a problem for the short term. The deal structuring for sale and leaseback remains complex, but the conveyancing process can be fast with the right buyer and right seller advisory team on board.
Land and rent will continue their steady increase. Across Hanoi rent per square metre per term has increased by 1 per cent year-on-year, with Ho Chi Minh City performing better at 2.5 per cent. The largest growth experienced across the northern region was Haiphong, averaging at 4 per cent year-on-year, and Dong Nai in the south with 5.9 per cent.
In 2016, Bac Ninh in the north and Binh Duong in the south were the best performers in terms of growth and there is an obvious shift in demand in 2017. Bac Ninh actually recorded a fall of 2.9 per cent in pricing in 2017 from the bump in 2016 due to high pricing levelling out and improving infrastructure in areas like Hung Yen.
In the extreme, Cushman & Wakefield has experienced some asking rents increase as much as 10 per cent for the best IZs. Quality will continue to outperform and there is willingness from occupiers to pay higher prices, but only if they can see genuine improvement in zone infrastructure, management standards, and construction quality.
Alex Crane/Managing director, Cushman & Wakefield Vietnam
VIR