2017 has witnessed the rise of the office-for-lease segment in Hanoi and Ho Chi Minh City. It is believed that 2018 will act as a leverage for a boom in this segment in the following years.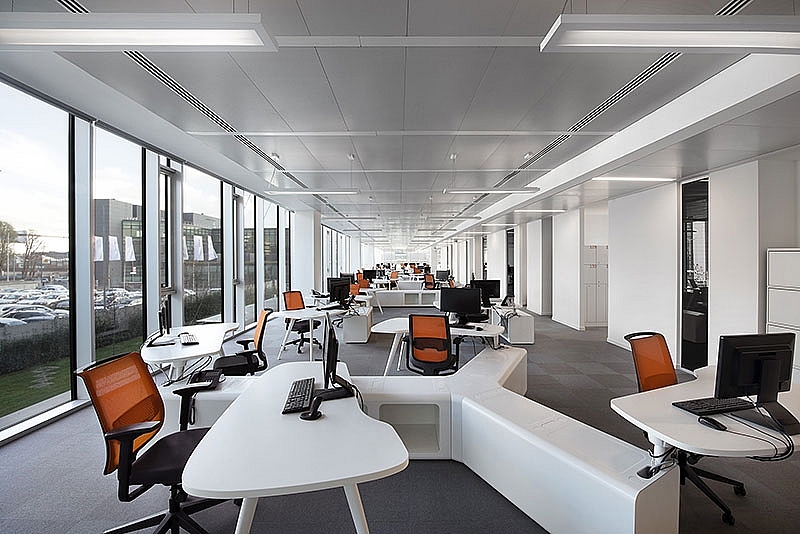 Location is becoming secondary to facilities and services
According to real estate services firm Savills Vietnam, in 2017 Hanoi and Ho Chi Minh City continued overtaking other cities around the world to top the list of cities with the most attractive office rental returns. The Grade A office segment in the downtown area of these two cities has a rental occupancy rate of over 95 per cent.
A survey by Prime Benchmark showed that in the second half of 2017 the rental rate for high-end office space in Hanoi and Ho Chi Minh City were reported at $38.8 and $52.2 per square metre, significantly lower than neighbouring markets like Taipei (China), Sydney (Australia), Singapore, Seoul (South Korea), and Shanghai (China). The high office occupancy rate, meanwhile, is due to the market size that is still much smaller than other regional markets. To be specific, the office rental market in Hong Kong (China), Singapore, Japan or Korea are some 7-10 times bigger.
Nguyen Bich Trang, director of CBRE Vietnam's Hanoi Branch, noted that the growth rate of the office leasing segment depends on a number of factors, including the new supply of office properties, foreign investment, and the quantity of available office buildings. However, in the past years, foreign investment in the local real estate sector has chiefly fallen into the residential segment and hardly went into office buildings.
According to Trang, foreign investors are not interested in the office leasing space as the segment has a surplus of office buildings as a result of a supply boom back in the 2014-2016 period. Yet in 2017, the office leasing segment has been showing positive signals.
"2017 has been a year that will absorb the supply of office properties and 2018 will be a stepping stone for the segment to bloom during 2019-2020," Trang said.
Shifting demands
It is worthwhile to note that the office leasing market in Vietnam has witnessed a shift in supply in 2017, as tenants have moved to new office buildings to get better services and amenities, while rental rates are not significantly higher.
According to industry insiders, the factors contributing to office developers' success today are far more different from those in the past. If it was the location that decided the popularity of an office building, nowadays, tenants pay more attention to factors like the quality of the building, the amenities attached or the management services and the value-added features.
"The services that accompany the office for rent are crucial, especially for first grade office buildings. Foreign companies, when choosing to rent an office space, will be very much concerned with who would manage the office building. And this is particularly true for not only the office leasing segment but also residential properties," said Hoang Dieu Trang, senior manager of the Commercial Leasing Department at Savills Hanoi.
Apart from these factors, to further attract tenants, according to Trang, office building developers ought to also pay attention to the facilities that can add value to the offices, such as the information system, security system, and artificial intelligence in the management system.
Grade A offices in need
With the increasing number of foreign investors coming to Vietnam, the demand for Grade A office space is expected to continue to grow in the near future, especially for premium-rated offices in line with international standards. The prospects for high-end office development are very positive as they often attract long-term tenants. For example, in Ho Chi Minh City, a Grade A office building that complies with international standards can impose a rental rate twice as high as the average, yet still enjoy a high occupancy rate.
It is observed that while the demand for Grade A office buildings is high, there are, however, only a few developers interested in them. The reasons, according to an expert, come down to the high initial investment costs and the uncertainty of the occupancy rate.
Key to success
CBRE Hanoi's Trang, meanwhile, shared that prior to leasing their offices, developers must have a long-term vision, as the local office leasing market has been lagging behind the other markets for years.
"Should developers want to carry on with their office rental projects, they have to learn about tenancy trends (as trends are changing real fast now) in a bid to come up with the right products that suit the modern market and adjust to future trends. In addition, they also need to take care of the quality and services of their projects," said Trang.
Echoing the same view, Trang from Savills Hanoi said that the key to success in the office leasing segment is to conduct thorough marker research and develop a building that can meet the requirements of tenants as soon as it is completed and ready to go to the market. What is more, factors including the location, services, facility, and the marketing strategy are also essential to the success of an office building project. For instance, it is important to determine if a location is right for an office building, if the area is home to similar businesses or whether the location can fit other types of buildings.
"In addition, to decide whether an office building project is successful or not, market research has a significant role. It helps develop an orientation for long-term growth, thus requiring a consultancy unit to accompany the project from the start, to provide pre-development advice, as well as help hammer out marketing and rental strategies," Trang said, adding that flexibility in rental rates and rental strategies will also ensure property developers' success.
VIR