Nguyen Chien Thang, Director of HCM City-based wood products maker Scansia Pacific, said his company has export orders for the whole year, which are 25 percent up from 2017.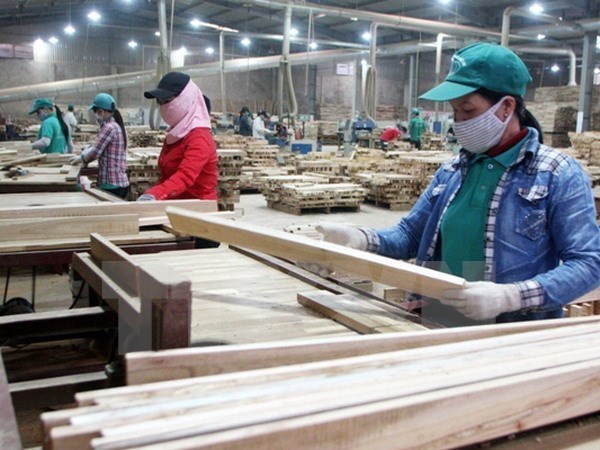 2018 to be good year for wood products export
"The orders are from existing buyers. There are many new buyers who want to place orders with us, but we dare not take them because we are afraid we cannot fulfil them.
"Currently we are focused on buying more machines to ensure production for export," he said. 
Huynh Van Hanh, Permanent Vice Chairman of the Handicraft and Wood Industry Association of HCM City (Hawa), told a press briefing to introduce the Vietnam International Furniture and Home Accessories Fair 2018 (VIFA-EXPO 2018): "We are very optimistic about the market situation this year since most enterprises have export orders for until middle of the year and some have orders for until the end of this year like Cam Ha in Da Nang and Scansia Pacific.
"We fully believe that the target of earning 8.66 billion USD from exports of wood and wooden products is easy to achieve."
Exports of wood and wooden products have increased by 12.3 percent a year on average for the past seven years, reaching 7.66 billion USD last year, he said.
Global furniture demand was worth more than 428 billion USD last year. Trade in furniture amounted to 141 billion USD last year, with China being the largest exporter, accounting for 35 percent, followed by Germany, Italy, Poland, and Vietnam.
But among the main furniture production areas, only the Asia-Pacific saw positive production growth.
With reasonable economic growth, global furniture consumption and trade are forecast to grow by 3.5 percent and 4.1 percent this year, Hanh said.
Exports from Vietnam accounted for only 6 percent of the figure, meaning there is considerable scope for Vietnamese firms to increase their market share, he said.
To capitalise on the demand, woodworking firms need to invest more in upgrading their production technologies and embrace automation to improve productivity, ensure consistent quality and resolve their labour shortage problem, he said.
Besides, they need to improve their design capacity to add more value to their products and improve their management skills, he said.
He also suggested that firms should pay more attention to the middle high-end segment and be developing multi-functional products for the US and EU markets.
Talking about raw materials, he said he has no worries about any timber shortage.
He said forests grown on public lands and rubber and fruit trees provide 50 percent of the timber needed for the industry and the rest is imported from many countries with clear origins.
The industry needs to access markets on a national scale so that foreign customers know "Vietnam is a nation producing wood products from legal timber sources," he said.-VNA